Just as hearty stews,  soups and roasted meats soothe the body in late fall and winter, summer's piña coladas, margaritas and gin and tonics yield to cocktails with warmth and complexity.
The traditional thinking has been that clear spirits are for sunshine, brown spirits for gloom. But this is Sonoma, where winters are relatively mild, so it's not so much about the color of spirit in the cocktail as it is about its ability to ward off a chill and offer emotional comfort.
Sonoma distillers consider seasonality when it comes to their spirits, as much as chefs do. We turned to several of them for ideas on winter warmers.
Give these cocktails a try!

CAMPO DE ENCANTO PISCO
Named for a port in Peru, Pisco has a long legacy in California, where before the Gold Rush it was a staple spirit within the wilds of San Francisco's Barbary Coast. A clear, distilled fortification of grapes, Pisco is made to be enjoyed right away, without additions of water, sugar or caramel, and spends no time in oak.
A collection of Northern California bartenders and friends, including Walter Moore of Healdsburg, produce Campo de Encanto in the Ica Valley of Peru, working with local distiller Carlos Romero to blend small-batch eaux de vie (fruit brandies) from five types of old-vine grapes. The result is a smooth combination of peaches, almonds and mint.
San Francisco bartender and Encanto partner Duggan McDonnell said the true test of superior Pisco is to swirl the spirit before drinking it, then watch to be sure the bubbles dissipate quickly. If they don't, it means the spirit has been diluted, and thus isn't real Pisco.
Enjoy Pisco neat, with a twist of lime, or in a range of cocktails. One of the most popular is the sour, which is shaken with an egg white. This Campo de Encanto Pisco gets its power, grace and smokiness from aged Scotch. encantopisco.com
Campo de Encanto Vice & Virtue:
1½ ounces Encanto Grand & Noble
½ ounce Laphroaig 10 Year Old Islay Scotch Whisky
¼ ounce yellow Chartreuse
¼ ounce honey syrup
2 dashes orange bitters
Place the ingredients in an Old-Fashioned or martini glass, stir thoroughly, and garnish with a lemon peel.

JARDESCA
Jardesca, a lovely aperitif spirit made in Santa Rosa, combines sweet and dry white wines from California with a proprietary eau de vie that's double-distilled into a fortified wine. A garden's worth of botanicals are added for complexity.
Intended to be sipped on the rocks, Jardesca also works as a mixer, adding bright citrus notes and aromas of peppermint, orange blossom and cardamom. This cocktail gets its festive look and feel from sparkling wine. jardesca.com
Jardesca Holiday Spritz:
3 ounces Jardesca
1 teaspoon fresh pomegranate seeds and/or juice 1 ounce sparkling wine
1 rosemary sprig
In a stemless wine glass over ice, add the Jardesca and pomegranate. Top with the sparkling wine and garnish with the rosemary.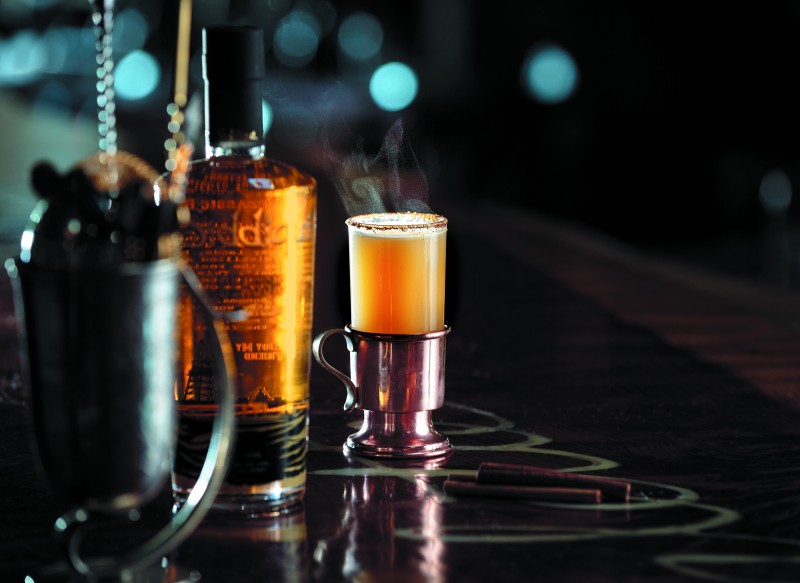 SIDDIQUI RUMS
Siddiqui Rums was inspired by the moonshining culture of the Middle East, where owner Nigel Brown grew up. There, families distilled their own spiced rums, never allowing them to get overly sweet.
Inspired by Hot Buttered Rum, a Bay Area bluegrass band, this warm, sweet cocktail from the Windsor distiller brings two worlds together to form something new. As the cinnamon, vanilla and caramel meld perfectly with the oaky flavors of Siddiqui Classic Brown Rum, a bold new flavor is created. The sweetness of the ice cream pairs with the strong rum with excellent balance. This decadent drink is the perfect remedy for a chilly evening. Prepare and freeze the batter at least two hours in advance. siddiquirums.com
Siddiqui Hot Buttered Rum:
1 pound butter
1 pound brown sugar
1 pound powdered sugar
1 pint salted caramel ice cream (Häagen Dazs preferred)
1 teaspoon vanilla extract
1 teaspoon cinnamon
4-5 ounces boiling water per drink
2 ounces Siddiqui Classic Brown Rum per drink
In a mixer, add the butter, sugars, ice cream, vanilla and cinnamon and blend well. Transfer the mixture to an airtight container and freeze until set.
To serve, place two tablespoons of batter and two ounces of rum in a heated mug. Pour 4 to 5 ounces of boiling water into the batter and rum and stir until blended.

SPIRIT WORKS DISTILLERY
In Sebastopol, Ashby and Timo Marshall do everything in-house, including milling the grain, creating the mash and distilling its gin, vodka and sloe gin, aging some spirits in wood barrels. Their gin is made from hard red winter wheat infused with juniper berries and a mix of botanicals, some of them traditional, others inspired by what's available in California. Coriander, citrus and cardamom are in the propriety blend, for sure. With its Barrel Gin, wintery overtones of oak add depth and complexity to the citrus-tinged botanicals. It goes down easy, over ice and with bitters, and makes a great Old-Fashioned. spiritworksdistillery.com
Spirit Works Barrel Gin Old-Fashioned:
1 sugar cube
2-3 dashes Angostura bitters club soda
2 ounces Spirit Works Distillery Barrel Gin orange peel
In an Old-Fashioned glass, place the sugar cube and bitters. Add a splash of club soda and muddle the ingredients in the glass. Add ice and gin, and garnish with an orange peel.

STOLEN FRUIT
Stolen Fruit's new line of grape-based cocktail and mocktail mixers comes from Dry Creek Valley grape growers Susan and Doug Provisor of Provisor Ranch, and Healdsburg chef Peter Brown. In addition to the sultry Fig Grains of Paradise Zin mixer, Stolen Fruit offers Jasmine Juniper Viognier, Lemongrass Ginger Sauvignon Blanc, Blood Orange Muscat and Hibiscus Grenache, all meant to show off seasonal ingredients and flavors. The founders partner with local wineries for the grape juice, verjus and dried grape skins that go into each bottle. stolenfruit.com
Stolen Fruit Fig Grains of Paradise Zin:
2 ounces Stolen Fruit Fig Grains of Paradise Zin mixer
2 ounces bourbon dash of bitters maraschino cherry
Shake the mixer, bourbon and bitters over ice, then strain into a chilled martini glass and garnish with a cherry.
Photography by Chris Hardy.