Loosely translated, gingilli is an Italian word meaning a lot of little things together; a little bit of junk, a little bit of jewels.
It's just the word to convey the breadth of offerings at downtown Geyserville's Gin'Gilli's Vintage Home. Mother-daughter owners Linda Elgin and Elisa Burroughs have been celebrating vintage and recycled finds since 2009. Even the store's building is recycled; it was once an auto dealership.
Wandering through the lineup of vendors' booths at Gin'Gilli's is akin to visiting many different eras. Holiday shoppers will find handmade soaps, delicately crocheted metal jewelry, kitchenware, vintage toys, knickknacks, signs, old-time photographs, large wall clocks, furniture, horse bits, belt buckles, Amish needlework, and more.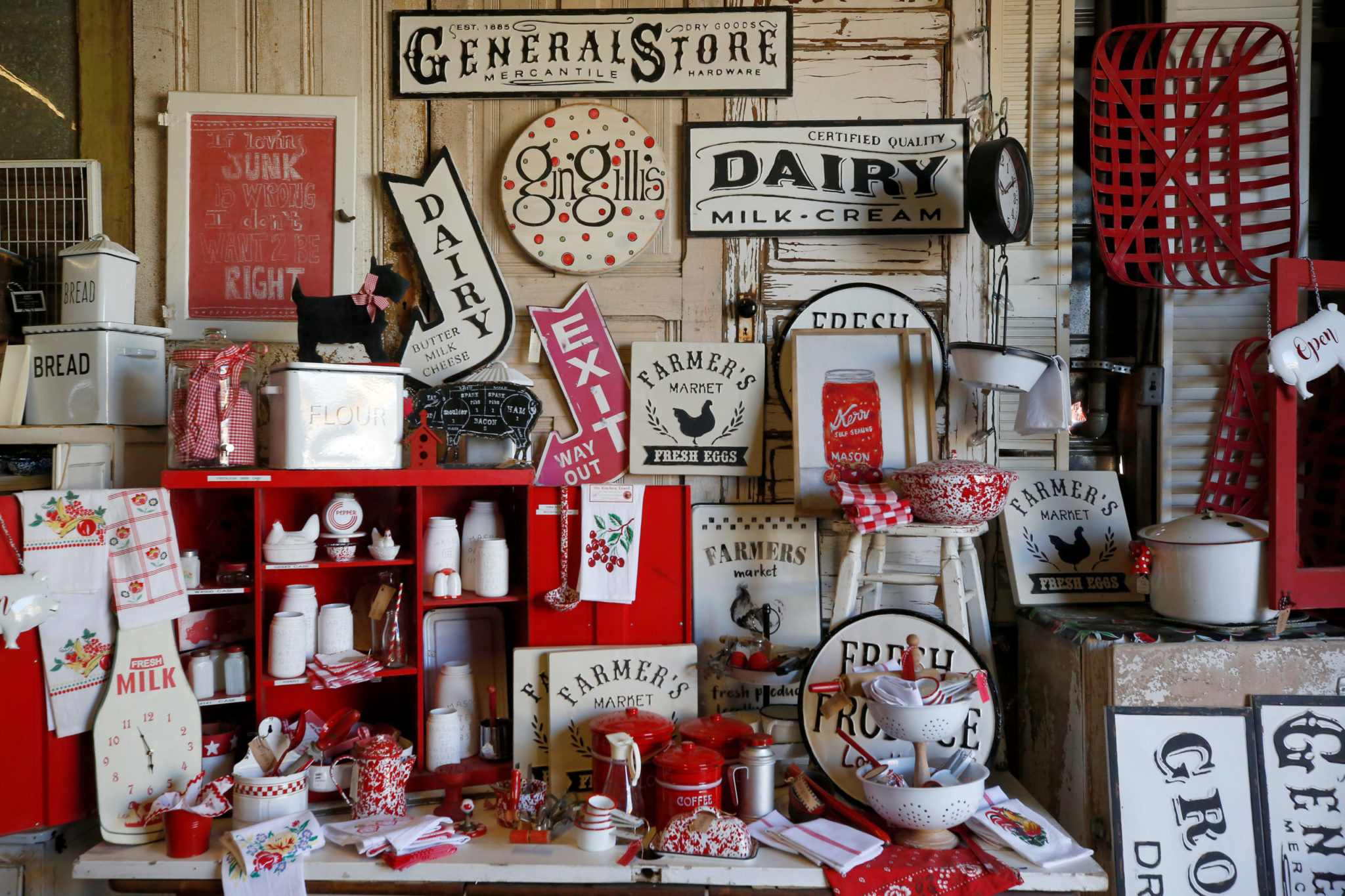 Both shoppers and sellers consider the store a rebellion against big box stores and internet shopping. "The stuff [shoppers] find here will be 10 times more interesting and a heck of a lot less expensive than they'll find in a regular department store," says one vendor.
Elgin, a former corporate sales trainer, and Burroughs, who has a background in banking and real estate, chose to open in Geyserville because they love the friendly small-town, casual feel. Burroughs has always been budget-conscious and enjoys painting, decorating, and repurposing items around her home.
For the holidays, Gin'Gilli's goes all out, starting the Saturday after Thanksgiving (November 30 this year), when Geyserville is packed with people for the town's famous lighted tractor parade. The store stays open late after the parade with apple cider, a cookie bar, and decorations and gifts galore. Just the way to kick off the season.
Geyserville at the Holidays
Holiday Tractor Parade: Along Geyserville Avenue on Saturday, November 30. The parade starts at 6:15 p.m. but you'll want to arrive before 5 p.m., as roads into town close for the parade.
Gin'Gilli's Vintage Home: Holiday open house December 7 and 8 from 11 a.m. to 5 p.m. Call for details on jewelry and craft classes in the shop's new painting studio. 21079 Geyserville Ave., 707-857-3509.
Bosworth & Son Hardware: A downtown fixture for more than a century with western apparel and boots, toys, and gifts. 21060 Geyserville Ave., 707-857-3463, bosworthandson.com.
Locals and LocalsCreate: Alexander Valley wine tastings paired with offerings from local craftspeople. 21023 Geyserville Ave., 707-857-4900, tastelocalwines.com; localscreate.com.
Dallas A. Saunders Artisan Textiles: A fine art gallery and textile showroom featuring jacquard tapestries woven in Belgium. 275 Highway 128, Suite 101, 707-708-9065, dallasasaunders.com.