It was just another Sunday morning at the Stewart-Estes home in rural Forestville. John Stewart fed the pigs, rabbits, chickens and duck, as Duskie Estes made breakfast for the couple's two daughters and the family dog, Chloe.
Then it was off to Davis Family Vineyards in Healdsburg, to test making BLTs and pork-belly poutine in their new food truck, "The Black Piglet."
The custom vehicle had finally passed a yearlong inspection process the evening before, and would be rolled out for its first service at the Davis winery the following weekend. Next, they headed to their zazu kitchen + farm restaurant in Sebastopol, where Stewart butchered a Front Porch Farm pig while Estes prepped dishes for the day's lunch and dinner service.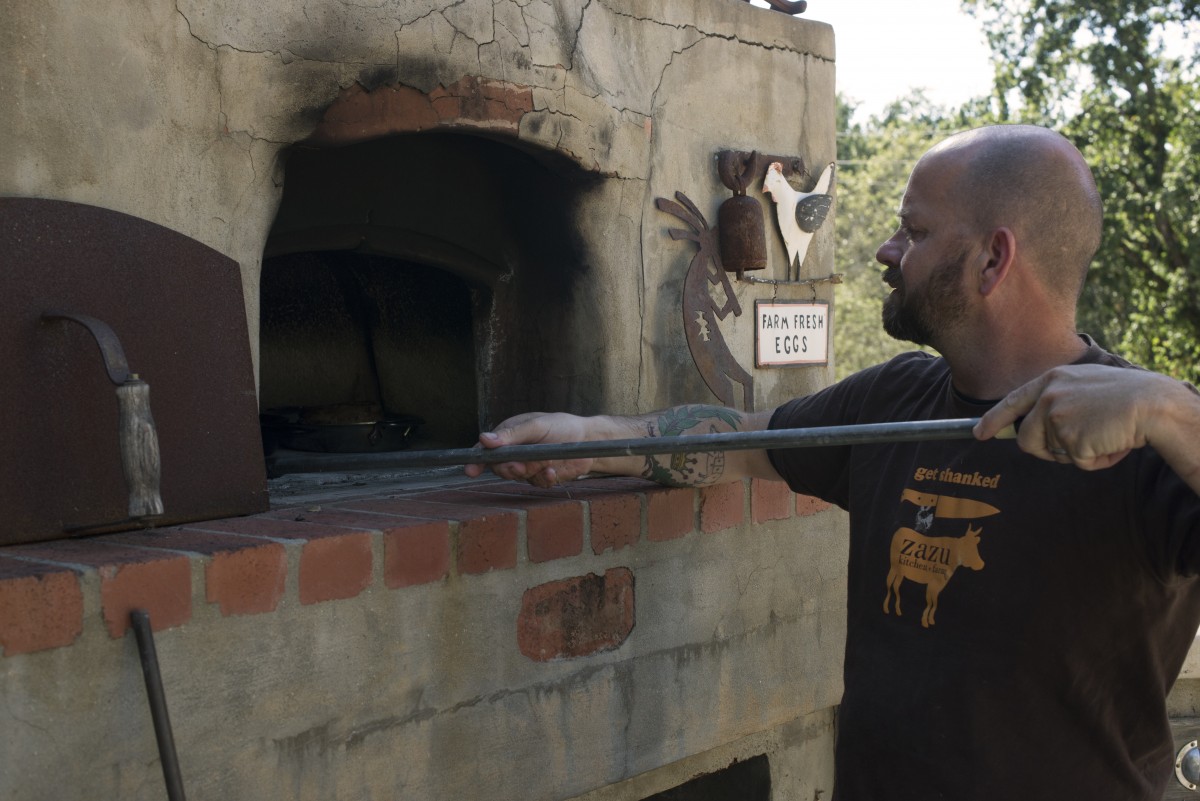 A quick run back home, and the couple tossed some of the just-cut pork into the wood-fire oven that overlooks their orchard and vegetable gardens. A meal of roast pork loin, backyard plums and squashblossom panzanella with the kids, and it was back to zazu to feed their customers.
"It's just this thing for us every day, dude," Estes said with a laugh. "Energy makes cool things happen."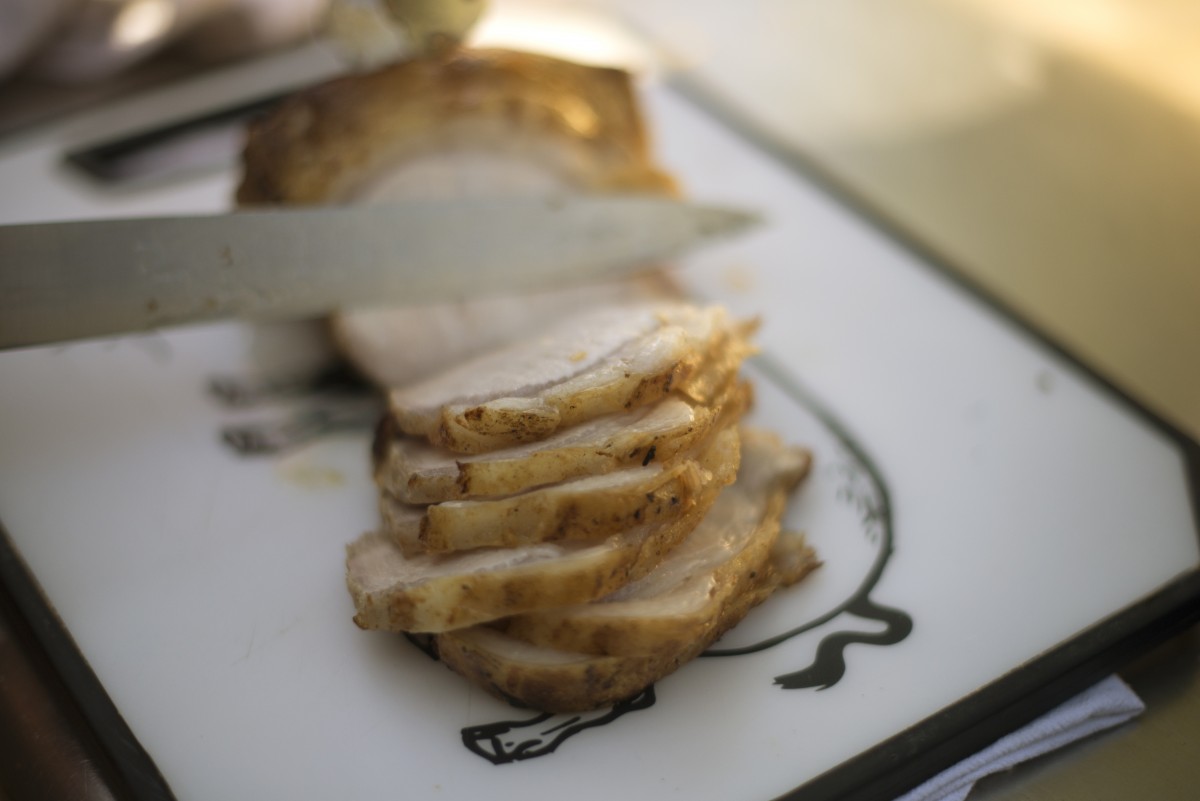 For the duo, who opened zazu 15 years ago, energy trounces easy. Even in Sonoma, land of handmade, farm-to-table food, this couple goes to the extreme.
Best known for their artisanal ways with pig, their menus often read simply, such as bacon-wrapped dates drizzled in sweet saba, chitarra pasta draped in slow-simmered pork-cheek sugo, and golden roasted pork chop atop faro and fagioli beans.
It's soul-warming fare in a rustic, California-Mediterranean style. Yet sketching one of their recipes actually goes like this: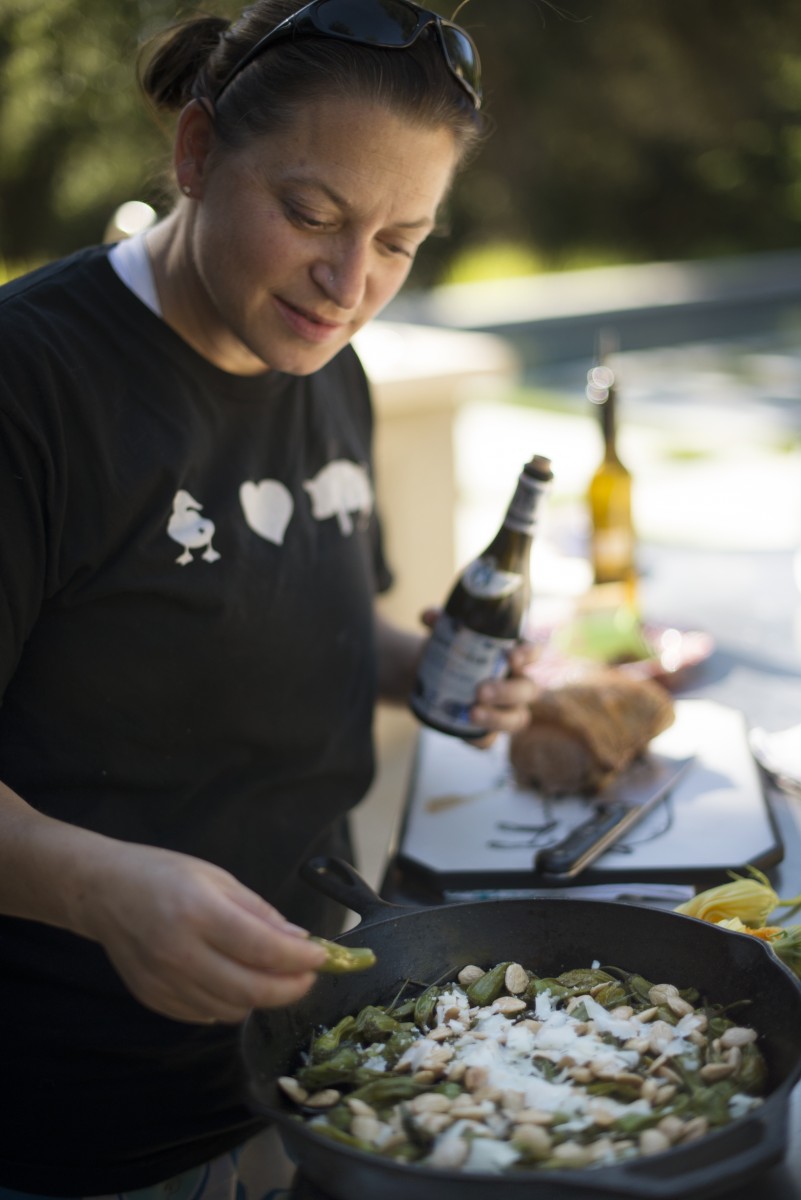 Step one: Find some rare, European heritage-breed Mangalitsa piglets. Step two: Cut through red tape to procure the animals. Step three: Build a "pig palace" in the backyard (complete with a rain shower to keep the piggies cool), raise the creatures on a luxury organic diet, then humanely slaughter them and butcher in your very own USDA certified kitchen. After so many years, it's still the stuff of wonder for Estes and Stewart, who admit that before moving to Sonoma in 2000, their pork came from packages delivered by a food-service company. In fact, Estes was a vegetarian for 23 years until zazu came along.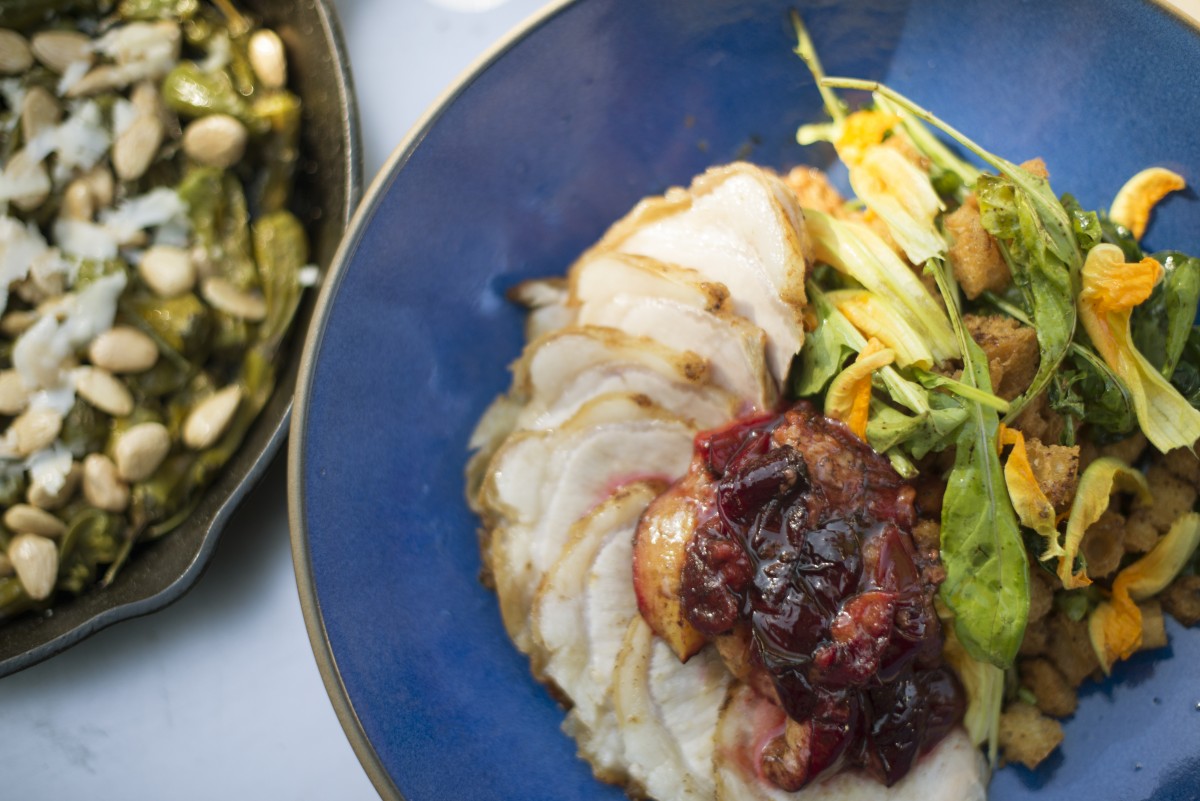 And they're constantly experimenting, from a new lip balm called Lip Lardo (made with their own pig lard, grapeseed and avocado oils, beeswax, avocado and shea butters, and almond extract), to a Lard Lather soap, to a prototype of bacon Pop Rocks, which Estes acknowledges may die a snap-crackle death because "they smell like feet."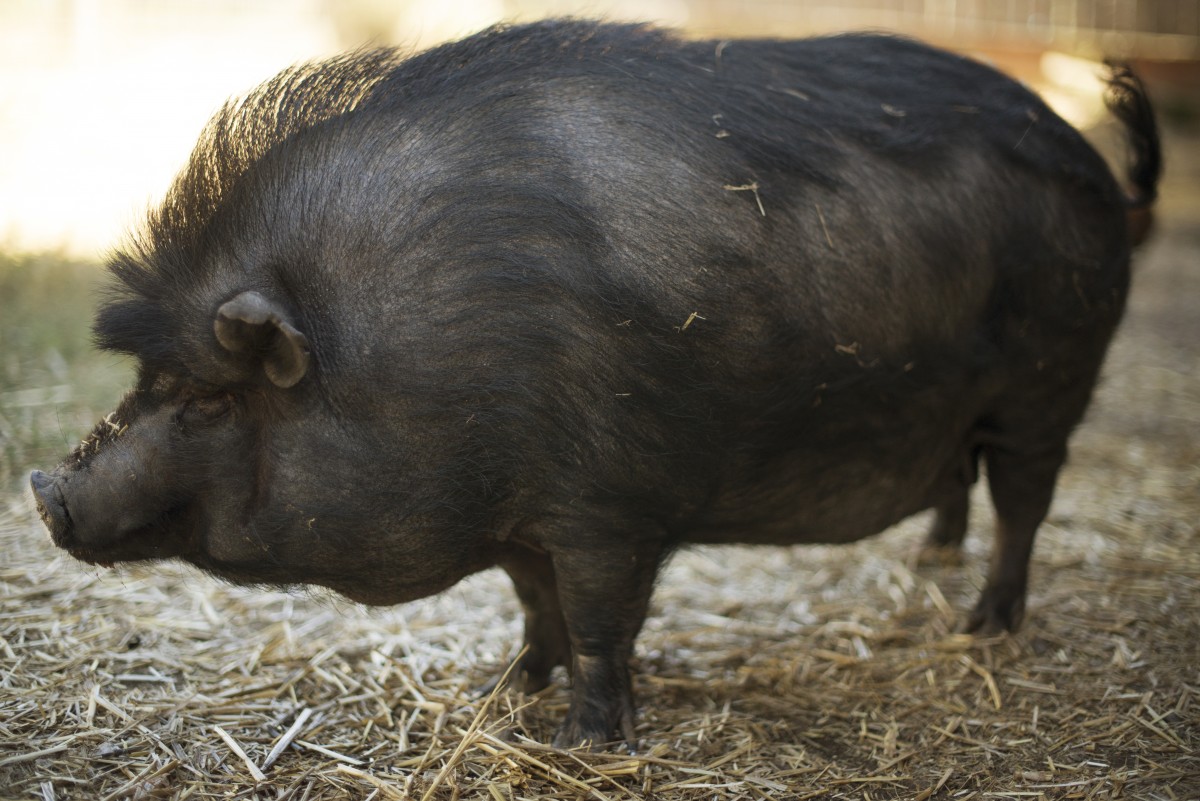 But flash back to 1997, when Stewart, now 48, and Estes, now 47, met while working together at the acclaimed Tom Douglas collection of restaurants in Seattle. Stewart had grown up in New York, Estes in San Francisco.
"We'd been chefs in big cities who just ordered food," said Stewart, who catered Bill Gates' wedding in 1994. "Tom worked with farmers, and we liked that. Except at zazu, farmers came in with whole pigs. We had few resources for butchering, so we had to figure it out, and then to make money, we had to learn how to use all the parts in a restaurant way."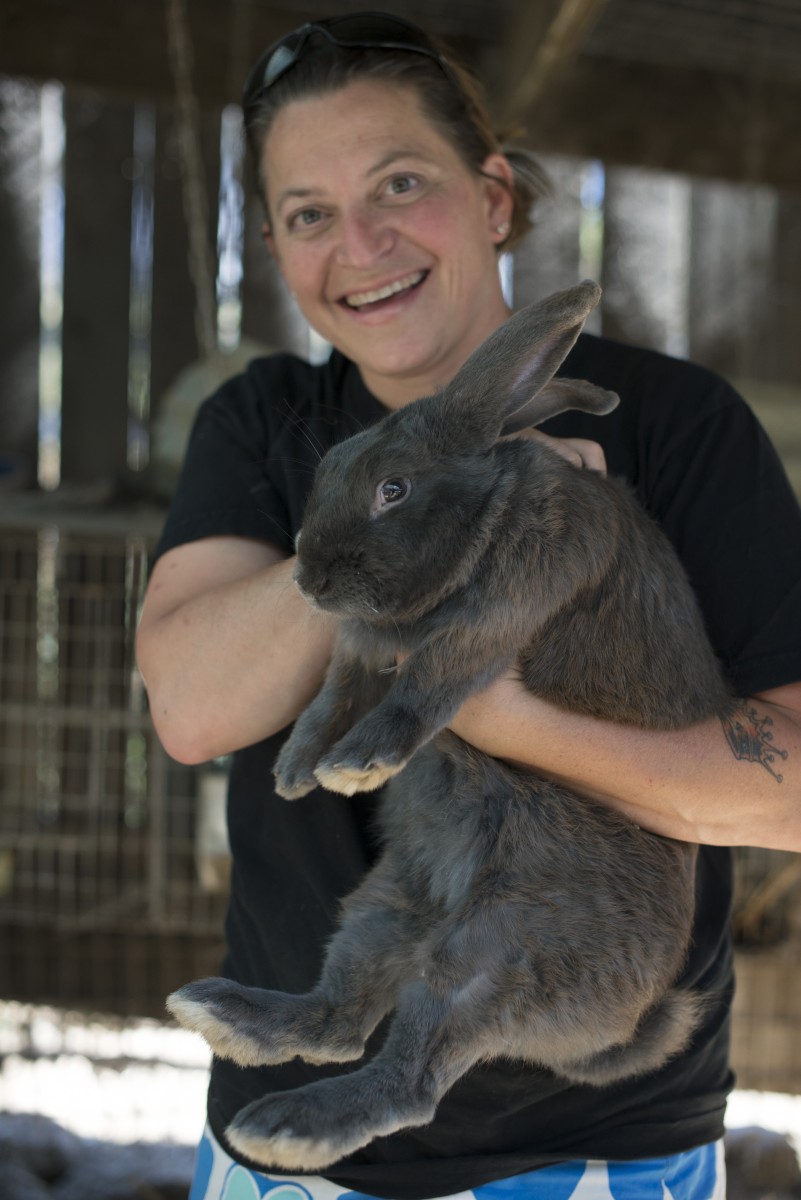 Call it artisanal, or survival, the couple has done the heavy lifting needed to create what is now a successful operation featuring hearty restaurant dishes such as pork belly and Liberty Duck cassoulet, cocktails including a Black Pig bacon bourbon sour with maple and Madeira, and signature porky delights such as Black Pig bacon caramel popcorn and maple bacon donuts.
"Survival," Estes said, with her hallmark laugh that expresses constant joy. It was sink or swim in Seattle, when she was hired to cover for a sous chef headed into a recovery program — he had fallen in a deep-fat fryer after drinking a pitcher of lemon drop cocktail. She worked in three Douglas restaurants, each with menus that changed nightly.
"Shove in, dig in, figure it out," she said.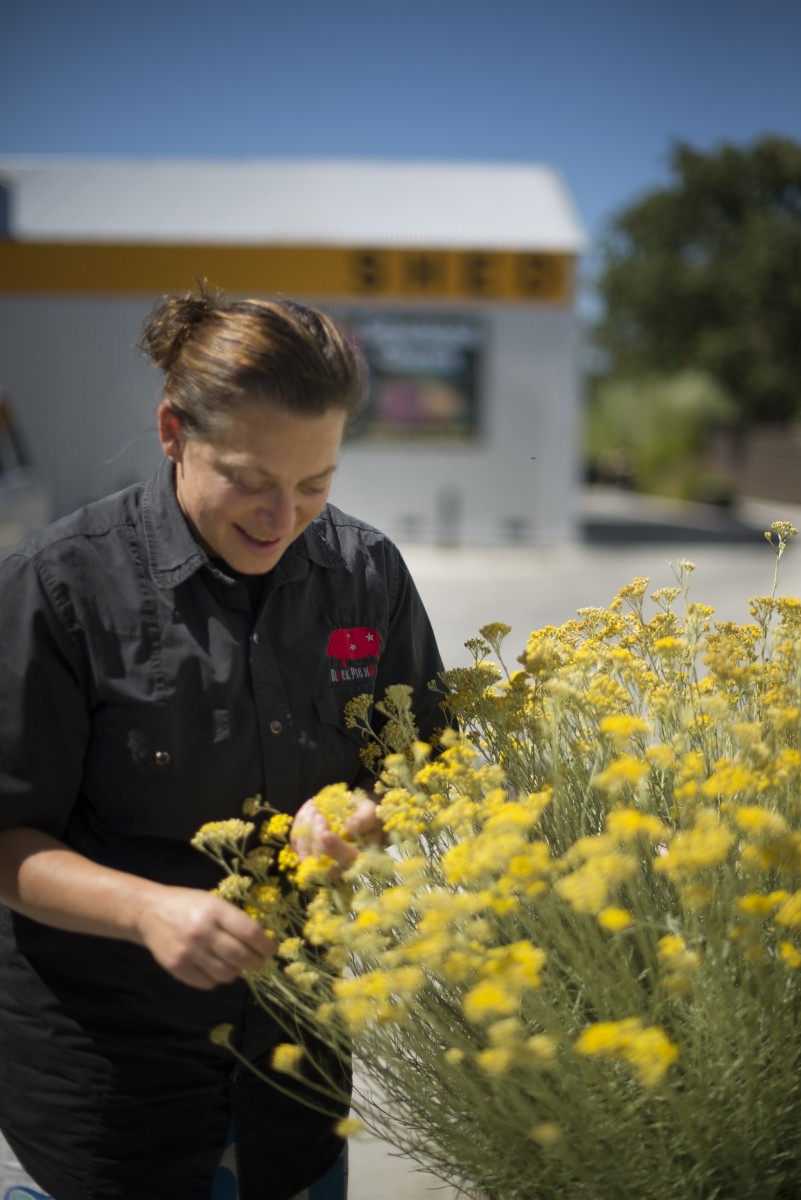 She immediately fell for Stewart, whom she called "crab cake guy," since she didn't know staffer names and because he was the only one who nailed the oil-and-butter ratio for perfect pan browning. "That stole my heart," she said.
Stewart, meanwhile, was smitten with Estes' go-get-'em attitude. "Duskie has always been a whirling dervish of energy," he said.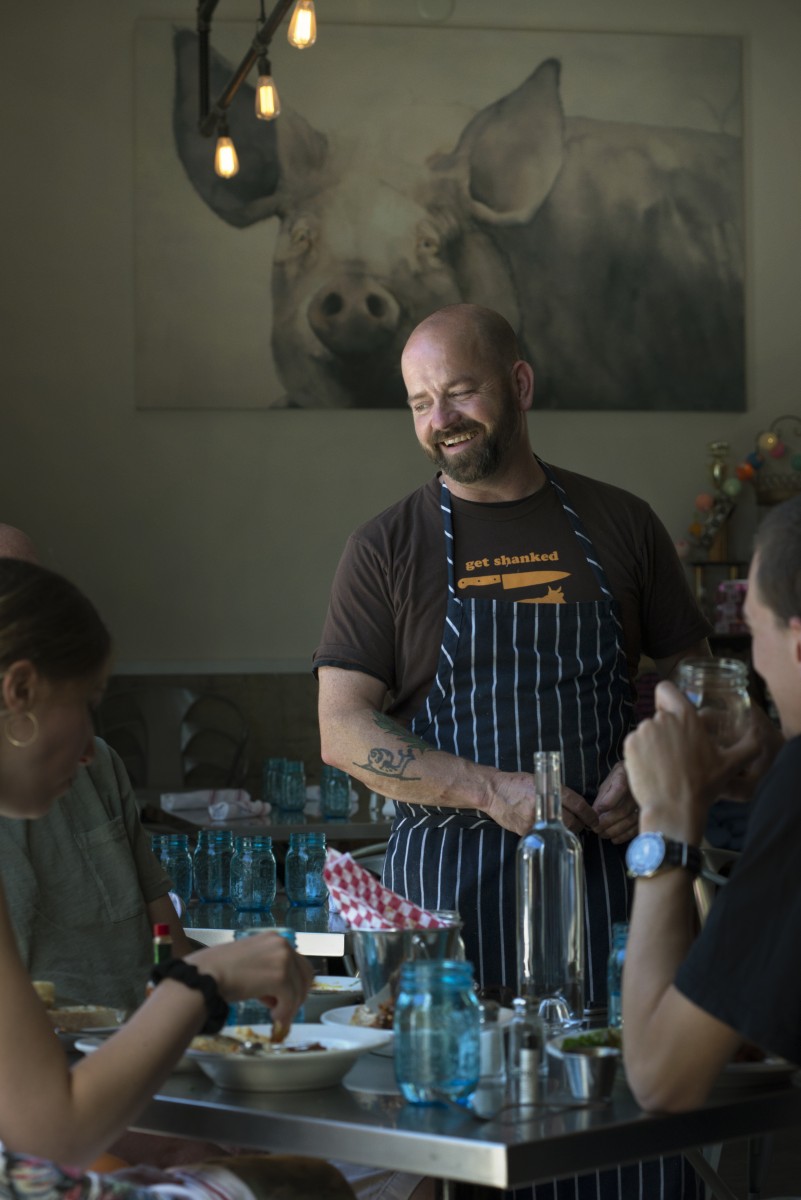 After the two married in Calistoga in 2000, they had dinner at Willowside, a weathered roadhouse on Guerneville Road on the outskirts of Santa Rosa.
The restaurant was for sale.
"It made me want to move back (to California)," Estes said. "But I was seven-and-a-half months pregnant with my daughter, Brydie. So I offered half price, and the owner hung up on me."
The day of Brydie's birth, Estes returned from the hospital to find a message on her answering machine, accepting the offer. A week later, she got on a plane with the baby, looked at the restaurant's books and its closet-size kitchen, and offered half-again less.
"I couldn't believe we got it," she said. "We moved here July 1, got the keys Aug. 1, worked around the clock to fix it up, and opened Aug. 13, because we had a client party scheduled."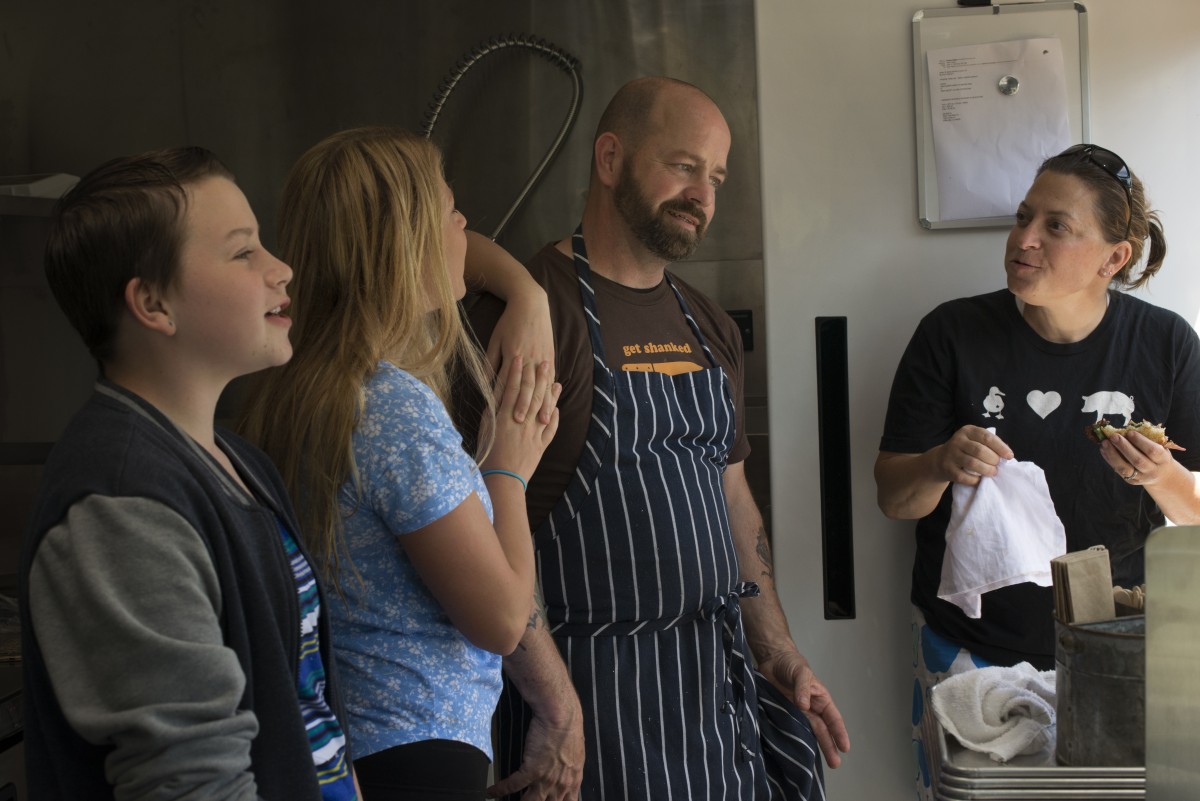 Then 9/11. The couple had to rent out their new home to keep the restaurant going, staying in Healdsburg with Estes' mom for two years in a one-room loft above her garage.
Baby MacKenzie was born in December 2012.
"I wore her to work with me (in a chest carrier)," Estes recalled. "She was happy, until she was 7 months old and could reach the plates to steal food."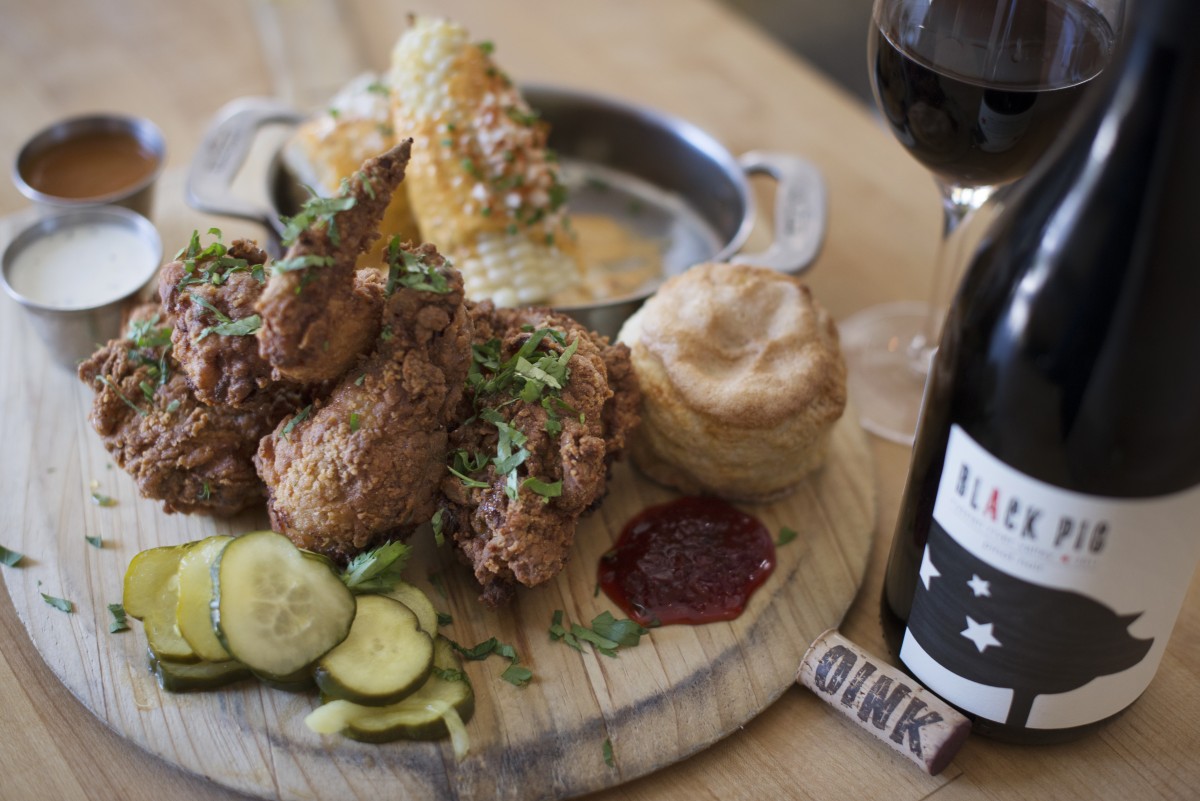 Their accomplishments have piled up. Stewart runs Black Pig Meat Co., selling heritage-breed bacon and salumi, with his coppa winning a Good Food Awards medal this year. Estes beat out fellow former "Iron Chef America" challengers to compete in season five's "Next Iron Chef" TV show in 2012, and took home the gold medal in a web-exclusive "Road to Redemption" tournament on foodnetwork.com that same year.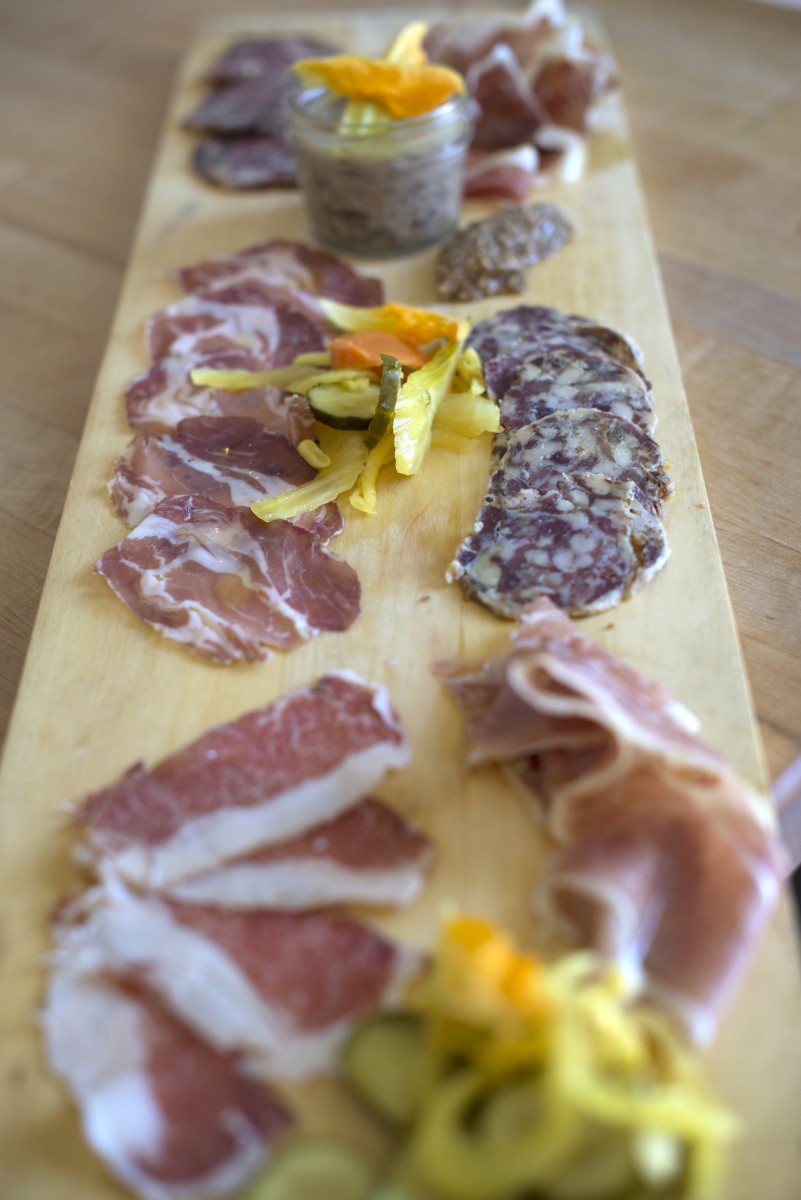 In 2011, Estes and Stewart were chosen King & Queen of Porc at the Grand Cochon competition in Aspen, Colo., after winning the regional Cochon 555 cook-off in Napa a few months earlier. It was a major honor: Cochon is a national nose-to-tail pig contest where fine-dining chefs create inventive recipes based on locally raised heritage-breed pigs from family farms.
Just three years ago, the duo relocated zazu from its original, casual roadhouse setup in west Santa Rosa to a modern, much larger space in The Barlow center in downtown Sebastopol.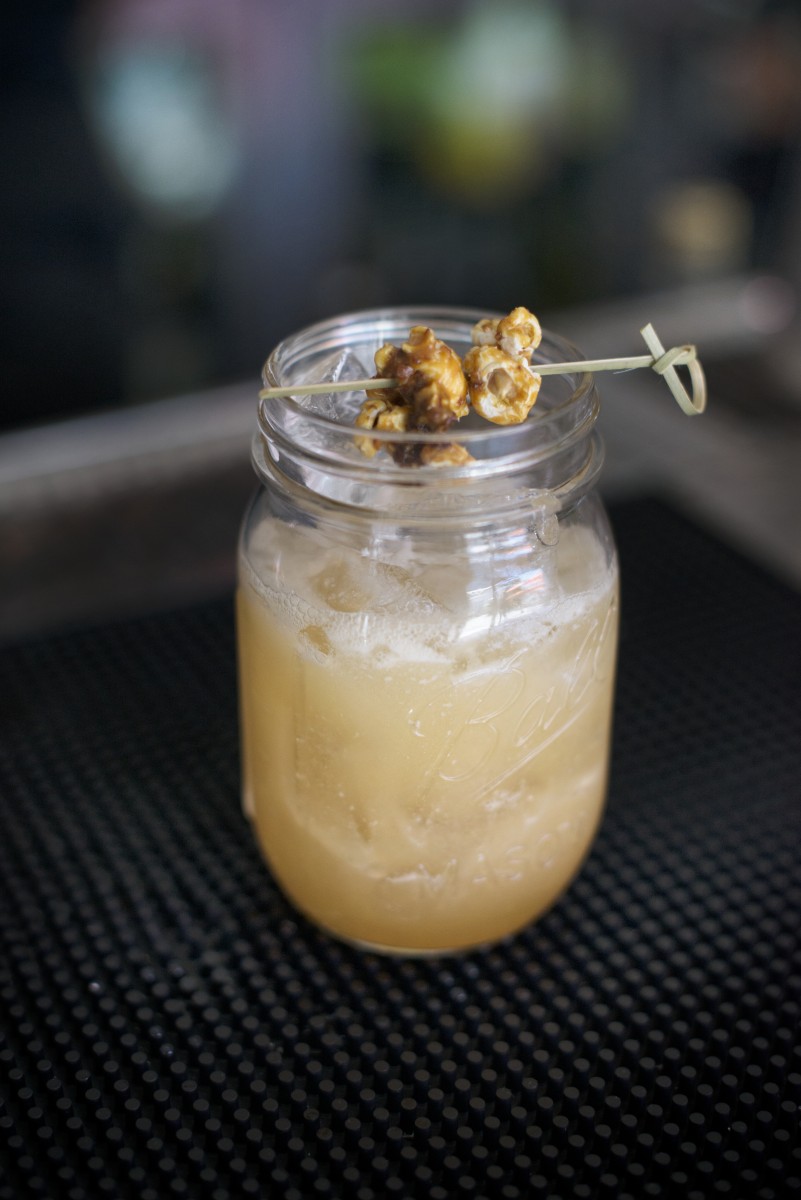 They now produce their own salumi, pasta, pizza dough, gelato, bacon-infused bourbon, and chicharrone peanut butter cups. They grow their own produce at home, and at The Barlow and Davis Family Vineyards. On the side, Estes and Stewart work with Thomas George Estates in Healdsburg to make Pink Pig sparkling wine and Black Pig Pinot Noir, and with Tilted Shed Ciderworks in Windsor for a bacon hard cider on tap, and Davis Family for a Slaughter House Syrah.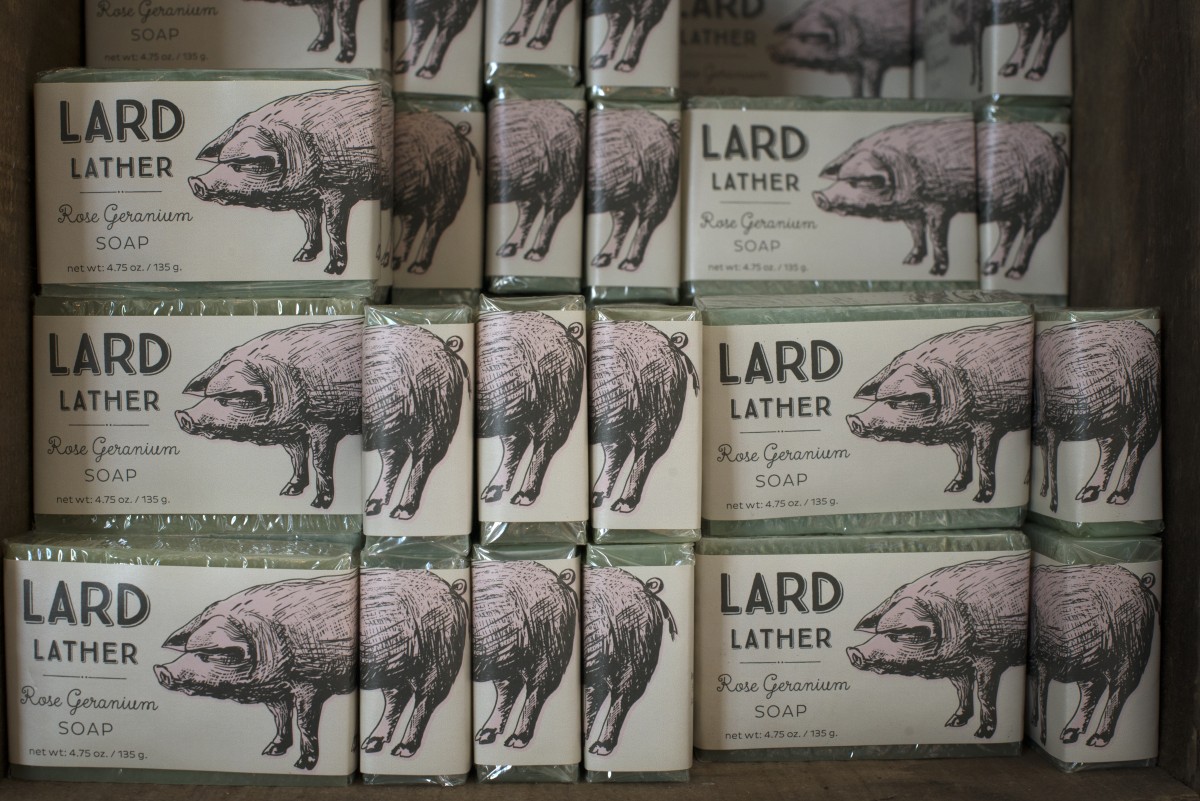 Now, showing a visitor around their yellow clapboard farmhouse, Estes and Stewart introduce a stud pig, Big Papa, a 600-pound hybrid. He came to be a preferred sire after the couple played mad scientist three years ago, crossing a rare heritage Mulefoot with a Red Wattle in their backyard, for what they think might be an entirely new breed.
"Mangalitsa piglets were nearly impossible to get, and $600 each," Estes said. "So we tried raising diŒerent kinds, winners from Cochon competitions. Then we did dinner taste-oŒs."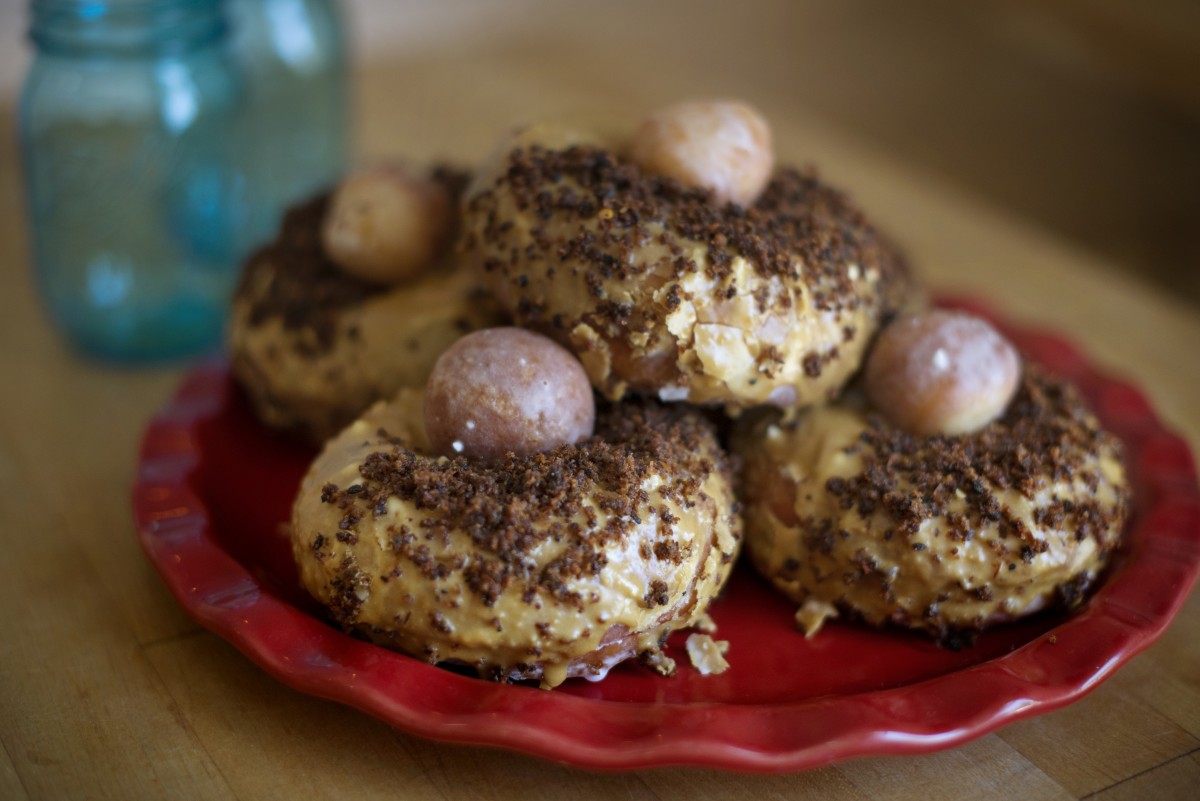 Currently, Big Papa is dating Tamworth/Duroc and Berkshire/ Hampshire crossbreeds. "That's enough genetic diversity, and they're not as tall and skinny as purebreds," Stewart said. "They're more round, like I love."
Every day is a new adventure, Estes said. "It's a ride, dude. We've gotta try, even if it seems everything I want to do now" isn't yet accepted.
zazu kitchen + farm, 6770 McKinley St., Suite 150, The Barlow, Sebastopol, 707-523-4814, zazukitchen.com