Imagine an online grocery store where the best of local meats, cheeses, vegetables, breads, fruits and gluten-free goodies could be ordered for next-day delivery or pickup, potentials of deliciousness ready from your screen.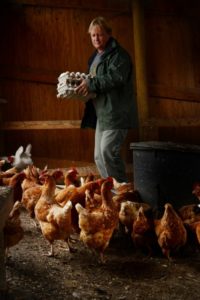 A service called Good Eggs is bringing locally grown and made food items to customers throughout the Bay Area via its new website, with orders assembled for home delivery or pickup from a range of locations, with a strong lineup of Sonoma County purveyors in the mix.
"We want to make a market for the good guys," said Clint Schmidt, who oversees marketing for Good Eggs.
Launched last February, Good Eggs finds and partners with farmers and food makers who aim for that elusive combination of ethical and worth eating.
"We're pretty stringent," Schmidt said. "(Products) need to be local and good quality."
Good Eggs' producers are expected to run their operations with integrity and serve their local communities, paying their employees fair wages, treating animals humanely and avoiding synthetic inputs as much as possible. There are other criteria, starting with transparency about their practices and ingredients.
Word is starting to spread among purveyors with quality goods to sell. The company works with approximately 300 food suppliers in the Bay Area, and has a total of 500 across the United States. Co-founder Rob Spiro told SF Weekly that Good Eggs filled an estimated 200 to 300 orders a day last summer, and has plans to scale up to 2,000 orders a day in the Bay Area alone. Its first phase has been so successful that Brooklyn, New Orleans and Los Angeles have emerged as additional pilot marketplaces for the service.
Jon Bowne of Gypsy Cheese Co. in Valley Ford said it's difficult to make a profit as a small food producer, especially when having to rely on traditional distribution networks that demand low prices to make room for their own markup.
"Good Eggs provides a venue for direct-to-consumer sales but doesn't require as much of the labor, fees, permits and equipment that farmers markets demand," he explained. "This allows us to realize a much higher margin on sales."
It also provides a cutting-edge, enjoyable buying experience for customers, who Bowne said are high-quality clientele for a craft-food producer — and that's important.
"These high-value customers help create a buzz for the product," he said. "And it appears that Good Eggs is growing rapidly. I can't think of another sales venue that could match its likely growth trajectory."
Shelley Mainzer is one of those customers. She works and lives in San Francisco and joined the service in February 2013.
"You know how you think food is supposed to taste but then you buy something at the grocery store and it maybe smells good but has no flavor or tastes like water?" she asked. "Good Eggs is the complete opposite. It's like being on the farm, picking things fresh every time I get a delivery. Everything tastes amazing, too."
She loves knowing which farm grew her food and having direct contact with many of the farmers.
"It's made cooking more exciting for me," Mainzer added. "I try new things and eat so much more healthy and it's easy; they deliver to my office. Everything about them gets me excited about farm-fresh, healthy, delicious food."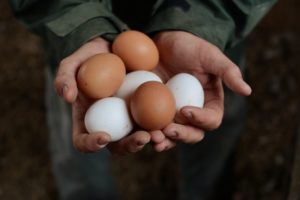 In the Bay Area, Good Eggs includes products from as far north as Sonoma County, to Pescadero in the south and Yolo County in the east. It's a crucial distribution outlet for Sonoma purveyors wanting to reach a large area.
"One of our challenges as a new company with a new product was to get our product to the right marketplace," said Kristine Beck of Twisted Horn Ranch in Bloomfield. "Farmers markets are good but time-consuming, and we had full-time day jobs and weekend ranch work. Selling from the ranch works, but it's a narrow group we could reach that would be driving almost to Bodega Bay to pick up beef. Grocery stores would work but we were too small to supply what was needed. Good Eggs solved all that for us."
Twisted Horn and other vendors who qualify for Good Eggs are not required to pay upfront nor create any additional advertising or marketing. The model also works for many vendors because inventory can fluctuate.
"For us that was important, as we have varying amounts of inventory and we didn't know how fast things would move," Beck explained. "We have a very long lead time to get new inventory, so that works well for us to have flexibility. But one of the best things about Good Eggs is home delivery. We're excited to be able to have our beef delivered right to the customer."
Delivery areas and pickup locations are, for the moment, concentrated where larger populations exist. They include a handful of San Francisco neighborhoods, Oakland, Berkeley, Marin and parts of the Peninsula. Purveyors can also create their own pickup points; Twisted Horn is considering one in Petaluma.
Sonoma County is well represented on Good Eggs. Here's who is involved:
Bloomfield Farms, Petaluma: Bloomfield grows certified-organic and heirloom produce, offering seasonal salad mixes, red little gem lettuce, small CSA share boxes and more through the Good Eggs site. The farm consists of 45 acres in the Estero Americano Watershed roughly between Bloomfield and Valley Ford and specializes in cool-weather crops like spinach, broccoli and strawberries. Large groups are invited to tour the farm by appointment with the option to include lunch, made either by chef Brandon Guenther of nearby Rocker Oysterfellers or chef Gerard Nebesky of Gerard's Paella. But the best experience of all might be the Sunday UPicks, from 10 a.m. to 2 p.m., when visitors are invited to harvest their own organic produce, buy farm fresh eggs and the like, then stay for brunch, all for $30. bloomfieldfarmsorganics.com
Chalk Hill Cookery, Healdsburg: Founded by chef Matteo Silverman, previously of San Francisco-based vegetarian restaurants Green's and Millennium, Chalk Hill makes vegan baked goods, some also raw and/or gluten-free, including chocolate macaroons, lavender shortbread, toffees and granola. Product packaging is made from biodegradable cellophane. Silverman also sells caramel corn, raw golden flax seeds and even palm sugar, a low-glycemic sweetener that's also organic. Chalk Hill Cookery is also a caterer able to create four-course vegan dinners. chalkhillcookery.com
Gypsy Cheese Co., Valley Ford: Gypsy Cheese is a small, husband-and-wife-led operation making small-batch cheeses from raw goat's and cow's milk, sourcing the milk from other nearby family farms. Its Caravan Gold is a feta-style cheese marinated in local olive oil and herbs. Gypsy Rose is a semi-hard cheese aged for several months. Former lawyers, Jon and Lauren Bowne started production just last year. gypsycheese.com
Happy Hens Farm, Petaluma: From Sonoma Mountain, Happy Hens raises chickens and ducks (and their eggs), heritage pork and grass-fed beef, lamb and goat. Herding dog Jack and resident llama Hans look over the flocks, which are given free rein to roam around together. Jack has inspired the launch of ranch-made dog treats, too, made from fresh meats. Happy Hens will soon be organically certified. In the summer Farm Camps go for two-week stretches, bringing in children to take care of the animals and the farm, around carefree days of farm-related arts and crafts, storytelling, gardening and fun. happyhensfarmgirl.blogspot.com
Jellicles Farm: Jellicles is a "tiny patch" of farmland in Santa Rosa, making honey, ghee, salts (with rosemary, lavender or fennel) and herbal teas. For Good Eggs, Jellicles also sells plant starts, dried flowers, seasonal decorations and Thai chiles and LabLab beans. facebook.com/jelliclesfarm
Twisted Horn Ranch, Bloomfield: Twisted Horn raises Longhorn cattle without the use of hormones or antibiotics, a breed whose meat ends up being lower in fat and cholesterol than chicken, especially since these bovines graze freely and feed on wild grasses. Cuts available include prime rib, steaks, tri-tip, filet mignon, beef heart and ground beef, as well as a line of stocks and sauces. Owners David and Kristine Beck additionally offer visits to enjoy the sunset from the ranch, made all the more comfortable from the sun-filled, 600-square-foot, well-appointed guesthouse, available for overnights. Sometimes they even do a cooking class in the ranch kitchen for up to 10 guests at a time. twistedhornranch.net
Wyland Orchards, Petaluma: Wyland is a family-run farm with chicken eggs, duck eggs, Berkshire pork, lamb and grass-fed Angus beef, including sausage and bacon. Started as an olive orchard in 1999, the owners, Jason and Beth Gooch, soon added a flock of sheep to their land, then chickens, which roam freely and graze beneath the trees. Today, cattle and pigs are also in the mix. No antibiotics or hormones are used. Via Good Eggs, customers can also buy beef heart, tongue, oxtail and offal. wylandorchards.wordpress.com
Subscribe to Our Newsletters!