Spending the night in the middle of a vineyard is a magical experience at any time, but in the dormant winter months, there's a feeling of bedding down while the land is lying low.
Imagine waking up, lifting your head from the pillow and looking through French doors opening only feet from a row of wet vines. At first light, heavy fog reveals only vine trunks and the jackrabbits that scurry between them. A hawk's cry breaks the silence. As the fog recedes, it holds on with long fingers down each row before letting go.
It's not the cheery bud break of spring with its electric-yellow mustard bloom. Or the bustle of busy summer tastings and the visitors' parade. Or the urgency of harvest and its heavy machinery.
Winter is for catching your breath at the winery. For ducking out of the rain for private cave tours and strapping on boots for a muddy hike through the vines. In an image, it's the warm light of a fireplace through a half-empty bottle of wine. Or the skeleton of a leafless vineyard, revealing the vines' stark linear architecture in blocks and rows.
All across Sonoma, dozens of wineries moonlight as hotelier and concierge. This time of year, in the offseason, you can take your pick and experience, if only for a weekend, what it feels like to live among the vines.
Soda Rock Winery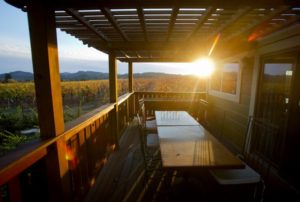 This restored 1869 old-stone winery, which once housed the Alexander Valley general store and post office, offers four unique getaways. The most unusual is the Water Tower Suite, a converted wooden water tower perched high above the property. Step inside and look up to see a massive staircase system that recalls an Escher painting. The upper floor is all bedroom, with just enough space for the king-size mattress, but perfect for stunning panoramic views of surrounding vineyards and Alexander Valley.
"It's so still you can hear the coyotes at night," said Sydney Wilson, daughter of owners Ken and Diane Wilson, who rents out the lodgings.
The Artist Den is the most minimally decorated, accented by artist Wade Hoefer's dreamy landscape paintings. (That's his studio behind the winery). The best outdoor entertainment spot is the long wooden table and barbecue alongside the Barn Suite. And by far the best wake-up call is the vineyard that beckons only feet from the foot of your bed in the Vineyard Suite.
8015 Highway 128, Healdsburg, 707-433-3303, sodarockwinery.com. Winter prices $185-$285 for wine club members, $285-$400 for nonmembers.
Thomas George Estates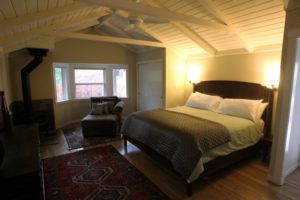 Taking over what was once Davis Bynum Winery, the father-son team of Thomas and Jeremy Baker has made the most of the four 1920s-era guest houses that line the entrance to the Westside Road winery southwest of Healdsburg.
The crown jewel is the three-bedroom Pinot Noir House and its veranda pool overlooking the vineyards. Throw in a hot tub, barbecue and full kitchen and it's a hidden Wine Country home away from home.
"I like to call it a rustic elegance," said Nancy Castro, who fell in love with the guest houses while vacationing as a wine club member before becoming the hospitality manager. "It's not hard to get that 'I forget where I live' feeling."
Depending upon your mood, take a private cave tour or hit the hiking trail that starts just feet from the crush pad and winds up to Baker Ridge Vineyard overlooking the Russian River Valley. Take a picnic lunch or a helicopter tour ($600 for one hour) that flies to the winery's Cresta Ridge Vineyards in Green Valley.
8075 Westside Road, Healdsburg, 707-431-8031, thomasgeorgeestates.com. $150-$400 for wine club members, $300-$800 for nonmembers.
Landmark Vineyards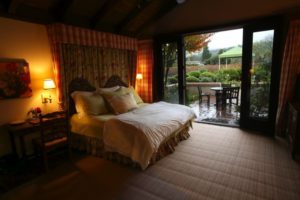 It's not uncommon to hear the clink of wine glasses while staying at the Guest Suite just off the tasting room at this cozy Kenwood winery. Or the soft thud of bocce balls on the nearby clay court. Under the gaze of towering Hood Mountain, this inviting room (which doubles as a honeymoon suite during the wedding season) comes with a private patio and, for those wintry downpours, a fireplace and DVD player stocked with winery-based films such as "Sideways," "A Walk in the Clouds" and "Bottle Shock."
"During the winter down time, it's like you have the whole winery to yourself," said tasting room manager Donna Carroll, "especially when everybody goes home around 5 in the evening."
Charming with dormer windows, the larger Guest Cottage overlooks the vineyards and offers a wide front porch and full kitchen.
101 Adobe Canyon Road, Kenwood, 707-833-0053, landmarkwine.com. Winter special $215-$250, with 20 percent discount for club members.
Larson Family Winery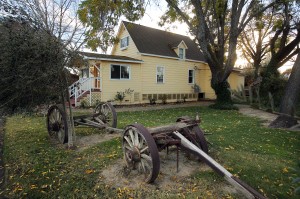 Maybe it's the "Three Labs Crossing" sign that warns visitors or the pothole-dotted Millerick Road leading in, but this Civil War-era farmhouse, known as A Captain's House, is by far the most remote-feeling of the winery getaways.
Only a stone's throw from the overgrown Sonoma Creek, the four-bedroom, two-story 1860s house was built by a steamboat ferry captain who needed a place to stay after his long hauls from San Francisco.
Make sure to spend time in the converted Carneros barn that doubles as a rodeo museum, spotlighting archival photos and medals that demonstrate what was once Millerick Ranch and the popular Sonoma Rodeo.
"And if you're feeling adventurous, you can hike or bike down to Wingo. It's a ghost town about three miles down the dirt road," said Erin Bush, Larson's marketing manager. Just be ready to introduce yourself, "because there's a guy who still lives there."
And a word of warning — the tempestuous Sonoma Creek has been known to flood during the winter, washing out the road and access to the winery. So be flexible and ready for an adventure.
23355 Millerick Road, Sonoma, 707-938-3031, larsonfamilywinery.com. $350 for up to four people, $450 for up to nine people.
Editor's Note: Travel, dining and wine tasting can be complicated right now. Use our inspirational ideas to plan ahead for your next outing, be it this week or next year. If you visit restaurants, wineries, and other businesses during the pandemic, remember to call ahead, make reservations, wear a mask and social distance.