Many people know Crooked Goat Brewing as a hub for great craft beer in Sebastopol, but what some do not realize is that the brewery has roots in Petaluma.
Before opening Crooked Goat in the Barlow complex in 2016, co-founders Paul Vyenielo, Rich Allen, Andy Erickson, Andy Cook, Scott Tieman and Will Erickson crafted their brews in a small office space behind Pete's Henny Penny restaurant.
Crooked Goat has come a long way since those early days, expanding its Barlow location three times to keep up with demand. On May 14, the brewery added a new taproom in Petaluma, just west of downtown. To Vyenielo, it felt like a homecoming.
"I was born and raised in Petaluma, and three of my partners are also from here," he said. "We'd been looking for a second location for a couple years, and it just felt right."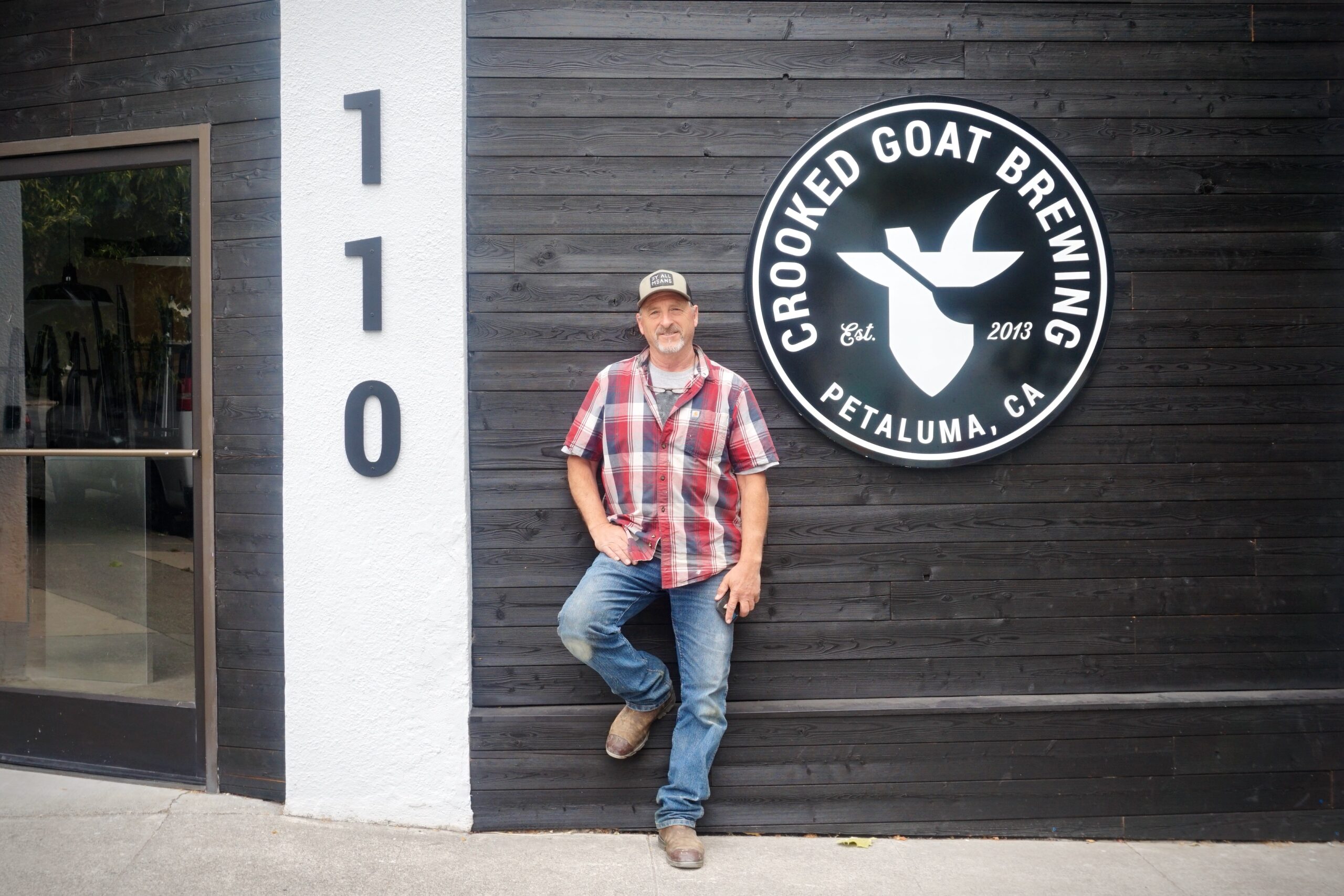 The search led Vyenielo and his friends to an 1880s carriage house at the corner of Howard Street and Western Avenue — only a few doors down from his childhood home. In later years, the space housed a tractor dealership and, most recently, a t-shirt print shop and ballet studio. The partners gutted the building and restored it to its original character.
"We exposed those beautiful bones," Vyenielo said, "and when we saw the old wooden beams on the ceiling it was just so cool."
Temporarily operating at one-third of the building's 200-guest capacity (Vyenielo expects to be running at full steam as of Memorial Day weekend), the taproom is open from 11:30 a.m. to 10 p.m. Fridays and Saturdays, and from 11:30 a.m. to 9 p.m. on Sundays. Within the next couple of months, once permits are fully approved, Crooked Goat plans to open for daily business.
Like the Sebastopol location, Petaluma's Crooked Goat is family- and dog-friendly, with a comfortable neighborhood vibe. The taproom is spacious and open, with bar seating and long tables up front, and a large living room-style lounge area at the back. While Crooked Goat does not have outdoor seating, wall-sized rollup garage doors give the space an airy feel.
Crooked Goat features 18 beers on tap — brewed at the Sebastopol location — plus hard seltzer, zero-proof kombucha and artisan root beer. The brewery specializes in West Coast IPAs, and also offers a wide range of rotating brews from sours to lagers to fruit ales.
Food trucks provide beer-friendly noshing options, and in a few months, once interior renovations are completed, Acme Burger will begin delivering orders to Crooked Goat patrons from its new digs just across the parking lot.
If all goes well with the Petaluma taproom, Vyenielo might just get to quit his day job as a tile contractor and become a full-time Crooked Goat proprietor.
"I've been doing tile for almost 40 years now and it's not nearly as fun as hanging out at the brewery," he said. "Everybody that comes in has a smile on their face, and they've got a smile when they walk out."
Open (temporary hours) 11:30 a.m.-10 p.m. Friday and Saturday, 11:30 a.m.-9 p.m. Sunday. 100 Howard Street, Petaluma, 707-559 5691, crookedgoatbrewing.com.
Subscribe to Our Newsletters!