Samantha Ramey comes from a family of New Yorkers who've worked in the restaurant business for generations. She started working for her father's meat and provisions business at age 13.
However, she said, there's no contest when it comes to East Coast versus West Coast bagels and pizza. Sonoma County wins.
"I just love the sourdough crusts on the pizza here. They're better than anything I've had in New York. I also love, love, love Ethel's bagels in Petaluma," she said.
As co-owner of Valley Ford's Estero Cafe, Santa Rosa's Americana restaurant and a forthcoming restaurant in Sebastopol, she's one of the region's biggest food cheerleaders. When she talks about Sonoma County food — food from farmers and fellow chefs to producers like Ethel's — she's entirely a local.
Her husband and culinary collaborator, classically trained chef Ryan Ramey, is a Sonoma County native. He's equally enthusiastic about local food, from the produce his close friend Will Scott grows at Freestone's Worker Bee Farms to meat from Sonoma County Meat Co. and cheese from Valley Ford Creamery.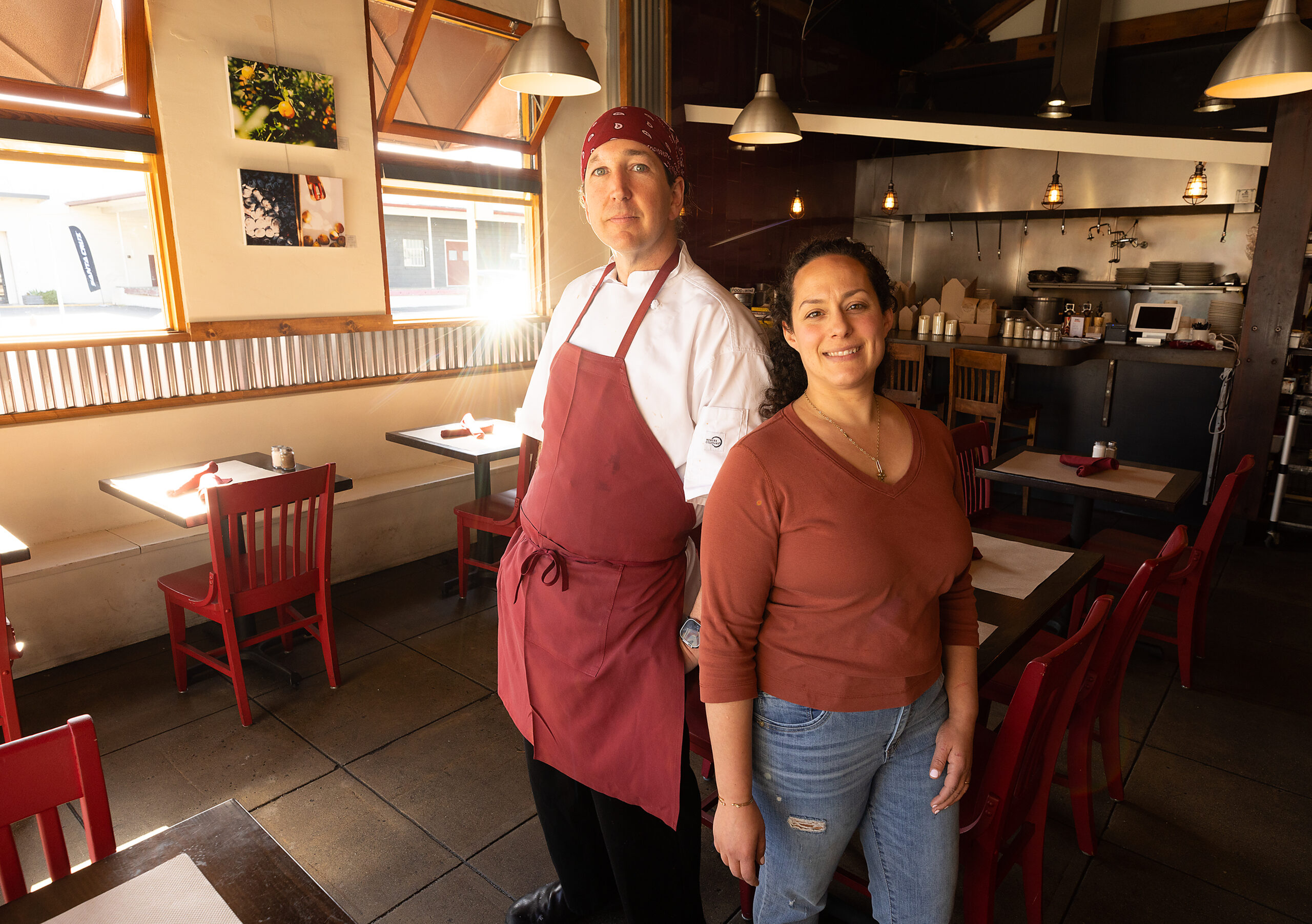 The menus at the Rameys' restaurants proudly shout out their ingredients, giving props to 10 or more farms at a time. At Americana in Santa Rosa's Railroad Square, a Farm Trails sign and a Snail of Approval award from Sonoma County's Slow Food chapter hang above the dining room entrance.
While their Estero Cafe has been serving destination-worthy breakfast and lunch classics — biscuits and country gravy and sourdough French toast made with Red Bird Bakery's soft Pullman loaf soaked in custard and topped with housemade vanilla cider syrup — Americana is their pandemic baby.
Opened in 2020 (while Samantha was pregnant with their second child), Americana was a tough go for the couple for nearly three years. Though they offered takeout meals, the Rameys' food is so much better eaten on the spot. Preferably with gusto.
However, they've seen a serious uptick in customers in recent months. Americana is running at full speed now, with an established breakfast and lunch menu and new dinner service from 5 to 9:30 p.m. Thursday through Saturday.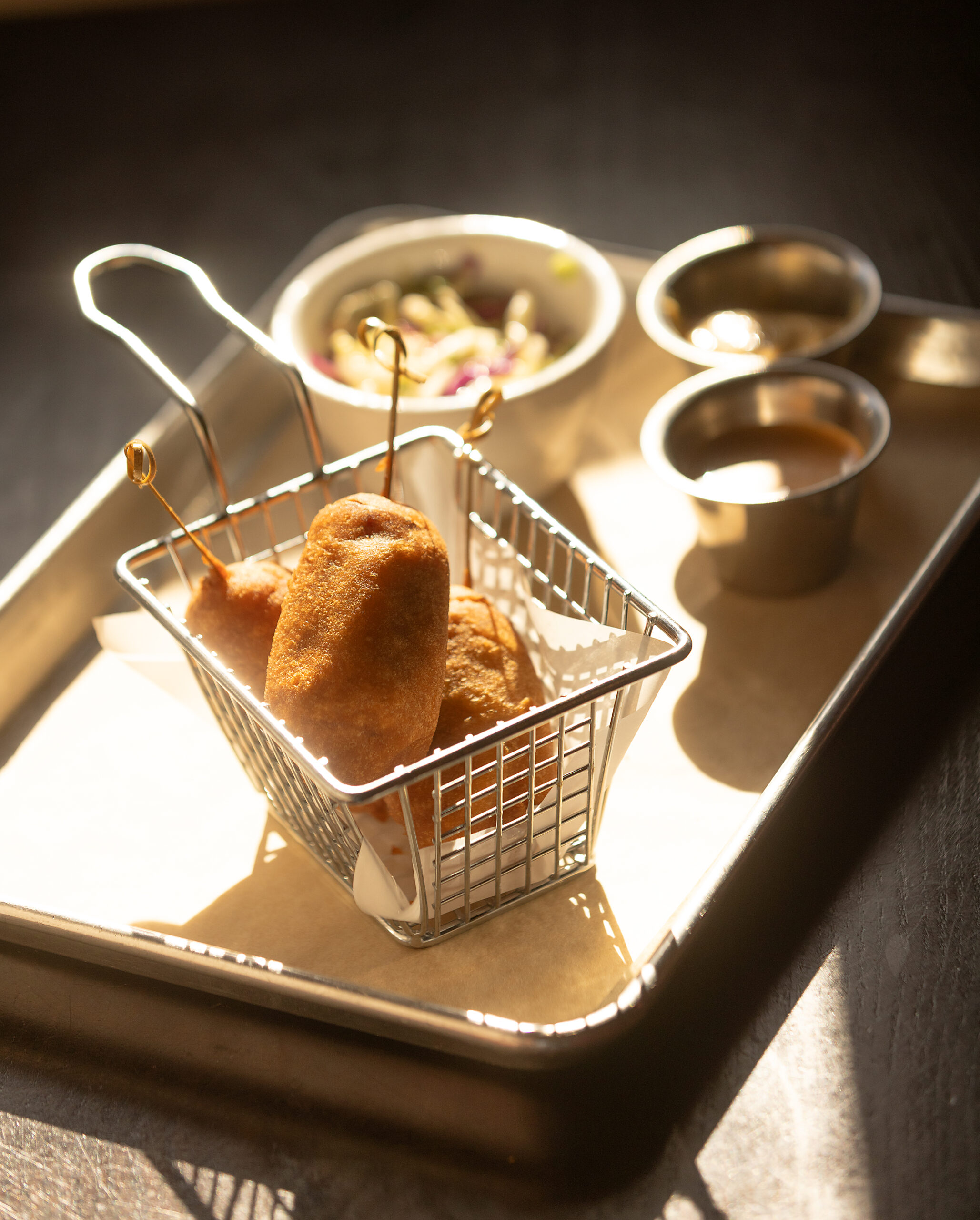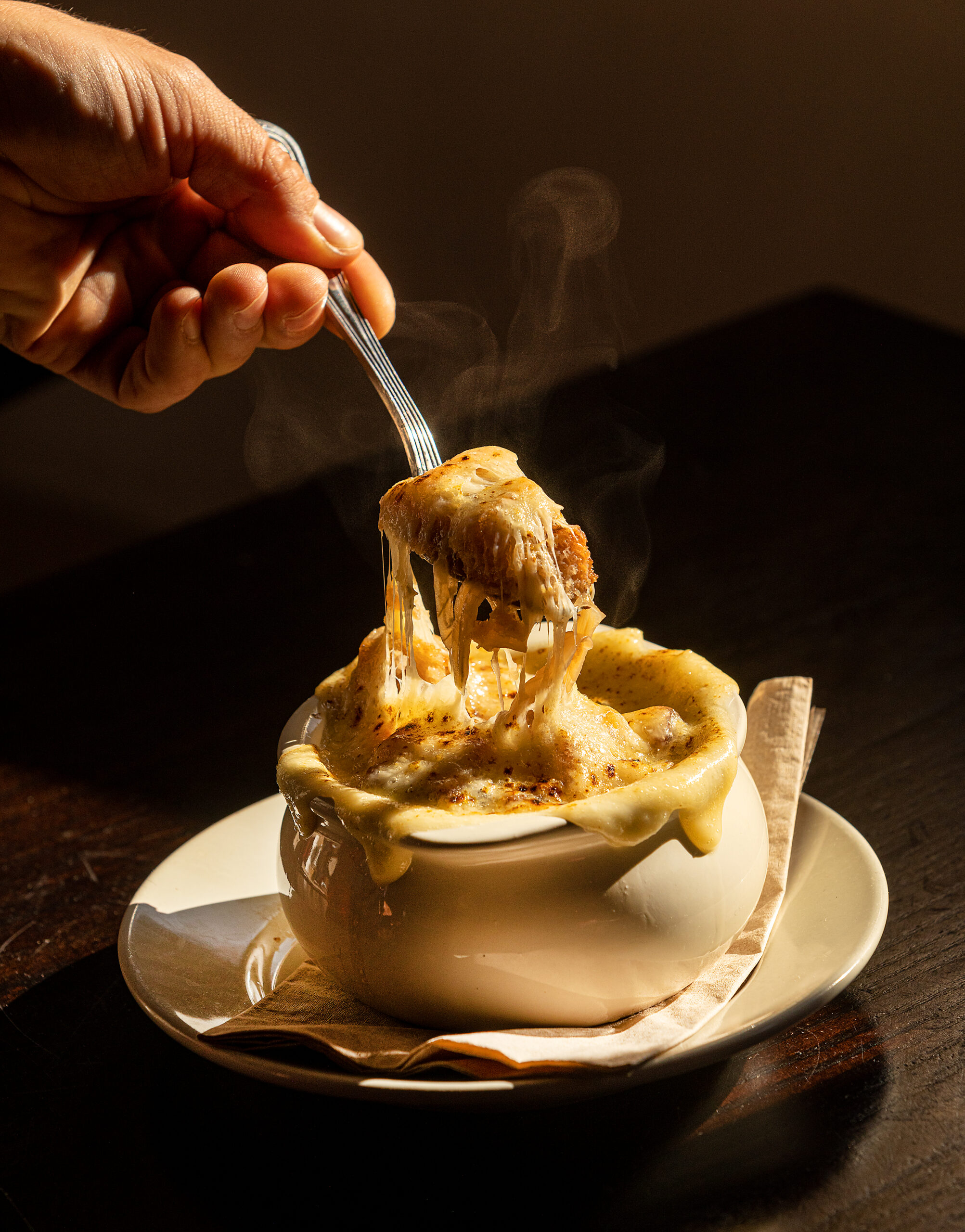 Dinner here is a come-as-you-are affair. The ingredients and the preparations are white tablecloth-worthy, but the vibe is entirely casual. It's American comfort food, after all. Think corn dogs, fried chicken, meatloaf, salads and chocolate cake.
"I love contributing to our community. I want to share the opportunity with everyone," Ryan said as he took a break outside the compact kitchen where cooks stand elbow to elbow.
Americana is about food made with love for Sonoma County and the people who eat it.
"If I could, I'd do this for free. I just love feeding people," Samantha said.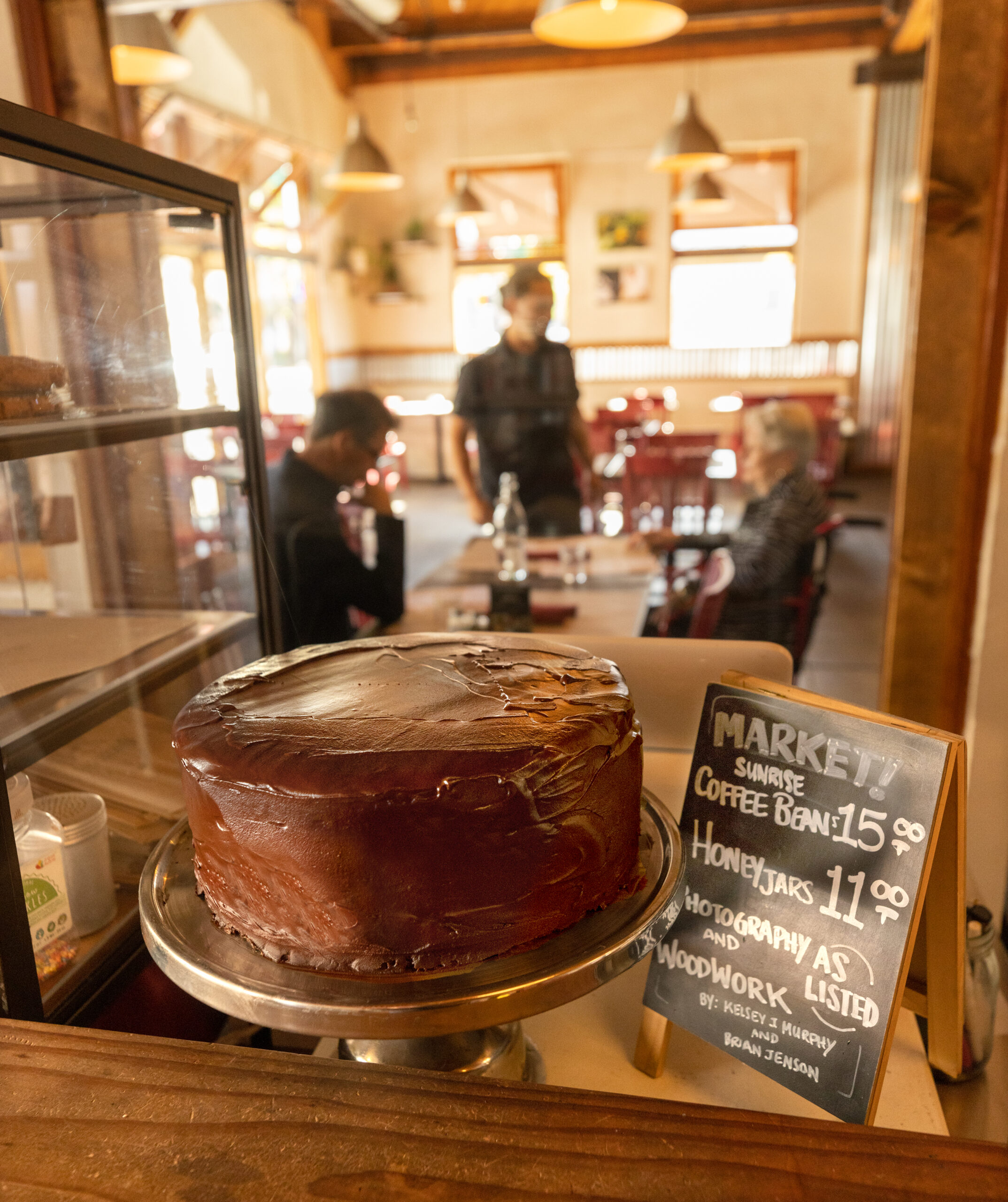 Best Bets
You'll find some of the same dishes at Estero and Americana for breakfast and lunch. Americana's new dinner menu, created by Ryan, includes dinner entrees and all-day favorites like pancakes and omelets. Breakfast for dinner! Prices are not cheap and accurately reflect the cost of buying sustainable, regionally grown food.
The dinner menu runs two full pages, so this is just a sampling of the many dishes. The menu at the new Americana restaurant set to open this summer in Sebastopol will mimic the current Santa Rosa menu.
Corn Dogs, $15: Half-size dogs, full-size flavor. Inspired by the county-fair-food favorite, these pups are covered with delicately fried cornmeal batter, with super snappy Polish smoked sausage tucked inside. Served with sweet cider or tongue-nipping mustard sauce and with fries and a side of slaw.
Americana Onion Soup, $13: Bone broth is the secret to the Mariana-Trench level depth of flavor in this onion soup. Caramelized onions, herby croutons and a notable thyme and sage kick are blanketed by bubbly, melted Swiss cheese.
Fried Chicken Dinner, $25.95: This is as old-school as it gets, with two ridiculously plump pieces of buttermilk-soaked fried chicken, a homemade biscuit the size of a compact car, mashed potatoes, greens and a mushroom gravy we wish was served in a small wading pool. For a more breakfast-style version, try the Chicken Fried Chicken ($24.50) or Fried Chicken and Waffles ($22).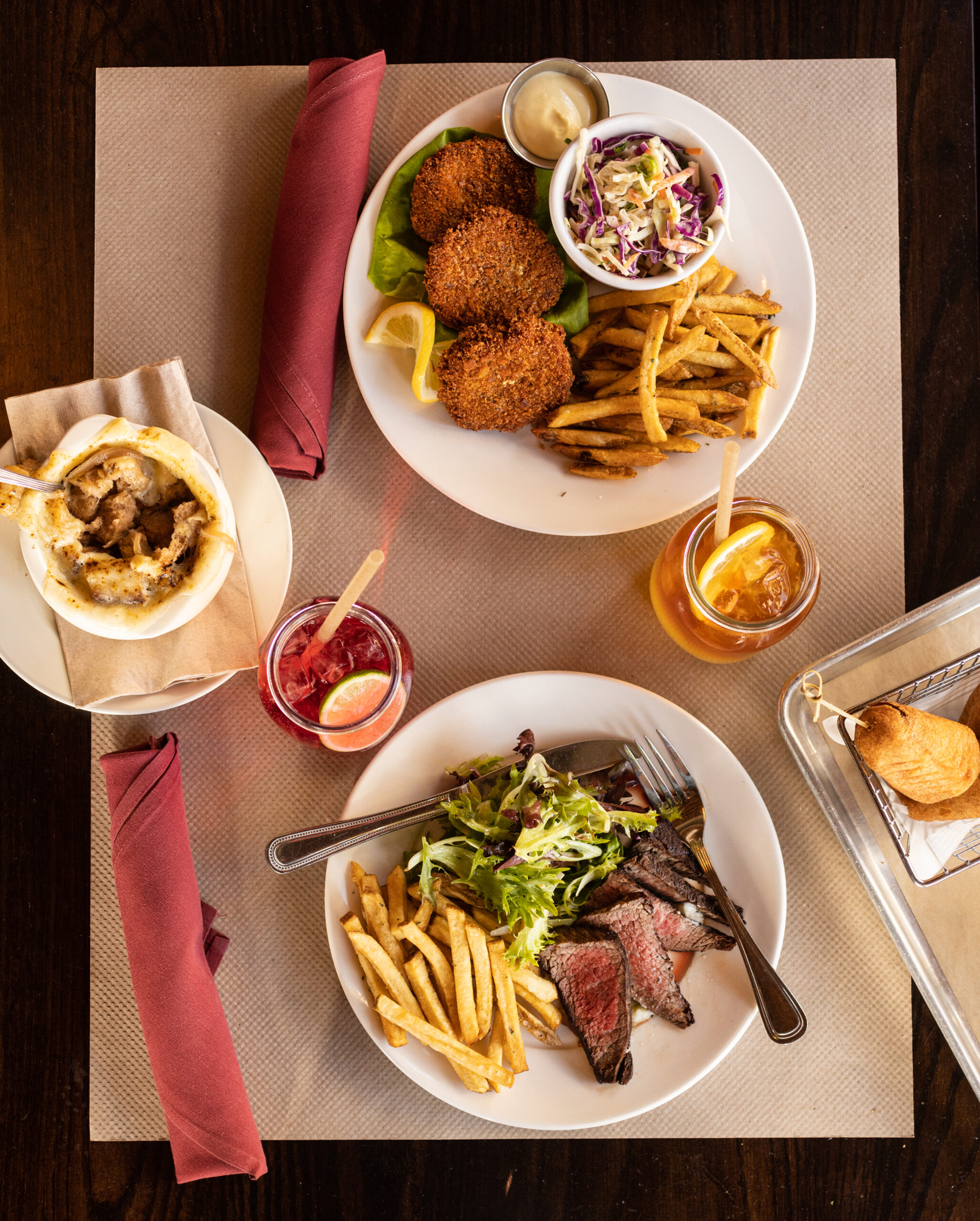 Mushroom Melt, $19.50: A souped-up spin on grilled cheese, this version gets a mess of grilled king trumpet mushrooms added to buttery melted Estero Gold cheese and creamy aioli on Village Bakery sourdough. Onion rings are a perfect side for this, though we wouldn't say no to a side of soup for dipping.
Americana Burger, $18: We love a mess of a burger that barely gets from the plate to your mouth without falling apart, but this burger isn't that. Instead it's a big and beautiful one-third pound of Stemple Creek Ranch beef, Clover cheddar cheese, housemade aioli and a freshly baked bun. Simple, straightforward and concealing nothing. Perfection. Go for the Blue Cheese Mushroom Bacon Burger ($24) if you want something more dramatic.
"The Bear" Cake, $15: If you've seen the PTSD-inducing restaurant kitchen drama "The Bear," you know this is Chef Marcus' obsessive cake. If not, it's just a dang good chocolate-on-chocolate-on-chocolate layer cake. The slices are hearty, and I ate mine over three days.
Meatloaf Dinner, $24.95: This classic blue-plate special recently arrived on the menu, served with whipped potatoes and a daily vegetable. It was too late to taste before this article was written, but who doesn't like meatloaf?
Steak and Frites, $36.95: The bourbon-soaked, dry-aged sirloin steak and fries is a unique concept with the less pricey cut of beef tenderized by a boozy dip and brief aging. Served a perfect medium-rare, it's a lovely dish, but in my mind, there are just too many other things on the menu I craved.
Americana is at 205 Fifth St., Santa Rosa, 707-755-1548, americanasr.com. Breakfast and lunch from 7 a.m. to 3 p.m. daily, dinner 5 to 9:30 p.m. Thursday through Saturday.