If you run into Charlie Palmer at the Dry Creek Kitchen in Healdsburg, chances are the tall, imposing chef will be buttoned up in a crisp chef's jacket or white Oxford dress shirt.
But scratch the surface of this well-known hospitality entrepreneur — with 12 restaurants to his name and a growing collection of boutique hotels and wine shops across the nation — and you'll find a country boy at heart.
Whether fly-fishing on Colorado's Laramie River or stalking the scrappy pheasant in Sonoma with Dry Creek Kitchen executive chef Dustin Valette, Palmer likes to relax in the colorful costume of the avid outdoorsman: jeans, red cap and camouflage jacket.
Thanks to the locavore movement, people increasingly want to know how their food is grown and raised. More and more hunters are motivated by the promise of high-flavor meat than they are by the sport alone.
But not everyone knows the best way to cook partridge and rabbit, venison and elk. And from a chef's point of view, that's a problem.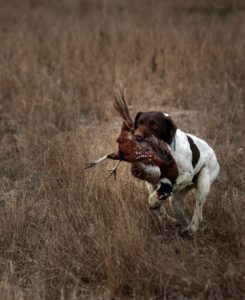 "You've got all these people who are into hunting and fishing, but they don't know what to do with the stuff they catch," Palmer said. "If you kill it, you eat it."
So when the gun-manufacturing company Remington Arms went looking for a chef to collaborate on a new cookbook, it didn't take long to flush Palmer out of his home in the forested hills above Healdsburg.
After all, the project spoke to Palmer's two greatest passions: the primal pleasure of eating in the outdoors, and the sourcing of the very best ingredients from around the world.
"Eating in nature, from nature, means eating mindfully within seasonal harvests, using simple dishes enhanced by vivid flavors," Palmer said.
This ain't your grandma's recipe box, and it's not your average celebrity chef cookbook, either.
Illustrated with rustic photographs and paintings from the archives and art collection at Remington Arms, "Remington Camp Cooking" by Charlie Palmer has the luxurious feel of a family keepsake, with a soft leather cover and flexible spine.
Yet it's rustic enough to throw in the back of a pickup truck with the guns and ammo.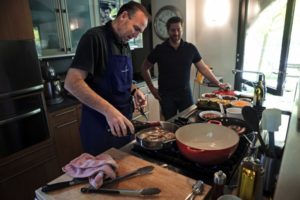 "The more you get oil on it, the better the book is going to feel," Palmer said. "It's not aimed at our restaurant clientele, but at the outdoorsman."
With the help of Valette, also a lifelong outdoors enthusiast, Palmer developed a mouthwatering array of recipes to appeal to anyone who believes food tastes better when enjoyed in the great outdoors.
"There's not a lot out there about cooking in the outdoors … at least, not a lot that's usable," Palmer said. "Most of it is Uncle Joe's recipe, and you soak it in Coca-Cola."
From a Duck Meatball Banh Mi to Trout in Foil with Lemon-Sage Butter, the recipes marry the elegant with the accessible. They can be made by anyone with access to a grill, campfire or Dutch oven.
"The recipes could be done anywhere," Palmer said. "But the focus is how to be a more successful outdoor cook, whether you're cooking over a fire pit, grilling or tailgating."
Palmer, who grew up in upstate New York and trained at the Culinary Institute of America at Hyde Park, N.Y., has been hunting and fishing, cooking and camping, all his life. Most of the practical wisdom he imparts in the book has become second nature to him.
"I got my first shotgun when I was 12," he said. "My brother would take me trap and skeet shooting with clay pigeons."
While attending culinary school, he went pheasant hunting with one of his roommates from South Dakota.
"There's acres and acres of harvest corn just loaded with pheasant," he said. "It's a perfect habitat for them."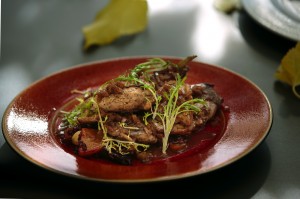 Before he was married, he also fell in love with deep-sea fishing, chasing the storied blue marlin from the Bahamas to the coast of Venezuela.
And years ago, before A&E's "Duck Dynasty" TV show was a glint in the eye of its creator, Palmer was invited to Louisiana's bayou to shoot a hunting show with Eli Haydel, a famous maker of duck calls.
"We took the ducks back and cooked them," Palmer said. "There was a guy named Big John who was drinking moonshine whiskey, and he had water moccasin scars all over his arm."
These days, Palmer likes to cook wild game on a fire pit he built outside his house. During the season, he enjoys morning pheasant and chukar (partridge) hunts at a local sport-hunting club in Sonoma County.
"It's like a preserve," Palmer said of the rustic club. "It's amazing that that piece of land is there still, and you can hunt with a dog."
Valette, who grew up in Geyserville, learned about hunting and fishing from his dad, Robert "Pops" Valette, an air tanker pilot for the California Department of Forestry and Fire Protection.
"We didn't have TV, so we were always doing something hands-on and outdoosy," Valette said. "I learned about guns on Ridge Ranch at the Geysers, which is owned by family friends."
Valette started out with a Red Ryder BB gun, then received an old shotgun from his grandfather. He started quail hunting at 6 and shot his first buck at Mount Lassen when he was 9.
Photo gallery: Charlie Palmer: The Rest of the Story
In the winter, Valette likes to go to the Baxter Ranch at Lake Sonoma to hunt wild boar, then grinds the meat into luscious sausage, following his father's recipe.
"It's more natural," Valette said of range-to-table cooking. "Because the animal is not in captivity, it has a more natural life."
This spring, Dry Creek Kitchen plans to launch a new 24-seat outdoor annex, the White Oak Grill, with a simple menu inspired by Valette's oak-wood grilling experience at Baxter Ranch.
"It will add another dimension to the restaurant, with a casual feel to it," Palmer explained. "We'll do a simple, grilled menu."
Like most outdoorsmen, both Valette and Palmer are passionate about taking care of the land, not only for themselves, but for future generations.
"Outdoorsmen, hunters, fishermen and campers — those are the people who are most concerned about the outdoors," Palmer said. "They understand they have to take care of it … or it won't be there."