On the cusp of spring they start poking their heads from the soil, arriving in jaunty clumps, cancan lines or in large conventions crowding an entire meadow or hillside.
Daffodils aren't bashful as are many wildflowers that hide in woodlands and swales. Instead, they act as the brass band of springtime, marching into the awakening landscape often well before the rhododendrons and tulips, with trumpets of yellow, white and sometimes pink and orange.
"They're the first sign of spring and they just jump out of nowhere," said Merle Reuser, Sonoma County's unofficial "Daffodil King." For some 57 springs, Reuser has given away thousands of daffodils harvested from the ranch of his lifelong mentor, Margaret Adams, as a way of spreading cheer and honoring the memory of people beloved in the community. "They're an instant upper."
When Reuser was a small boy, Adams, who lived on a neighboring ranch in Cloverdale, instructed him to pluck daffodils from her property, which was overrun with bulbs planted generations earlier by pioneers. She then told him to take the blooms to town to give away to friends and strangers, in random acts of kindness.
"I would go down with all the flowers I could carry and just walk around the street and give them out," Reuser said.
Adams died in 2000 at age 104. Reuser, 66, carries on his task of delivering bouquets of spring sunshine. Among his key recipients are students at Cloverdale High School. One day each March, he greets students flooding into the cafeteria for lunch and passes out some 200 bouquets in memory of Courtney Davis, a sunny-tempered 16-year-old who died of cancer in 2008.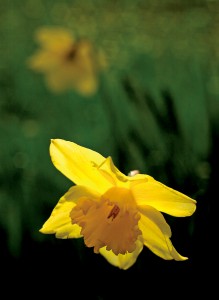 Each year he digs up clumps of bulbs, separates them and replants them on a dozen different properties around the county, the Johnny Appleseed of daffodils.
The severe drought may put a damper on this year's daffodil display. It's a game of wait and see, though it's likely that determined bulbs will make an appearance.
"I just don't know how long they're going to last without rain," said Marde Ross, the "Daffodil Lady" who has planted approximately 200,000 bulbs on the hillsides surrounding her Glen Ellen cottage. Starting in midwinter with the slender little February golds, her daffodil show features some 15 varieties that arrive in succession through April. For determined daffodil spotters, Ross, who sells bulbs, invites folks, by appointment, to walk along her bluestone-lined path through the daffodil fields (mardeross.com).
Another good place to ogle daffodils and tulips are the gardens at Ferrari-Carano winery on Dry Creek Road in Healdsburg (garden hotline: 707-433-5349).
It was the late Saralee Kunde, head cheerleader for local agriculture, who first brought daffodils to Sonoma County in a big, splashy, public way. More than 20 years ago she dreamed up the idea of beautifying the neighborhood around her Slusser Road vineyard estate in Windsor with daffodils as a way of attracting visitors to area farms and tasting rooms during an otherwise bleak time of year.
Kunde eventually enlisted some two dozen wineries, landowners and organizations to buy and plant bulbs to help turn Highway 101 from River Road to Fulton, and River Road to Forestville and beyond, into a blazing yellow palette. Tons of daffodil bulbs went into every sorry weed patch Kunde could find.
Theft and time have diminished the show. But some daffodils remain in legacy to the diva of daffodils, who saw them as a way of ushering in a new growing season as sure as bud break in the vineyards.
They're a symbol of hope and a sign of perseverance. That beauty prevails, is their message.