When Kelsey and Mike Sheofsky dreamed up their business nearly a decade ago, "glamping" wasn't quite the buzzword that it is today. "It was kind of still getting its legs here in the U.S.," Kelsey remembers. The couple, who also run Shelter Co., a group that stages elaborate camping events for weddings and retreats, recently expanded to offer a new line of camping gear and accessories called The Get Out.
Kelsey and Mike, who moved with their children from San Francisco to rural Sebastopol just as the pandemic started, found they were bored with the technically oriented, heavy-on-the-orange tent designs already on the market. Instead, they've found their niche in updated color palettes and elegant shapes based on traditional walled canvas tents. The Get Out's 13-foot diameter Lite Bell Tent ($650) comes in moss, pink, mustard, and fog. The standard Bell Tent ($1195), at 16 feet in diameter, trends more prairie- schooner chic in khaki or cream canvas. Throw in the Anywhere Rug ($120) and one of the company's Turkish towels ($45) and the only thing missing is an outdoor shower dangling over a tree branch.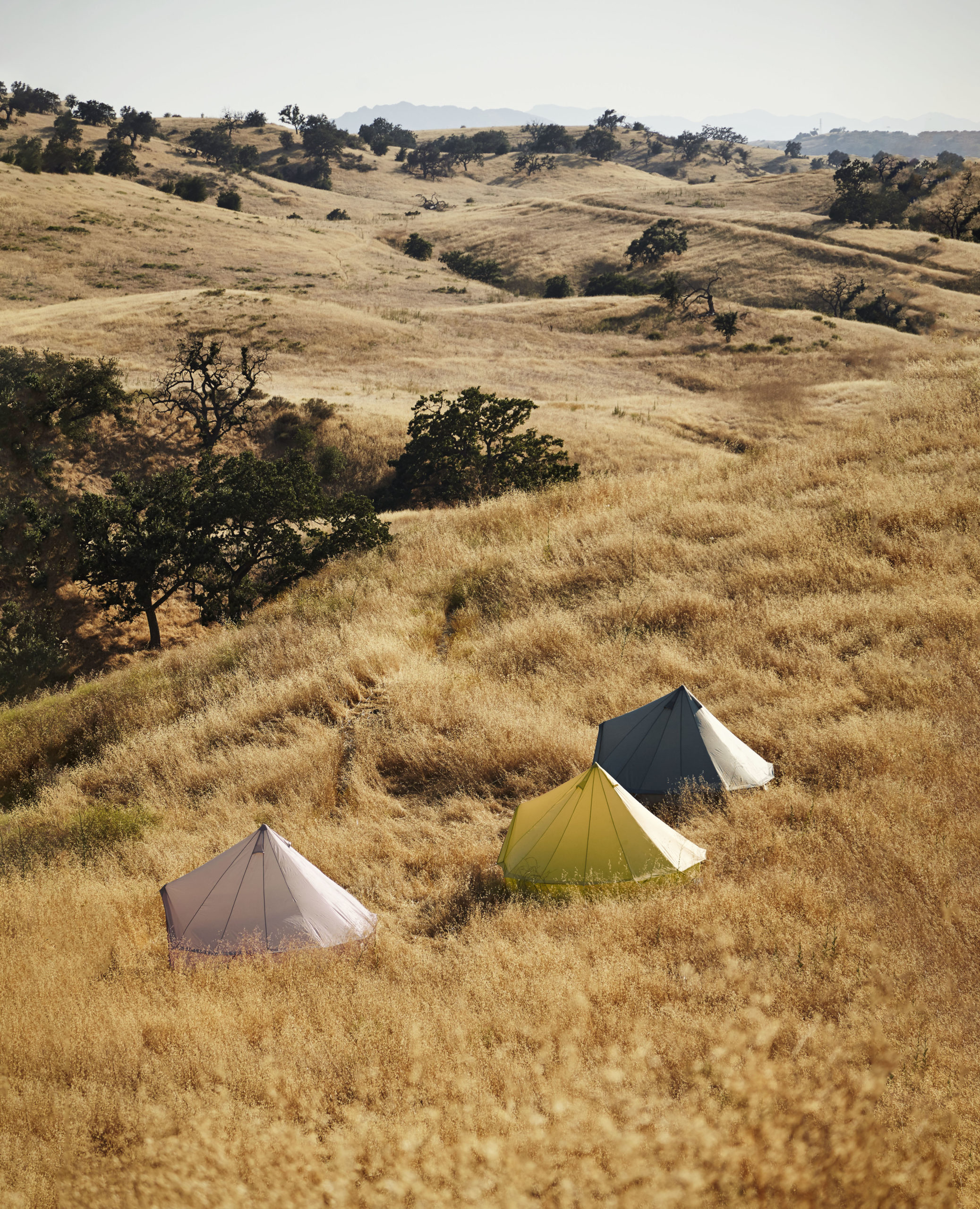 "This idea that you're not a true outdoor lover unless you're suffering is a sad angle to come from," explains Kelsey. "Why not throw your down comforter in your car when you're going to a campground you can drive to?" The Get Out, thegetout.shop, or on Instagram @thegetout.
Designer Kelsey Sheofsky's favorite camping spots
Salmon Creek Ranch, Bodega: "Book the redwood camp. It's nestled in a redwood grove and is super-private, with a short walk to the seasonal creek." hipcamp.com 
Bullfrog Pond Campground, Austin Creek State Recreation Area: "It's closed from the fire still but hopefully will reopen soon. We try to snag all three sites across the pond for an epic group site which is near the restrooms, too." parks. ca.gov, hipcamp.com
Parker's Resort, Guerneville: "It's right on the river and close to town. This spot is not only great for small family campouts, but you can also buy out the whole resort for larger groups."