With names such as The Hatchet, The Anvil and The Pitchfork, the infusion of bourbon and red wine in some batches, and a rock band drummer as brand ambassador, one would expect the hard ciders from Sonoma Cider to be gutsier than most. And they are.
The Healdsburg producer's ciders are bold enough to be alternatives to beer, and as crisp and complex as white wine, though at just 6 percent alcohol content. The current bottlings — Hatchet (apple), Pitchfork (apple infused with pear) and Anvil (apple with bourbon essence) — are made from organically grown fruit and designed to win over those who think cider is for wimps.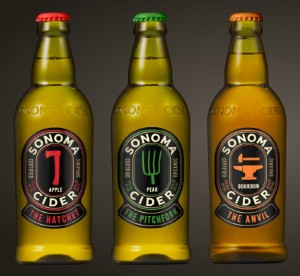 "Ciders typically don't have a lot of complexity," co-founder and cider master David Cordtz said, "particularly the ones made by the big brewing companies. We're trying to change that."
Cordtz, also a winemaker, works with his son, Robert, to embellish the typical cider recipe of fermented apple juice. Robert is experimenting with infusions of rosemary and rhubarb, and has produced a Zinfandel-tinged cider that will be released soon.
For now, Anvil is the most distinctive cider they make, smoky and with a hint of vanilla from the bourbon. It's sippin' cider. Hatchet is a balanced mix of tart and sweet apple flavors and is also a versatile base for spring and summer cocktails.
There are plans for a taproom, and The Killers drummer, Ronnie Vannucci Jr., who lives nearby, touts the ciders at home and on the road. He's such a fan that one of the Sonoma Cider tanks bears his name.
Maple Basil Ciderita
Courtesy Sonoma Cider
5 basil leaves
1 ounce silver tequila
½ ounce fresh lime juice
½ ounce maple syrup
5 ounces Sonoma Cider The Hatchet (apple)
basil sprigs for garnish
In a pint glass, add the basil leaves, tequila, lime juice, maple syrup and cider, and press the ingredients with a muddler until the basil leaves are bruised, releasing their oils. Fill the glass with ice and garnish with the basil sprigs.