How do you get to the heart of the craft brew craze? Go taste at the source: along the Sonoma and Mendocino ale trail.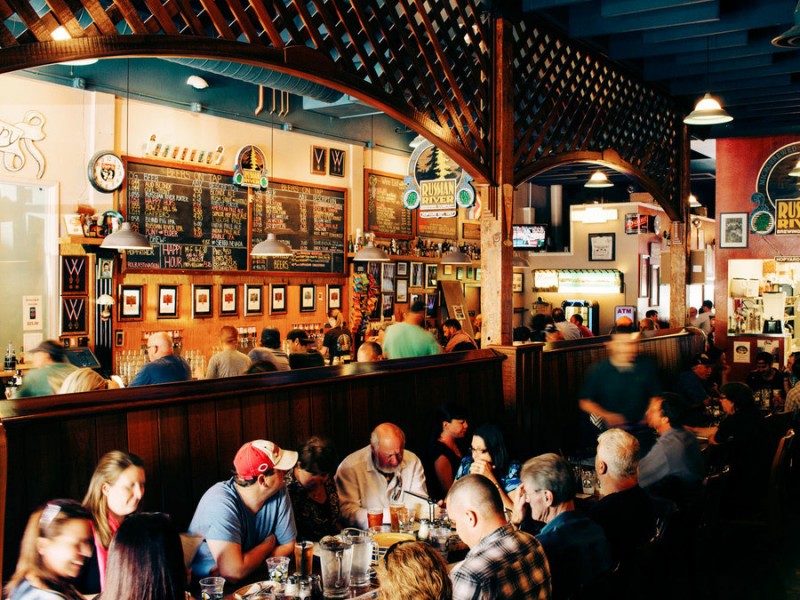 "You guys thirsty?" Before we can answer, a hand yanks the tap and fills two tasting cups with an orangey golden ale. I'd been warned about this. Lagunitas pours heavy, enough people told me that we made it our first stop. Sneak a quick tour, then get back on the road. That was the idea. But here we are, early on a Friday afternoon, two guys in cargo shorts and T-shirts far away from the frenzy of our daily lives. Yeah, we're thirsty.
Two weeks before, I'd sent my buddy Nate an email: Beer run … 3 days, 6 epic breweries. Book a flight! It was more of a challenge than an invitation, the torqued-up chatter that passes for dialogue between us. Years had gone by since we'd last seen each other, and somewhere along the way our lives had outgrown us—marriage, kids, premium cable. The next day he texted me his itinerary.
Our route started in Petaluma, about an hour north of San Francisco, and snaked through Sonoma and Mendocino Counties, home to some of the most exciting beermaking on the planet. We'd slip through wine country's back door to taste toasty lagers, mouth-puckering sours, stouts the color of crude oil, and the West's signature brew, the hoppy India Pale Ale. Bud country this was not.
There was, of course, the matter of the car. My 2004 Toyota Corolla with its Cheerios-encrusted car seat wasn't fit for the occasion. So we rented the biggest, loudest ride we could find, a bright orange Dodge Challenger. Our only rule for the next three days: No Bad Beer!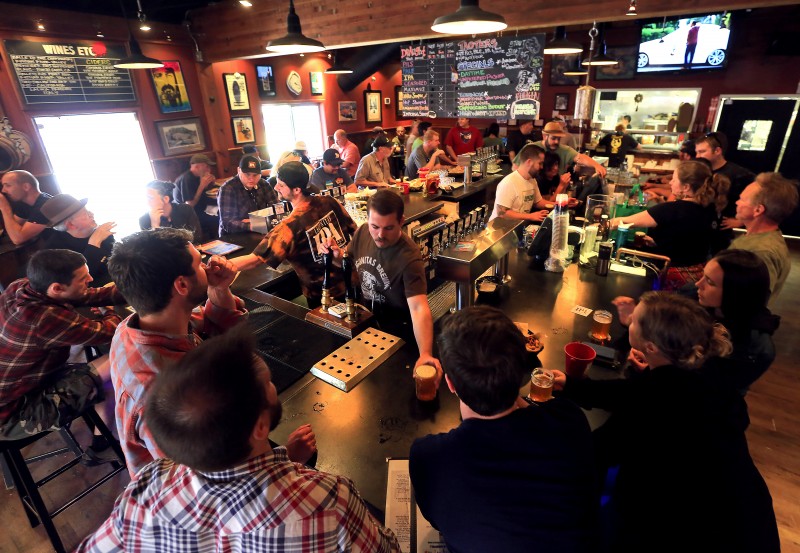 "Beer speaks, people mumble" is the motto at Lagunitas Brewing, and judging from the line of trucks streaming in and out of the Petaluma brewery, beer has a lot to say. What started as a stovetop operation in Tony Magee's home has mushroomed into the second-largest craft brewery in California (behind Sierra Nevada). Lagunitas cranked out 160,000 barrels of beer last year—almost 5 million gallons. This year, the company plans to bump production up to more than 200,000 barrels, which would make it about a fifth the size of Anheuser-Busch … in 1902.
Microbrews account for 9 percent of U.S. beer sales—a mere drop in the industry keg. But in recent years, overall sales have slumped while craft brew has exploded, growing 110 percent in the last decade. There are now more small breweries in more places making more styles of beer than at any time since Prohibition. Just walk down the beverage aisle at your local grocery store. Notice all the new sixers and bombers taking over the shelves? That's beer talking.
There are about 30 of us sipping Lagunitas brews in its Loft, a tasting den that reminds me of an off-campus college clubhouse. It's dimly lit and decorated with ratty old couches and spaghetti western posters. I could live in this room forever. The man behind the bar pours another beer, A Little Sumpin' Sumpin' ale. I lean in for a whiff—citrus, grass, lots of hops—then nudge my cup to Nate. (My day to drive.)
"We planned our whole vacation around this," says the guy next to me, Vince Rinaldo, a homebrewer and graphic designer from Akron, Ohio. He and wife Taylor are in the middle of a four-day beer run from San Francisco to Portland. "We're not much into sightseeing. If you want to know a place, drink its beer."
We take the full brewery tour, zip through a maze of stainless steel tanks and massive bins packed with hops, then jump back into the Challenger and rumble 20 minutes north, past fields of grazing cows and roadside fruit stands, to downtown Santa Rosa.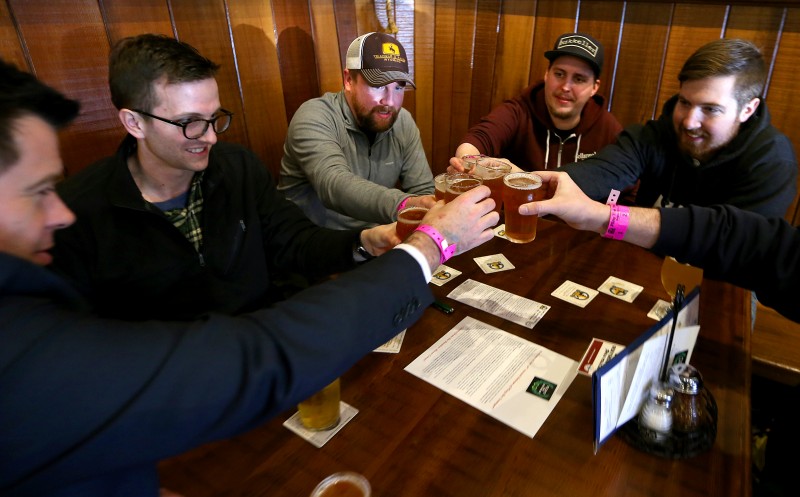 A Zen-like hush comes over Nate as we enter Russian River Brewing, considered by some to be the Holy Temple of American craft beer. Brewmaster Vinnie Cilurzo came up in the wine industry, then bought a brewpub with wife Natalie in 2004. The place has been buzzing ever since. During Russian River's February release of Pliny the Younger—a high-powered triple IPA—hopheads from as far away as Australia and Japan stake out on the sidewalk for hours just to get a taste.
Though famous for his hop-heavy IPAs, Cilurzo likes experimenting with Belgian-style sours, which call for local fruits, oak-barrel aging, and in some cases spontaneous fermentation, where the wort (pre-fermented beer) is exposed to the open air in order to suck up naturally occurring yeasts and bacteria. These beers—with names like Temptation, Supplication, and Beatification—taste unlike any brew I've ever had. They're tangy and brightly acidic, with a complex, dry fruity finish that brings to mind a sparkling wine. They taste, I suppose, like Sonoma.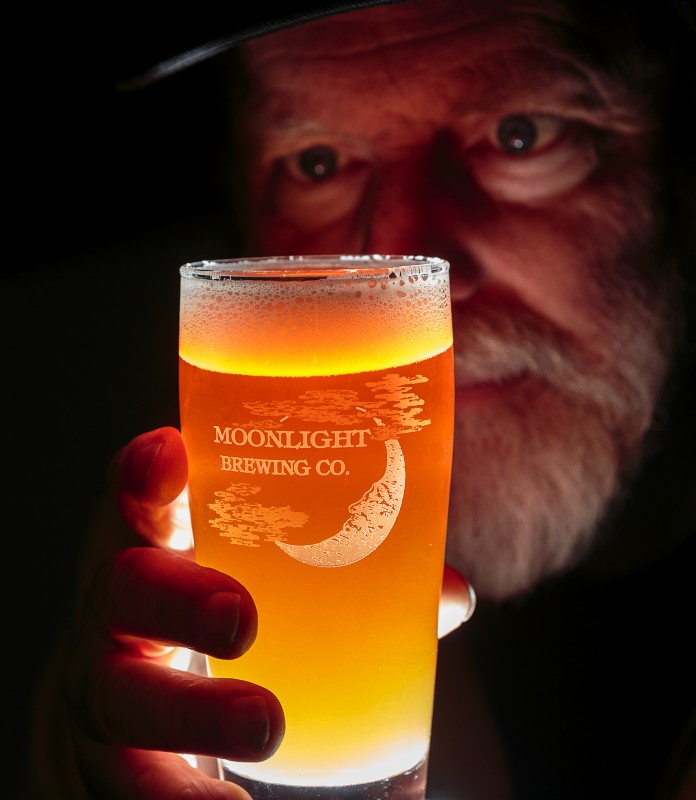 It's late afternoon when we're whirring down dirt roads northwest of Santa Rosa. Nate is air-drumming to early Who while I wrestle with the GPS. I'd heard about Moonlight Brewing, a one-man operation in the middle of Zin country. No tasting room. No brewpub. But some of the most amazing beer I've never had, I was told.
I find Brian Hunt at his private brewery, where he kegs about 1,500 barrels, most of which travel 60 miles max—less than Nate and I drove this morning. "Beer is like bread," Hunt says, tilting a glass of straw-colored Reality Czeck pilsner so it catches the light. "You want it fresh, and that means you want it local."
We're plunked down on lawn chairs at the top of his driveway. Behind us is a boneyard of empty kegs and the old barn where Hunt concocts his brews, including some flavored with mugwort and wild bergamot instead of hops. His Working for Tips, a copper-colored ale, is spiced with the sticky ends of redwood branches from his front yard.
Hunt tells us about New Albion, the Sonoma brewery that set the path for the industry 30 years ago, about its founder, Jack McAuliffe, an engineer and homebrewer who applied his skills to make real beer, ingredient-driven and full-flavored, about how McAuliffe welded together old Coca-Cola drums and dairy tanks to cook up 15 barrels a week. No tasting room. No brewpub. Just beer so innovative that it helped start a revolution.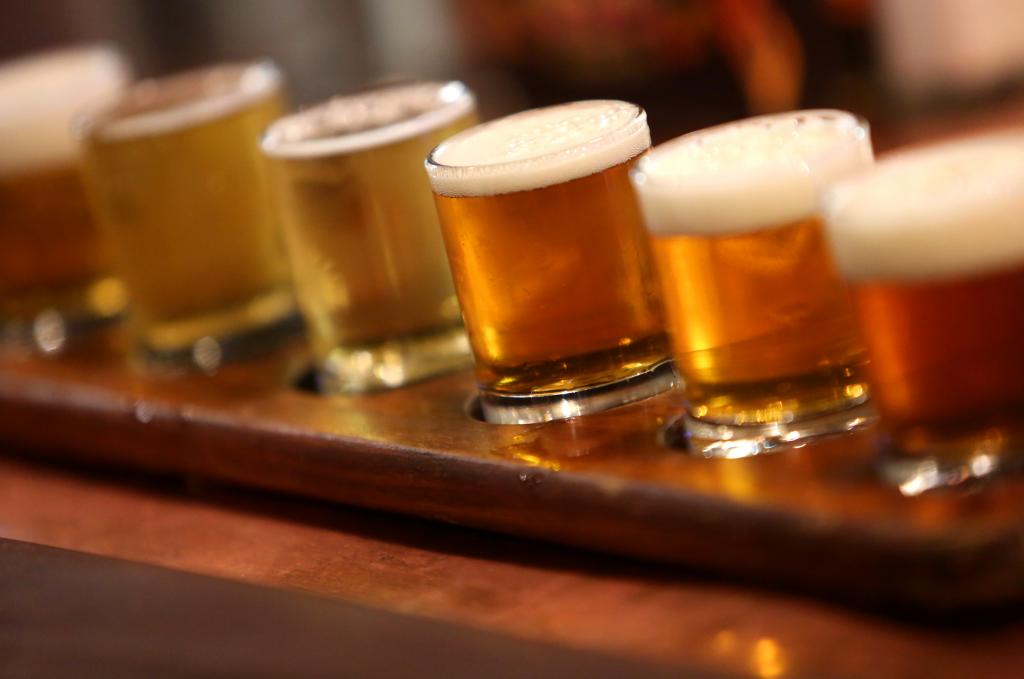 We leave Hunt's feeling light and energetic, ready for whatever might lie around the next bend. In Healdsburg, we march past $600-a-night hotels in flip-flops to taste wheat ale from a barrel at Bear Republic. The next morning, we hang a left onto Highway 128, a snarl of hairpin turns that passes through vineyards, a goat farm, and a redwood forest before spitting us out at the coast. It's a glorious drive, with the V8 Hemi humming and Petty's "Free Fallin' " on the speakers. In Boonville, we stop to pose for snapshots beside an antlered bear, Anderson Valley Brewing's "Beer" mascot.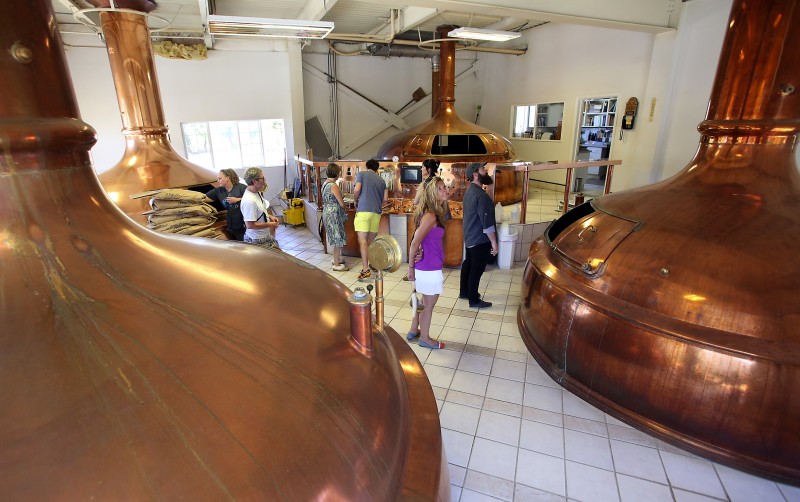 The Pacific peeks in and out of view as we coast the last stretch from Mendocino to Fort Bragg. It's right on top of us, then behind a clump of trees, always hiding. We drop our things at the motel and hike out to a headland to watch the surf, then over an old railroad trestle once used to haul lumber. For more than a century, Fort Bragg was a booming mill town. And even today, the last of the saws long silenced, a scruffy blue-collar spirit remains.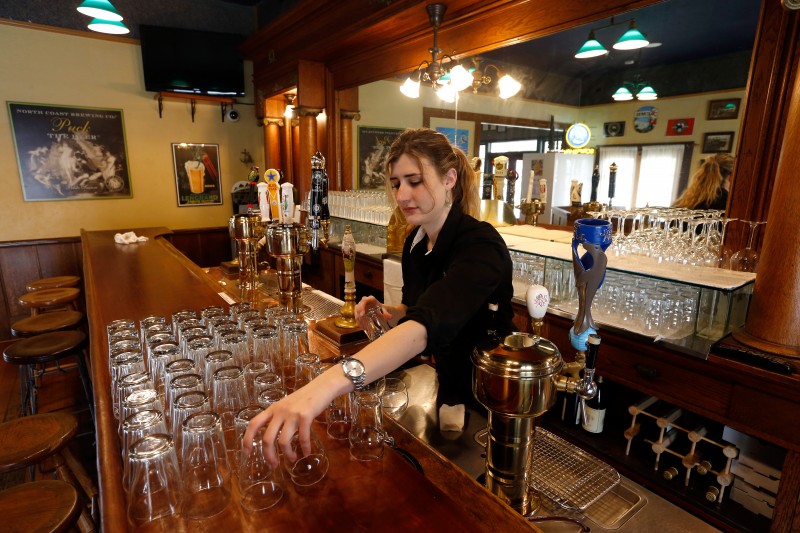 I notice it in the taproom at North Coast Brewing. An early player in the craft scene, the brewery specializes in sturdy, slow-sipping beer—Belgian darks and Imperial stouts.
And I notice it at Piaci, a one-room pub that serves the best thin-crust pizza in the county. The bar is three-deep. Locals, mostly. Men in baseball caps and sweaters with thick, calloused hands that make the pint glasses inside them look small. The beer menu reads like a road journal from the last 48 hours. There are Lagunitas's hopped-up IPAs and a tasty black lager from Moonlight Brewing.
The pub is loud in the way that pubs get loud when everyone knows each other. Voices rising excitedly over other voices. We grab two stools beside a group of truckers. One of them is telling a story, waving his hands wildly, and his friends are laughing. Nate and I are laughing too. This is the last night before we point the car south and return to our regularly scheduled lives—back to our spread-sheets and youth soccer and fuel-efficient compacts—and I want to spend it right here in this room, with these guys. And that's not the beer talking.
---
TASTE NORCAL'S BEST BEER
Take a 125-mile trip from Petaluma to Fort Bragg.
Lagunitas Brewing. The free brewery tour starts with a tasting and ends in the taproom for live music. Tap into: A Little Sumpin' Sumpin' Ale, a "wheatish" beer with a huge hop finish. $; lagunitas.com
Russian River Brewing. More than 15 selections await in the busy brewpub. Tap into: Supplication, a brown ale brewed with sour cherries aged in Pinot Noir barrels. $$; russianriverbrewing.com
Bear Republic Brewing. The Healdsburg brewpub's full-bodied ales pair well with its spicy chili. Tap into: Racer 5, a classic West-Coast style IPA. Big, bold, and balanced. $$; bearrepublic.com
Anderson Valley Brewing. The brewery sits on 30 acres that include a taproom and plenty of picnic tables. Tap into: The caramely smooth Boont Amber Ale. avbc.com
North Coast Brewing. The sampler tray covers all the beer bases. Tap into: Old Rasputin Russian Imperial Stout. Dark, strong, bitter, beautiful. $$; northcoastbrewing.com
Piaci Pub & Pizzeria. The 14 tap handles rotate like the tides with local beers. Tap into: Moonlight's Death & Taxes, an easy-drinking black lager. $$; piacipizza.com
---
MORE CLASSIC ALE TRAILS
– Eric Smillie
1. Denver to Fort Collins, CO (76 miles)

Great Divide Brewing, Denver. Don't miss: Oak Aged Yeti, a roasty Imperial Stout with a touch of vanilla. greatdivide.com
Avery Brewing, Boulder. Don't miss: Small-batch specials; coconut shrimp with lemony White Rascal witbier. $; averybrewing.com
Oskar Blues Brewery, Longmont. Don't miss: Firkin Fridays for one-off experiments at the Tasty Weasel Tap Room. oskarblues.com
New Belgium Brewing, Fort Collins. Don't miss: The 90-minute brewery tour that ends with you going down a slide. newbelgium.com
2. San Diego to Placentia, CA (112 miles)

AleSmith brewing, San Diego. Don't miss: Evil Dead Red, a red ale thick with hops and a smooth toffee sweetness. alesmith.com
Stone Brewing, Escondido. Don't miss: Sampling four beers on the brewery tour, including the powerful Arrogant Bastard Ale. $$; stonebrew.com
The Lost Abbey, San Marcos. Don't miss: Wild yeast brews, such as the dry, sour-cherry-flavored Cuvee de Tomme (released in mid-November). lostabbey.com
The Bruery, Placentia. Don't miss: Beers made with surprising ingredients like yam, Thai basil, and toasted pecans. thebruery.com
3. Portland to Newport, OR (385 miles)
Hair of the Dog Brewery, Portland. Don't miss: Adam, a chocolatey, earthy dessert ale. $; hairofthedog.com
Full Sail Brewing, Hood River. Don't miss: Locally-raised-beef burgers and a view of the Columbia River from the pub deck. $; fullsailbrewing.com
Deschutes Brewery, Bend. Don't miss: Trial brews such as the Oh Be Joyful pale ale and spicy mac and cheese. $$; deschutesbrewery.com
Rogue Brewery, Newport. Don't miss: The brewery's full catalog of beers on tap, plus halibut fish and chips. $$; rogue.com
Subscribe to Our Newsletters!