Buck up, buttercup. The holidays are over, so put aside those seasonal beers with pumpkin, spice, spruce and other oddball ingredients, and embrace authentic winter brews, the amber and brown ales, the porters and stouts of the beer universe.
Soul-warming dark, rich ales with their typically creamy textures, toasted malt, roasted coffee and dark chocolate flavors are the grain-and-hops drinks of winter. They're sumptuous and comforting, meant for sipping and not chugging, and they're great mates with cold-weather foods such as stews, roasts, root vegetables, mushrooms, chili, skillet cornbread and most cheeses.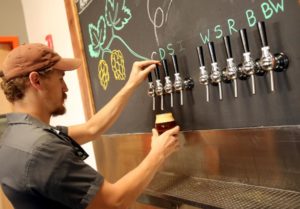 As the weather changes, so do beer tastes. Light lagers, which are cold-fermented and stored ("lagered") for weeks or months under cold temperatures, are the beers of summer, the Budweisers at the low end and Pilsner Urquells at the higher end. They're crisp and refreshing, with the purity of flavor more important than the quantity of flavor. Ales, on the other hand, are fermented at warmer temperatures and with yeasts that bring out the heady, complex, seductive aromas of the grains, malts and hops from which they're made.
Pale ales and India Pale Ales (IPAs) are golden-colored and refreshing, with a touch of bitterness from the liberal use of hops, the resin-y dried flowers that give beer its bite. Amber ales, named for their color, are richer yet still crisp, with a balance of malt sweetness and hop bitterness. These beers are assertively delicious year-round, yet none are a better friend for cold-weather consumption than seasonal brown ales, stouts and Imperial stouts.
Wine Country is a hotbed for these winter warmers and there are dozens from which to choose, on tap and in bottle. Always tinkering, local brewers push the envelope by adding a vast array of ingredients to the basic ale recipe of water, barley, hops and yeast. Chocolate, vanilla, coffee, spices, berries, citrus rind and flaked oatmeal can add complexity to their beers, as does aging them in used wine and bourbon barrels.
Brown ales are typically brewed with chocolate malt, roasted coffee and other adjuncts to give them their deep color and intense flavor. St. Florian's
Brewery in Windsor produces a beautifully balanced brown that has hints of malt, coffee and caramel.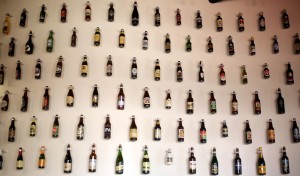 "While most brown ales tend toward bitter or sweet, this is perfectly balanced between those flavor profiles," said coowner and CEO Amy Levin. "Brown ales have a reputation for being heavier beers, but ours is a palate cleanser."
At 6 percent alcohol by volume, it does a fine job of combatting a cold afternoon or evening, with notes of roasted nuts, caramel and salty anise.
Levin and her husband, Aron, a captain with the Windsor Fire District, named the brewery after Florian, the patron saint of firefighters. They donate a minimum of 5 percent of their profits to fire-related and community-based organizations.
At its Cloverdale brewery, Healdsburg-based Bear Republic Brewing Co. makes an altogether different brown ale. Its Peter Brown Tribute Ale reflects brewer Richard "Ricardo" Norgrove's penchant for making big, hoppy, malty ales. Tribute is brewed with molasses and brown sugar; its sweetness disappears in the brewing process, but a deep chocolate and caramel character remains.
Dry stouts (think Ireland's Guinness) are very dark, occasionally jetblack, roasty, bitter and creamy, sometimes with bittersweet chocolate notes. A relatively new player in the Sonoma suds scene, Fogbelt Brewing in Santa Rosa is the partnership of Paul Hawley and Remy Martin, both of whom come from local winemaking families. In November, they brewed a fresh batch of Armstrong Stout and moved it to a finishing tank, adding American oak chips soaked in bourbon.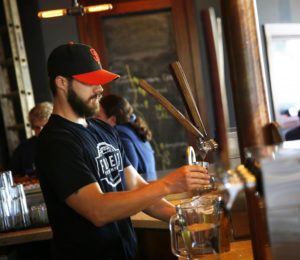 "The chips should complement the roasty chocolate flavors from the dark-roasted malt with hints of vanilla, spice and cedar," Hawley said. "A
good stout is a beer you can cozy up with in front of a fire (and we have a fireplace at the taproom)."
Woodfour Brewing in Sebastopol produces Coffee and Pie, a stout brewed with coffee and blackberries; Petaluma's Lagunitas Brewing Company makes Cappuccino Stout, available January through March, using coffee beans from Sebastopol's Hardcore Coffee. This is "coffee" for adults, and at 9.2 percent alcohol, it will keep you plenty warm.
And what on the surface seems to be a bad idea is actually surprisingly successful at HenHouse Brewing Co. in Petlauma. Its Oyster Stout is made with, yes, real oyster meat and shells from Tomales Bay.
HenHouse, founded in 2012 by Collin McDonnell, Shane Goepel and Scott Goyne, uses about 3 pounds of whole oysters and an equal weight of shells in each 31-gallon boil. The idea is that the shells, high in calcium carbonate, add a distinctive, mineral-y taste and texture to stout's roasted coffee and malt profile. It doesn't smell or taste of oysters, and the mineral character likely isn't obvious to most beer lovers. But the stout is delicious, good enough that it's served at the French Laundry in Napa Valley.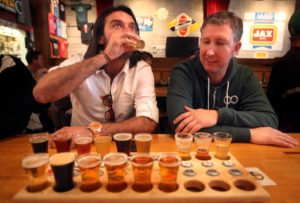 One rung up the big-beer ladder are Imperial stouts, decadent and potent, with alcohol levels as high as 12 percent. They're referred to as "strong" beers, and for good reason. Imperials are luscious and chewy, with low carbonation. The intense flavors of roasted grain, unsweetened chocolate, cocoa and spice often are accompanied by glimmers of prunes and raisins.
Fort Bragg's North Coast Brewing has had great success with its Old Rasputin Russian Imperial Stout, a monster with roasted coffee bean and chocolate flavors and a heavy hit of hop bitterness. It's to be sipped, not gulped. The same is true for Mendocino County's Anderson Valley Brewing Co.'s Barney Flats Oatmeal Stout, a viscous, woodsy ale with a strong espresso personality and a hint of caramel.
So when the temperature drops, pour a frothy pint of winter ale, tuck into a cheese plate or savory stew, and feel a glow from head to toe. The
lagers and IPAs can wait until spring.