Betty Kelly has a message for people who love chocolate. Who really, really love chocolate:
It's not all about the sweet stuff, baby.
The co-owner of Wine Country Chocolates in Glen Ellen said she is seeing more and more customers eschew milk chocolate for dark chocolate, and gooey cream fillings for savory add-ins like tart apricot. Then there's the mother lode: dark and savory together, such as Kelly's signature hot and spicy cashews enrobed in dark chocolate.
Part of the change comes from modern eaters' increasing appreciation for bolder flavors, but there's also a bonus.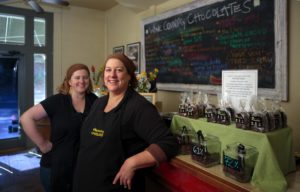 "I always tell people that the good stuff in chocolate — the antioxidants and such — is in the chocolate and not in the sugar, so the darker the chocolate, the better it is for you," explained Kelly, who founded the confectionery shop 15 years ago with her daughter, Caroline Kelly. "Luckily, there are a lot of chocolate lovers who agree."
As Valentine's Day rolls around, Kelly anticipates that savory sweets like her dark chocolate-dipped spicy ginger skewers might start to nudge out classics like boxed milk chocolates. Her wine-infused truffles, too, rely on the assertive notes of 61 percent dark chocolate to support the acid and tannins that people appreciate in Cabernet Sauvignon and Zinfandel.
Today's chocolate experience isn't limited to candy. Inventive chefs and bartenders are showcasing fermented, roasted and ground cacao in interesting ways, slipping it into sauces, kicking it up with chiles, and blending it into cocktails. The result: slight sweetness edged with bitter, heat and spice.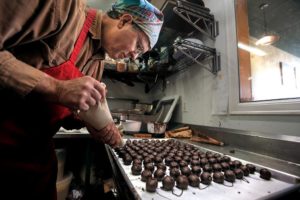 David Gambill and Susan McCarn, founders of Sebastopol's Sonoma Chocolatiers, focus strictly on dark chocolates, crafting 90 flavors in the small store on McKinley Street where signage reads, "Taste the Darkside." Since 2008, chief confectioner Gambill has pushed the envelope with flavors such as rosemary-goat cheese truffle, mulled cider-spiced chocolate caramel, salted grapefruit, balsamic vinegar and olive oil, and chocolates infused with black, green and herbal teas from his tea house.
One of Gambill's first chocolates was infused with a tea he blended specifically for a truffle, and it remains a best-seller. Citrus Earl is a marriage of fragrant lavender, citrus and sour bergamot. The creation is extra-mouthwatering when sipped with his white lavender almond milk latte.
"Tea has layers of flavors that provide a wonderfully complex taste profile," Gambill said. "And many teas are pronounced enough that they can stand up to the strong flavor of dark chocolate. The trick is to pair the tea with the chocolate that will best complement, contrast or balance. I always want my chocolates to start and end with the flavor of chocolate, and the tea, fruit, cheese or other flavors arriving and fading through the middle."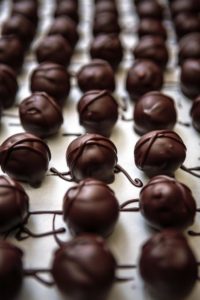 Gambill constantly experiments. His new orange-olive oil truffle won Best of Show in the professional candy category at the 2014 Sonoma County Harvest Fair and no wonder: it's a tiny striped block of heaven, dairy-free and made with local olive oils. As it melts on the tongue, it evolves into a symphony of each ingredient, discernible yet beautifully merging.
"In the first second of biting into chocolate, one experiences more than 500 flavors," Gambill said. "Why would I want to muddle that most amazing experience with the monotone sweet-on-sweet that sugar creates? One of my favorite chocolates is a simple, 85 percent cacao truffle packed with roasted cacao nibs. I never want to have to work through the cloying annoyance of sugar to find the flavor."
Latin American cuisine has long revered the savory aspects of chocolate, as the Aztecs believed that cacao seeds were the gift from Quetzalcóatl, the god of wisdom, and the seeds had so much value they were used as a form of currency.
In Santa Rosa, Cookie…Take a Bite! owner Tracy Mattson honors those ancient cacao lovers with her gluten-free Aztec Hot Chocolate Crinkle cookie, sneaking in a surprising kiss of pink peppercorn, cinnamon and almond. The treats are small, pop-in-your-mouth nibbles, following Mattson's belief that an ideal dessert is one that satiates a sugar craving but intrigues with layered flavor and a bit of heat, and is not overwhelming in size. Gambill, too, makes a peppery Mayan spice truffle, just the thing to pair with his tequila truffle.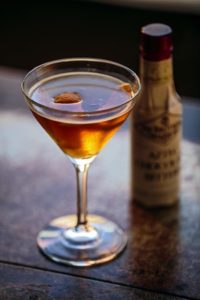 Healdsburg chef Mateo Granados looks to his own Yucatan heritage for chocolate inspiration, adding it to the cocktails and cuisine at Mateo's Cocina Latina restaurant. A Manhattan Mexicana cocktail teases the taste buds with sweet, sour, oak and smoke, in a mix of Tres Agaves añejo tequila, Noilly Prat vermouth, whiskey-barrel-aged bitters and Fee Brothers Aztec Chocolate Bitters zinged with peppers and spices.
"It's a salute to an ancient Aztec cacao drink that was believed to have aphrodisiac powers and make the drinker powerful," Granados said. "The chocolate bitters gives an earthy flavor that softens the vermouth and lets both the vermouth and the tequila flavors come through in the classic orange-chocolate combination."
Cacao also plays as starring role in Granados' mole sauce, made with Mexican bitter chocolate, baked pineapple, plantains, raisins, caramelized onions, roasted papaya and ancho chiles.
"It's often served with roast rooster, which is better than chicken because it needs to be cooked longer, and that lets the mole thicken and get richer," he said.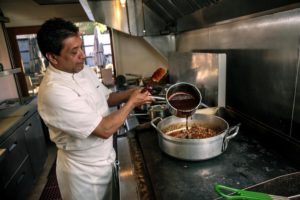 The French-trained Granados also likes French bitter chocolate for his veal chop smothered in morel mushrooms and chocolate sauce. The earthiness of the mushrooms and the rich fattiness of the veal come together with the chocolate for a silky flood of umami in the mouth.
For his classes at Ramekins Culinary School in Sonoma, chef Agustin Gaytan draws on his upbringing in San Miguel de Allende in central Mexico, delivering dishes such as mole negro Oaxaqueño, turkey in a coal-black mole of dried chiles, chocolate and nuts (delicious with a shot of Gaytan's smoky
mescal and bitter liquid chocolate aperitif).
The smallest savory accent can make a huge difference for avoiding sugar overload, as witnessed by the now ubiquitous trend of adding salt to chocolate. There is the immensely popular chocolate caramel sea salt ice cream sandwich created by Ozzy Jimenez and Christian Sullberg at Moustache Baked Goods and its sister store, Noble Folk Ice Cream + Pie Bar, both in Healdsburg. Bravas Bar de Tapas in Healdsburg offers a playful dessert of Nutella on toast, the chocolate-hazelnut spread spiked with olive oil, vanilla bean sea salt and orange zest.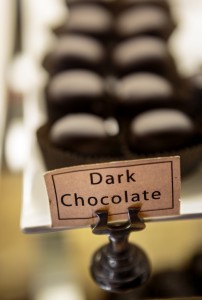 Sonoma Chocolatiers' Gambill is so adamant about the pure powers of savory chocolate that he doesn't add sugar to the filling in his truffles. The only sugar comes from the Scharffen Berger chocolate he uses as a coating.
"Sugar is added to the ganache center for two reasons," he said of conventional chocolates. "Mostly as a preservative, but also to mask a low quality of chocolate. Deep, rich, satisfying chocolate doesn't need distractions. We use very dark chocolate, which has a small amount of sugar to round out the bitterness, but the natural flavors of the chocolate and whatever the truffle is infused with get to shine through."
It may not be good news for See's Candies, but there it is.
"As America's palate becomes more sophisticated, more people are coming to share this belief," Gambill said. "The only problem is my customers and staff curse me now. They tell me I've ruined their ability to enjoy those widely available, super-sweet chocolates they ate before trying mine."
Subscribe to Our Newsletters!