When flowers and bonbons aren't enough, escape to Sonoma, Napa, San Francisco, Mendocino or Marin for retreats, restaurants and outings sure to light the fire.
1. GETAWAYS
Need time away from the everyday scene? Then sneak away with your beloved to one of these idyllic retreats.
SONOMA COUNTY
Garden Valley Ranch – Petaluma
Why settle for a bunch of roses when you could disappear with your dearest into an entire field of them? Garden Valley Ranch, the Petaluma cut-rose farm and nursery visited by Martha Stewart, rents out a little cottage with a queen-size canopy bed and clawfoot tub that provides excellent cover for couples who want romantic privacy in a lush, storybook setting. After the nursery has closed for the day, overnight visitors have the gardens all to themselves. And while the 10,000 rose bushes are in repose in February, the 4 acres of landscaped grounds are still lovely for the kind of quiet strolls seen in English period romances. The cottage has 10-foot ceilings and a gas fireplace.
498 Pepper Road, Petaluma, 707-795-0919, gardenvalleyranch.com, winter rate $159 a night
Healdsburg Country Gardens – Healdsburg
Privacy seekers can also take cover amid the wintery landscape of Healdsburg Country Gardens. Well before the brides start arriving in spring at this rural wedding venue that's just a short drive from the Healdsburg Plaza, one can find peace and quiet in either a 300-square-foot studio cottage or a two-bedroom, two-bath house. Both are set within the gardens, and guests are welcome to walk among 18 acres of Sauvignon Blanc vines.
670 Bailhache Ave., Healdsburg, 707-431-8630, hcountrygardens.com, $425 for a two-night weekend in the cottage, $1,020 for a two-night weekend in the house.
MacArthur Place Hotel & Spa – Sonoma
Luxurious MacArthur Place Hotel & Spa in Sonoma was transformed from a 19th-century estate to a luxurious inn and spa. Despite its size (64 rooms), it's remarkably private and tranquil, with 7 acres of sculpture-filled gardens. Ten rooms are in the Manor House, the property's original residence. The Inn's 29 suites have fireplaces and hydrotherapy tubs or rain showers. Book a massage or body treatment in the Garden Spa, and dine at Saddles, the on-site steakhouse with a comfortable bar for a pre-dinner cocktail.
29 E. MacArthur St., Sonoma, 707-938-2929, macarthurplace.com, winter rates $249 to $525 a night
SAN FRANCISCO
 Looking for l'amore? Savor la dolce vita in Little Italy.
Washington Square Inn – North Beach
Ditch your car at the Larkspur Ferry and set sail on a footloose weekend in Little Italy, just a short taxi ride from San Francisco's Ferry Plaza ferry landing. Your destination is the Washington Square Inn, a petite, self-contained urban oasis for couples who only have eyes for each other. The classy little Edwardian-style hotel was built on a corner of the city's Washington Square Park following the 1906 earthquake. Stylishly restored, it has only 15 rooms, some with bay-window seats where you can cuddle up while you gaze out at Coit Tower and the park.
You might also get a glimpse of the stunning Saints Peter and Paul Church, where Joe DiMaggio and Marilyn Monroe posed for one of the most famous wedding photos ever. This is one of the city's popular wedding venues, so on virtually any weekend you can be inspired by other lovers tying the knot.
Anything Italian that might kindle the fires is within a short walking distance, particularly restaurants such as Sotto Mare, Rose Pistola and Café Trieste, where you can spoon over frothy cappuccino and Italian opera.
1660 Stockton St., San Francisco, 800-388-0220, wsisf.com, $209-$359 a night (two-night minimum) includes Euro-style breakfast, wine and hors d'oeuvres.
MENDOCINO
Lighthouse life was notoriously lonely for the keeper's family. But isolation can be an aphrodisiac when you're looking to hide away with your honey.
The Point Cabrillo Lighthouse Station – Mendocino County
The Point Cabrillo Light Station, located between the village of Mendocino and Fort Bragg, offers a singular place to cocoon on an isolated point overlooking the crashing waves and surrounded by 270 acres of undeveloped coastal bluffs. Once the day visitors depart, you'll have the grounds almost to yourself. Choose from the four-bedroom Head Lightkeeper's House, the recently restored Assistant Lightkeeper's House, and two snug cottages.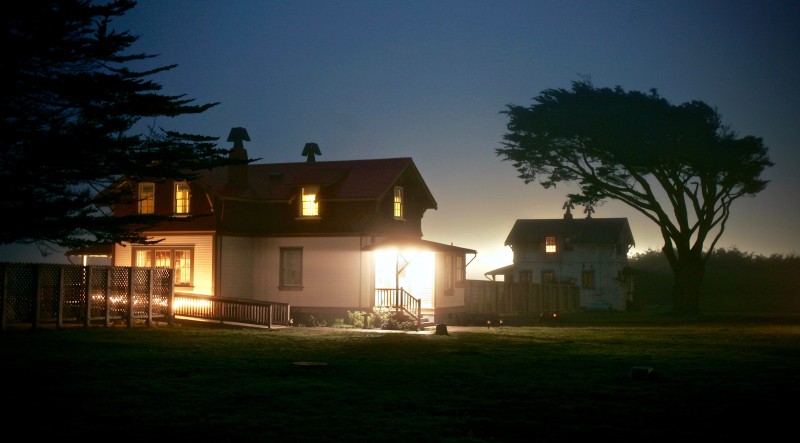 The houses have vintage charm and modern conveniences, including nicely appointed kitchens with big islands for couples who like to cook and dine in their own candlelight. With no Internet or cable service, you'll have no choice but to amuse yourselves. Rooms have TVs outfitted with DVD players, however, and the station has a library of 1,000 movies available to overnight guests, including romantic films made on the Mendocino coast, such as "Racing with the Moon, "Summer of '42" and "Same Time Next Year."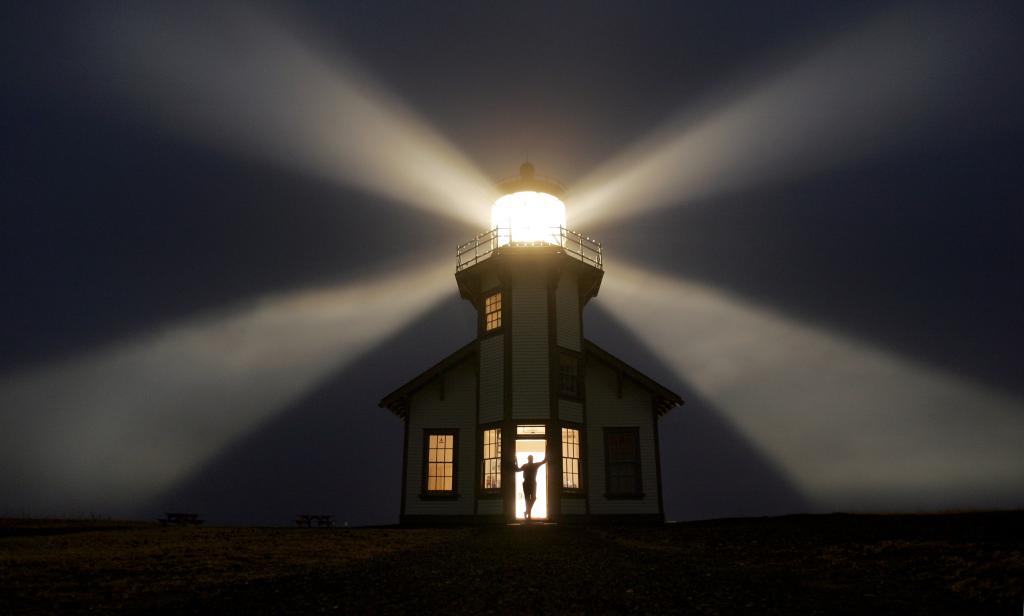 At night, you can look out the window and see the beams from the light station's still-active, 92-prism lens dance across the darkened headlands. In the morning, share coffee on the front porch and gaze beyond your white picket fence to the fog and the sea. One cottage is pet-friendly, for $25 extra each night.
Point Cabrillo Drive, 800-262-7801, pointcabrillo.org/rentals, $158 a night for cottages, $799 for two nights in Assistant Lightkeeper's House, $922 for two nights in Head Lightkeeper's House
NAPA
For a discreet assignation where you'll feel sealed off from the world without leaving civilization, sneak away to the Milliken Creek Inn & Spa.
Milliken Creek Inn & Spa – Napa
Only a small sign off the Silverado Trail marks the entry to this posh little hotel nuzzled along the Napa River and melded into the trees, beyond the view of the road. This is where you go when you don't want to see or be seen by anyone but your special suitemate. You can even arrange with staff to meet you at your car for check-in.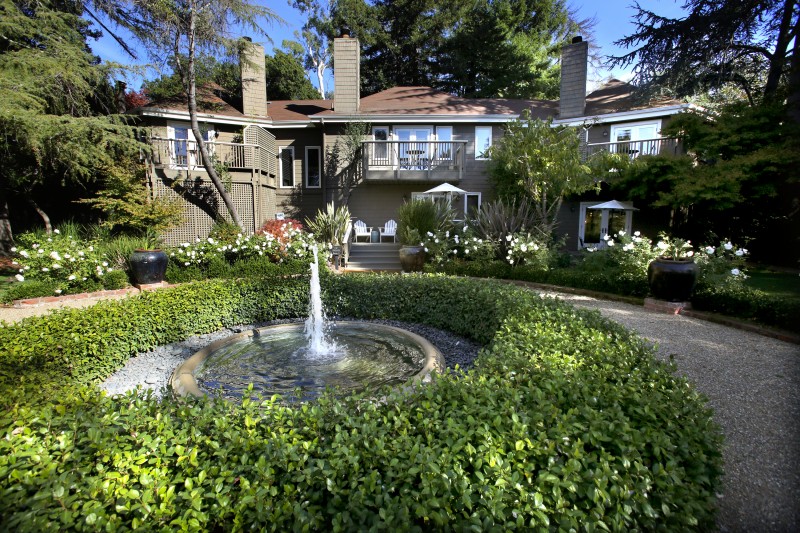 Breakfast is as you please, delivered to your door between 8 a.m. and 10 a.m., so you don't have to slip out of that "something more comfortable" to get to a buffet line before it shuts down. Eat in bed if you like. Staff will also serve you on the patio, the balcony or anywhere else on the sylvan grounds. With only 12 rooms, you won't run into crowds at the elegant spa. And if you choose to indulge in the Chocolate Decadence body treatment somewhere outdoors, your privacy will be guarded.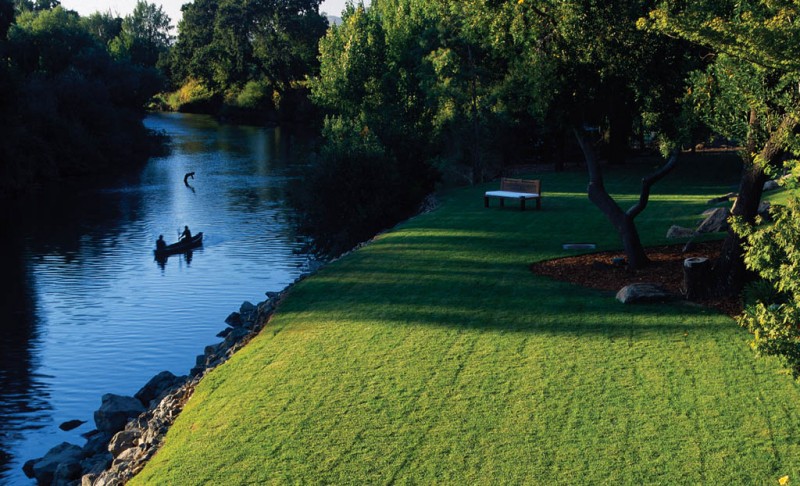 Need ideas to turn up the heat on romance? The staff will customize your nightly turndown service with candles, rose petals and mood music.
1815 Silverado Trail, Napa, 888-622-5775, millikencreekinn.com
2. ADVENTURE
When fresh air makes the heart grow fonder, these ideas will get your blood (and romance) flowing.
SONOMA
Sonoma Canopy Tours – Occidental
Looking for a bonding experience you'll be talking about for years? Then try screaming through the redwoods at 25 mph, harnessed to a zipline as part of the Sonoma Canopy Tours adventure in Occidental. Of the seven ziplines, the longest is 800 feet. One winds above a narrow ravine 300 feet below. And don't miss the towering spiral staircase or the 175-foot sky bridge, which brings you face to face with "Walter," the oldest tree in the grove. The guides have a very Julia Butterfly Hill vibe to them ("Alina is a Magical Elf that hails from the ancient forest of Angwin").
6250 Bohemian Highway, Occidental, 1-888-494-7868, sonomacanopytours.com, $99-$109
Sonoma Overlook Trail – Sonoma 
A relatively easy 3-mile roundtrip hike on the Sonoma Overlook Trail will reward lovebirds with a stunning view of Sonoma Valley. It's too early for the annual explosion of wildflowers, but the solitude and the huge stone memorial bench at the viewpoint are worth the walk. The bench, a tribute by a couple to their deceased son, has a notebook that rests upon it, protected from the elements by a plastic box. Hikers are welcome to record their thoughts in the notebook and read those of others. The trailhead begins at the entrance to the Mountain Cemetery (90 First St. W., Sonoma), four blocks west of the Sonoma Plaza.
Pinnacle Gulch/Shorttail Gulch Trail Loop – Bodega Bay
Hidden amid the golf tees and trophy houses in the well-manicured Bodega Harbour neighborhood south of Bodega Bay is a hidden hike locals know as the Pinnacle Gulch/Shorttail Gulch Trail Loop. It's only a 2-mile loop, but the reward is a sheltered cove and beach at the bottom, with a cave worthy of any picnic, especially in the rain. Make sure to check the tide charts before you go. And save your energy, because it's a 200-step ascent back to suburban golf land.
20600 Mockingbird Lane, Bodega Bay, 707-875-3540, sonoma-county.org/parks, $7 parking fee
MENDOCINO
Get your sea legs back with an ocean adventure off the rocky Mendocino Coast. The toughest part is choosing your method: Kayaking sea caves, charter-boat fishing for crab, or training your eyes on a wayward whale? Former pro surfer Craig Comen heads up Kayak Mendocino, and his motto on every seafaring sojourn is: "For the next hour and a half, your life will take on that of a marine mammal." That means you get to frolic with harbor seals and otters. And there may be no better spot (or acoustics) to rekindle your vows than under the cathedral caves along the coast. Guided sea cave tours leave Van Damme State Park (south of the town of Mendocino, in Little River) at 9 a.m., 11:30 a.m. and 2 p.m. daily.
Highway 1, Little River, 707-937-0700, kayakmendocino.com, $120 per couple
One of the best charter boat operations is All Aboard Adventures, out of Noyo Harbor in Fort Bragg. This time of year, Captain Tim leads four- to five-hour crabbing expeditions on the 45- foot Sea Hawk, teaching you how to bait and harvest crab pots, and then cook them up in the picnic area back on land.
32410 N. Harbor Drive, Fort Bragg, 707-964-1881, allaboardadventures.com, $80 per person
Also, February through April is prime whale-watching time, as migrating gray whales venture south along the coast from Alaska and then return with their new calves to complete the 5,000-mile journey to and from Baja California. A salty-dog veteran of more than 25 years, Captain Randy Thornton offers two-hour trips from Noyo Harbor aboard the Telstar.
32390 N. Harbor Drive, Fort Bragg, 707-964-8770, gooceanfishing.com, $35 per person
NAPA
One man's love affair with art provides plenty of passion to fuel a cozy rendezvous for two at the di Rosa preserve in Napa. Rene di Rosa, a former San Francisco Chronicle reporter and vineyard owner, amassed some 2,000 works of art by more than 800 artists in his lifetime. The di Rosa collection includes prized works by Mark di Suvero, Robert Arneson, Roy de Forest, Enrique Chagoya, Manuel Neri and William T. Wiley. Nestled under rolling, vine-striped hills in the southern Carneros region, the sprawling 200-acre estate is an art lover's dream escape. In addition to the permanent collection, the latest exhibition spotlights Bay Area sculptor Viola Frey's lesser known works on paper and canvas, running through March 1. A perfect place for a lover's reflection lies in front of Paul Kos' "Chartres Blue," as TV screens recreate a day in the life of a stained-glass window at Chartres Cathedral in France, compressed into 12 minutes. And don't miss the sculpture trail, which is occasionally guided by di Rosa peacocks. Get there early for a glass of bubbly and Pinot Noir-filled chocolates on the deck at Domaine Carneros winery, across the highway from the preserve. Heat lamps provide plenty of
warmth on a cold winter's day.
Tours by reservation only; email tours@dirosaart.org. 5200 Sonoma Highway, Napa, 707-226-5991, dirosaart.org, $12-$15
SAN FRANCISCO
A couple dozen red roses pale in comparison to a walk through the San Francisco Flower Mart and its thousands of varieties of florals, from orchids to exotic hydrangeas to birds of paradise, all under one roof. Almost hidden in this scrappy South of Market neighborhood near AT&T Park, the oldest wholesale flower market in America is a florist's paradise, but it's also open to the public. With 135,000 square feet of floor space, it takes a good hike to see all the beautiful offerings from more than 100 vendors. Public hours are 10 a.m. to 3 p.m. Monday through Saturday. Before or after the visit, grab a tasty crepe two blocks away at The Creamery on Fourth Street or chill with a glass of wine around the corner at the Bluxome Street Winery tasting room.
640 Brannan St., San Francisco, 415-415-392-7944, sfflowermart.com
Weather permitting, boating on Stow Lake in Golden Gate Park a deux is a wonderfully romantic adventure. Choose from rowboats, paddleboats and electric motorboats. Don't miss the waterfall and, if it's a nice day, try counting all the sunning turtles. For those scared of the water, here's the Stow Lake Boat House promise: "We have searched out the most non-tipping, self-bailing, unsinkable boats."
50 Stow Lake Drive, San Francisco, 415-386-2531, stowlakeboathouse.com, $14-$29 for rentals
MARIN
The idea of hiking from inn to inn conjures overnight sojourns in France's Provence region or Italy's Cinque Terra, but imagine a similar walkabout in the beautiful outback of Marin. The journey starts in Mill Valley at the rustic retreat of the Mountain Home Inn. Maybe drop in on a Friday for a sunset party on the deck as the vista overlooking San Francisco Bay and Mount Tamalpais gives way to radiant city lights. Then wake up with a complimentary breakfast and hit the trail. As you climb up the Hogback fire road, take a breather for stunning views of Muir Woods and the Marin coastline. Don't miss the turn for the Old Railroad Grade fire road, leading to the 110-year-old West Point Inn, a former stop on the Mount Tamalpais railroad that can now only be reached by hiking trails. Nestled among the trees on the south slope of Mount Tam, the West Point is an often overlooked gem on the National Register of Historic Places. It offers cabins and rooms, all off the grid (no
electricity), although there is gas lighting in common areas from dusk to 10 p.m. Bring a flashlight, sheets, towels and food. The vertically challenging hike is not for the lazy, but the entire loop is only 3.75 miles, and it's dog-friendly. If you time it right, you can tuck into one of the West Point's monthly pancake breakfasts, which are the stuff of legend.
Mountain Home Inn, 810 Panoramic Highway, Mill Valley, 415-381-9000, mtnhomeinn.com, $195-$345 a night.
West Point Inn, Mount Tamalpais, 415-388-9955, westpointinn.com, $50 a night
#3 FOOD & WINE, by Heather Irwin
Great food and wine can fan the flames of love, and Wine Country abounds with options. Here are a handful of hot spots.
SONOMA
With just the right mix of dress-up and dress-down charm, Sonoma is the kind of place where men never need a tie, yet women rarely look out of place in $200 pumps.
Home base: Farmhouse Inn, a boutique inn, spa and restaurant in the Russian River Valley. For couples, there are cozy cottage rooms with jetted tubs, redwood saunas and all the Wine Country charm you can stand. The
Farmhouse Inn restaurant is a two-Michelin-star gem with an imaginative menu and impressive wine list.
Farmhouse Inn, 7871 River Road, Forestville, 707-887-3300 farmhouseinn.com, rates start at $595 per night
Just down the road in Guerneville is El Bario (16230 Main St.), a modern, stylish, Mexican-themed cocktail lounge focused on bourbon, tequila and mescal. Nearby Seaside Metal Oyster Bar (16222 Main St., Guerneville) features the aphrodisiac oyster as a staple, along with other great local seafood.
In the town of Sonoma, owner Saul Gropman will likely greet you as you enter Cafe La Haye, a haven for those who appreciate dishes created from locally grown and raised ingredients, many of them organic.
Tables at this just-off-the-plaza restaurant are set on two levels in the bright, airy space, and minimalist artwork on the walls gives one the feeling of being in a gallery. The wine list is deep and with a huge selection of
Sonoma Valley bottles.
Cafe La Haye, 140 E. Napa St., Sonoma, 707-935-5994, cafelahaye.com
For a lighter bite, a great cup of coffee or a glass of beer or vino, there is Sunflower Caffé Espresso & Wine (421 First Street W.), on the opposite (west) side of the Sonoma Plaza.
NAPA
The swanky sister to Sonoma has sprawling vineyards (yellow with mustard any minute now), monumental chateaux and charming bed-and-breakfasts up and down the valley. It's easy to find the obvious romance here: The place is crawling with it. But Napa has a quieter, less obvious side that we love for couples' getaways. Jessup Cellars (6740 Washington St., Yountville) has a snoot-free tasting room with some great wines, an art gallery and monthly events that include fascinating tastemakers, music and movie screenings with wine and popcorn pairings.
Swanson Vineyards' Sip Shoppe (1271 Manley Lane, Rutherford) is another romantic fave. This hideaway is a magical tasting room escape from reality with its candy-cane-striped walls, whimsical art and carefully curated tastings served up in glass Dixie cups. Reservations required.
Sneak a snuggle in the back row of St. Helena's century-old Cameo Cinema, a small, independent theater that screens offbeat indie films and has two rows of red velvet loveseats. Follow that with a burger and milkshake at Gott's Roadside (formerly Taylor's Automatic Refresher, 933 Main St., St. Helena), an updated drive-in with haute versions of drivethrough classics.
Finally, sip some serious bubbly at Domaine Chandon (1 California Drive, Yountville) and book a spot for dinner at the winery's romantic etoile restaurant, one of the valley's top eateries.
MARIN
Sonoma's neighbor to the south embodies much of what makes living in the Bay Area so spectacular. With temperate weather almost year-round, sweeping seaside vistas, hikes on Mount Tamalpais and dozens of tiny hamlets to explore, it's easy to find yourself wandering through the county and stumbling upon Michelin-starred restaurants, world-renowned cheese shops, secret(ish) towns like Bolinas, and charming wineries throughout the county.
Don't miss Tomales Bay Foods (80 Fourth St., Point Reyes Station), a former hay barn that's home to Cowgirl Creamery. You'll find its coveted cheeses, along with dozens of other international fromage choices, plus sandwiches, salads, wines and warming dishes such as house-made bolognese in the Cantina.
Restaurants not to miss? Saturday night supper at Sir and Star at the Olema Inn (10000 Sir Frances Drake Drive, Olema), where couples can sup by the fire with a long, lingering dinner of hyper-local foods like wild Inverness huckleberries, heirloom goat with purslane, and of course, oysters, oysters, oysters.
If you're up for a meatier bite, try El Paseo (17 Throckmorton Ave., Mill Valley), a chophouse owned by celebrity chef Tyler Florence and rocker Sammy Hagar. They offer filet mignon, crispy duck leg and a Bearnaise burger, but if you're looking for lighter fare, go for one of the signature salads or charcuterie plates.
MENDOCINO
The coast can't help but be romantic. On a clear day, sky and sea become a horizon of blue. On a cold, rainy day, it's hard to find an excuse not to encamp by the fire. Fort Bragg's Piaci Pub & Pizzeria (120 W. Redwood Ave.) is snuggleworthy by design, with only a handful of tables surrounding the bar. When a chair opens, grab it and order. There are no bad choices, but the Nonnie, with prosciutto and a fresh egg on top, is highly recommended.
Head across the street to Cowlick's Hand Made Ice Cream (250 N. Main St.) for a scoop of candy cap mushroom ice cream that tastes every bit like maple syrup, and not at all like mushrooms. In the morning, try Headlands Coffee (120 E. Laurel St.) in downtown Fort Bragg for made-to-order Belgian waffles, pastries, coffee and some meaningful eye-gazing or newspaper-reading.
Headed homeward to the south? Take Highway 128 east to the quirky town of Boonville and through the renowned Anderson Valley wine region. A few miles west of Boonville, in Philo, is Navarro Vineyards (5601 Highway 128), where Pinot Noir and Edelzwicker, an Alsatian-style blend of Pinot Gris, Gewürztraminer, Riesling and Muscat, are easy to love. Like the wines, the Navarro tasting room is fun and approachable, with delicious nonalcoholic varietal grape juices for sale for the designated driver, and plenty of picnic items. It's also a retailer of locally made Pennyroyal Farm cheeses. Navarro wines are available only in the tasting room and through the wine club, so stock up before you leave.
SAN FRANCISCO
Even visitors from Northern California tend to forget just how cold San Francisco can be year-round. The oft-traveled route between the Marina's Crissy Field and the Golden Gate Bridge can be bone-chilling. So stop at the Warming Hut at the Presidio (Building 983) for a steaming cup of coffee or hot chocolate and peruse the gift shop for some of the most interesting knickknacks in the City.
Nearby is Musée Mécanique on Fisherman's Wharf, which will appeal to those who appreciate odd, old carnival attractions. The beloved San Francisco icons on display include antique mechanical mannequins such as Laffing Sal, the Flasher and Jolly Jack, which will haunt your dreams for months, as well as classic video games, a robotic arm wrestler and a Ferris wheel made entirely of toothpicks.
Keep the nostalgia rolling with a trip to the Fairmont Hotel's Tonga Room & Hurricane Bar on Nob Hill (950 Mason St.), where you can experience an indoor thunderstorm, a floating band and romantic 1940s-inspired Polynesian cocktails like the Zombie, Singapore Sling and Mai Tai. Once you're feeling the glow, head over to the Noir Lounge in Hayes Valley (581 Hayes St.), inspired by 1940s film noir. TV screens show black-and-white classics, and the bar serves serious cocktails. Or skip across the Bay to Berkeley for a nosh at the home of California cuisine, and one of the most romantic spots around, Chez Panisse (1517 Shattuck Ave.). Since rebuilding after a recent fire, there are new features, such as a gabled front porch, updated dining rooms and new menus. The food, however, is still as beautifully curated as always, taking into account the season, the bounty and the sustainability of everything served.
Looking for more things to do in Sonoma County? Click here