It's rare to find a restaurant in sunny Sonoma County that doesn't have an umbrella or two for alfresco dining, but not all patios are created equal. We've made a list of favorite options with shaded patios, prime sidewalk people-watching and sun-dappled gardens worth seeking out. Just remember the sunscreen. For even more outdoor dining, visit our restaurant guide.
SANTA ROSA
Bird & The Bottle
You're front and center on busy Fourth St., but with a second story view at Mark and Terri Stark's newest Sonoma County restaurant. A great happy hour and indoor-outdoor dining on the deck are perfect for the restaurant's Jewish, Asian, barbecue menu. 1055 Fourth St. birdandthebottle.com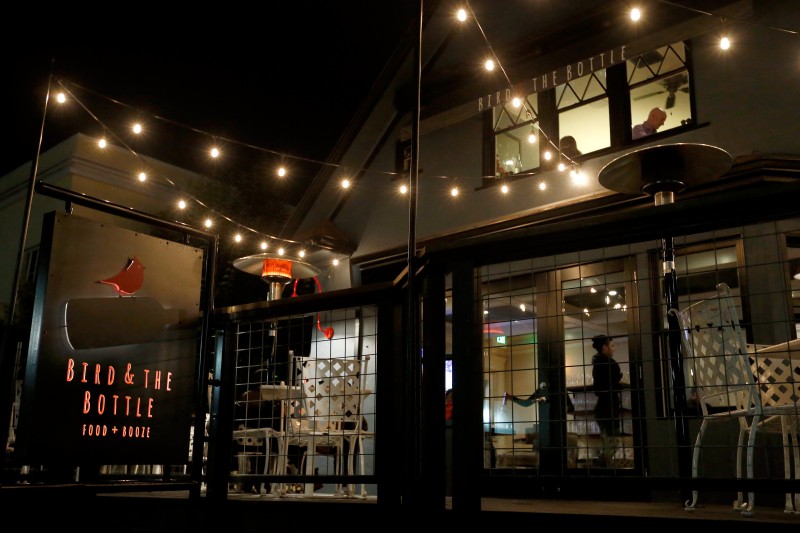 Bibi's Burger Bar
On pleasant days, this downtown burger spot opens the glass walls for an indoor-outdoor experience, but you can also head directly to their cozy bar patio with sofa-seating. If things get too hot outside, grab a s'mores milkshake with a kick of booze. 630 Third St., bibisburgerbar.com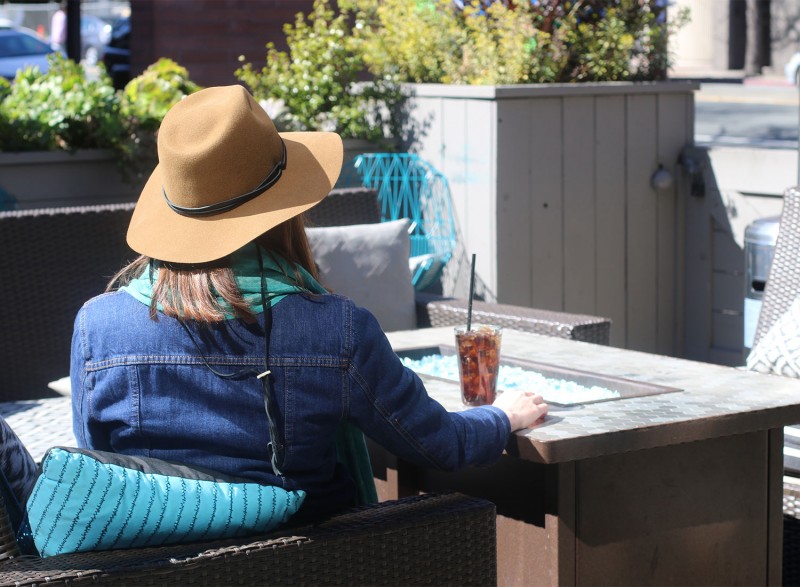 Brew Coffee & Beer
Though the patio is small, it's almost always crowded with local artists, writers and friends meeting up for a craft brew or coffee at the former Donut Hut. Look for cozy couches, tasty pastries, a simple lunch menu and with occasional dinner pop-ups (and don't miss the bathroom art). 555 Healdsburg Ave., brewcoffeeandbeer.com
Fiori's Grill
This popular Montgomery Village burger and pasta spot has one of the best patios around, with sofa seating and covered tables where kids can play with their food, and grownups can have a nice glass of wine. 722 Village Court, fiorisgrill.com
John Ash and Co.
This historic restaurant pays homage to the godfather of Wine Country cuisine, founding chef John Ash. It's nestled among acres of vineyards, with stunning views from just about every angle. Twinkling lights and a lovely patio make it a perfect sunset spot. 4330 Barnes Road, vintnersinn.com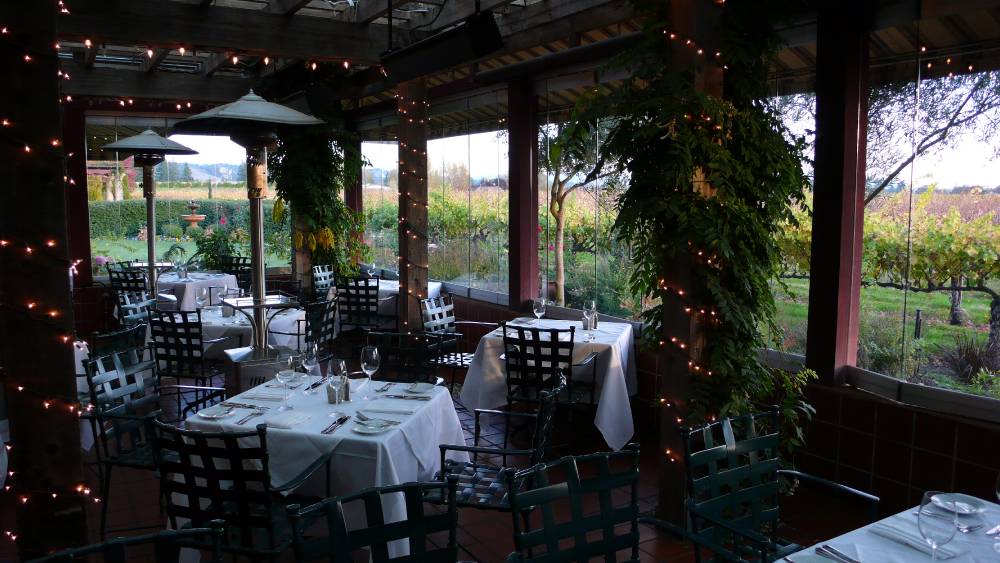 La Rosa Tequileria
A huge tequila bar and the best chips and guac in town make this a great after-work spot to watch the world go by as the downtown reunification of Courthouse Square nears completion. 500 Fourth St., larosasantarosa.com
Legends at Bennett Valley
Nineteenth hole golf grub is the name of the game at this casual Bennett Valley Golf Course overlook. Throughout the summer, guests can enjoy live music on the patio and a great happy hour, Fridays, from 5.30 to 8:30 p.m. 3328 Yulupa Ave., legendsbennettvalley.com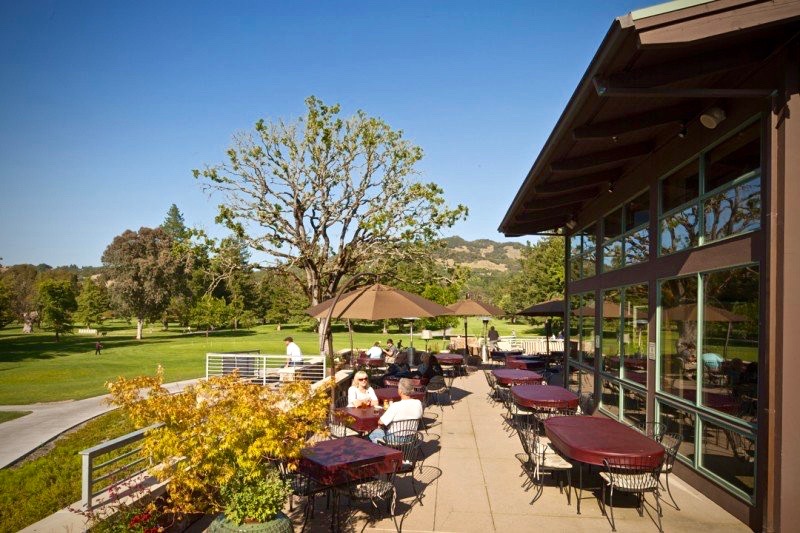 Willi's Wine Bar
This classic roadhouse captures the casual, laid-back nature of Sonoma County. Enjoy the international small plates — some wildly inventive, others comfortingly familiar. Dogs are welcome to join you on the patio. 4404 Old Redwood Highway, starkrestaurants.com
The Whole Pie
The Whole Pie features lunch or dinner in a crust, with sweet and savory slices and hand pies (along with whole pies, of course) including: the "Sweet Tooth" made with butterscotch pudding and a dash of curry; "Holy Moly" with chicken mole in a cocoa crust; "Mister Crunchy" with prosciutto and Emmentaler cheese in a Dijon béchamel; and "Beer Belly" with beer-braised short ribs, onions and aged English cheddar. Beer, cider and wine are served along with coffee and craft soda. The cute patio overlooks Santa Rosa Creek.  2792 4th St., Santa Rosa, thewholepieshop.com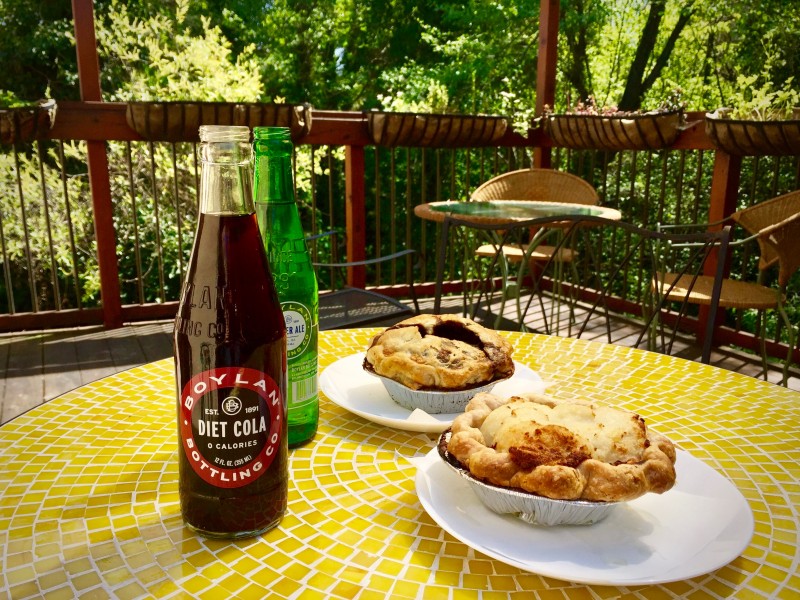 COTATI
Redwood Cafe
Keeping alive Cotati's North Bay entertainment tradition, the cafe features a full schedule of live music and other performances year-round: Monday open mic nights, stand up comedy, belly dancing, Irish jam sessions, Celtic fiddle music and burlesque performances. The restaurant has two patios, one out front and one to the side; the latter features a fire pit. 8240 Old Redwood Highway, redwoodcafe.com
PETALUMA
Dempsey's Restaurant & Brewery
Take a riverside seat at one of the outdoor tables, grab a pint and go for the Cuban sandwich, with slow-cooked brisket. Burgers are also top-notch. 50 E. Washington St., dempseys.com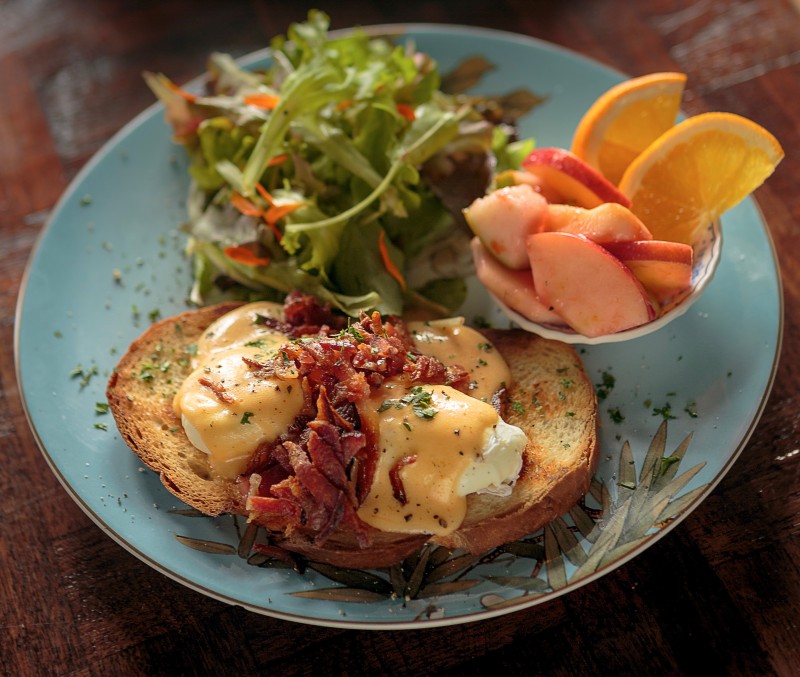 Wishbone
This funky little spot serves brunch daily, and has an intimate outdoor space only a few folks know about. You'll have to squeeze through a narrow alley way, but the secret outdoor space is a favorite. 841 Petaluma Blvd N., wishbonepetaluma.com
SONOMA
Cocoa Planet
This tiny chocolate factory has a secluded little patio that's perfect for a wine and chocolate pairing, or a light French cafe-inspired lunch of Croque Madame, crepes and of course, some chocolate cake. Open Thursday through Sunday from 11:30am to 6pm.Limited factory tours are available by appointment for parties of 8 guests or fewer, 707-343-7453 for details. 921 Broadway, cocoaplanet.com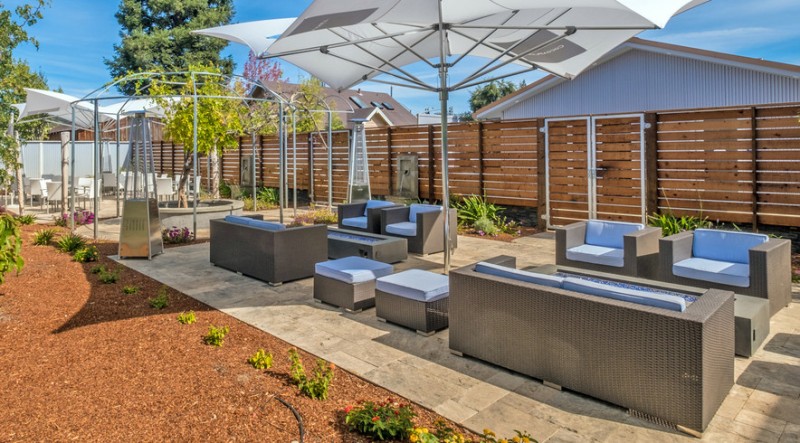 El Dorado Kitchen
You'll feel like an A-lister in the courtyard of this award-winning restaurant on the Sonoma Plaza. Excellent food and craft cocktails complement the upscale outdoor cabanas and pool in this very intimate space. 405 1st St. W., eldoradosonoma.com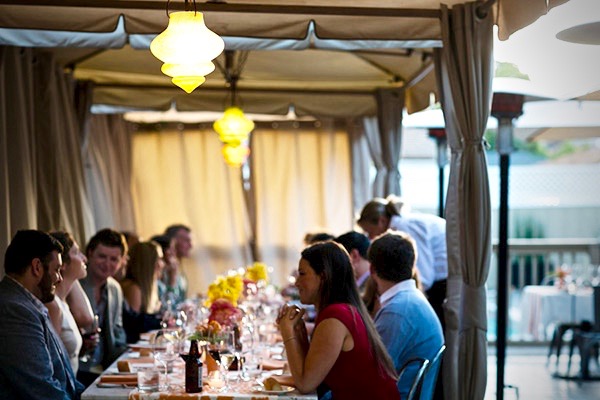 La Salette
Chef Manuel Azevedo honors his Portuguese heritage by preparing classic and innovative dishes in Portuguese style and and with respect for his Azores heritage. The wine list is loaded with Portuguese treasures and the service is snappy. It's a real treat to dine here, especially on the front patio. 452 First St. E., Suite H, lasaletterestaurant.com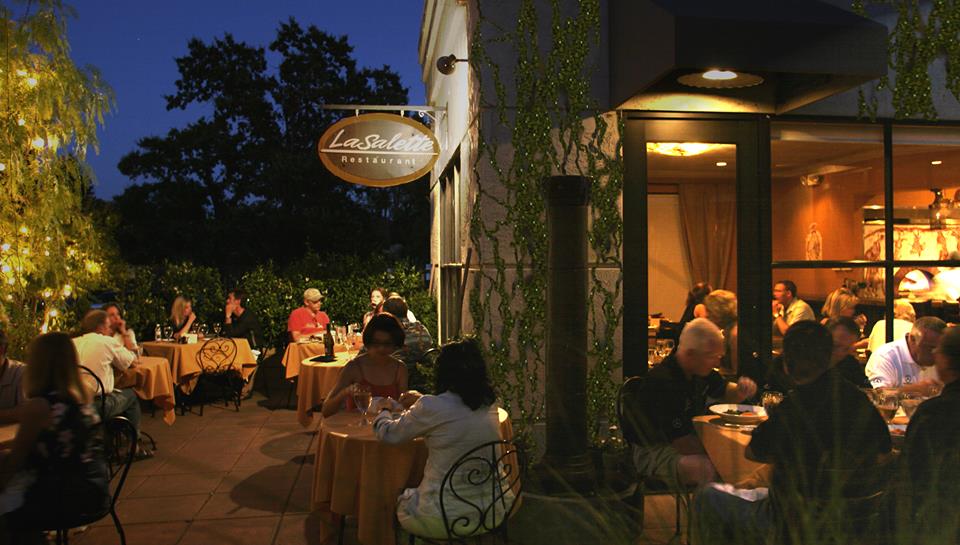 The Girl & The Fig
This popular eatery's cozy, enclosed patio is just the spot for a romantic lunchtime rendezvous. Save room for a plate of artisan cheese and a glass of wine from owner Sondra Bernstein's incredible collection of Rhones. 110 W. Spain St., thegirlandthefig.com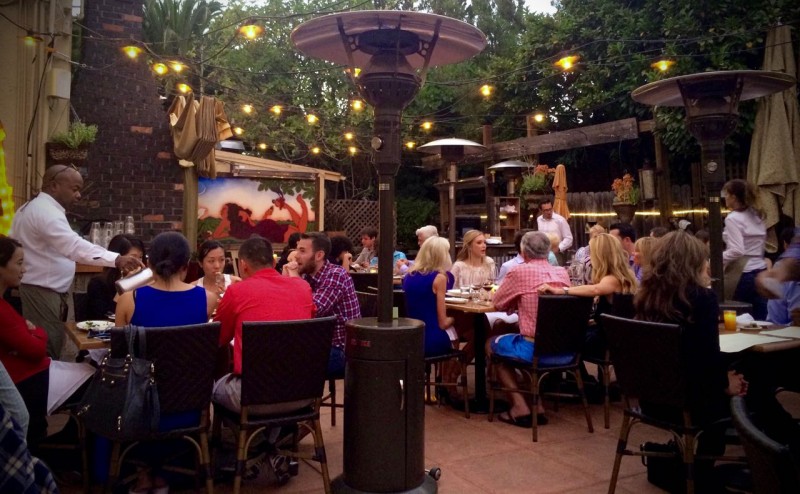 SONOMA COAST
Fisherman's Cove
A no-nonsense family-owned seafood shack and fishing-marine supply store specializing in fresh local oysters harvested from Tamales Bay. Their crab sandwich rivals nearby Spud Point, but we'll let you make that call. 1850 Bay Flat Rd., Bodega Bay, fishermanscovebodegabay.com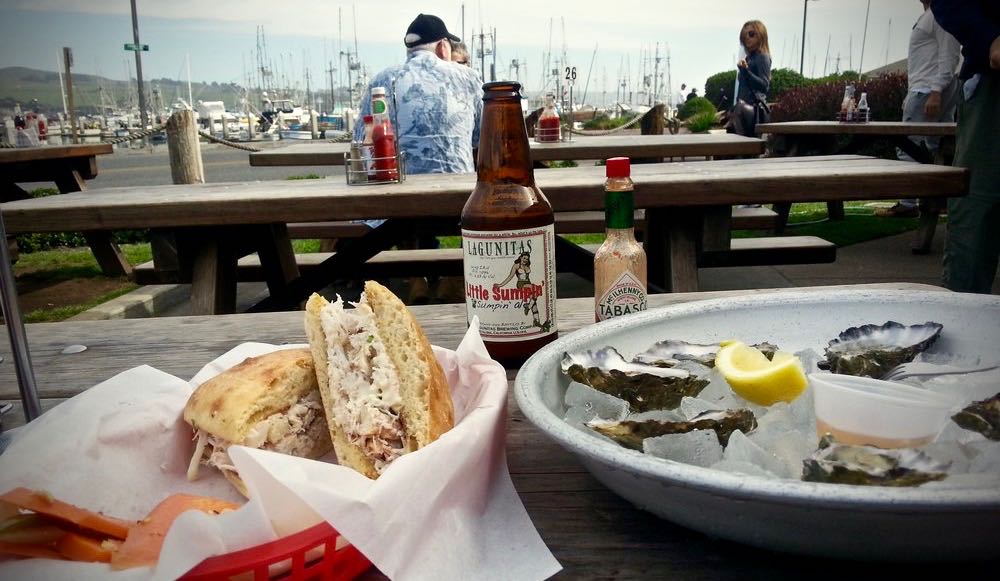 River's End
This romantic Jenner restaurant is the perfect place to end a day on the coast. With large windows overlooking the shore, this spot's sunset views mixed with the fresh-out-of-the-ocean seafood is a dinner you'll remember. 11048 Highway 1, Jenner, ilovesunsets.com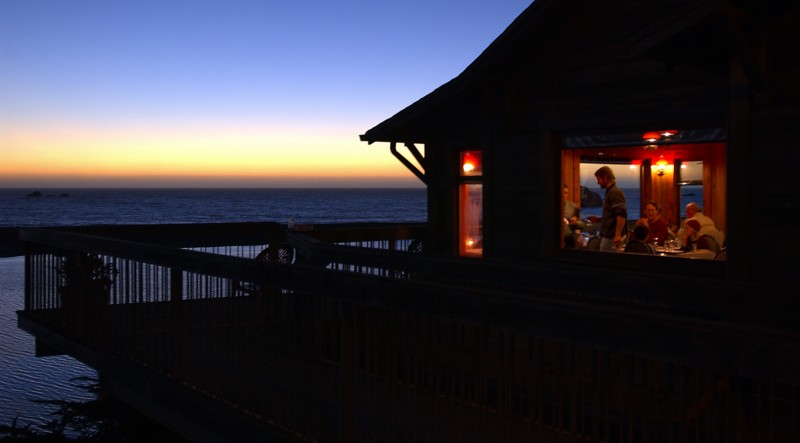 SEBASTOPOL
Fork Roadhouse
The large patio behind this tiny Sebastopol roadhouse is a ton of fun, with live music and cool shade by the small stream nearby. Not to mention that chef/owner Sarah Piccolo's food is spot-on every time. 9890 Bodega Highway, forkcatering.com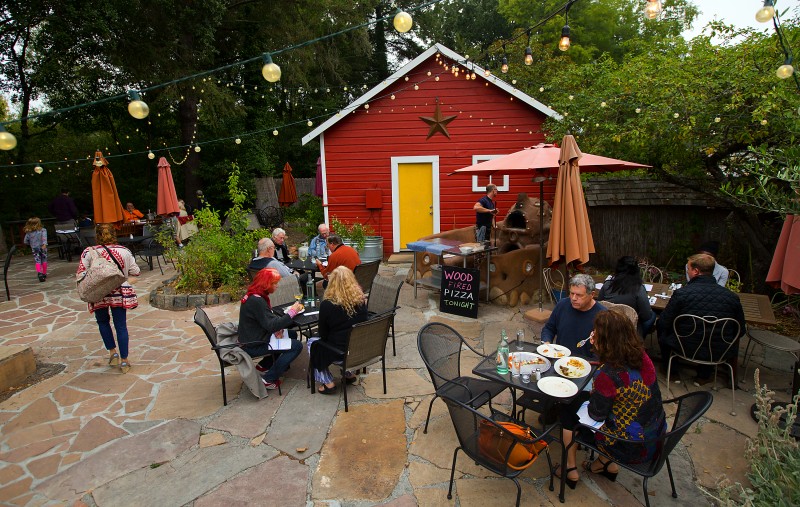 Handline
An epic patio and screened walls that open to the breeze makes this new fast/casual taco and burger spot a favorite for families and happy hour. Great food, a nice list of beer and wine, plus walk-up soft-serv keeps them coming back. 935 Gravenstein Hwy. South, handline.com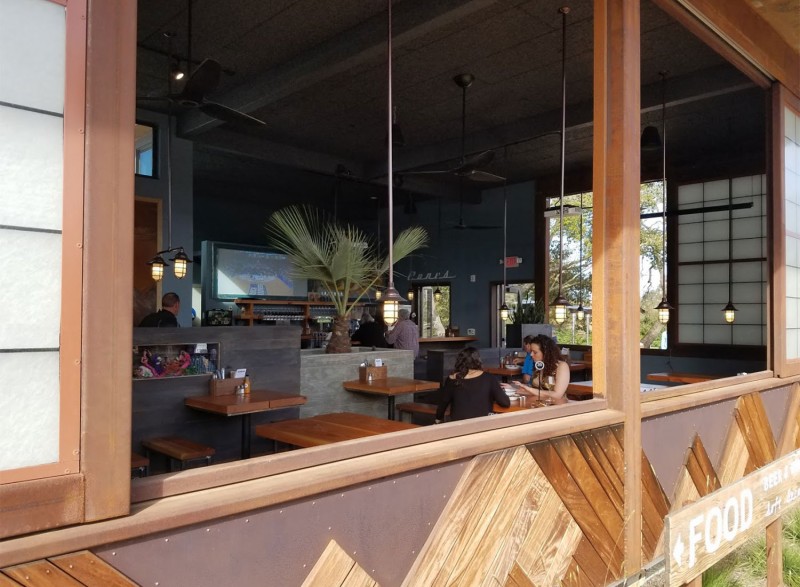 Ramen Gaijin
Seasonal Japanese menu consisting of traditional regional ramen styles inspired by the offerings of local farmers and ranchers. The Sebastopol restaurant also serves up an ever-changing selection of yakitori and small plate izakaya dishes to complement craft cocktails, beer, wine and sake. Enjoy the neighborhood atmosphere on the patio during the daily happy hour, 3:30-5:30pm. 6948 Sebastopol Ave., ramengaijin.com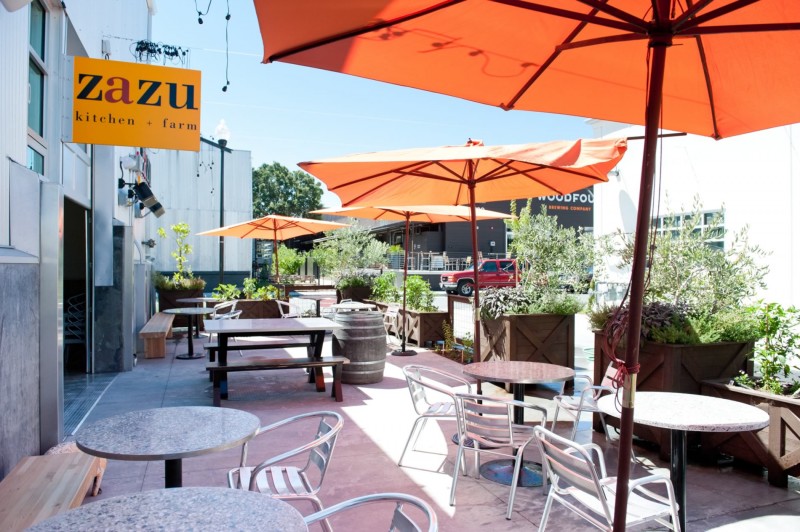 The Barlow
Most restaurants at this downtown Sebastopol marketplace have garage-door style walls that allow for indoor-meets-outdoor seating (limited sun, plenty of fresh air) or outdoor patios (or both). Here are three we recommend:
Zazu Kitchen + Farm: Don't be surprised if you see chef/owner Duskie Estes pick a few herbs from the horse trough gardens around the restaurant during service. Here, farm to table isn't just lip service, and the indoor/outdoor space is great for whiling away the evening with cocktails and bacon popcorn while folks stroll past. 6770 McKinley St., zazukitchen.com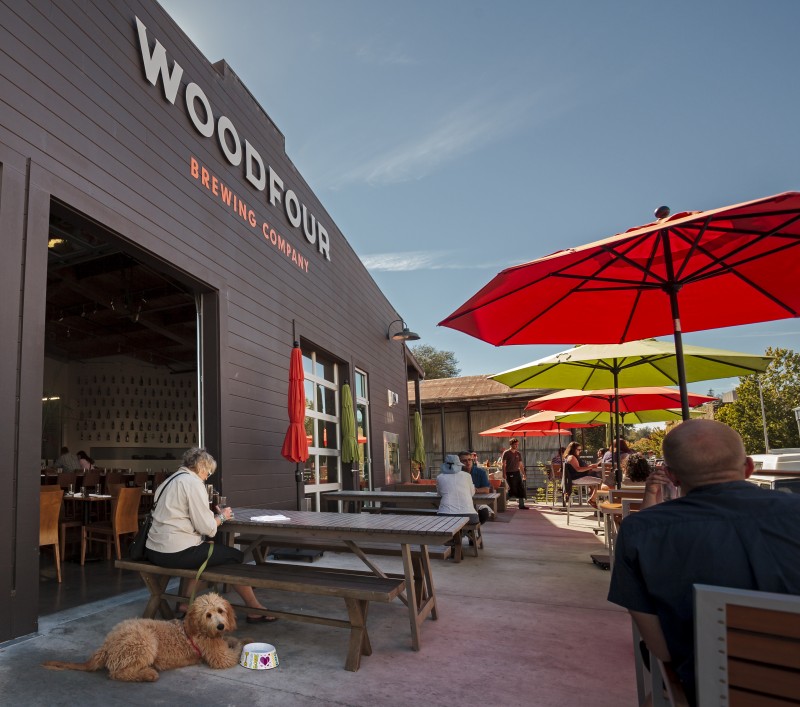 Woodfour Brewing: Local brewery serves up solid Sonoma County-inspired dishes. Large patio for people watching and soaking in the summer sun. 6780 Depot St. woodfourbrewing.com
Vignette: Tiny wood-fired pizzeria has roll-up walls and a small outdoor dining patio. Pizza that's totally worth the 90 second (or so) wait. 6750 McKinley St. vignettepizzeria.com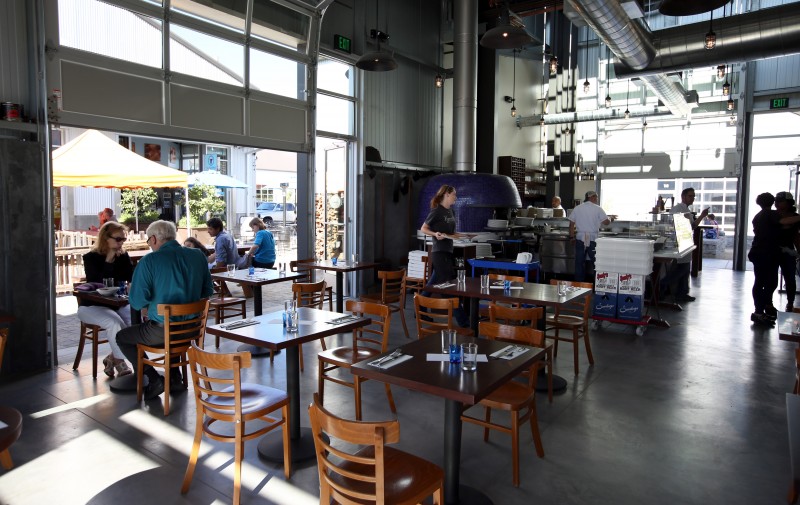 WEST COUNTY
Estero Cafe
Bright orange umbrellas are the signature of this tiny breakfast/brunch cafe that pays daily homage to local farmers with a hand-lettered chalkboard. A note on the menu informs customers that they deep fry in local pork lard, something true foodies will travel miles to find. 4450 Hwy. 1, Valley Ford, visit on Facebook. 
Gold Coast Coffee and Bakery
Stop in historic Duncans Mills for a cup of house roasted coffee and pair it with a pastry baked in the wood fire oven (which also makes great-tasting pizza). The well appointed deck is surrounded by lush gardens. 23577 Steelhead Blvd., visit on Facebook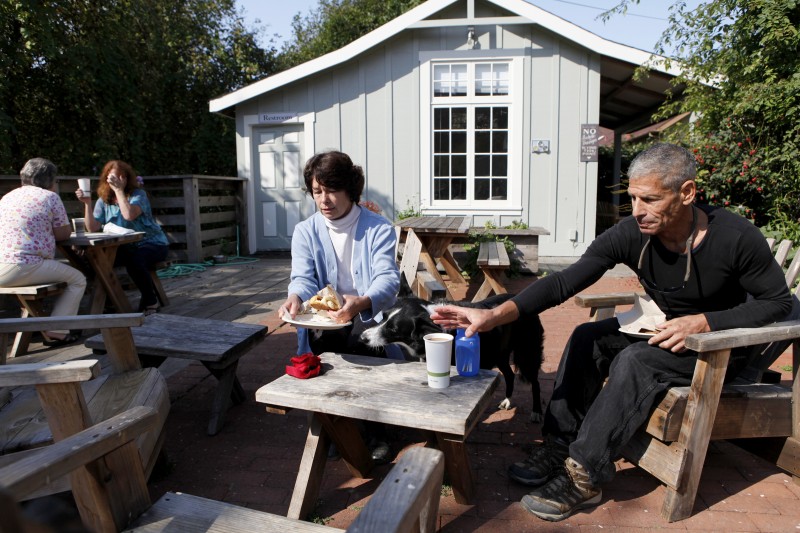 Russian River Vineyards
This Forestville outpost has always been a great spot to sit outside among grapevines and redwoods and ponder the Wine Country lifestyle. The weekend brunch is a great excuse to linger. 5700 Highway 116 N., russianrivervineyards.com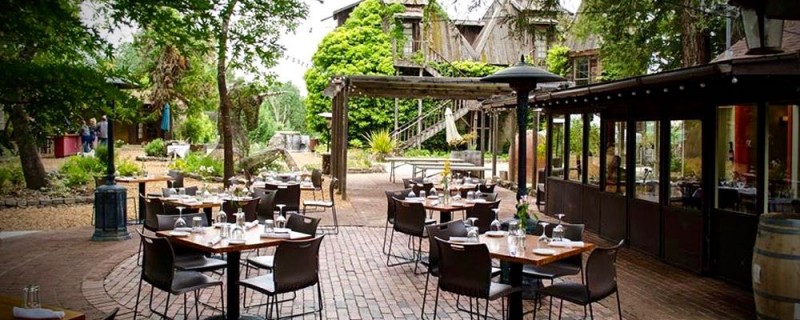 Zosia Café & Kitchen
The tiny hamlet of Graton just got the breakfast-and-lunch spot it's been waiting for. The menu is half California-style classics, half authentic Eastern European comfort food, including Polish pierogi and borscht on weekday afternoons. Most dishes are under $10 and perfect for sharing. 9010 Graton Road, zosiacafe.wordpress.com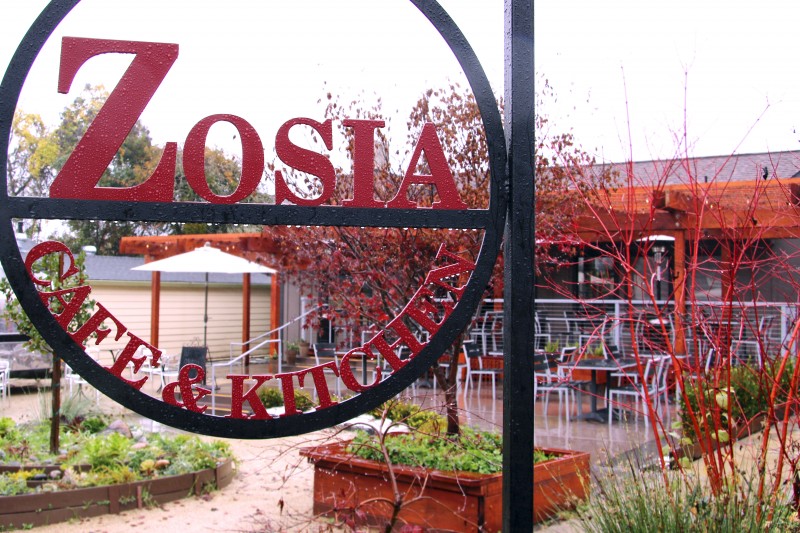 HEALDSBURG & POINTS NORTH
Barndiva
This Healdsburg hotspot is a mashup of rural charm and urban sensibilities. The casual bistro garden offers a cozy vibe. Did we mention the incredible food and craft cocktails? 231 Center St., barndiva.com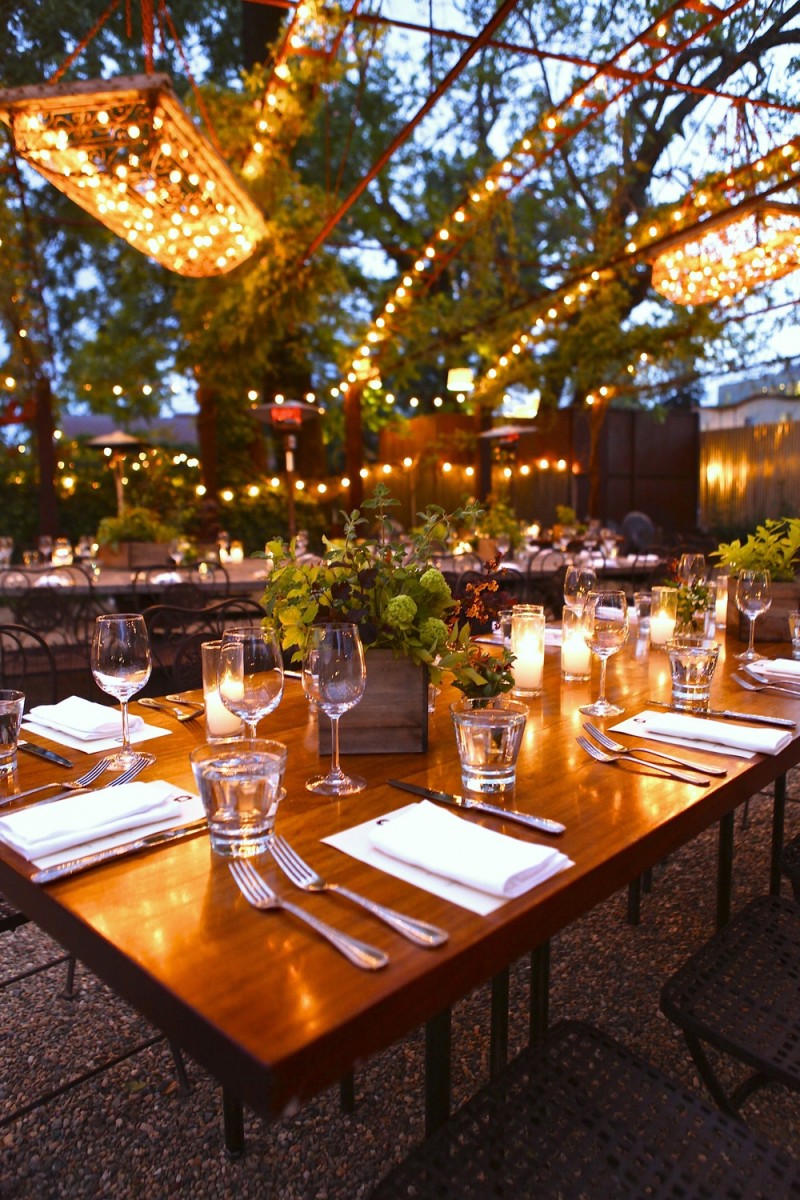 Bravas Bar de Tapas
"Jamon In" points a neon arrow to the patio that Healdsburgers flock to every summer. Sangria, paella, Spanish tapas and plenty of gossip are what you'll find at this popular watering hole and restaurant. 420 Center St., starkrestaurants.com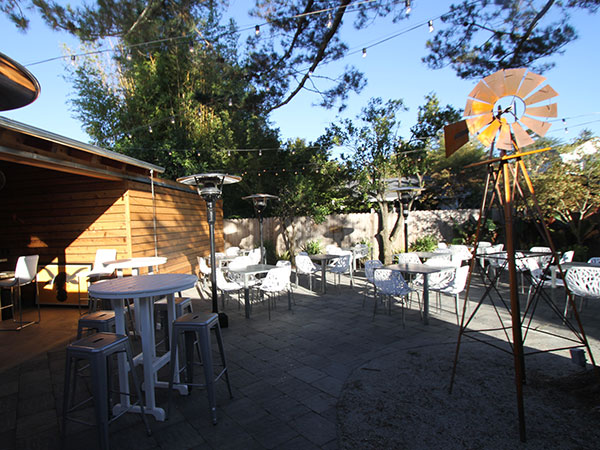 Campo Fina
Don't be alarmed if this idyllic brick-clad Italian appears empty when you walk in on a sunny day — everyone is on the back patio sipping cocktails, playing bocce and watching the chefs turn out some of the best pizza in the county on an outdoor wood-fired oven. 330 Healdsburg Ave., campofina.com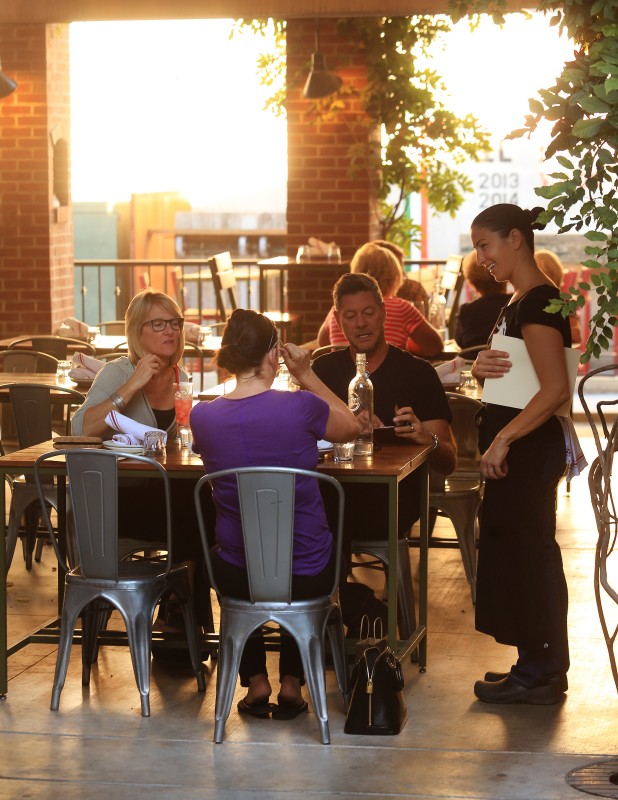 Catelli's
This large outdoor patio is a luxe respite in the middle of the Dry Creek Valley. Excellent Cal-Ital includes paper-thin lasagna, burgers and other classics. 21047 Geyserville Ave., Geyserville. mycatellis.com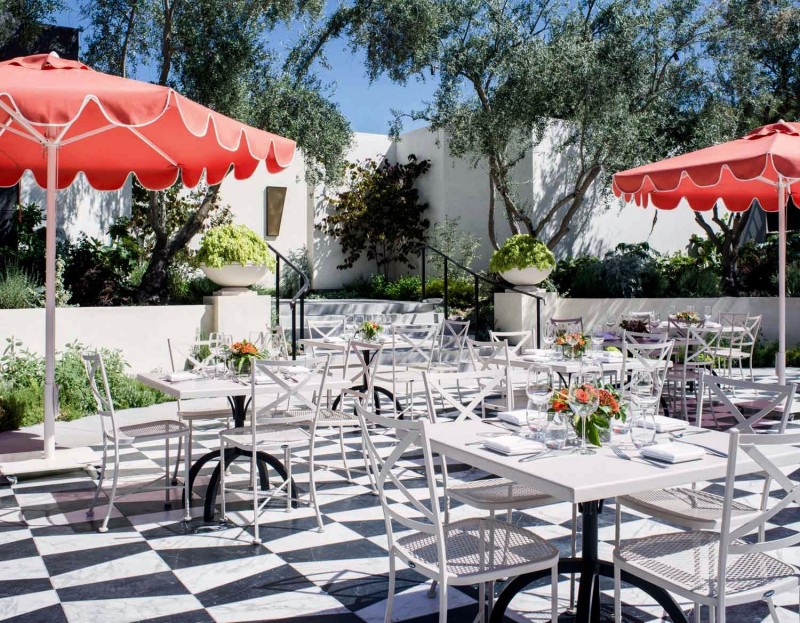 Healdsburg Bar & Grill
Known to locals as HBG, this buzzing, American eatery is the playground for Michelin-starred chef Douglas Keane to serve up comfort classics like macaroni and cheese, seared tuna burgers and their classic HBG's burger, recently voted one of Food and Wine Magazine's 25 Best in the U.S. Bocce and lots of happy kids (don't worry, there's a fence) wander around on the patio in the early evening hours. 245 Healdsburg Ave., healdsburgbarandgrill.com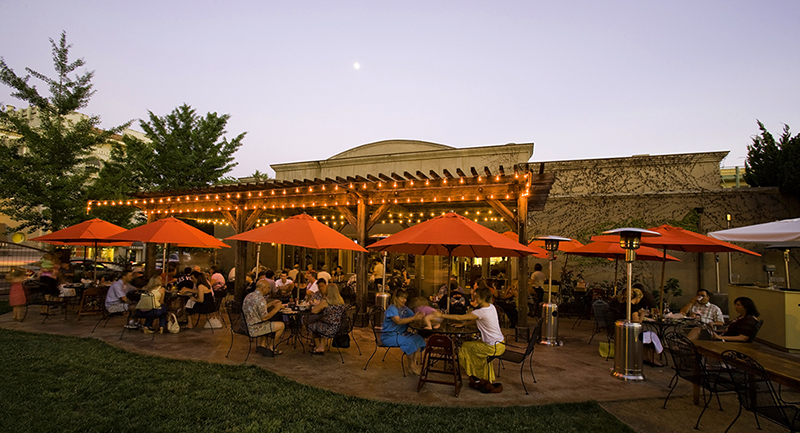 Rustic Francis's Favorites
The restaurant at Francis Ford Coppola Winery in Geyserville boasts a terrace overlooking the picturesque Alexander Valley and Coppola vineyards. The family-style cooking features fresh, seasonal ingredients from the property's organic herb and produce garden. 300 Via Archimedes, francisfordcoppolawinery.com
Research by Courtney Paige. 
Looking for more things to do in Sonoma County? Click here