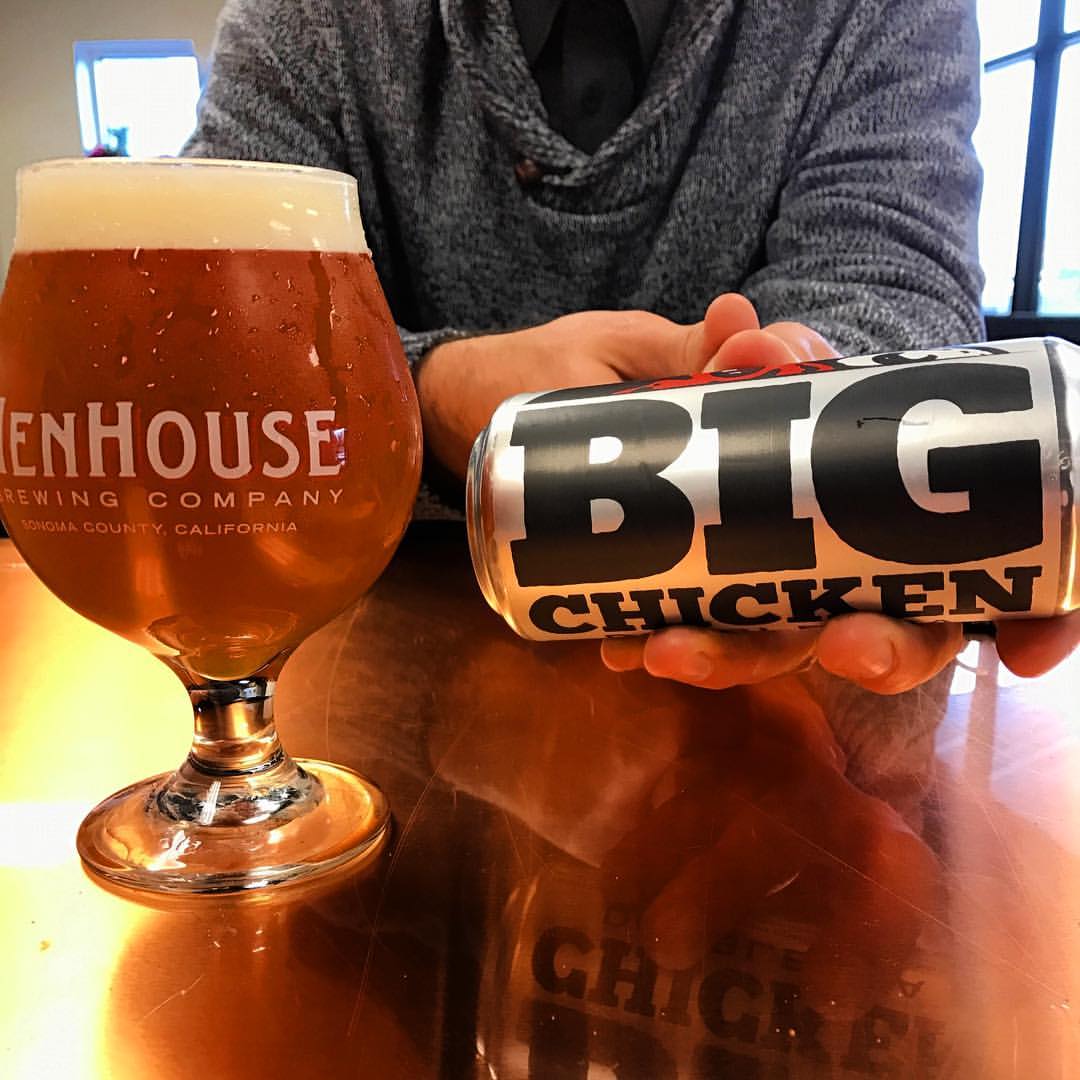 A Petaluma chicken is on the run. We're not talking the feathery poultry kind of chick but a big hoppy one, and now is your chance to catch it. Today marks the fifth annual release of HenHouse Brewing Co.'s limited edition Big Chicken double IPA and, as we speak, Bay Area beer lovers are getting ready to seek out this rare bird.
Only available to taste two days per year, Big Chicken is a big deal in the beer world. It is made with Citra, Amarillo, and Mosaic hops, and each barrel contains 11 pounds of hops (most IPAs contain only three pounds). The high hop content makes the beer intense, but also fragile and it perishes fast. Because of this reason, HenHouse kegs and delivers Big Chicken on the very same day, and ask that bars and brewpubs taps it on that day in order to ensure peak freshness. The beer usually runs out within two days (and with SFBeer Week in full swing, the beer is likely to go even faster), which leaves only a small window between now and Sunday to get a taste.
"Big Chicken is the extreme of our focus on freshness," said HenHouse Brewing Co. president Scott Goyne,"Beer is a far more perishable product than most folks realize, in particular hop flavor and aroma degrade fast, so it's important to drink hoppy beer in it's short window of freshness."
In Sonoma County, Big Chicken will be available at HenHouse's taproom and at the following locations:
Petaluma:
Roaring Donkey
McNear's Saloon
Taps
Sauced BBQ & Spirits
Petaluma Market
Charley's
Wilibee's Wine & Spirits
Speakeasy
Mario and John's
Twin Oaks Roadhouse
Rohnert Park:
Beer Craft
Cotati:
Flagship Taproom
Santa Rosa:
Brew
Local Barrel
Sprengers
Belly Left Coast Kitchen
Wilibie's
Steele and Hops
Westside Grill
Rincon Valley Tap Room & Bottle Shop
Windsor:
Oliver's Market
Healdsburg:
Healdsburg Emporium
Sebastopol:
Hopmonk
K&L Bistro
Community Market
Whiskey Tip
Occidental:
Barley and Hops
Sonoma:
Hopmonk
Big Chicken will also be available at these Bay Area locations:
North Bay:
Hopmonk (Novato)
Beer Craft (Novato)
Pig in a Pickle (Corte Madera) 
Napa Palisades
San Francisco:
Hopwater Distribution
Brewcade
Alamo Drafthouse
Crafty Fox
Mikkeller Bar
Long Bridge Pizza
Garaje
G Spot
Gestalt
Hamlet
Sea Star
WesBurger 'N' More
Mission Bowling Club
Richmond Republic
Babu Ji
Rosamunde Sausage Grill
City Beer Store
Liquid Gold
Churchill
East Bay:
Tap 25
Bottles
Prizefighter
Golden Squirrel
Elevation 66
Ben and Nick's
Albany Taproom
Pacific Standard
Vine and Grain
Lost and Found
Hop Grenade
Ol Beercafe
Hog's Apothecary
Half Orange
The Growler
Brotzeit lokal
Good Hop
Commonwealth
Cato's
The Cooler
Sunol Ridge
Portal
Final Gravity
Modesto Market
South Bay:
Devil's Slide Taproom
Winters Tavern
Jack's
Subscribe to Our Newsletters!