Jean-Charles Boisset is at it again.
The Frenchman who restored Sonoma's historic Buena Vista Winery and added sizzle to Napa Valley's formerly staid Raymond Vineyards has debuted a Wine Tool Museum on the third floor above Buena Vista's Champagne Cellars.
There, basic winemaking implements get a high-tech spotlight thanks to moving chains that parade polished shovels and wine-barrel parts before the eye. A "breast drill' used to make holes to decant wine from barrels hangs in front of the stone walls built in 1864, joined by plow blades, pruning hooks, a carpenter's bench, soil injectors and grape picking baskets.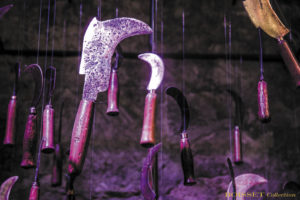 Everything comes alive with the slow, deliberate movement of the tools on the chains, and a carefully choreographed synchronicity of dramatic music and near-psychedelic colored lights.
The collection was curated and installed by Philippe Berard, a winemaker in Burgundy, France, who sold his tool collection to the Boisset family in 2001. Boisset just happens to be the largest wine producer in Burgundy.
Leaving no stone unturned, Boisset hired Kyle Haraszthy, triple great-grandson of Buena Vista founder Agoston Haraszthy, as a sales ambassador.
To see the Wine Tool Museum, take a tour with a sommelier-guided tasting of four to five wines for $25. Or go straight to the museum, without wine, for $10. There is no admission charge for children accompanied by a paying adult. The museum is open daily from 10 a.m. to 5 p.m., with tours every hour.
*photos courtesy Boisset Collection