"Get Organized!" is at the top of many New Year's resolution lists year after year, and for good reason. Most of us have that chaotic junk drawer, crammed with dried out pens and tangled phone chargers, or a closet so full you can't see what's in it. And don't forget the garage where unwanted things go to sit unused, sometimes for decades, to await their fate.
I had a chance to interview Meghan Bresnyan, Santa Rosa resident and owner of Sweet B Organizing, and asked her to share some helpful tips with those of us striving for a more organized home – and life – this year.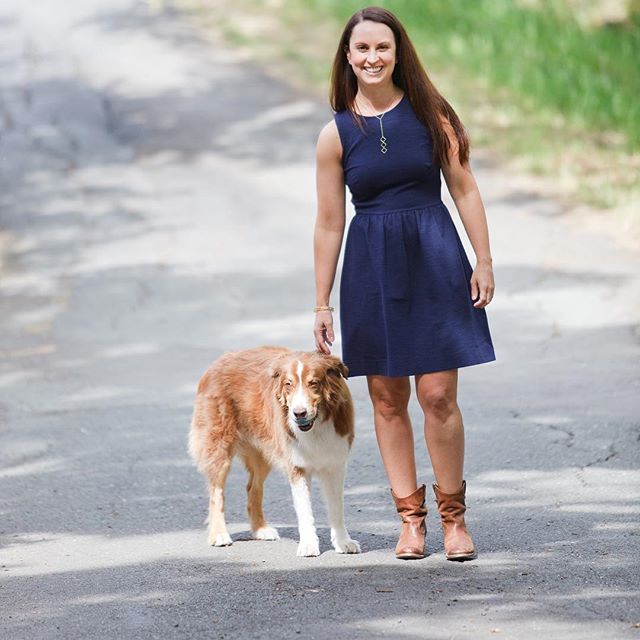 About Meghan:
Meghan has a life-long passion for organization, efficiency and making others' lives less cluttered and freed up to enjoy life. Her business offers a variety of services to clients in Sonoma, Napa and Marin Counties from organizing an entire house or just one room to relocation services. Meghan also conducts personal wardrobe styling using skills and talents developed during her long career in the apparel industry.
How did you get into this business?
"Last January I was organizing my home and had a thought that maybe – just maybe – I could do this for a living. I Googled 'organizers' and found all sorts of information. I reached out to other organizers in the Bay Area to find the best way to get started and connected with one who was a member of NAPO (National Association of Professional Organizers). I went to a chapter meeting where I found my people! I was going to do something I loved and that comes naturally to me. It doesn't get much better than that!"
Have you always been an organized person, even as a child?
"Yes, being organized just feels right for me. Having everything in its place gives me space to focus on the things that matter most, like my family. Wanting to be organized really started to kick in when I was a teenager. I remember going to my boyfriend's house – now husband – and organizing his family pantry. A priceless reward of helping others get organized is their appreciation for what I have done."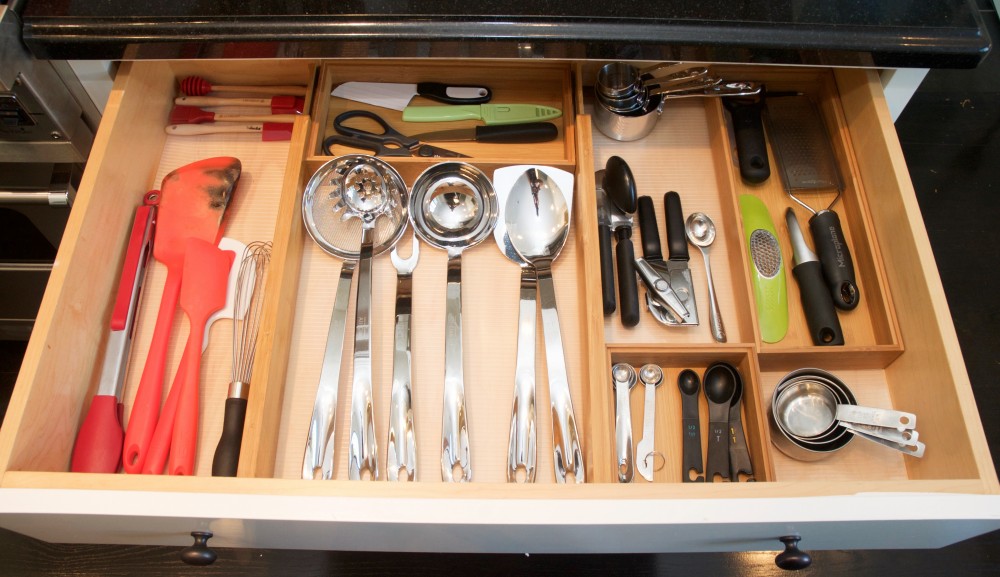 Is the New Year a particularly busy time for you? If so, why do you think that is? If not, when is your busiest time?
"It depends on the type of organizing you do. If you specialize in moves then your season is going to be spring to fall. If you are a generalist, your workflow might be more spread out. I enjoy working with young families so I am busy most of the year. The summers can be a little slower since most families take time away from home and work to recharge."
Tips for Becoming More Organized: 
Tackling a reorganization of your entire home seems like a daunting task. What's the best way to begin? 
"To begin the process of organizing an entire house, I would ask the client what the biggest priority is right now in their life: What is stopping them from moving forward with that priority? If they said they want to grow their business but don't feel creative or productive in their office then we would start in that space."
Why is it so difficult for many of us to be as organized as we want to be? 
"Many of the things in our homes hold an emotional charge. People often avoid making decisions about these things because they feel guilty for letting them go. An example could be something your grandmother gave you. I tell my clients that their family member would want them to be happy and enjoy the things they have. If that item is not bringing them joy or if it is holding them back in any way, then it is okay to let it go. Much of the process of decluttering is letting go of things that happened in the past. The clutter in our lives is stagnant energy and if we don't remove that clutter it will be very hard for us to move forward in our lives. I am a huge support system for my clients, so when we work together getting things done becomes much easier and more productive than if they were trying to start the process on their own."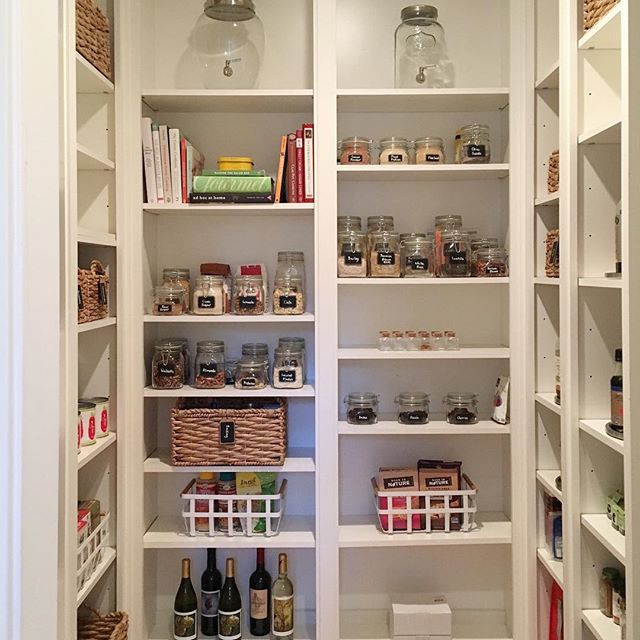 Do you have some tips for organizing the dreaded junk drawer?
"Yes, I love junk drawers! The transformation from beginning to end is always rewarding. The first step is to remove all the contents from the drawer and lay them on a table. Next, sort those items by category: pens, post-it notes, scissors, tape, tools, etc. Once you have everything sorted you will see how many of each item you have. You might realize you have 50 pens. I recommend reducing that number down to a reasonable amount of 10 to 15. Only keep the ones you love and that work! I would go as far as writing with every pen to see how each one feel in my hand. Some pens just don't do it for me, so they must go.
"Once you have decided what's staying, you can organize the like items together inside the drawer using containment. You don't have to spend a lot of money on containers. Use what you have in your home.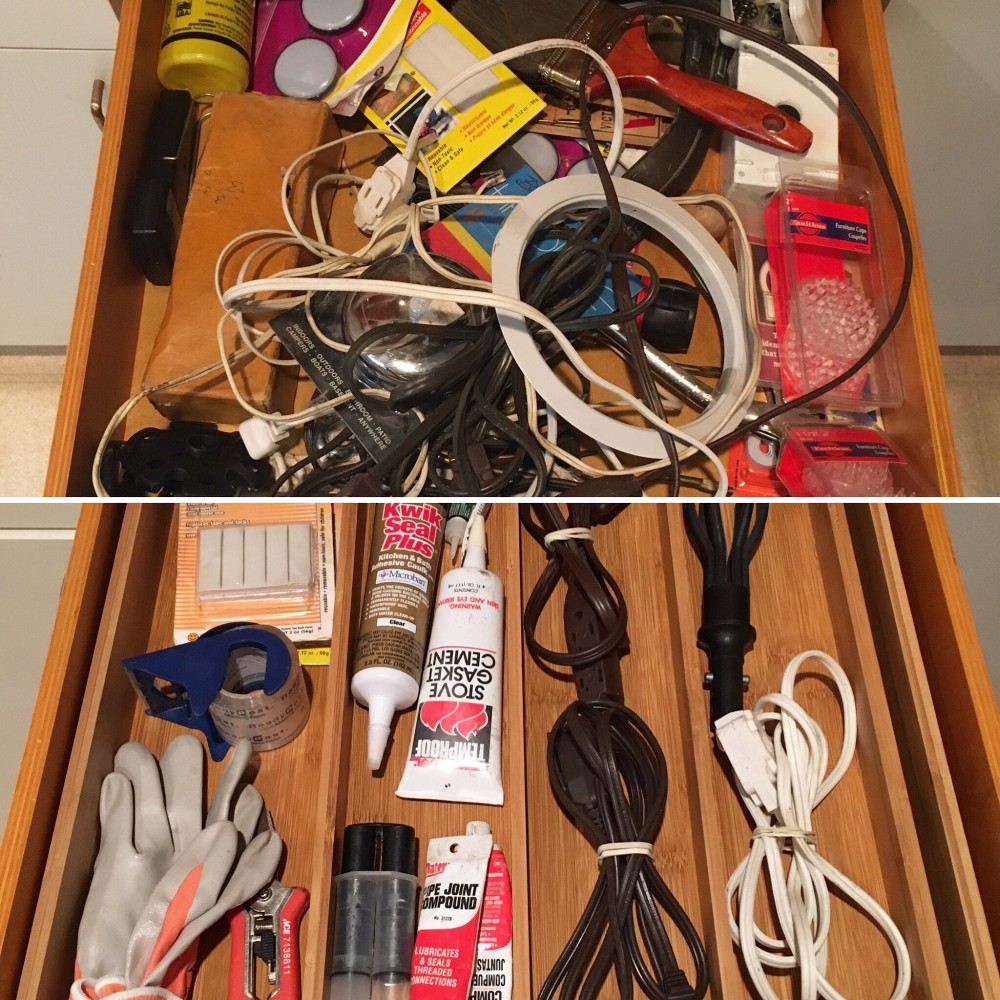 "One fun organizing hack I use with some clients is repurposing the top of an Apple device box. These boxes are very sturdy and can work inside a drawer nicely. I would say that most of my clients have an old Apple device box just cluttering up a closet in their home before I come along."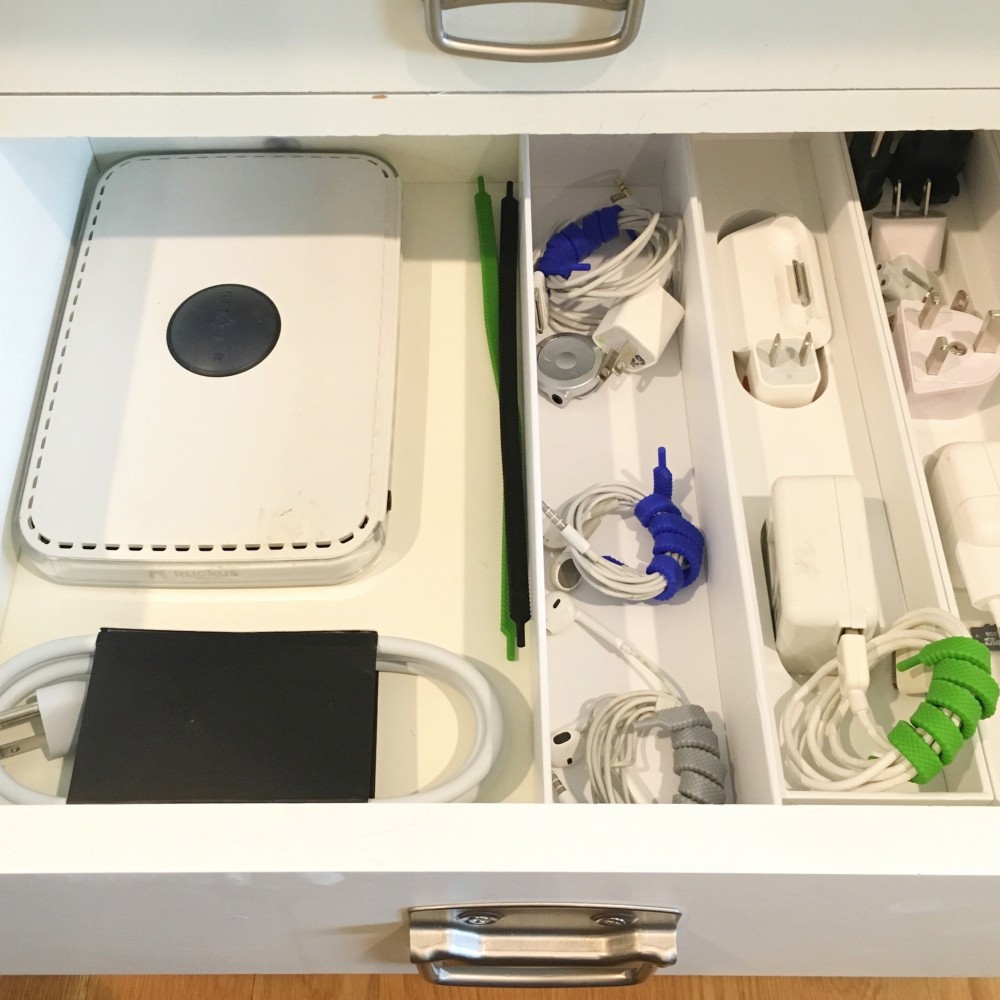 How often should we be reorganizing and decluttering our homes, cars, office, garage, etc.?
"If you can find the motivation or get help from an organizer to do one big purge, then finding the energy to stay organized will be much easier. Staying organized is about creating habits. We all end up with different things laying around the house that are not in their proper 'home'. I recommend taking 10 minutes a day, after dinner or before you go to bed, to put away things laying around. Starting your morning with a clutter-free home is priceless, plus it will save you time getting ready in the morning."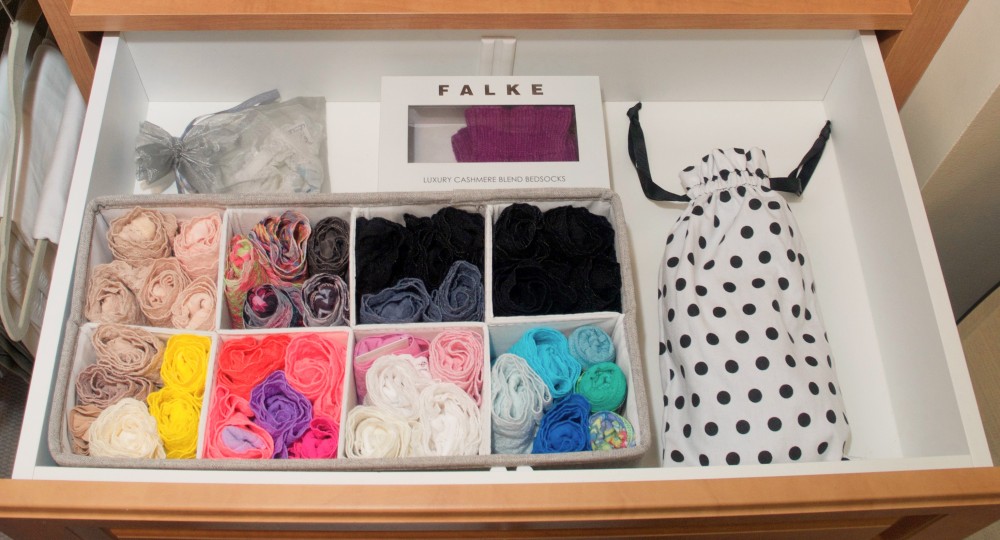 What are your thoughts on counters – bathroom and kitchen. Should we keep our small appliances and toiletries on the counter or out of sight? 
"It is different for everyone. I try to create organizing solutions that will work for the individual and the way they move through their life. I like to have minimal items on my counter tops. The things I do keep on the counter have a very high value in terms of how much I love them or how I use them. For example on my kitchen counter I have 3 types of salts because I love salt. I also have an air plant because I love it and it makes me happy. By default we have the toaster oven on the counter but that is the only appliance we have out. It gets used multiple times a day so it's extremely functional."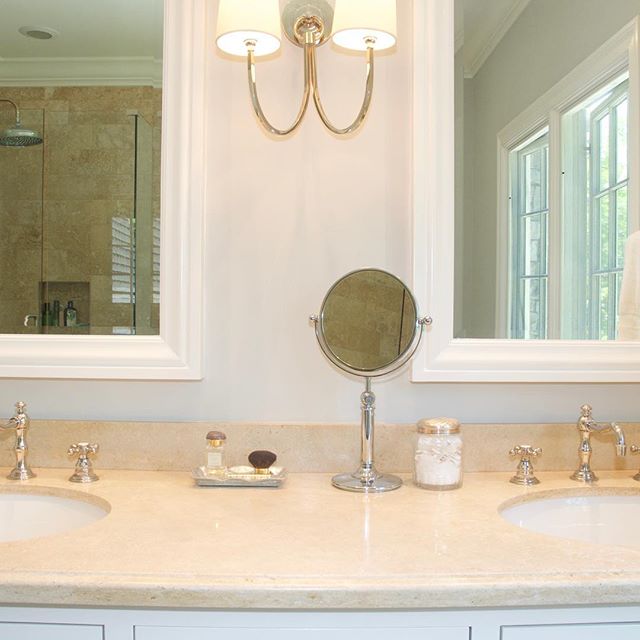 What should I do with those holiday gifts I received but really don't want and can't return?
"If you received a gift or two over the holidays that you will never use, instead of letting it collect dust for the next year, make a decision now about what you're going to do with it. Give it to someone who could use it or donate it and move on. I have to confess I already took a box of holiday gifts that did not bring me value to the Goodwill. It feels good knowing that someone else will enjoy these items."
My biggest organization problem in my kitchen would have to be my spice cabinet. I have tried for years to keep it organized with no success. What am I doing wrong?
"There are many different solutions for spices. Containing them in a jar and adding a label is key. When you run out of that spice, you refill the jar so you don't have a ton of plastic bags with no names clogging your pantry.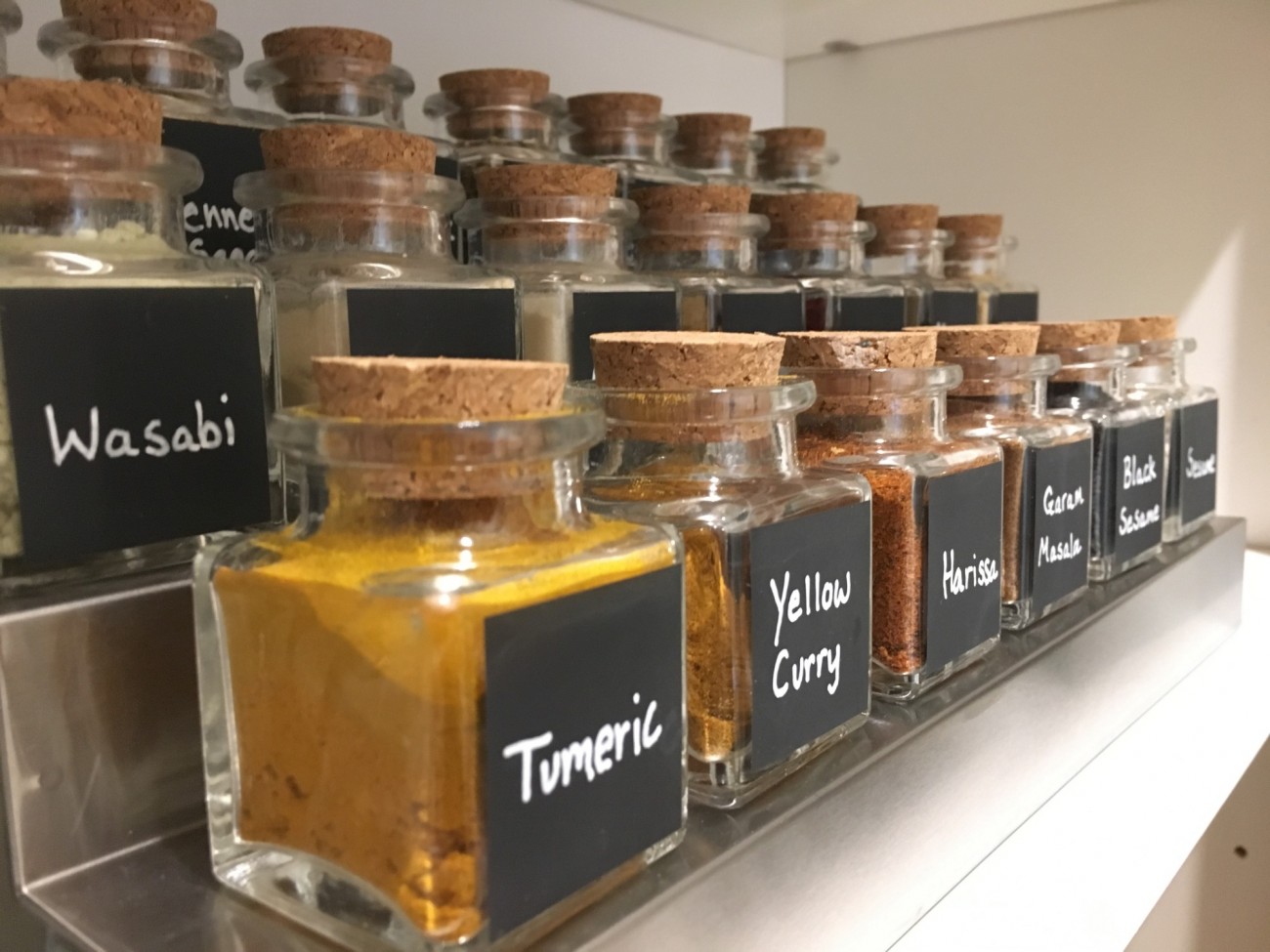 "I also recommend purging old spices. Most of us cook using the same spices on a regular basis. Go through and ask yourself if you're really going to use that spice in the next 6 months. If not, let it go and trust that you will have what you need when you need it. If you have the space I recommend storing spices in a drawer by your stove. Lay them flat and contain them with a storage system I buy at The Container Store which keeps them from sliding around. This makes the spices easy to see and find when you need them."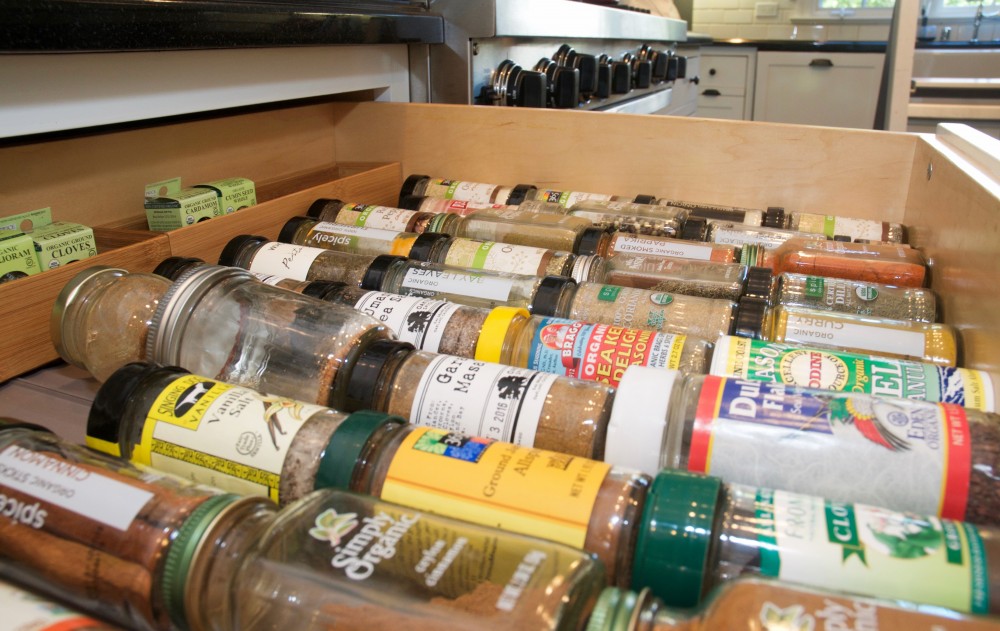 What's one thing I can do today that will help keep my closet more organized?
"Sort your closet by type, then by color. It's much easier to find what you are looking for and will save you time. If I have an item that I am on the fence about keeping our letting go, I wear it around the house in the morning before I go to work. If there is no way I would leave the house wearing that item then it goes directly into the donation pile. You should feel confident in what you wear everyday. Use this tool as a way to determine what to keep and what to let go of."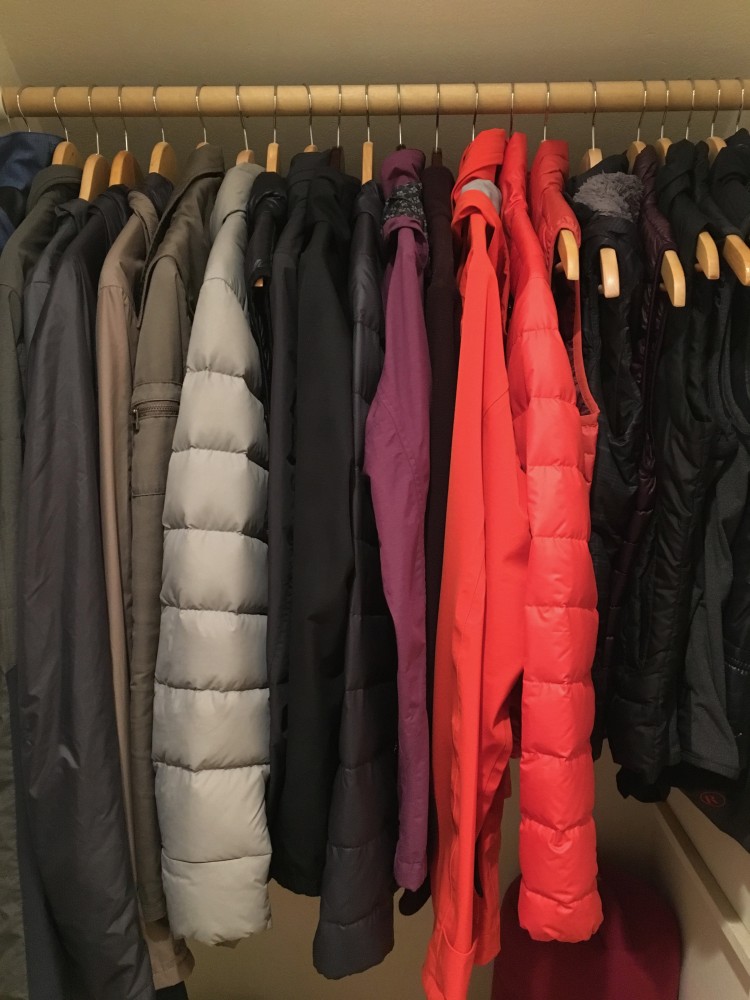 Email: sweetborganizing@gmail.com, (707) 799–2115
Subscribe to Our Newsletters!