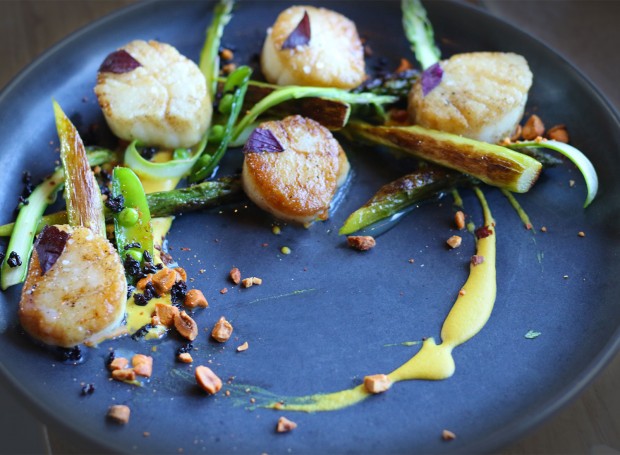 Spoonbar is a sprawling dining room and cocktail bar that's always had great chefs and the kind of potential that would make it a rousing success anywhere but Healdsburg. In the midst of so many Michelin-starred chefs and destination-worthy dining spots, it can be hard to stand out, especially at the far southern end of town.
But suddenly Spoonbar is standing out.
After the recent departure of Chef Louis Maldonado and several bartenders (who are opening a Healdsburg craft cocktail bar in June), the restaurant needed a fresh outlook. Husband and wife chef team of Patrick and Casey Van Voorhis were tapped in January 2016, and have been quietly changing up the menu. And locals are noticing.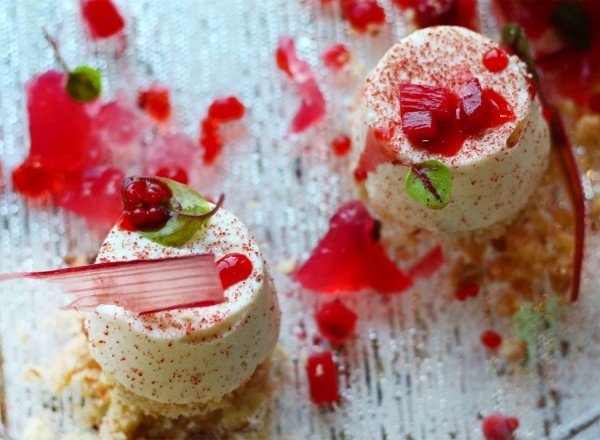 With extensive experience in haute SF restaurants including the Michelin-starred Acquerello, Quince, it's sister restaurant, Cotagna, as well as Yountville's Bouchon, they're pros who can turn out extraordinary dishes easily equal to any of the upscale eateries in town.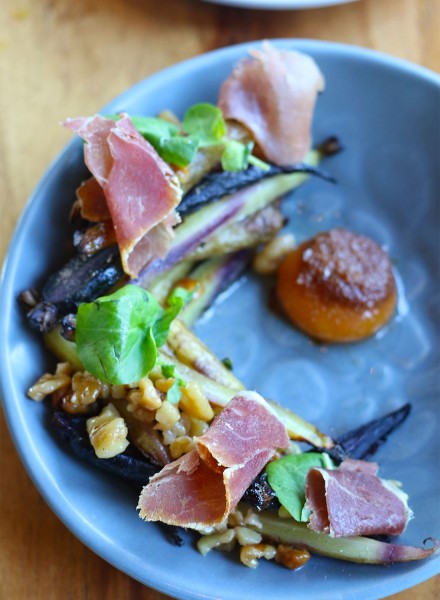 One of the best dishes of roasted carrots I've ever had was from Maldonado when he joined the team in 2012, but a plate of roasted County Line carrots with prosciutto, brown butter egg yolk and walnut vinaigrette ($14) bested it in every way with a mix of sweet caramelization, savory egg, salty slivers of ham and the gently tart vinaigrette.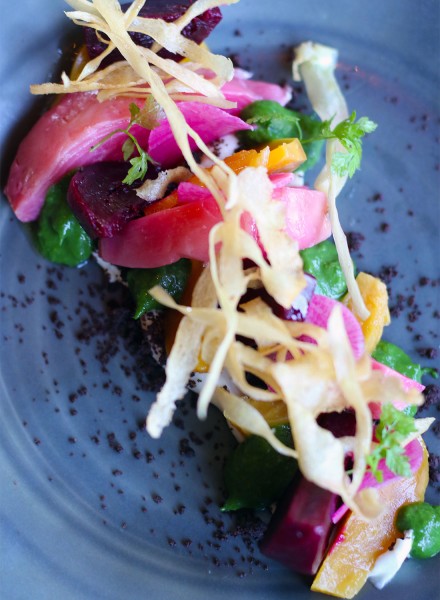 Also stunning was the beet salad, with gem-like wedges of yellow, pink and red beets, smoked parsnip puree and a dusting of cocoa sable (a crunchy chocolate cookie, $13). Miyagi oysters with sea beans, pink peppercorns and mignonette granita (basically frozen, shaved vinaigrette) have an element of surprise and delight that oysters, well, usually don't have.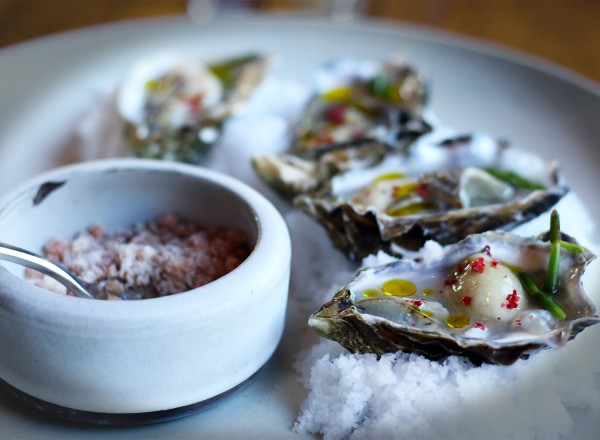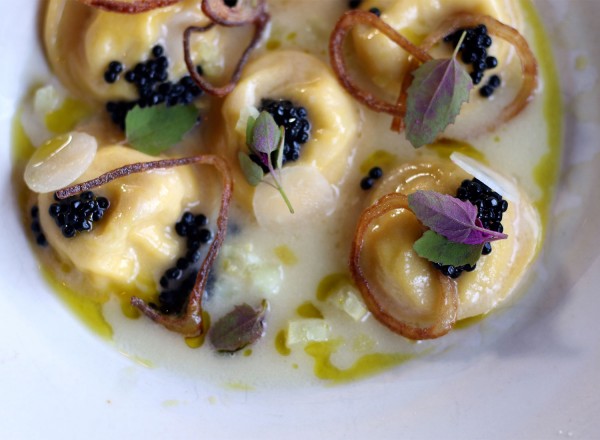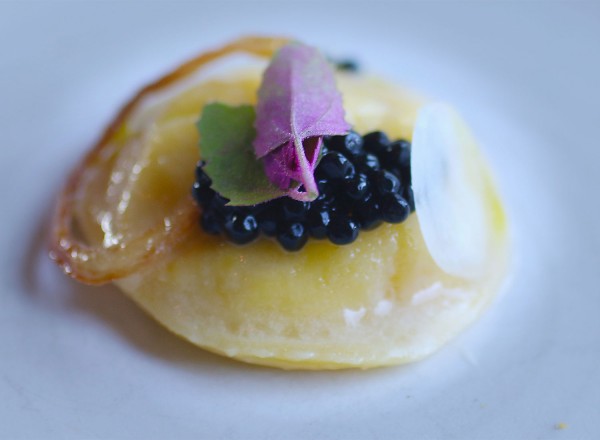 Make a beeline for the house made pastas. Meyer lemon-ricotta gnudi are puffy pillows of ricotta cheese with a roasted chicken glaze, wild mushrooms, chicken cracklings and Parmesan foam ($16) that's a steal of a deal for this kind of tweezer-perfect cooking. We also loved the roasted cauliflower ravioli ($18) with preserved lemon, fried shallots, shaved kohlrabi and faux "caviar" made with black truffles. Perfect with a few glasses of wine and a seat by the floor to ceiling windows (which open in the summer), you won't find an easier table or better prices for this level of dining anywhere on the square.
Meyer lemon ricotta gnudi with roasted chicken glaze, wild mushrooms, chicken cracklings, parmesan foam at Spoonbar restaurant in Healdsburg on 5/15/15 . Copyright Heather Irwin, Biteclubeats.com.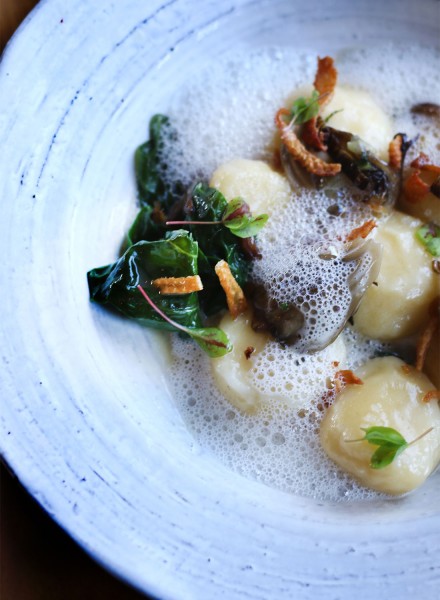 Entrees jump up in price to between $23-35 dollars, and are good, but don't quite match our enthusiasm for the rest of the menu. A lemon-brined chicken gets a unique presentation with a seared, sliced breast and "terrine" of leg artistically plated with charred ramp relish, smoked turnips and morels ($26). Moist and flavorful, but still chicken. Seared day boat scallops ($28) are perfectly cooked with charred asparagus, puffed black rice and shiso, but the slightly medicinal turmeric peanut sauce seemed all wrong for the delicate scallops. Maybe we were just getting full.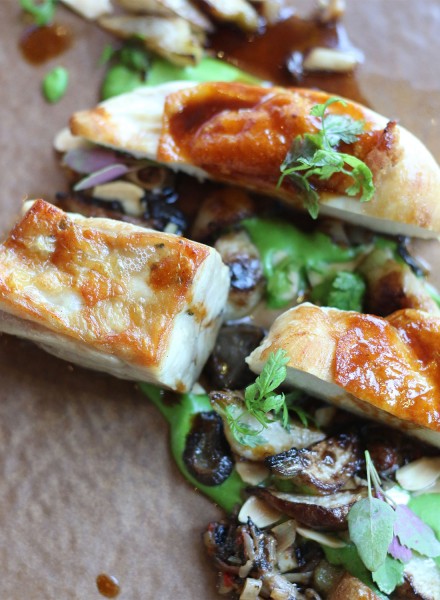 But dessert (each $10) raises the bar again, with complex interpretations of homey standards like rhubarb strawberry pie, which here includes liquid nitrogen drops of strawberry, candied rhubarb and shortbread crumbs; or S'Mores with chocolate ganache, cinnamon meringue and caramel. Almost too pretty to eat, but we made the sacrifice.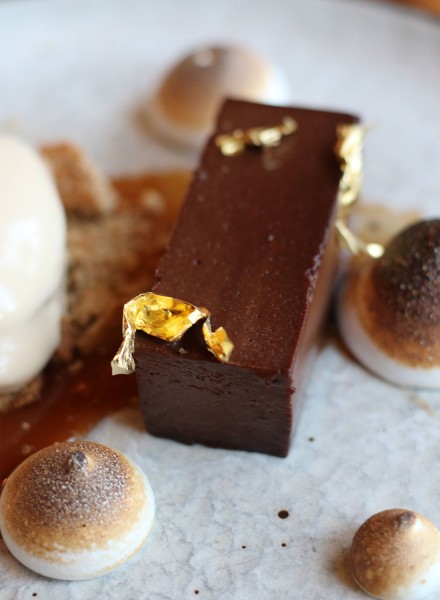 It would be unfair not to mention one of the biggest draws of Spoonbar: The cocktails. Alec Vlastnik is the newest bar manager, continuing the tradition of precious, seasonal cocktails with mixes of small batch bitters, shrubs, fruit, spices and CO2 (which frizzes up any drink). They're chips off the block that mixologist Scott Beattie first chiseled when he created the restaurant's cocktail program in 2010. A fan of small, local distilleries, Vlastnik has nearly 30 cocktails on the menu, each better than the last. The wine list is also spectacular, serving Sonoma County wines exclusively.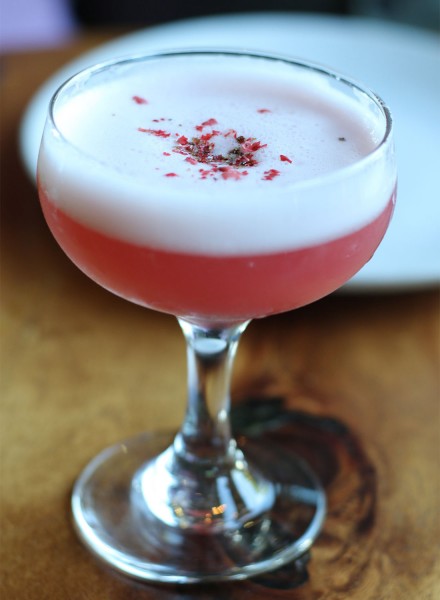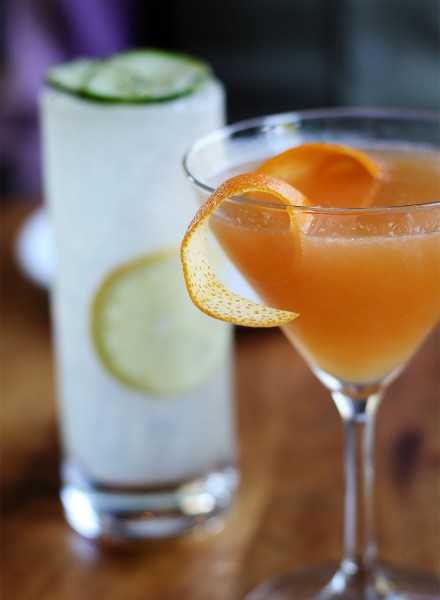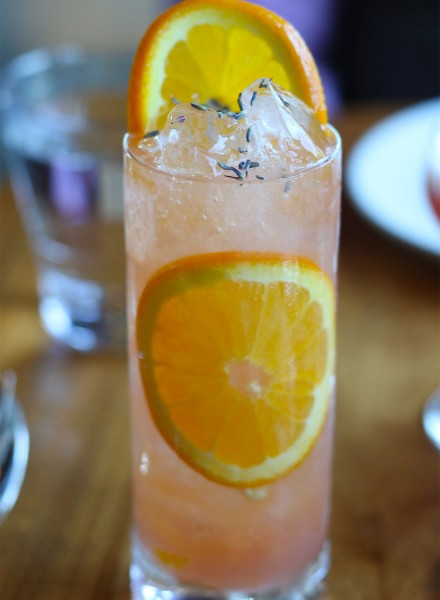 Though the space can feel a bit casual for the luxe, complicated dishes on the menu (especially when there are happy hour revelers at the bar), Spoonbar never takes itself too seriously. It does, however, take itself seriously enough to be turning out really impressive food and dynamic cocktails at reasonable prices. All of which can be hard to find in Healdsburg.
Spoonbar at the H2Hotel, 219 Healdsburg Ave., Healdsburg, (707) 433-7222, spoonbar.com
---