Hungry? Here's the latest serving of spoon-size portions of restaurant reviews by Sonoma Magazine's food critics Jeff Cox (JC) and Carey Sweet (CS). Some restaurants offer special deals during Sonoma County Restaurant Week (March 6-12).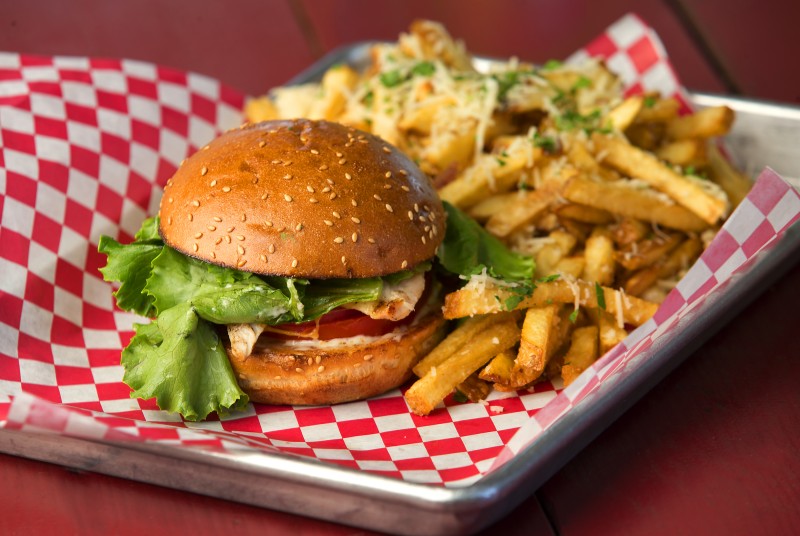 Alioto's Healdsburger: A locals' favorite at a former A & W, it's pricey, but the burgers and hot dogs are premium, top-quality stuff. Sixteen regular-menu burgers and several specials are available, including the hangover burger with fried egg, bacon, cheese, Sriracha sauce and mayo, paired with fries and a drink. 48 Healdsburg Ave., Healdsburg, 707-473-9604. $-$$ (CS)
Barley and Hops Tavern: The vibe is cozy-quirky-west-county-pub, the live music rocks and the 50-plus boutique beers and ciders quench the most discerning thirsts. Best eats are burgers, a grilled rock-cod sandwich and homemade Bavarian pretzels. There are also fancier surprises, such as the Thai chicken lettuce cups. 3688 Bohemian Highway, Occidental, 707-874-9037. $$(CS)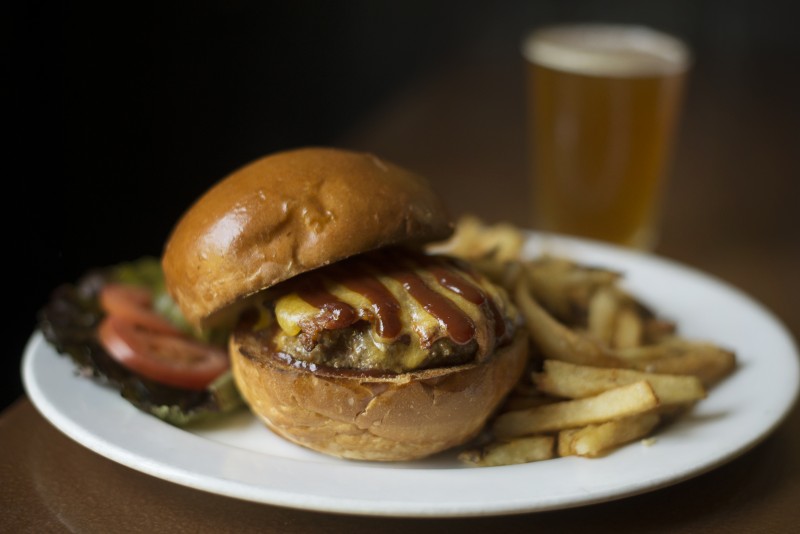 Belly Left Coast Kitchen & Taproom: Choose from 26 beers and ciders on tap and 23 more by the bottle as you enjoy Gray Rollin's spicy, intensely flavored noshes at this excellent hang-out spot. Don't miss the superb kalua pork tacos, loaded with mounds of smoky pulled pork. Eat healthy with garden-fresh salads, rosemary and kale fingerling potatoes, and grilled artichokes. The Carolina-style ribs and pizzas are prepared by a kitchen that brings the heat. 523 Fourth St., Santa Rosa, 707-526-5787. $$ (JC)
Bird & The Bottle: Restaurant maven Mark Stark has another winner on his hands, with this curious-sounding but delicious mix of Asian, American South, East Coast and Jewish comfort food. Set over two floors, it's a mix of hip lounge and chic dining rooms, and the menu holds plenty of surprises such as pickled shrimp with Saltines and Korean chile butter, and a chicken liver schmear with pickled shallots, maple, cracklings and smoked salt. Fried chicken is excellent, atop bean sprout-black-eyed pea slaw. 1055 Fourth St., Santa Rosa, 707-568-4000. (CS)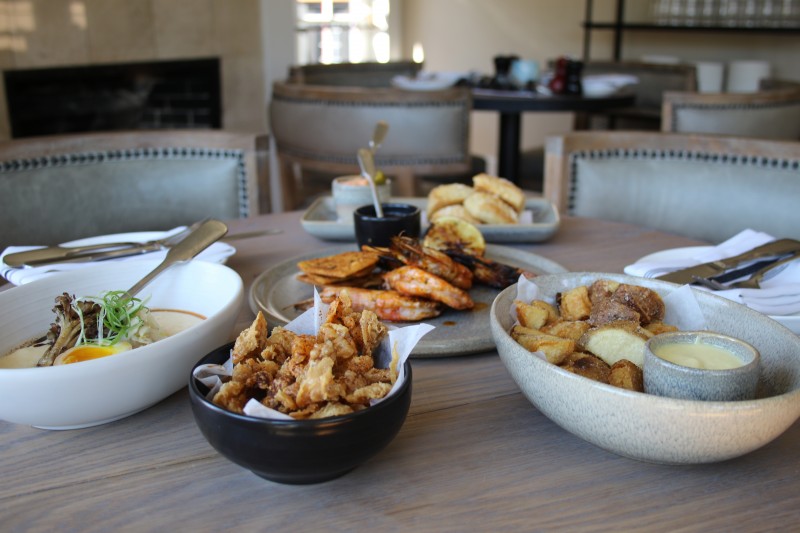 Bistro 29: You need to search out this intimate, tucked-away French cafe, but your hunt is well worth it, delivering Michelin Bib Gourmand-caliber Breton regional cuisine. Chef-owner Brian Anderson consistently wows with signature dishes such as onioncider soup capped in Gruyère with buckwheat crêpe dentelle, an inventive take on escargots Bordelaise served with a marrow bone, and slow-braised duck confit cassoulet. The $29 prix fixe is a great value, too. 620 Fifth St., Santa Rosa, 707-546-2929, $$$$ (CS)
Bravas Bar de Tapas: This popular spot has indoor seating and outdoor dining in the backyard, where a bar has been built. Sample from a wide variety of authentic Spanish tapas (snacks), some cold, some hot, some liquid, some not. There's paella for two or four, and a wine list with lots of Spanish selections, including 13 Sherries. It's a friendly, relaxing atmosphere for nibbling good food and drinking good wine with friends. 420 Center St., Healdsburg, 707-433-7700. $$-$$$ (JC)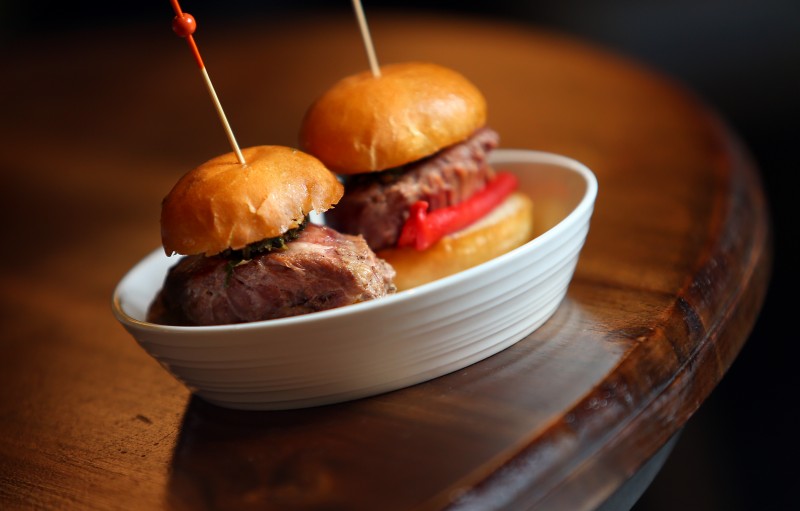 Café La Haye: Here's a restaurant that has its act together. Chef Jeffrey Lloyd features a different risotto and pasta dish each night, along with the best roast chicken ever. The vegetables on his plates are not given short shrift, and are cooked with intelligence and care. The appetizers are as carefully prepared as the entrees and uniformly delicious. The wine list is a tour of the region's best wineries. 140 E. Napa St., Sonoma, 707-935-5994. $$$-$$$$ (JC)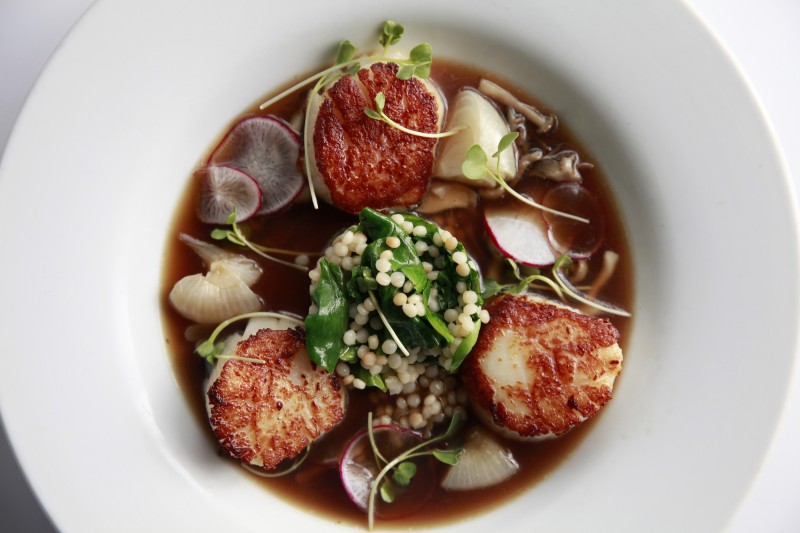 Carneros Bistro & Wine Bar: The most impressive aspect of this restaurant is its 400-bottle wine list, with selections not only from this region, but from around the world. The kitchen keeps up with an international version of California cuisine. Ahi tartare, salmon pastrami, Berkshire pork cooked for two days, organic chicken and great desserts are all paired with wines and beers on the menu. 1325 Broadway, Sonoma, 707-931-2042, $$$$ (JC)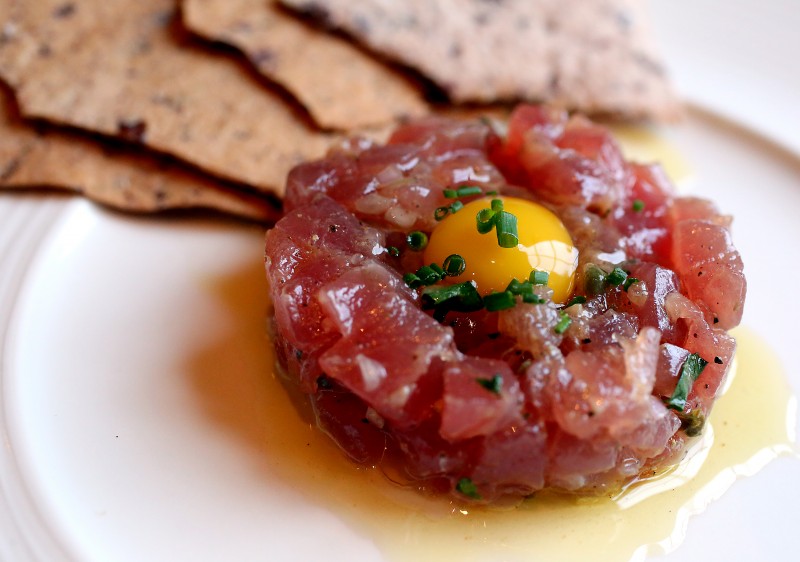 Coast Kitchen: Since 1963, the redwood and stone Timber Cove resort has been a fun, if somewhat funky, retreat. A lavish renovation in 2016 turned it into a truly deluxe destination, with a luxury Cal-cuisine restaurant to match. Inventive bites shine, like fried quail drizzled in sweet chile vinaigrette, and King salmon over lentils and tangy sorrel salad. 21780 Highway 1, Jenner, 707-847-3231, $$$$ (CS)
Cochon Volant BBQ Smoke House: Longtime barbecue master Rob Larman has transformed his mobile 'cue trailer into a brick-and-mortar, with the same delicious almond-smoked meats including beef ribs and pork shoulder. The casual spot has upscale touches, too, such as Sonoma-style sauces, boutique beer and wine. 18350 Sonoma Highway, Sonoma, 707-509-5480, $$$ (CS)
Della Fattoria: Showcasing the art of hearth baked bread and fresh Petaluma ingredients, this beloved breakfast and lunch spot – now also serving up dinner – still shines after more than a decade. Everything is excellent: salads, sandwiches, soups, pastas and in particular, the six toasties: sweet and savory toast with creative toppings. 141 W. Petaluma Blvd., Petaluma, 707-763-0161, $$ (CS)
The Fig Café: After a makeover, this restaurant has roared back with really good, well prepared comfort dishes such as pot roast, trout, steak and fries, and some of the best pizza in the North Bay. There's no corkage fee if you bring your own wine. Seating is first come, first served. The wine list is limited to Rhone varietals. There's also a daily plat du jour, with a starter, entree and dessert for $29. 13690 Arnold Drive, Glen Ellen, 707-938-2130. $$-$$$. (JC)
Fork Roadhouse: Tucked in a quiet Sebastopol valley, this charming roadhouse is a locals' favorite for its top-notch California food at fair prices. Chef and owner Sarah Piccolo impresses with signature dishes such as her Tuscan bean breakfast of Meyer lemon broth with kale and two fried eggs, and a pistachio-pepita-encrusted wild salmon with grapefruit lime sauce over a panzanella salad. 9890 Bodega Highway, Sebastopol, 707-634-7575, forkcatering.com, $$$$ (CS)
Franchetti's Wood Fire Kitchen: If you love Rosso in Santa Rosa and Petaluma, you'll love this spot, too, from former Rosso chef John Franchetti. The setting is bare, in an office park, yet the menu is artfully simple, with wood-fire dishes including crackly bubbly thin-crust pizza and succulent pork shoulder on the bone. 1229 N. Dutton Ave., Santa Rosa, 707-526-1229. $$ (CS)
Glen Ellen Star: It looks like a funky frame shack, but the big star on the front of the building suggests just how good chef Ari Weiswasser's food can be. The wood-fire oven is central to his cooking, and the dishes seem, at first glance at the menu, to be standard fare, yet they have surprising flourishes and hidden flavors. The wine list is a trove of little-known treasures. 13648 Arnold Drive, Glen Ellen, 707-343-1384. $$$ (JC)
Harvest Moon Café: The food at Nick and Jen Demarest's cafe is innovative and always palate-pleasing — not an easy trick to pull off. The menu changes often, sometimes daily, although the rib-eye steak is a constant. Many ingredients are house-made, including the sausage for the chorizo sauté, and the marshmallow fluff for the s'mores. There's an alfresco patio out back and an excellent wine list.487 1st St. W., Sonoma, 707-933-8160, $$$ (JC)
Hazel: Don't be fooled by the small, nondescript building in the heart of Occidental that is Hazel. It's full of life and great Mediterranean style food. Two wood-fire ovens turn out six kinds of pizza, the starters (especially the cured scallops and grilled pita plates) are superb, and the service is friendly. Chef-owners Jim and Michele Wimborough are transplants from top restaurants in San Francisco and bring considerable expertise to the west county. 3782 Bohemian Highway, Occidental, 707-874-6003. $$-$$$ (JC)
Himalayan Restaurant: The food is a combination of Nepalese and northeast Indian cuisines. The ingredients are good quality, with tender lamb and juicy chicken in the curries, tandoori specials, kabobs and nightly special entrees. The patio is a pleasant spot for lunch and dinner when the weather cooperates. For light meals, soups and salads are on the menu, and if you're hungry, the entrees tend to be generously proportioned. 810 McClelland Drive, Windsor, 707-838-6746. $$ (JC)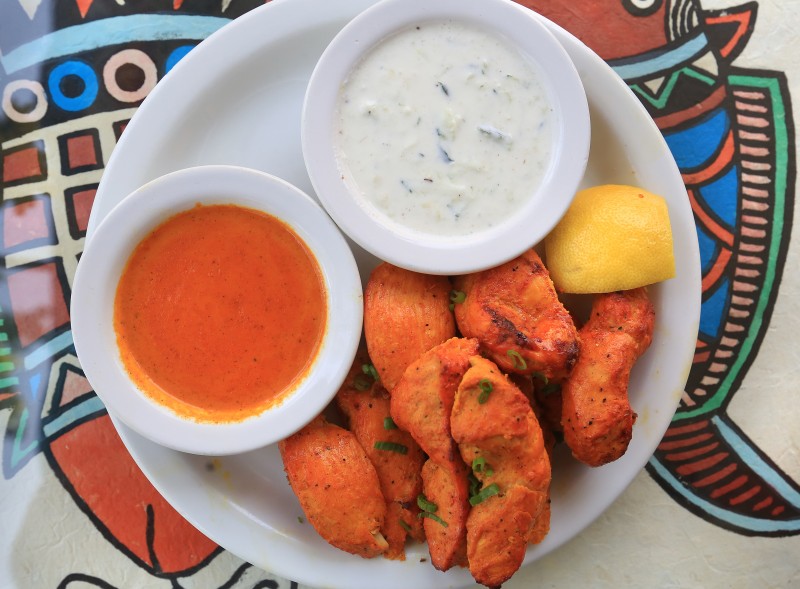 John Ash & Co.: The premier Santa Rosa spot for deluxe dining and drinking in pampered surroundings continues to please. Chef Tom Schmidt's food covers everyone's favorite basics — chicken breast cordon bleu, steak, sea bass and so on — but in a way that wows. You can also grab a bite and a drink in The Front Room lounge. The wine list is a tour of Sonoma's wine industry. 4350 Barnes Road, Santa Rosa, 707-527-7687. $$$ (JC)
KINSmoke: Barbecue is king at this bistro specializing in wood-smoked ribs, pork, brisket and chicken, and fancier fare such as coffee-rubbed grilled porterhouse and Cajun-dusted scallops. Five house-made sauces are superb, and be sure to get the delicious frickles to go with the craft beers and wines. 304 Center St., Healdsburg, 707-473-8440. $$-$$$ (CS)
La Rosa Tequileria & Grille: This big Mexican restaurant offers more than 160 tequilas and mezcals. The large menu covers all the bases of Mexican-American favorites. The pork posole is not to be missed; the portions are generous. It's a perfect place for meeting friends and for special events. 500 Fourth St., Santa Rosa, 707-523-3663. $$-$$$ (JC)
Mi Tierra Mexican Restaurant: Formerly Pepe's, the ambience and menu at this restaurant have been upgraded, with fun, fiesta-like touches such as michelada beverages of beer, lime juice, spices and peppers garnished with chile-salt dusted lime, orange, jicama and cucumber, served in a carved-out pineapple. Tacos and burritos are fine, but treat yourself to excellent, fancier specialties including molcajete,mojarra a la diabla and camarones jarochos. 2000 Sebastopol Road, Santa Rosa, 707-546-1777, mitierramex.com. $-$$$$ (CS)
OSO: Owner David Bush is a talented chef who creates elaborate plates of food that might better be handled with some restraint. But his eclectic menu is invariably well prepared, and the emphasis is on raw seafood and slow-cooked meats. The wine list is a major feature, filled with interesting selections. There's a prix fixe dinner and wine pairing menu, too. 9 E. Napa St., Sonoma, 707-931-6926. $$ (JC)
Ramen Gaijin: Chefs Matthew Williams and Moishe Hahn-Schuman call themselves "gaijin" as a play on the Japanese term for non-Japanese people, but all ethnic differences end in the kitchen. This is the real deal, with authentic, outrageously delicious Japanese fare including robata yakitori meats, artisanal pickle platters, and the star: ramen with handcrafted noodles and succulent pork chashu. The upscale izakaya setting is warm and whimsical, while the craft cocktails are works of art. 6948 Sebastopol Ave., Sebastopol, 707-827-3609. $$ (CS)
Seaside Metal: Guerneville is morphing into a city-style foodie town, as proved by this spinoff of San Francisco's Bar Crudo. Grab a seat in the sleek, tiny space and explore lovely dishes such as arctic char with a dollop of horseradish crème fraîche, wasabi tobiko and dill; all kinds of oysters; lobster noodle soup, and braised octopus napped with yogurt. 16222 Main St., Guerneville, 707-604-7250. $$$$ (CS)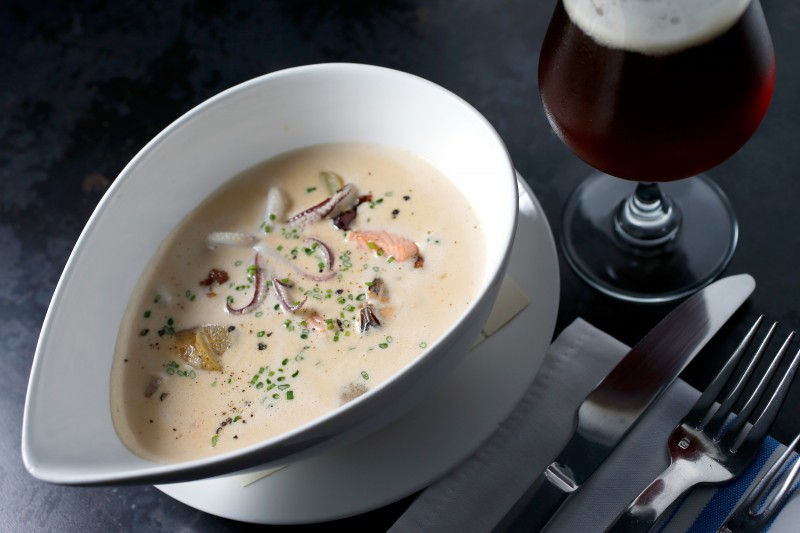 Stormy's Spirits & Supper: Part of the charm is the historic roadhouse setting in a rural dairy community. The beef is topnotch, too, especially the superb prime rib. And you can't beat the prices, with all meals including homemade clam chowder, salad, potato, vegetable and French bread. 6650 Bloomfield Road, Petaluma, 707-795-0127, $$$$ (CS)
Terrapin Creek: Terrapin Creek is among the crown jewels of Sonoma County restaurants. Owners Liya Lin and Andrew Truong aim for perfection and mostly achieve it. Their cooking is modern American food with international nods, and their execution has earned them a Michelin star. Set on a hill above the Bodega Bay marina, the place is a sanctuary of comfort and good vibes. The wine list is terrific. 1580 Eastshore Road, Bodega Bay, 707-875-2700. $$$ (JC)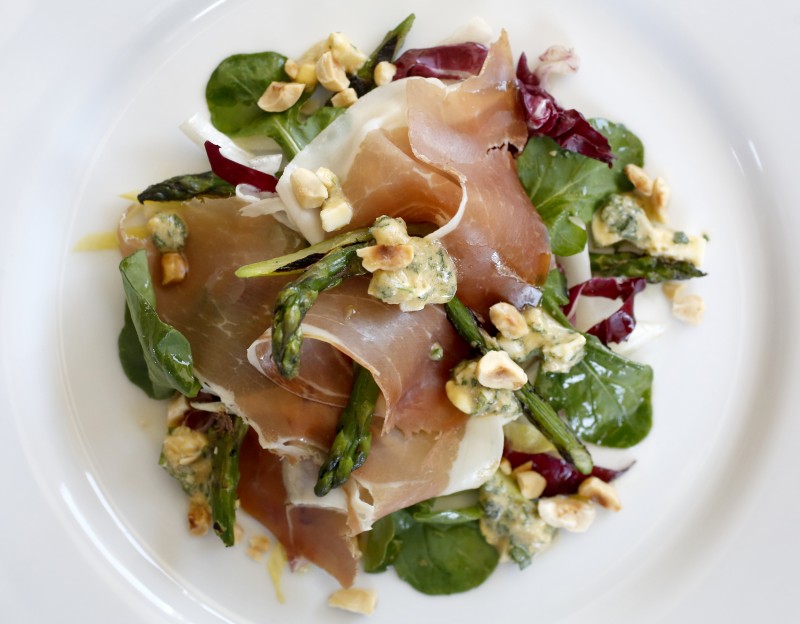 Tiny Thai Restaurant: This humble place doesn't scrimp on portions or preparation. The vegetarian fresh rolls come with a great peanut sauce. The usual Thai favorites such as pad thai, green papaya salad and tom yum soup, street foods including Thai basil, and house-made curries are all here. No beer or wine, but there's always Thai iced tea. 8238 Old Redwood Highway, Cotati, 707-794-9404. $$ (JC)
Twin Oaks Roadhouse: An iconic roadhouse since 1924, the live music joint is now owned by beer maven Dean Biersch and offers dozens of boutique brews. Food is much better than it has to be, with simple but standout burgers, a fried chicken sandwich and even a first-rate French onion soup. 5745 Old Redwood Highway, Penngrove, 707-795-5118, $ (CS)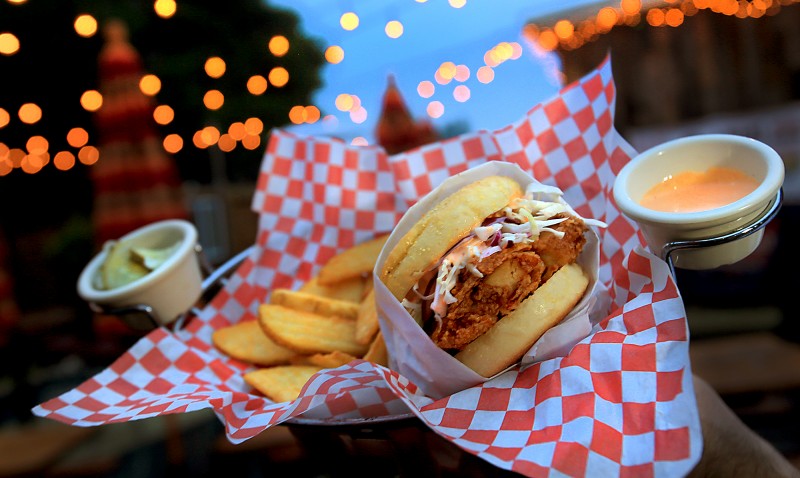 Underwood Bar & Bistro: Underwood is the beating heart of the west county social and culinary scene. The entrees are expensive, but tapas and small plates are available. Or hop across Graton Road to proprietor Matthew Greenbaum's other restaurant, Willow Wood Market Café, where prices are moderate. You'll be pleased at the quality of the food at Underwood, however. Chef Mark Miller piles miles of flavor on high-quality ingredients. The wine list is eclectic, the bar offers specialty cocktails, and there's much fun to be had. 9113 Graton Road, Graton, 707-823-7023. $$$ (JC)
Valette: Chef Dustin Valette and brother Aaron Garzini are from Geyserville, and they operate a restaurant that could be a superstar on any culinary stage in the country. Valette was chef at Dry Creek Kitchen for years, so his skills are honed, and then some. He turns the artisanal bounty of local farms, orchards and wineries into creative and intriguing dishes that seldom miss. Desserts and house-made charcuterie are exceptional. 344 Center St., Healdsburg, 707-473-0946. $$$$ (JC)
Western Room at Rancho Nicasio: The Rancho Nicasio barbecue and dance hall has a fancy new sister restaurant next to its bar, where celebrity "Iron Chef" Ron Siegel creates modern American statements that would shine in a big-city Michelin star restaurant. Some dishes have Asian accents, such as the silky shima aji (striped jack fish) crudo on a puddle of stone-fruit puree and decorated in cubed, pickled salted plum, whisperthin daikon curls, crispy kombu triangles, and rice crackers. The rabbit tortelloni dish is exquisite, too, and everything tastes better in the rustic setting in the historic ranch house. 1 Old Rancheria Road, Nicasio, 415-662-2219, ranchonicasio.com. $$$$ (CS)
Wild Goat Bistro: The historic stone and wood interior cradles a charming cafe with simple but superb recipes showcasing local ingredients. Beans 'n' greens are savory stew, thin crust pizzas are topped in delights such as fig and prosciutto, and pan seared duck with confit is classy comfort food. 6 Petaluma Blvd. N., A5, Petaluma, 707-658-1156. $$$$ (CS)
FOUR NAPA OPTIONS
Ca' Momi Osteria: If you like Ca' Momi Enoteca at Oxbow, you'll love this bigger, fancier restaurant with a larger, more upscale menu. House-made pastas are divine, including Sicilian squid tagliolini with spot prawns and Fort Bragg uni in Pinot Grigio-lemon sauce, and chef Dario De Conti wows with his Verace Pizza Napoletana- and Associazione Pizzaiuoli Napoletani-certified pies. 1141 First St., Napa, 707-224-6664. $$$$ (CS)
Calistoga Kitchen: A local's secret, this classic cottage bistro deserves to be on everyone's radar. Chef-owner Rick Warkel is a Culinary Institute of America graduate, and his training shows in his meticulously crafted pan-roasted Grimaud Muscovy duck breast in sour cherry jus and skillful rabbit gumbo. 1107 Cedar St., Calistoga, 707-942-6500, $$$$ (CS)
Miminashi: Take the best of an izakaya party pub and combine it with upscale Japanese cuisine, and you've got this stylish stunner from chef Curtis Di Fede. The menu changes almost daily, offering up Cal-inspired ramen, authentic yakitori (from chicken breast to chicken butt), and plenty of superb vegetables like asparagus roasted over Japanese Binchotan charcoal with negi, black garlic, a fried egg and bonita flakes. 821 Coombs St., Napa, 707-254-9464. $$$$ (CS)
Two Birds One Stone: The idea is Japanese, but it's impossible to pigeonhole chefs Douglas Keane and Sang Yoon. Creative twists include brioche-style savory pancakes, sous vide Wagyu yakitori, and chips 'n' dip of fried wontons dusted in liquid nitrogen-frozen togarashi spice dunked in Kewpie mayonnaise. The airy, modern space inside Freemark Abbey is stunning as well.3020 St. Helena Highway, St. Helena, 707-302-3777,  $$$$ (CS)
Subscribe to Our Newsletters!