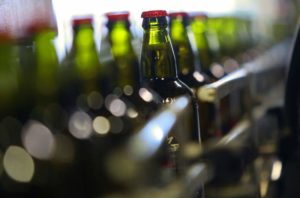 The challenge with making apple cider in Sonoma County is an ironic one: it can be hard to find apples. Especially when you're shopping strictly for certified organic kinds. But the team at Sonoma Cider in Healdsburg is working to change that, one juicy piece of fruit at a time.
In 1940, the county reached its peak of 14,000 acres in apple orchards, many producing the region's signature Gravenstein heirlooms. Now grape vines rule, and there are just 2,320 acres in apples, according to the 2014 Sonoma County Crop Report.
"We started buying local apples right off the bat, but quickly found out there are not as many certified organic apples locally as we would like to see," said Sonoma Cider co-owner Robert Cordtz.
Yet since 2013, when Cordtz and his father, David Cordtz, opened the 16,000-square-foot distillery and warehouse in a former auto parts store on Mill Street, the craft cidery has been building up a reliable network of growers in Healdsburg, Sebastopol and other Sonoma County towns.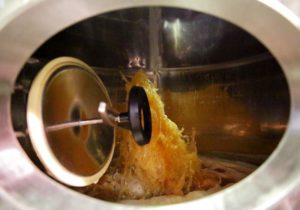 About 10 percent of the fruit now comes from local trees, rounding out the vast majority shipped from Washington.
As the business grows — cider production has more than doubled each year from the first year's 65,000 cases — so has the company's buying power. Asking his 30 employees to keep their eyes peeled for available hometown fruit is working, too.
"As time has gone on, we have been able to align ourselves with more area orchards," Cordtz said, noting that he recently secured fruit from a winery orchard just down the street from his Golden Delicious small batch release.
"I particularly want all of the Gravenstein apples."
And soon, Sonoma Cider Co. is going to need a lot more of the precious fruit. A 5,000-square-foot fermentation, event and tasting room space is slated to open this summer behind the distillery.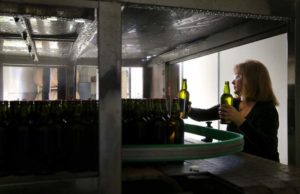 With seating for 60, it will have a kitchen serving pub food and extras like live music and comedy. But the primary function will be showcasing the eight base ciders, seasonal ciders and new products like an 85-proof apple brandy.
The Cordtz clan can count on plenty of competition for their harvest, though.
Apple cider, and particularly the company's alcohol-kissed hard cider, is increasingly popular in Wine Country.
Hard cider was a $500 million U.S. industry last year, according to Impact Databank Cider Report, and more companies keep popping up, capitalizing on the craze for the bittersweet-bittersharp quaff that can burst with a near endless array of flavors, an easy drinking alcohol level of 5 to 7 percent, and a crisp, clean finish.
There are 56 large and small commercial cider producers in California alone, notes the Cyder Market online database, with a dozen in Sonoma County.
To stand out from the crowd, Cordtz focuses on inventive recipes like his Crowbar, made with organic apples, organic habanero peppers and organic limes.
The Pulley is spiked with fennel for an absinthe-style black licorice hint, while the Bananaweiss is fermented with hefeweizen yeast and bananas for an aroma like banana cream pie.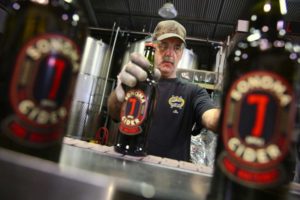 Cordtz imports sarsaparilla roots from India for a vanilla-spiked Washboard label that is so reminiscent of root beer that Noble Folk Ice Cream & Pie Bar on the Healdsburg Plaza makes an ice cream with it.
He also crafts a Jax cider goosed with honey, toasted buckwheat and cinnamon that tastes remarkably like Apple Jacks breakfast cereal. For another twist, he makes an intriguing German gose beer-style cider kicked up with rhubarb and a whisper of sea salt.
"Our sarsaparilla tea is the most complicated, because we brew some of the ingredients, which is fun," Cordtz said.
"It's like halfway between the beer world and the wine world."
Then there are the pear-, peach- and plum-based ciders, using local fruit and resulting in drinks like The Pitchfork, a blend of pear, apple and a touch of vanilla that begins crisp, then softens to creamy without too much sweetness.
"Ciders are huge now because they're gluten free, and so different," Cordtz said.
"Sometimes I just float down the river and play mad scientist in my head with all kinds of ingredients. Craft drinkers want to try everything, even if it's weird."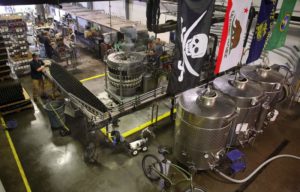 Those apples are the crux of the concoctions, though, critical to bottlings like The Hatchet, where Cordtz looks for small fruit, preferring its bigger, more concentrated flavor.
Different apples must then be blended for a balance of sweet and tart varietals, fruit maturity and color.
There's nowhere to hide, either, since recipes are startling simple. The Hatchet, for example, is nothing but U.S. grown organic apples and organic apple juice, fermented 30 days for the masterful result that must be all at once sweet, tart, crisp, dry, tangy, smooth and refreshing.
When it works, it works. The first Sonoma Cider batch was bottled the week before Thanksgiving three years ago, with the first batch going to Big John's Market in Healdsburg the day before the holiday.
"The store was so busy, and I was so new, I hadn't even figured prices," Cordtz recalled. "So we had no contract. I just stacked cases on the floor, and told them to charge what they wanted. It sold out fast."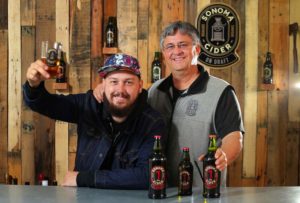 Ultimately, Cordtz hopes to have his warehouse stocked wall-to-wall with Sonoma County apple crates.
Apples can be cold stored about a year, and there's this advantage, too: they're a kinder, gentler fruit than some of his other fresh, local ingredients.
"For the Crowbar, I juiced 200 pounds of habaneros," Cordtz said. "I wore goggles, a respirator mask, two pairs of gloves and a fan blowing fumes away. It could have killed me.
"But whatever, it's worth it. The cider is great with tacos."
See original post here.