It's something Natalie and Vinnie Cilurzo swore they'd never do: let privileged hop heads jump to the front of the line that stretches around the block for the world famous February release of Pliny the Younger at their Russian River Brewing Company.
"But that all changed after the fires," says Natalie "If ever there was a time, it was now. Desperate times call for desperate measures."
So less than a week after the October fire storm ravaged Sonoma and Napa counties, the Cilurzos began actively encouraging line cutters, selling $25 raffle tickets for the right to jump to the front of the line each of the 14 days (February 2-15) of the coveted triple IPA release.
Drawing loyal fans from around the country, the high-alcohol (around 10 percent) and super-hoppy (think triple the hops) ale took on a mythic quality when the Beer Advocate website ranked it No. 1 in the world in 2010. Crowds have lined the street ever since, and Santa Rosa hotels now sell special Pliny vacation packages for beer aficionados making the trip to beer mecca for the annual tasting, now in its 14th year.
Chalk it up to compassion for the fire victims and that ardent Pliny following: The Cilurzos raised nearly $250,000 for displaced fire victims in less than a month. Teaming up with bicyclist Levi Leipheimer's King Ridge Foundation, the couple spun their existing Sonoma Pride beer series, which they'd launched two years ago, into a Sonoma Pride fire relief fundraising collective.
"We were lucky, our house was OK, but we kept hearing from friends who lost everything, and we had three employees who lost their homes," Natalie says. "So we thought, what can we do to help? Being business owners, we knew the thing people are going to need most in the long run is money."
The next step was to craft a special Sonoma Pride brew, with all proceeds from its sale going to victims. Vinnie Cilurzo contacted his suppliers, who donated the entire cost of goods — malt, hops, labels, glass bottles, bottle caps, you name it. When word got out, others in the craft beer community jumped on board, eager to cook up their own batch of benefit brew.
"It wasn't just a few, it felt like hundreds of breweries from around the world," says Natalie. "We ended up having to limit it to 50 breweries just to keep it manageable."
Enlisted breweries spanned as far as Beavertown in London and Cigar City in Florida, and as close to home as Bear Republic of Healdsburg; St. Florian's of Windsor; Cooperage, Fogbelt, HenHouse, Moonlight, Plow and Seismic of Santa Rosa; Sonoma Springs of Sonoma; Crooked Goat of Sebastopol; and 101 North of Petaluma. Big corporate breweries like Sierra Nevada, Lagunitas, Boston Beer Company and St. Archer also joined in.
"We have friends at St. Archer, and even though they're now owned by Miller, we certainly weren't going to turn them down for wanting to help out," says Natalie. "If you want to help our community, we'll take it where we can get it. There are no lines in the sand right now."
For Russian River's first batch of Sonoma Pride, Vinnie brewed 100 barrels of a hoppy blond ale that clocked in at 4.5 percent alcohol. It's similar in character to Russian River's year-round roster beer Aud Blonde, "but a lot hoppier." Adds Natalie, "We wanted to make something that was more crowd pleasing, that everyone could enjoy."
One of the first local brewers the Cilurzos contacted was longtime volunteer firefighter Richard Norgrove Jr., owner of the Bear Republic in Healdsburg.
First they wanted to make sure he was safe, with fires quickly encroaching on the ridge overlooking his Cloverdale production facility. Norgrove and his wife and the Cilurzos had just hung out together, sharing an airport shuttle on the way back from the Great American Beer Festival in Denver the night the first fire screamed down the hill from Calistoga to Santa Rosa.
"I was talking with Vinnie and Natalie, and we decided let's not make something that's super 'high test' and high alcohol," Norgrove says. "Let's focus on something that might be approachable to all folks."
It's no accident the Bear's Sonoma Pride offering is called "Hoppy Blonde Ale." Norgrove had some input on the hops, but really it was a project for Bear Republic's head brewer Rob Kent, who lost his Fountaingrove home in the Tubbs fire. Kent formulated the recipe, and Norgrove worked with suppliers who donated all the ingredients.
"It was like, 'Hey Rob, we gotta get you back on the horse and thinking about other stuff,'" Norgrove says.
There was another local brewery down the road that needed help to keep beer running through the tanks and to fill orders during the crisis. At St. Florian's, where the patron saint of firefighters watches over an independent brewery that has always donated at least 5 percent of its profits to fire-related causes, owner Aron Levin had left his barrels behind to fight fires on the front lines. As a Windsor fire captain, he started the first Sunday night, banging on doors to alert evacuees in Larkfield, and didn't take a break until the following Friday.
Aron's wife, Amy, was left to run the brewery, stuck with beer in tanks and a big order to fill. As a fellow firefighter with a strong sense of the challenges the Levins were facing, Norgrove asked, "What can we do to help?"
A Bear Republic rescue crew drove down to St. Florian's to empty tanks and bottle and package beers for orders. And when Aron returned on Friday, Norgrove and Kent proposed something they'd been talking about for years — a special brew made by firefighters to benefit firefighters.
"Firefighters are a really, really close-knit group of people," says Norgrove. "So for me to actually brew with Aron and let him unload about his experiences out on the fires as we're brewing together was really special."
They're calling the new beer Mutual Aid — an after-hours collaboration between St. Florian's and Bear Republic. Brewed in a small batch of 20 barrels at 6.5 percent alcohol, Mutual Aid is a "shoot from the hip" hoppy pale ale. It's made with donated malt from Admiral Maltings out of Alameda and what Norgrove likes to call "cool-kid hops" —Mosaic, Azacca and Citra — adding floral notes that Levin as a smaller brewer doesn't often get a chance to use in his beers.
"It was definitely like being a kid in a candy store," Levin said.
Funds raised from Mutual Aid are going specifically to first responders who lost their homes, says Norgrove, who is also teaming up with fellow Cardinal Newman High School alum and basketball teammate Joel Johnson, brewmaster at 101 North Brewing Company in Petaluma, for a beer that will help rebuild their alma mater.
By early November, long after the fires were extinguished and Sonoma Pride was filling pints, growlers and shelf space at grocery stores, yet another job remained.
It was by design that Natalie and Vinnie Cilurzo had made the Pliny raffle winning tickets "totally transferrable." But they were still surprised when the winner of the February 12 line-cutting privileges asked if he could donate his two tickets to a first responder who was out fighting fires while his own house burned down. His girlfriend's house and ex-wife's house were also destroyed.
"I just felt that someone more deserving of it should get to skip the line," said Matt Merner, a 32-year-old network engineer at sonic.net who bought two raffle tickets. A Cardinal Newman grad as well, Merner had been scheduled to speak at his former school two days after the Tubbs fire leveled half the campus. "There were so many first responders who put their lives on the line and worked for many days straight to help save our community — I just thought they could use it more than me."
A serious beer connoisseur with more than 100 bottles in his cellar, Merner has been to at least eight Pliny the Younger releases over the years.
"We'd hoped that somebody would be moved enough to donate their line-cutting privileges," says Natalie Cilurzo. "And of course it turned out to be the local guy — there was only one local winner. They understand because they live here, and they know."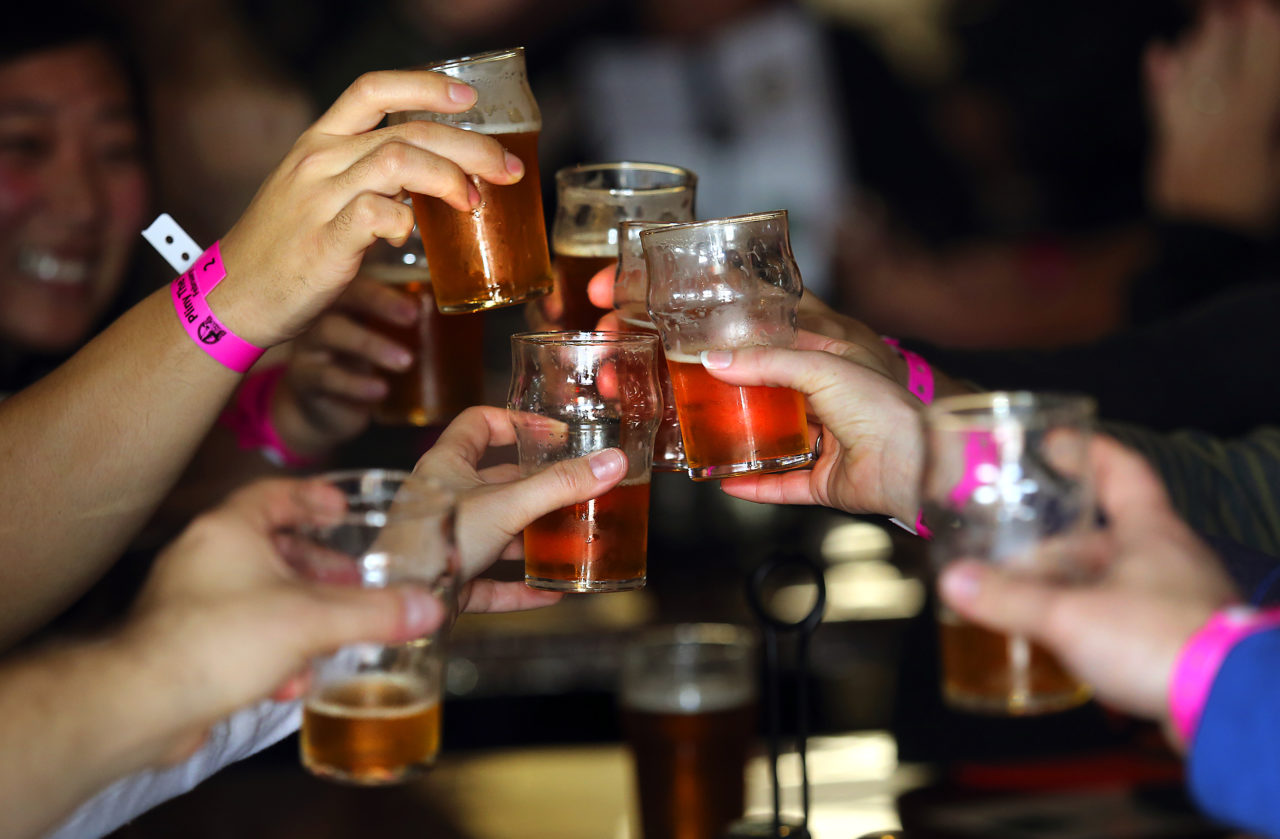 PLINY THE YOUNGER RELEASE, February 2-15
Even though Pliny the Younger was first tapped in 2005, mobs didn't start crashing the party until 2010 when Beer Advocate ratings crowned it the No. 1 beer in the world. That same year, Russian River Brewing Co. owners Vinnie and Natalie Cilurzo were totally blindsided and sold out in hours.
By now, they have the hoppy two-week procession down to a science.
Here are the rules (or regula, in Pliny's Latin):
Pub capacity is 135 people.
Once you've braved the lines, you can hang in the pub for no more than three hours with a max of three 10-ounce pours per person.
Pliny is never bottled or sold in growlers.
No drinking or smoking while in line No tents allowed, but chairs, umbrellas and rain gear (it's been known to rain in February) are encouraged.
No cuts (unless you're one of the 14 daily line-cutting raffle winners!)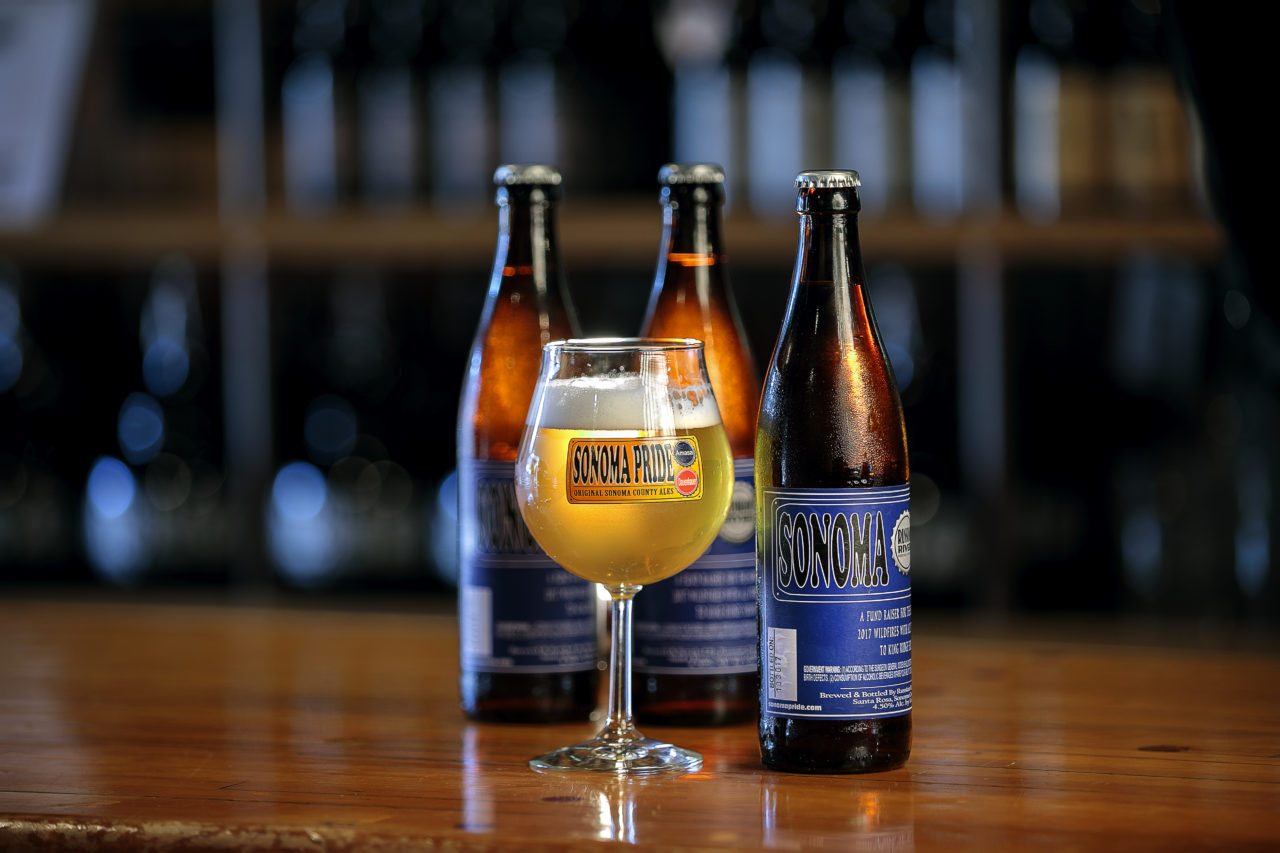 SONOMA PRIDE: Drink for Relief
While supplies last, Sonoma Pride beers are available on tap and in growlers at Russian River Brewing Company (725 Fourth St., Santa Rosa), Bear Republic Brewing Company (345 Healdsburg Ave., Healdsburg and 5000 Roberts Lake Road, Rohnert Park), St. Florian's (7704 Bell Road, Windsor) and many more local breweries.
The benefit brews are also available in bottles at Bay Area grocery stores like Oliver's, Whole Foods and Safeway. All proceeds go to fire relief victims through Sonoma Pride and the King Ridge Foundation. Check out sonomapride.com for a list of all participating breweries.