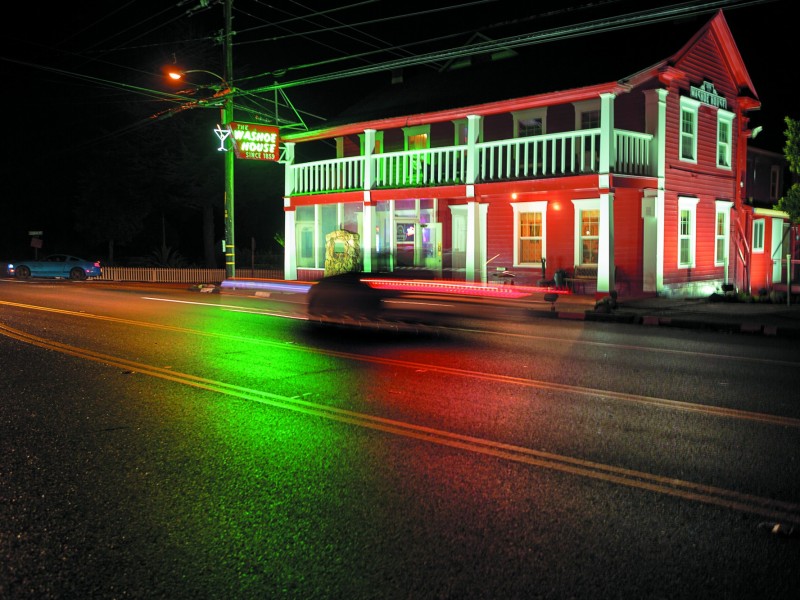 In its earliest years, Sonoma County was home to many roadhouses, most now long abandoned, but important to weary travelers in their day. There was the Llano Roadhouse in Sebastopol (1850-1874), Emil Alber's One Mile House (1900-1909) in Sonoma and Donahue Roadhouse (1951–1960) on Lakeville Highway in Petaluma, plus plenty of obscure others.
United in their style of two-story clapboard structures to host overnight guests at $1 a night, their locations along rural wagon roads, these roadhouses also offered reliable comforts of decent food and hard drink, plus sometimes dancing and gambling.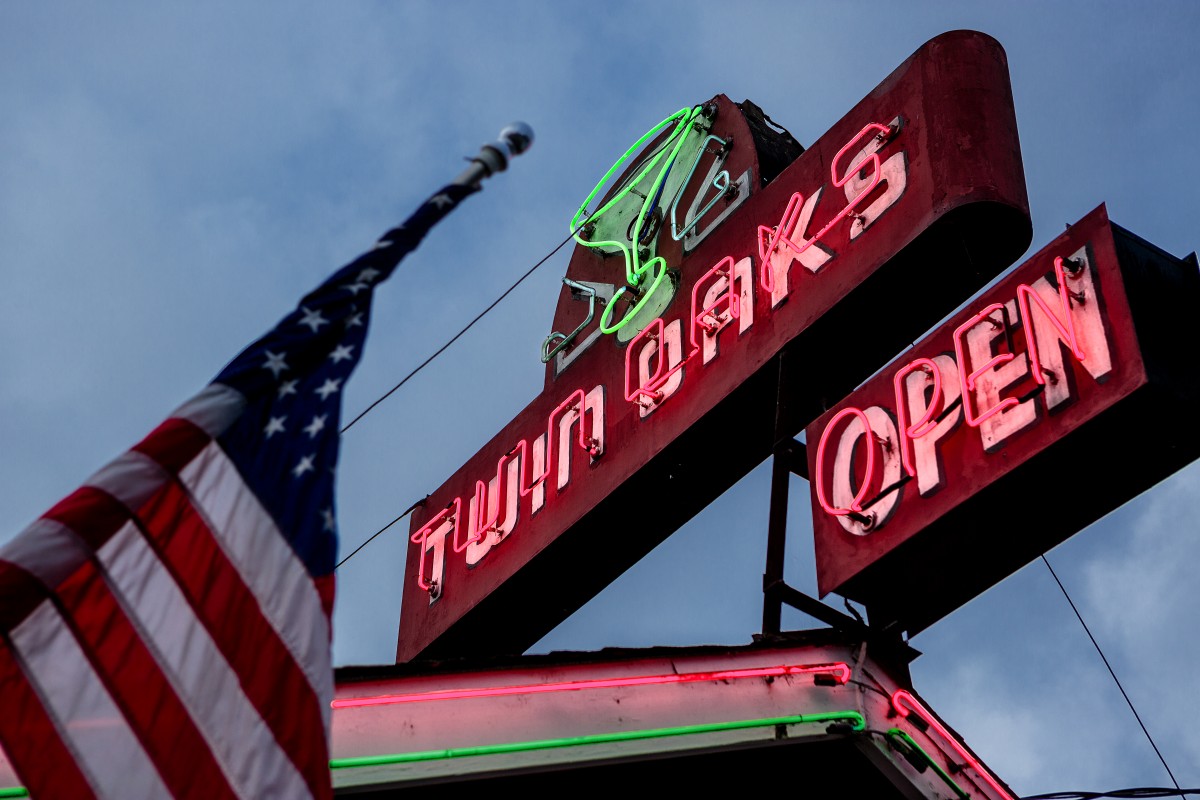 As times changed and development boomed, however, roadhouses became seedier spots. Hotel rooms turned to brothels, more than a few lives were lost in bar shootouts, and customers usually were weathered drunks nursing morning-afternoon-evening beers at the bar.
Later, a roadhouse might be a biker bar or worse (think the 1989 movie "Road House" with Patrick Swayze). And the food became dull. 
Yet who doesn't love the idea of a little debauchery? Departed spirits, ribald history and crusty personalities? These reinvented roadhouses are becoming a Sonoma statement once again, resurrected as destinations that everyone, from hipsters to families, can enjoy just as much as that toothless guy tying one on at 10 a.m.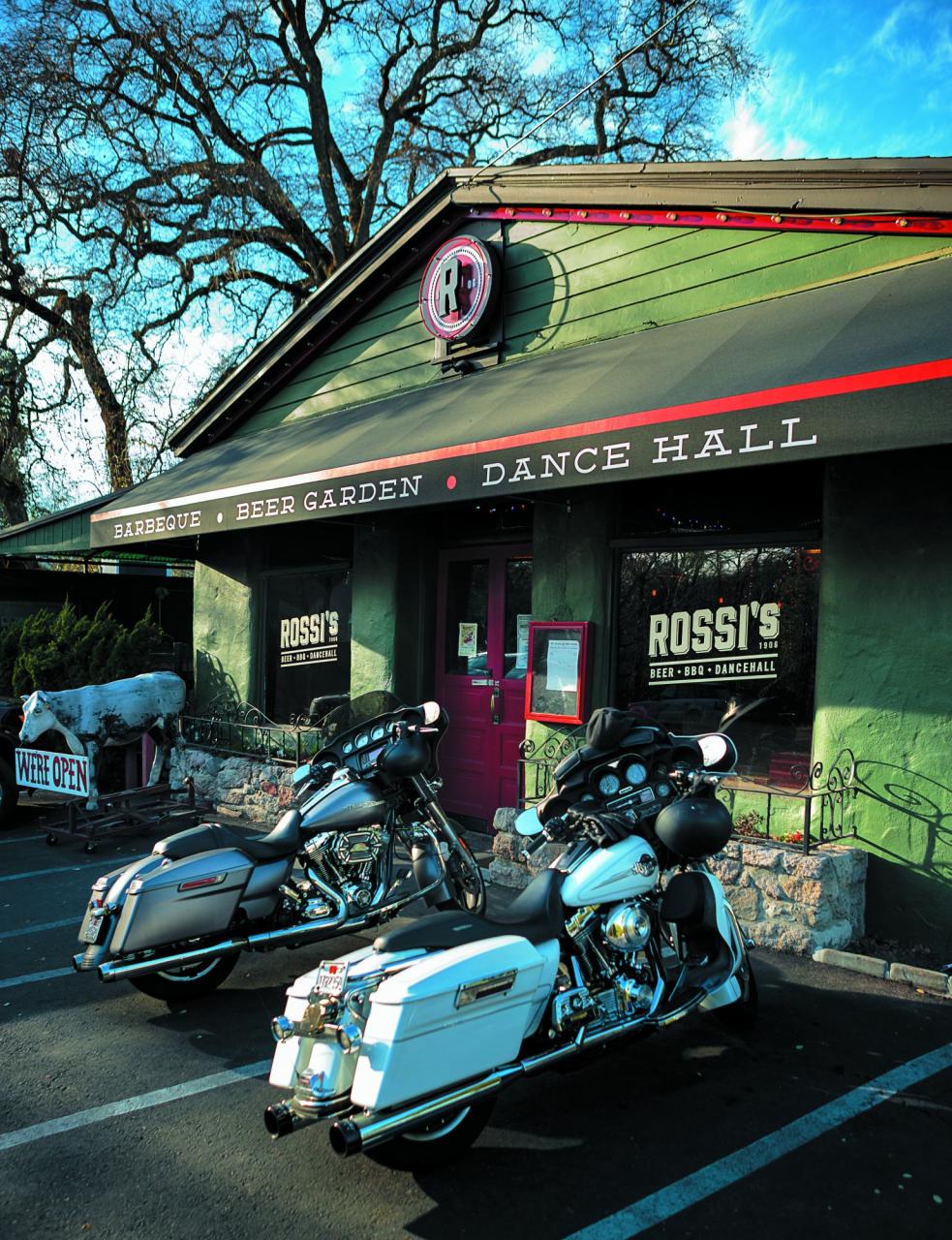 ROSSI'S 1906
Bringing authentic back to the old place, Sonoma

After Max Young purchased the former Little Switzerland out of foreclosure three years ago, his goal was clear: bring back the original spirit of the neighborhood hideaway that had devolved over decades from a lively roadhouse to an aging dance hall, and finally, a bar.
So he sat down in the dusty space and listened to the walls.
"I love old places, and I felt I had a responsibility to history," said Young, whose wife, Karen, is from the longtime Bruschera family of Sonoma. "Anyone can open something new, but for an authentic place, you can't create what's there. It just is."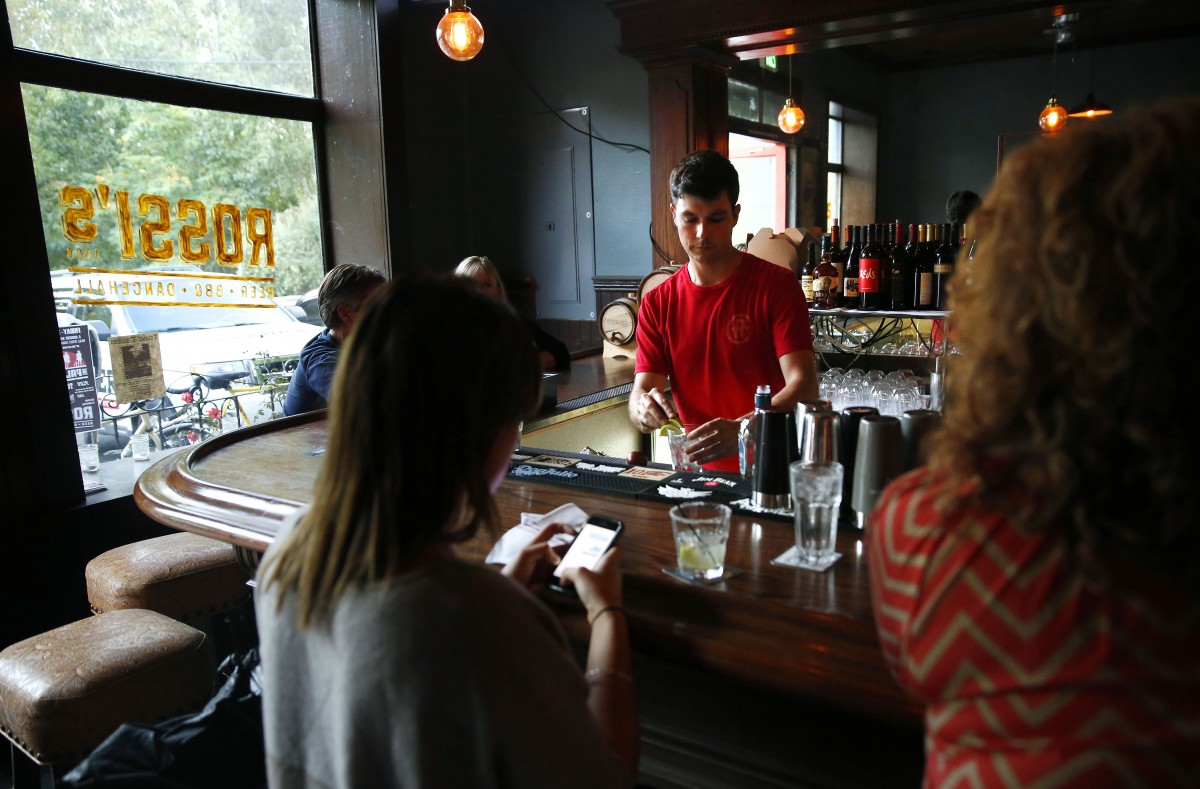 It may be hard to believe now, but when Swiss-Italian founder Al Rossi first opened Little Switzerland 110 years ago, the adjacent Boyes Hot Springs community was a resort destination, drawing well-heeled tourists coming for annual retreats fueled by the natural underground hot mineral waters.
By 1920, the area, known as "The Springs," was a glamorous vacationland visited by as many as 70,000 travelers annually, according to the Sonoma Valley Historical Society's Depot Park Museum.
"The train used to stop just two blocks away from here," Young said. But then, the Great Depression hit in 1929, the rail closed, and the area faded into the mishmash rural neighborhood it is today.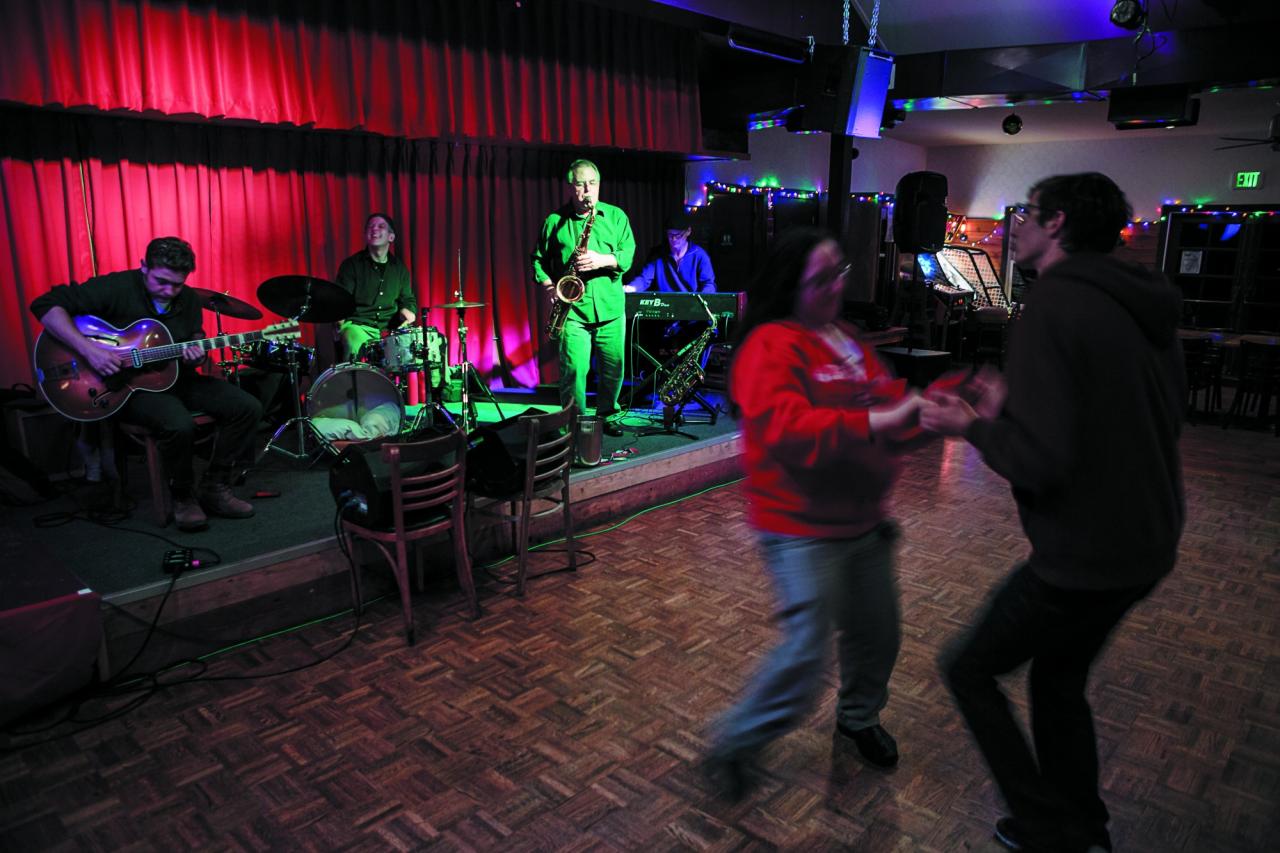 Little Switzerland changed hands several times, yet stayed true to its Alpine theme and became a locals' favorite for live polka music and dancing, big pasta dinners and beer. Seniors and families with children spun on the parquet dance floor, with more than a few lederhosen-clad gents in the crowd. Still, neglect took its toll as the interior decayed and the menu featured chewy Hungarian veal schnitzel over soggy noodles.
It took more than a year of refurbishing for what was, as Young said, "not funky fun, but a nasty place with old-beer smell." Now, the charm is palpable. It's still a work in progress, Young admitted, with the 4,405-square-foot building that's split, as it's always been, between a front bar and a back dining room that's been enhanced with a rebuilt live music stage, full bar and doors leading to an enormous patio shaded by ancient trees.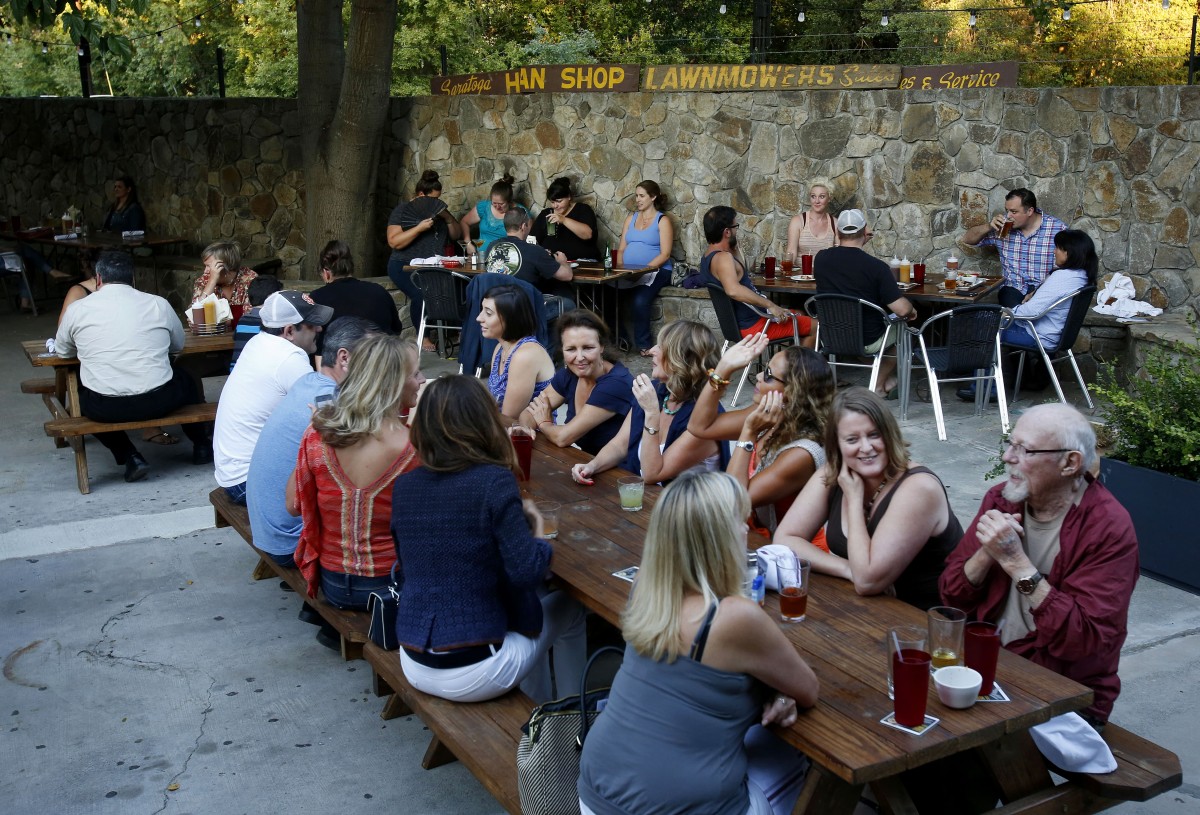 Young repainted, re-floored with reclaimed barn wood, re-paneled and refurnished, but he left the core intact. That's why the patio is gussied with a fancy new deck, yet it's still enclosed by tall, locally quarried stone walls topped with — weird, but perfect — coils of barbed wire.
Late last year, Young hired on-site chef Adam Shoebridge, a South Carolina native who has cooked across the South, in New England, Australia, and at Sonoma's El Dorado Kitchen.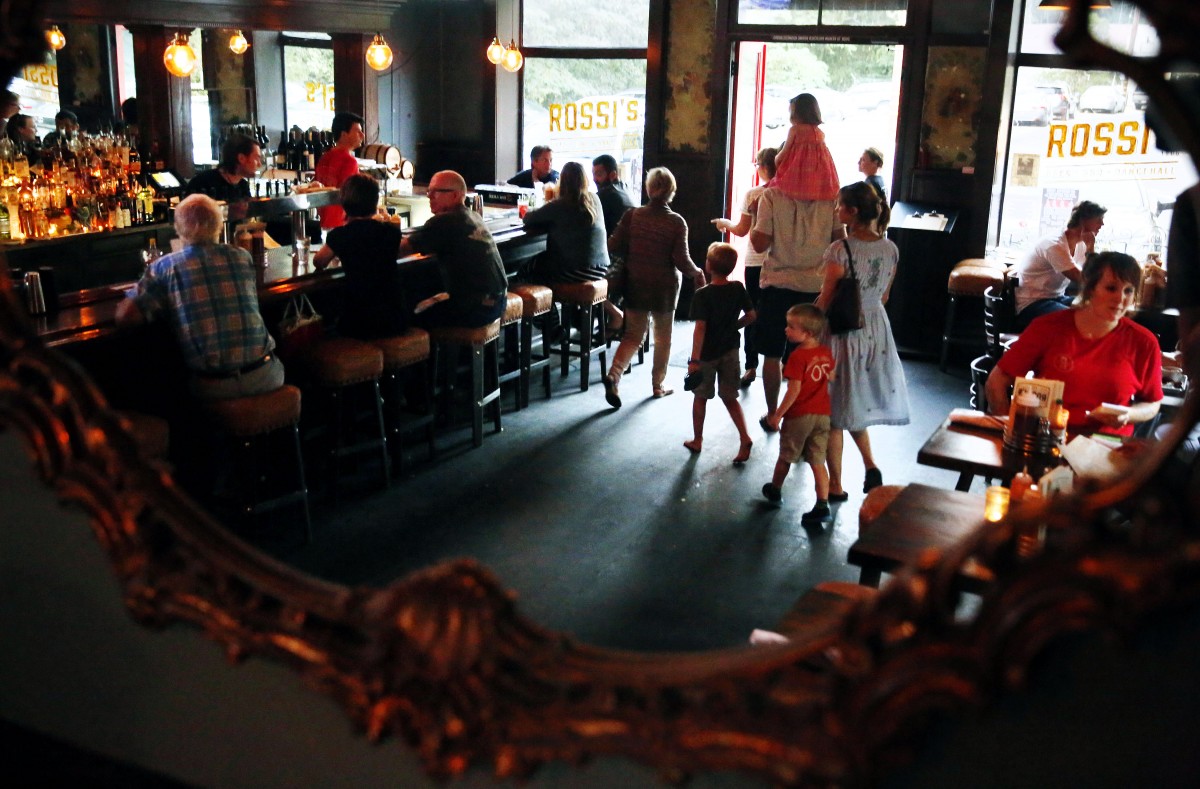 "I quickly learned that people can love the room, but unless the food is really, really good, they aren't going to come back," said Young, who also owns McNally's Irish Pub in Oakland, and HiFi Lounge, Bamboo Hut and Mr. Smith's in San Francisco. "Especially in Sonoma. It doesn't have to be fancy food; you're never going to find foam or microgreens here. But it's got to be excellent."
He also beefed up the music program, diversifying with groups including Get Dead electric-acoustic punk rock, T-Luke & the Tight Suits zydeco, and the Dixie Giants Brass Band. On any given evening, rough-and-tumble blue-collar drinkers sit next to fleece-vested winemakers and 20-somethings sipping craft cocktails.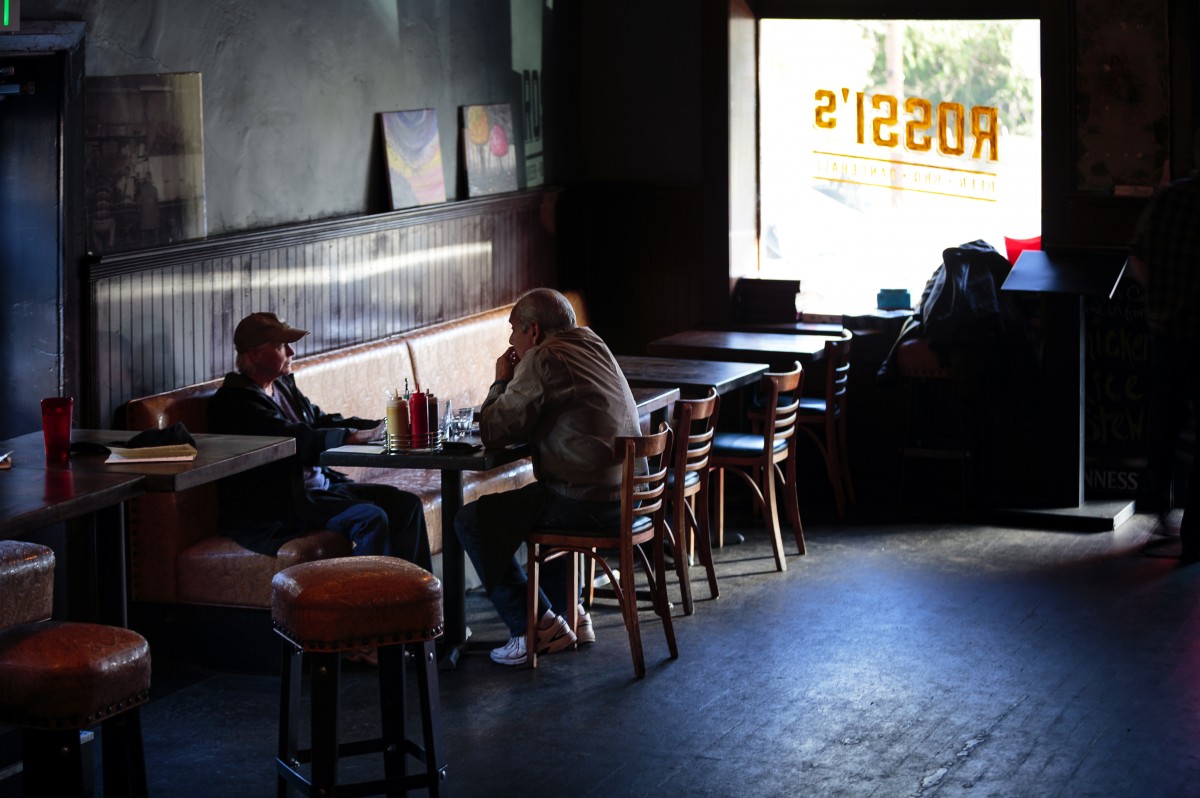 "Everyone comes now," Young said. "We had a 100th birthday party here, a 50th anniversary, and a second birthday party. We'll get a guy in black tie on his way home from a winery event, sitting next to a dude in work boots. And lots of people just sort of stumble on us when they're cruising around."
No matter what changes Young makes in the future, one thing is destined to live forever: the Heidi-like Swiss murals on the dining room walls. Cleaned up and refreshed, they add that incomparable nostalgic salute to a space that has been reborn.
401 Grove St., Sonoma, 707-343-0044, rossis1906.com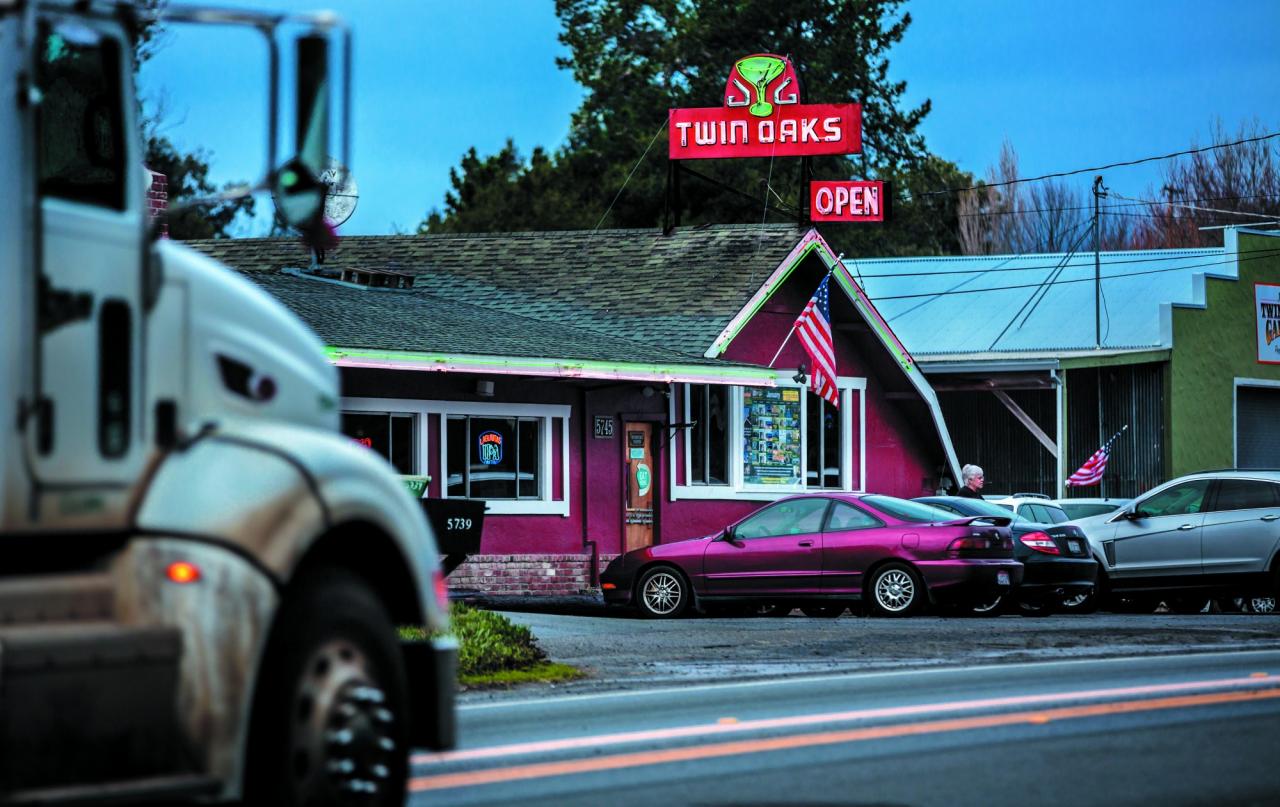 TWIN OAKS TAVERN
Keeping a distinctive cowboy character intact, Penngrove

The first thing Dean Biersch did after acquiring this venerable jewel in December 2015 was console the locals that he would upgrade, but not change, the character.
Since opening in 1924, the Oaks had sat mostly alone in what is still a postage stamp of a town, catering to souls traveling the main thoroughfare, Old Redwood Highway. It was an agricultural crowd, because at that time, Penngrove was known as the "Egg Capital of the World," later losing the title to neighboring Petaluma.
This was also the place ranchers went for home-brewed beer served on the down-low by Vernon and Frances Hoar during Prohibition. As the story goes, if you wanted a beer, you requested "a hoar."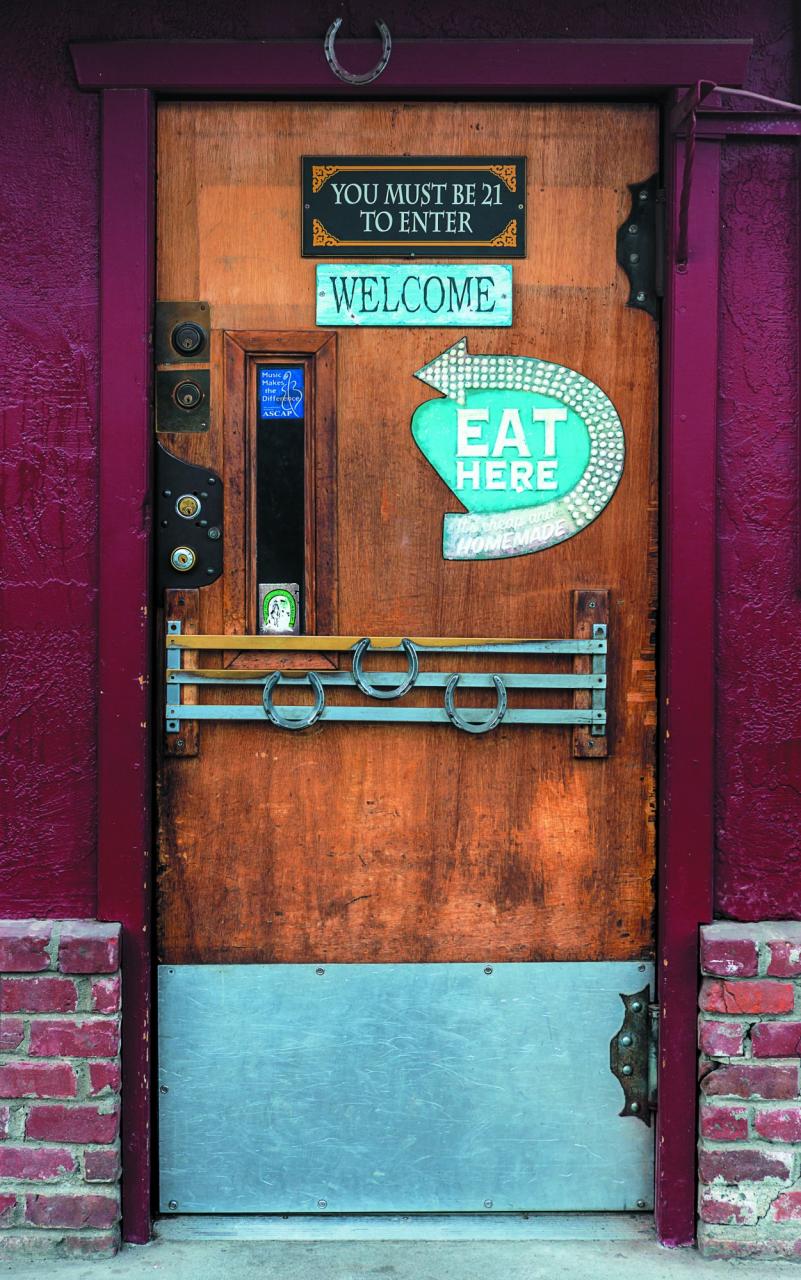 While the place declined as the years dragged on, it held on better than most, thanks to a friendly cowboy atmosphere and nicely done, slow-smoked barbecue. Things brightened noticeably in 2013, when new owner Sheila Groves Tracy took over and cleaned up what she called "a honky-tonk juke joint." She remodeled the patio, established a solid calendar of live music acts, and dressed up the menu with such treats as homemade chicken potpie and gumbo.
The music drew in Biersch, who hosts similar top-rated shows at his HopMonk Taverns in Sonoma, Sebastopol and Novato.
"There are so many layered generations here," Biersch said. "I love that. It's like a time warp. So I'm very mindful that this is a huge responsibility, to preserve its core DNA but bring even more energy."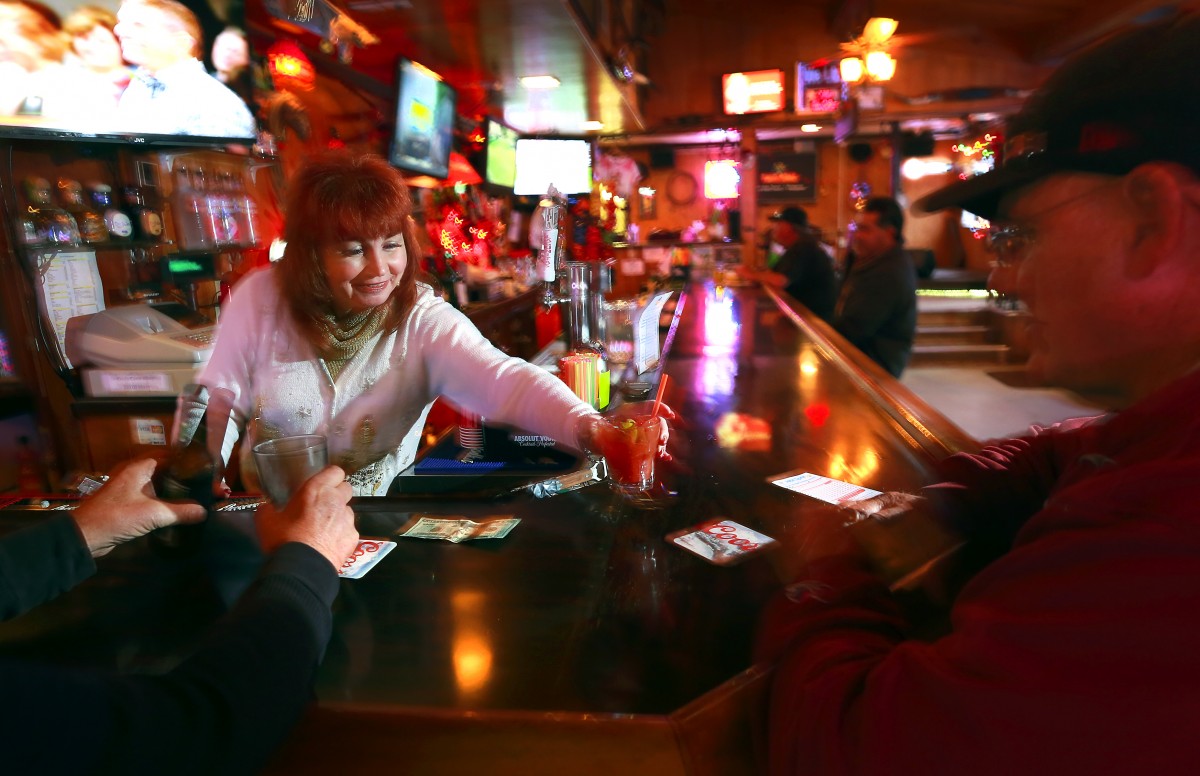 In fact, he hopes his changes won't be noticeable, as he rolls them out over the coming year. First, Tracy stayed on as music booker, adding an open-mic schedule and Biersch's favorite bluegrass genre, along with her signature selections of country, honky-tonk, soul, blues and rock bands. The dance floor is new, and Biersch installed a vintage jukebox cranking retro hits from Hank Williams, Led Zeppelin and Lynyrd Skynyrd.
He expanded and upgraded the outdoor beer garden and altered the pub's operating license to allow families with children. An upper-level dance floor has new windows and a taller ceiling. The kitchen will be overhauled as well, perhaps this summer, for a more extensive chefcaliber, locally sourced menu, and added beers made by small, independent and traditional brewers.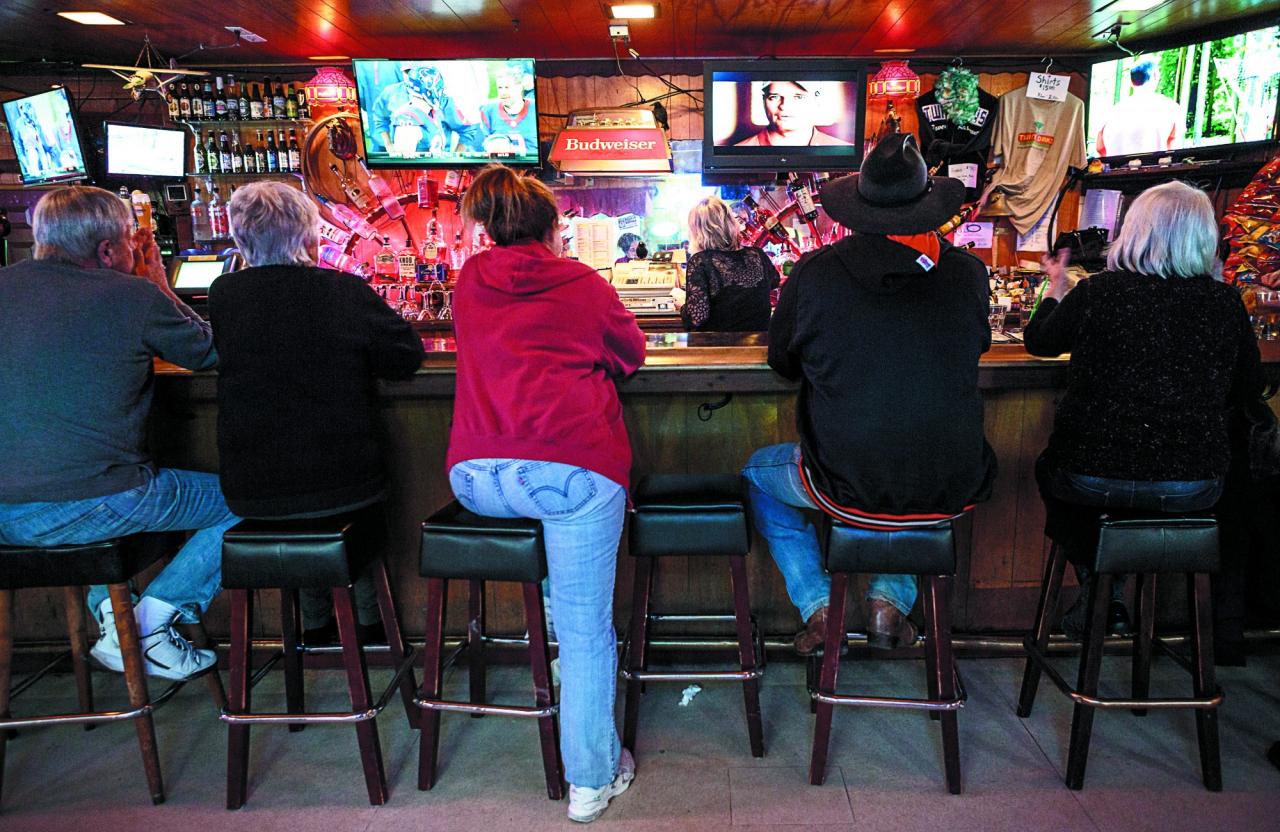 "We put three beer towers on the bar, for 15 to 18 choices on tap," Biersch said. "Sonoma County has so many great brewers, and we're sharing their stories."
He's confident about his storytellers, too.
"We interviewed all the staff to see who wanted to stay on," he said. "And we hired back every single person."
5745 Old Redwood Highway, Penngrove, 707-795-5118, twinoakstavernpenngrove.com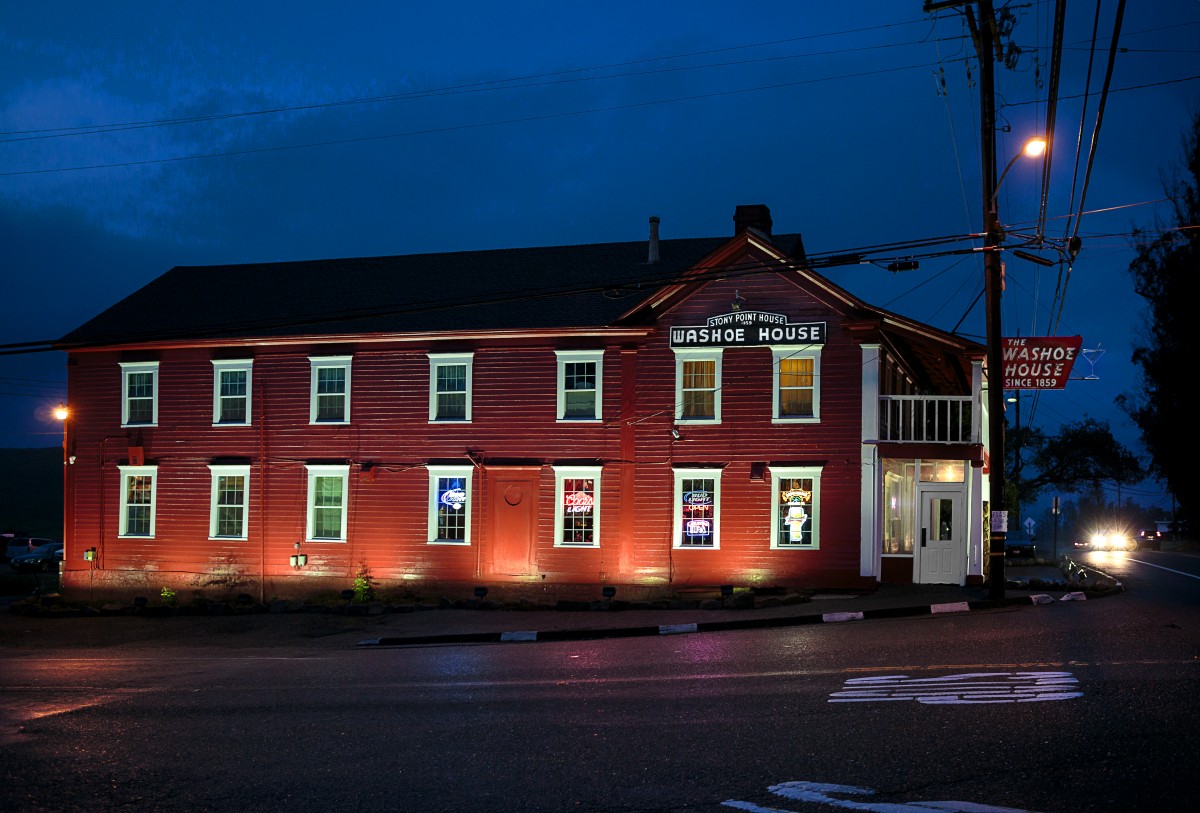 WASHOE HOUSE
No messing with tradition — or the ghosts, Petaluma
Over the many decades, employees at Washoe House in Petaluma have learned never to say "ghost" out loud.
Too often, they've had nervous customers bolt out the door. But more than anything, the attention irritates the ghosts, some of whom have hung around the roadhouse since it opened in 1859 as a stagecoach stop for pioneers and rushers traveling to Gold Country.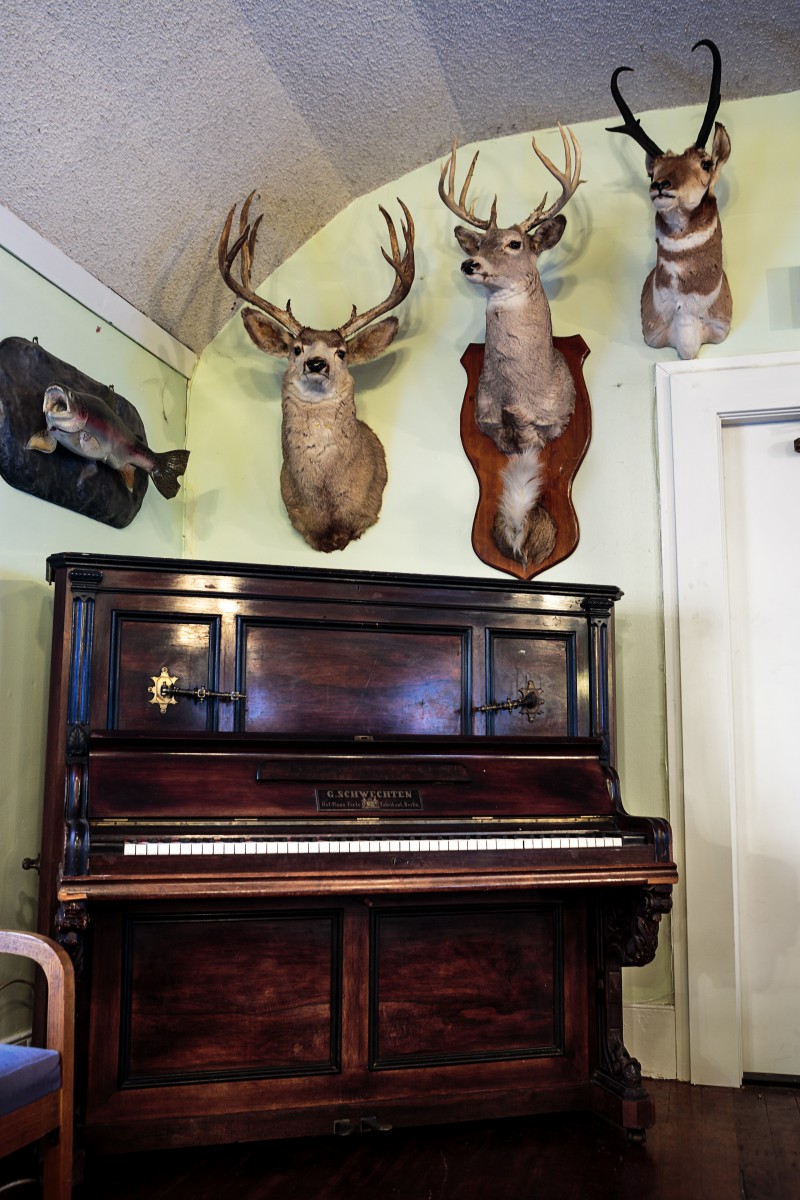 "I'm not going to mess with them," server Colleen Conrad said, looking cautiously over her shoulder as she set down a guest's burger on a chilly winter day. "People think I'm joking, but some of these ghosts get cranky."
She's seen phantom little girls running around, next to apparitional card players at the dining room tables, and Victorian-clad figures watching from the upstairs windows.
"Most are happy, but one tickled me with string, some have yelled at me, and one followed me to my car,' Conrad said. "And they have rules, like no women allowed in the bar."
Whether she's pulling a leg or not isn't the point.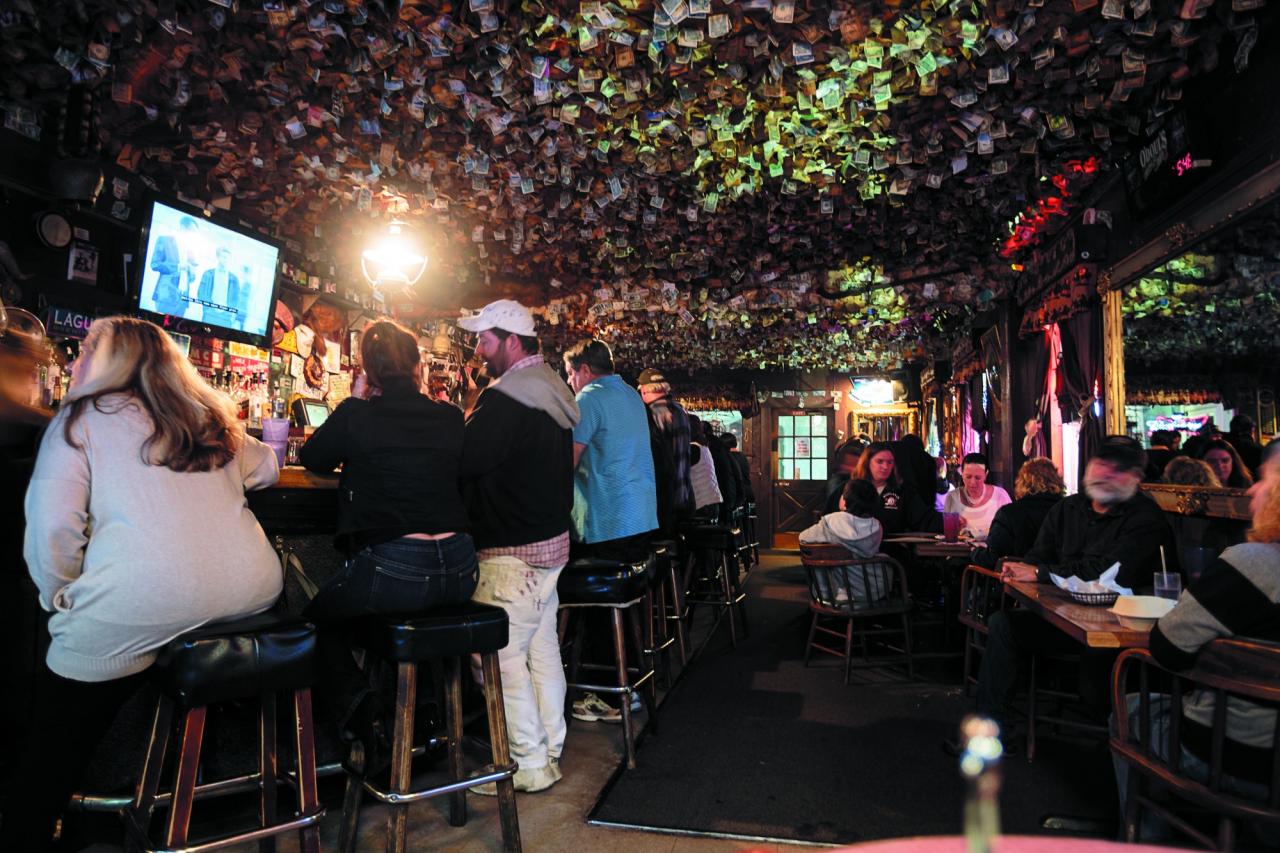 A Penngrove resident who has worked at Washoe for two years, Conrad is a master storyteller and as such, a gem of an ambassador for the classic roadhouse. Her tales make the experience more fun, the food and drink more flavorful, and epitomize the appeal of such watering holes: rich history, marvelously woven, if sometimes fanciful, backstories, and clutches of colorful characters bending ears at the bar.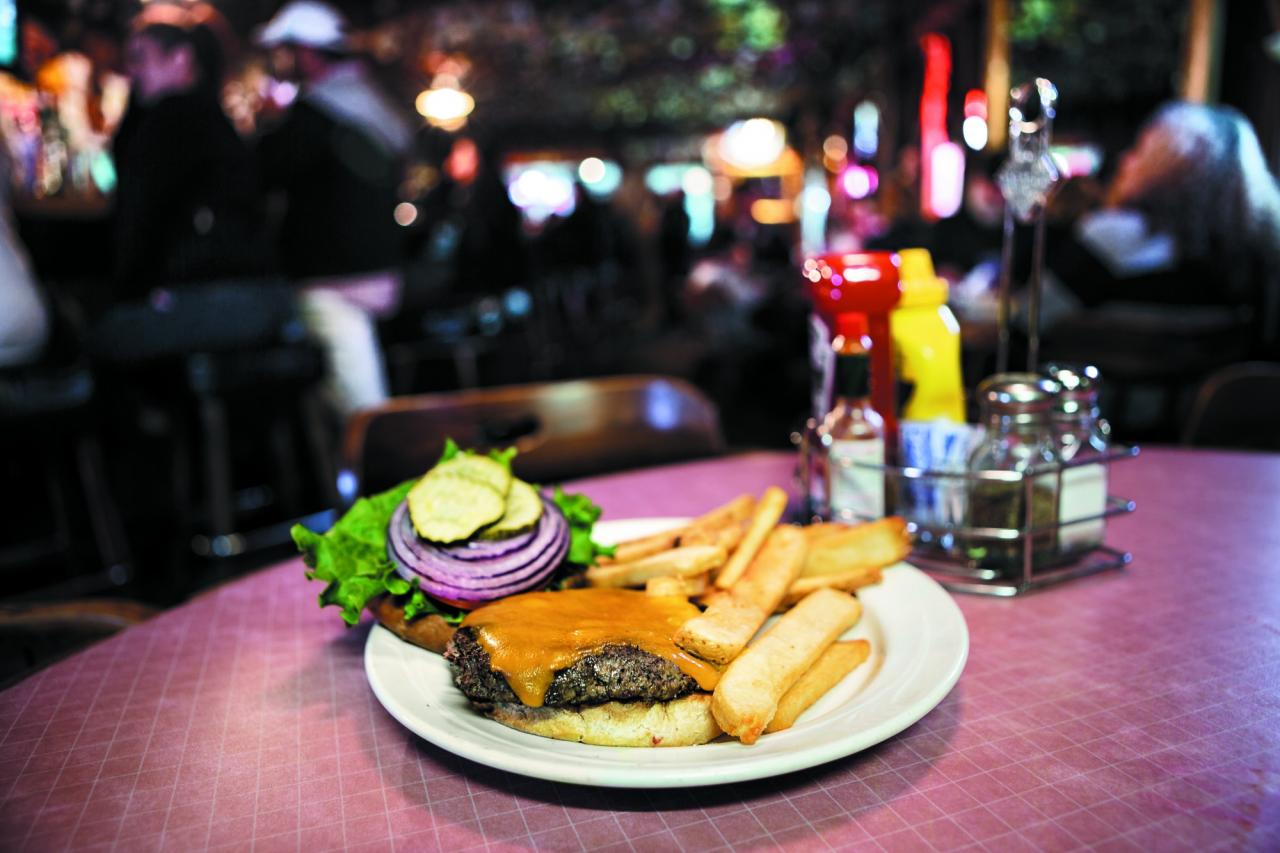 The hundreds, perhaps thousands, of dollar bills tacked to the bar ceiling are just one proof of the 157 years the two-story, red clapboard roadhouse has celebrated on Stony Point Road at Roblar Road.
After its stagecoach-stop days ended, it housed a brothel, a butcher shop and then a post office. Its sturdy rock foundation and redwood frame anchored with hand-beaten square nails survived the earthquake of 1906, and in 1999, the place grasped a bit of fame, featured in Clint Eastwood's movie "True Crime."
In between, its fans brewed up tales aplenty. Unfounded stories include Gen. Ulysses S. Grant pontificating from the bar's balcony, and a day when angry Petaluma activists stormed Santa Rosa for some reason or other, lost steam on arrival, and ended up bringing their foes back to get pickled in beer at the roadhouse.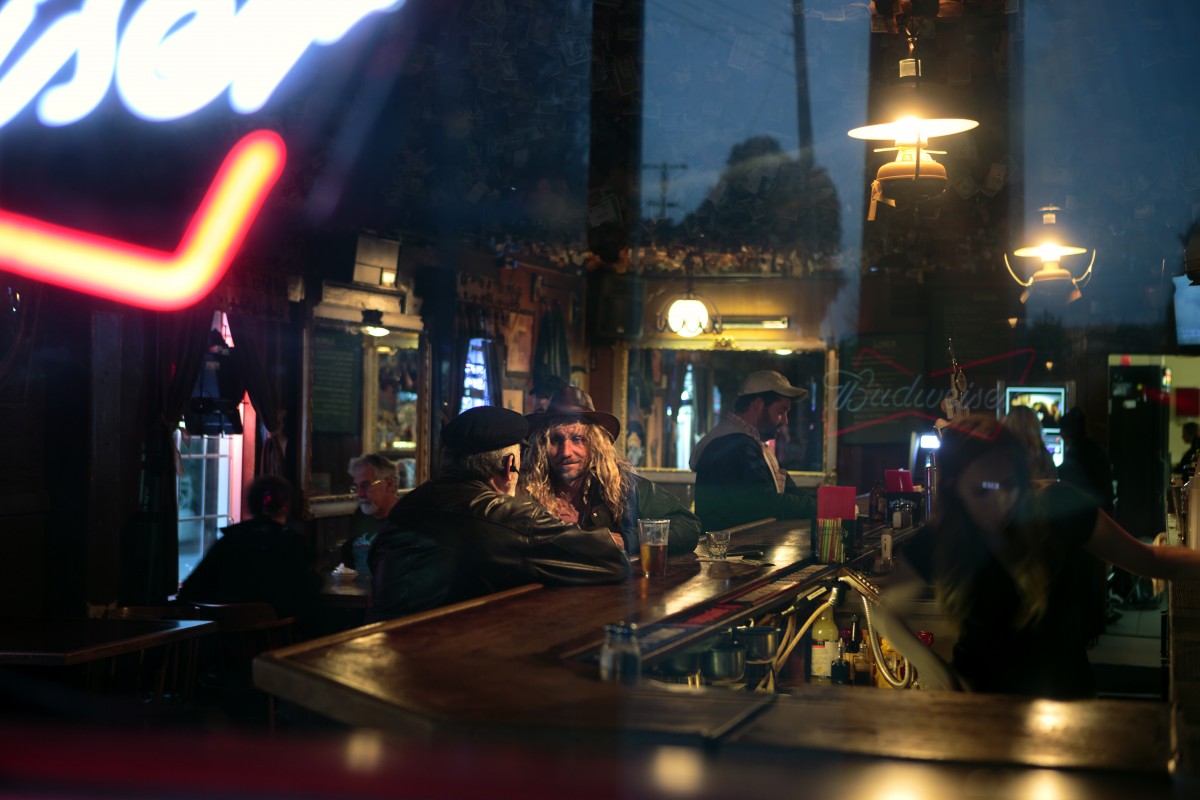 "Sure, we get some whack-a-doodles in here," server Colleen Conrad said of the clientele that tends to hunker over drinks, though it's beginning to include younger folks. "But a little nuts is fun."
To this day, Washoe remains surrounded by fields of grazing cattle, and the parking lot is often full of mudcaked pickups. Expensive Harley-Davidson bikes and sports cars have been known to pull up. For the past 33 years, the structure was owned and operated by Bill and Edith Drew and their daughters, Cheryl Jensen and Patti Tobin. Bill died in 2006, and Jensen took over.
So when Larry Peter, owner of Petaluma's Spring Hill Jersey Cheese, purchased the business in 2015, he accepted the ghosts and promised not "to mess with tradition."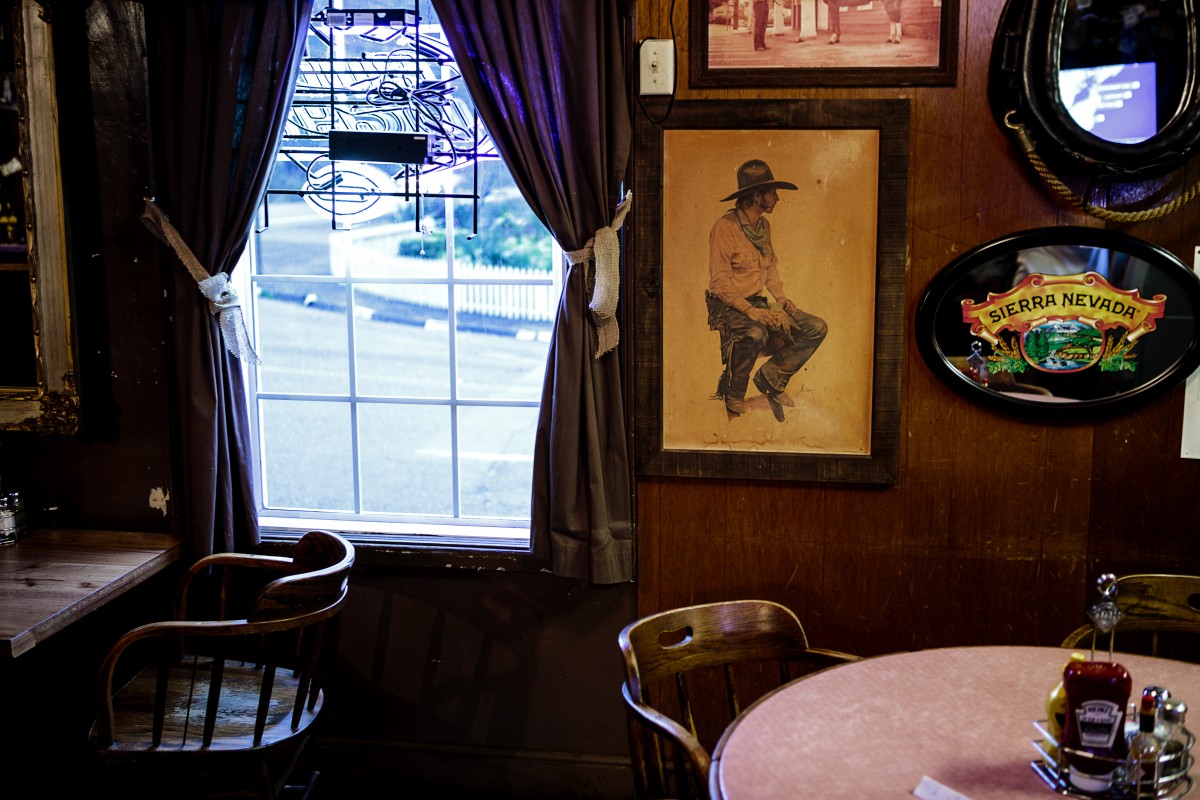 He tidied things up a little, slapped on a gleaming fresh coat of red paint outside, and hung 6-foot-long mirrors on the ancient, peeling floral brocade wallpaper perfumed with decades of fried chicken and laughter. New wood tables sit proudly atop the trampled down carpet — the guy who installed the rug decades ago is a regular and promised that there is no heritage wood beneath.
A deck is being built for outdoor dining, and the second-floor private-party space might get spruced up a bit. Other than that, guests can still savor the framed wreath of flowers and human hair from a deceased visitor, the singles that hang like tattered bats from the ceiling, and the rough wood bar stained with endless wet-glass rings and soaked-in liquor. The old-fashioned lanterns still bathe the largely wrinkled faces of customers in a yellowish glow.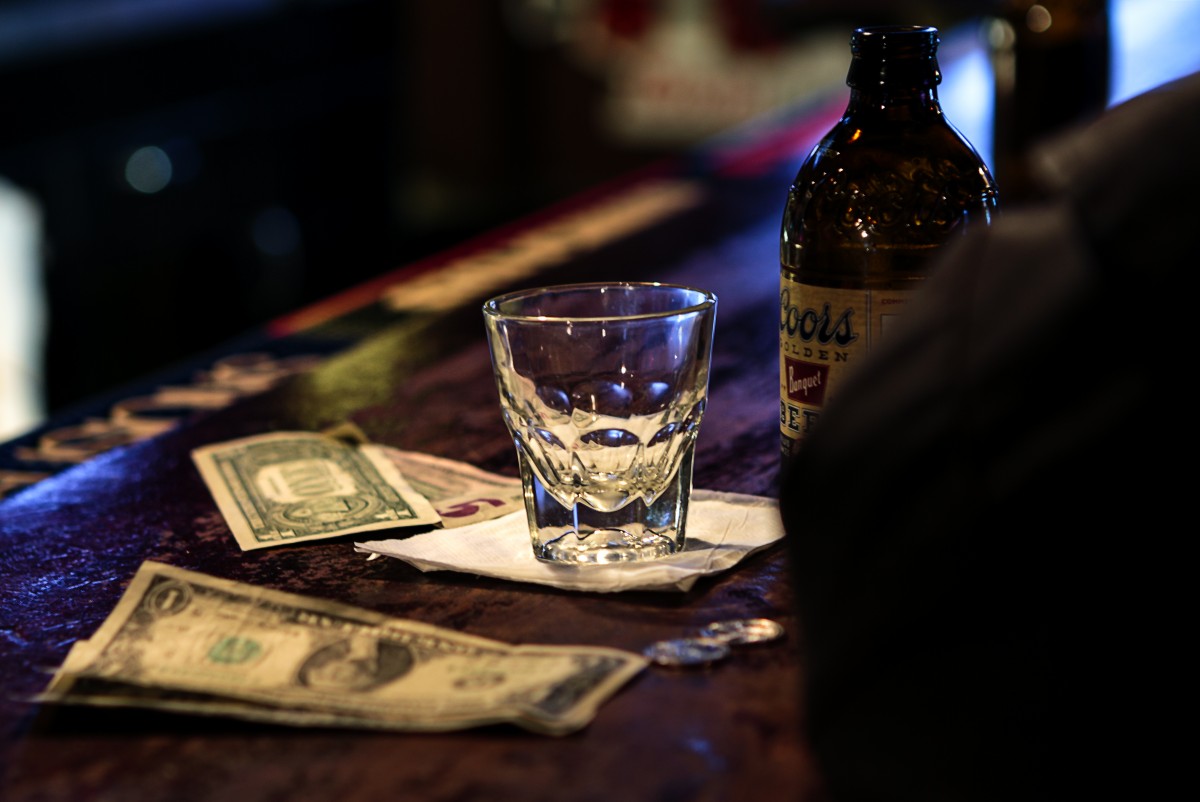 A new chef was hired and the menu updated. Meals now start with sliced Spring Hill cheeses, and end with complimentary Spring Hill ice cream. The food in between remains standard stuff of hamburgers and frozen fries, but there is also a good lamb stew over polenta, and classy touches such as iced tea served in a carafe.
Still, as loud voices echoed around the dining room about a "Hot Rod" game that seems to involve beer and musical tables, then quickly switched to clamoring about volunteering for a community fundraiser, it was impossible to not feel the love.
"Really, the energy is so great and happy," Conrad said, clearing the table. "I couldn't be here if it wasn't. The ghosts aren't malevolent, it's just that we're in their home."
2840 Stony Point Road, Petaluma, 707-795-4544, visit on Facebook.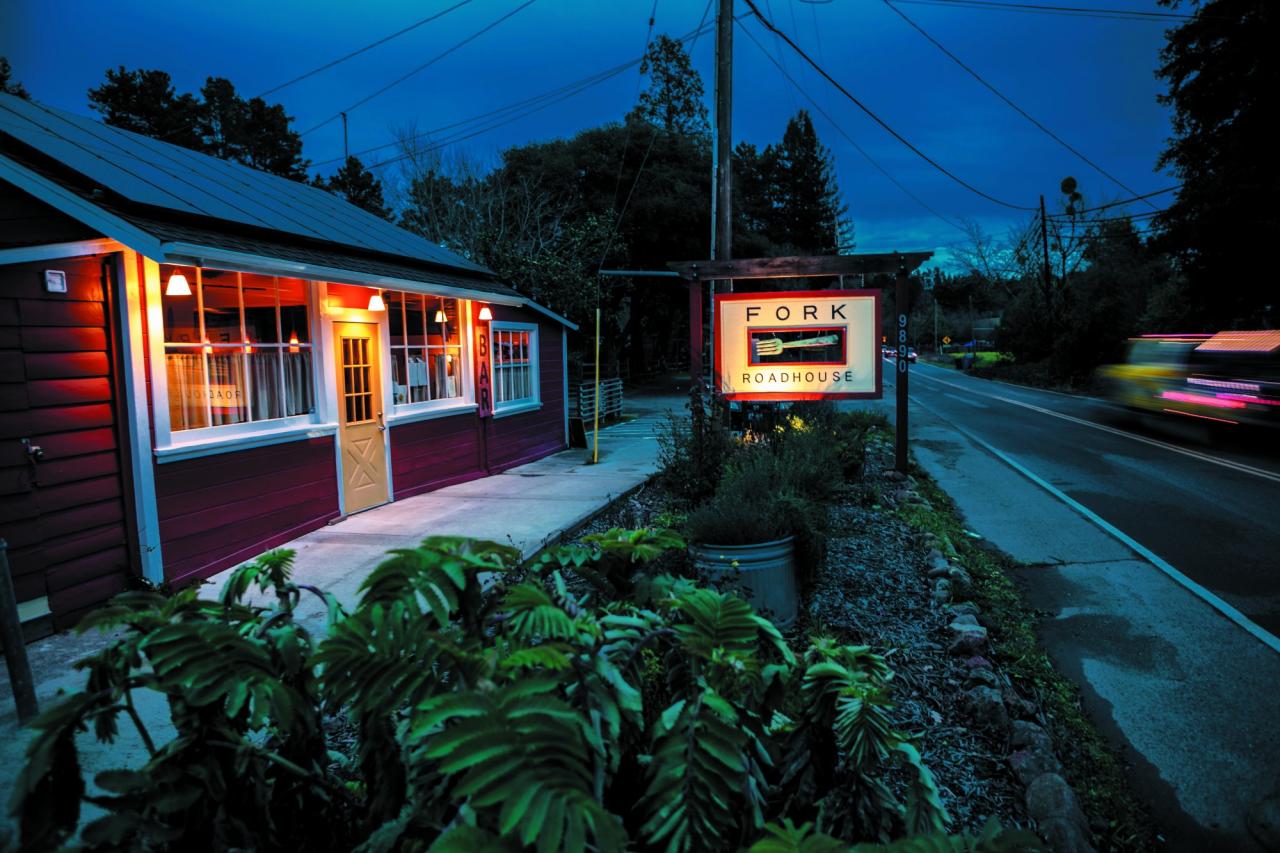 FORK ROADHOUSE
A dubious past gives way to a fresh approach, Sebastopol
The cute little roadhouse on Bodega Highway just west of Sebastopol has been several things, most recently a succession of shortlived restaurants including Two Crows Roadhouse, P30, Saint Rose, Claudio's and Stillwater Kitchen. After being built in 1930 as a 1,006-squarefoot- home, the now-pretty red and yellow building attracted the attention of its neighbors, rumor goes, as it morphed into a bordello.
In January 2015, new owner Sarah Piccolo hosted her grand-opening party with free mimosas and nary a lady of the evening in sight, having exorcised any dubious past with a charming, wood and cream interior that's airy with lots of windows and flanked by a lovely slate patio for alfresco meals made elegant with serenades from a hippie, white-bearded harp player.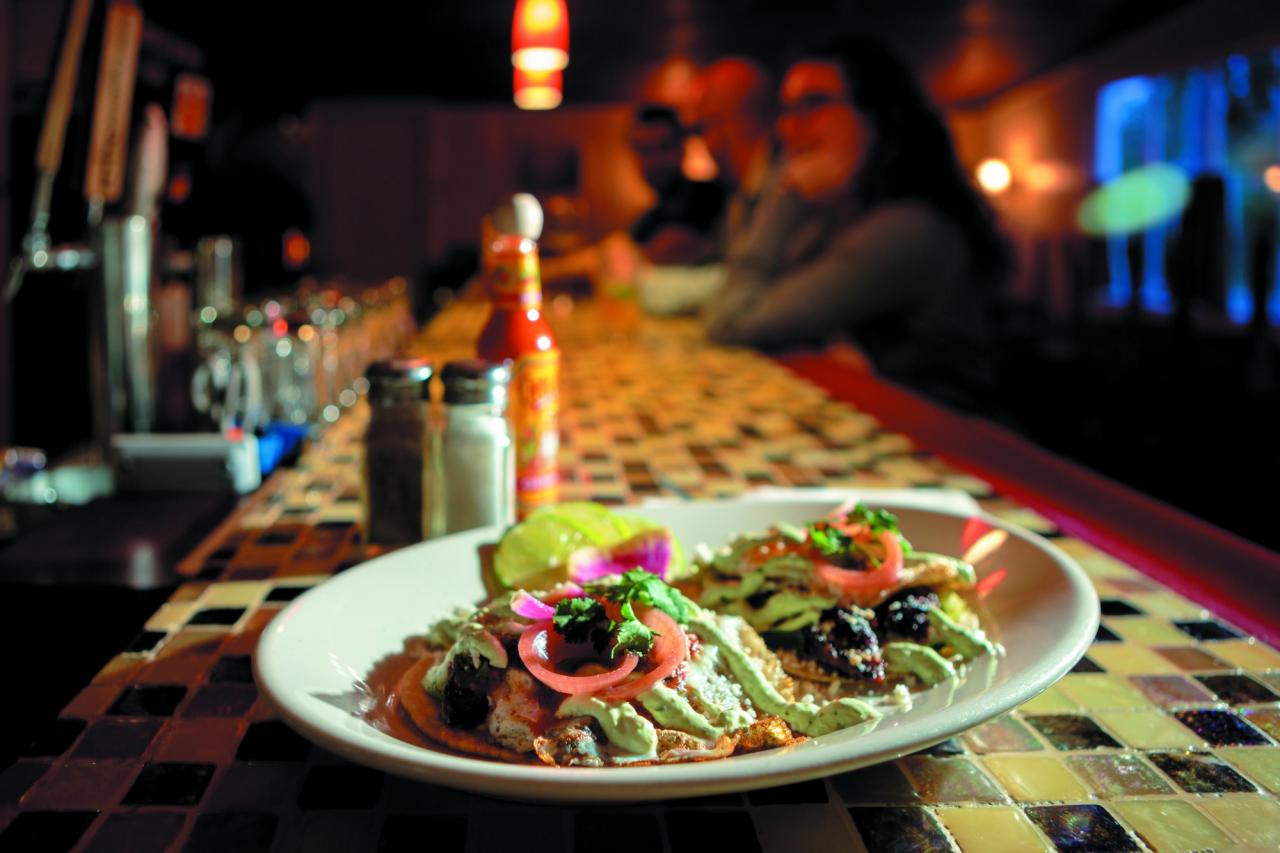 The roadhouse mood still pervades, though, in the pastoral setting flanked by meadows and fruit orchards; the place is a happy surprise for folks traversing the winding road to west county. It's a happier surprise if the cafe is open, since service is limited to Thursday through Sunday.
"We get the locals who have spent some or most of their lives planting apple trees, grapes or olives," Piccolo said. "I think it's because a roadhouse is solid, no BS. It's a great place to see all walks of life, where the rough meets the curious, sophisticated types. Come as you are."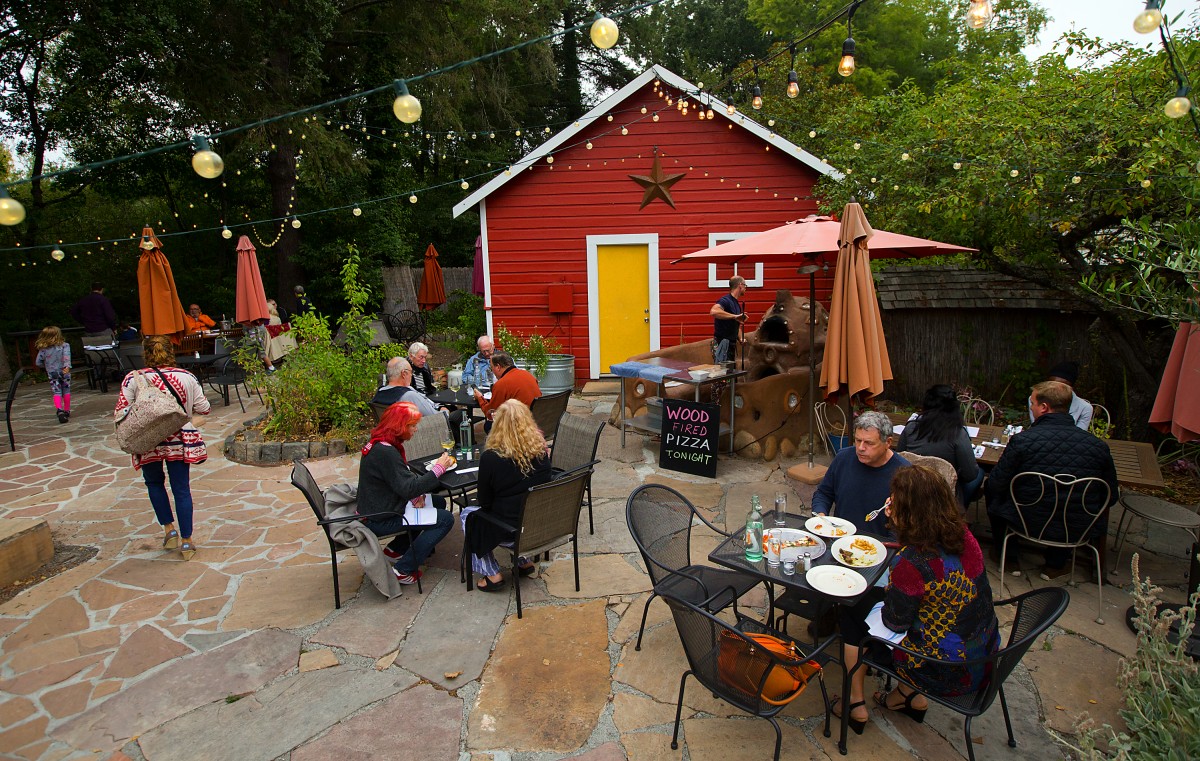 The food is superb, certainly, much elevated from any expected roadhouse fare. The menu espouses organic, local, seasonal farm-to-table dishes such as polenta topped in Laura Chenel chevre, braised organic kale, poached egg and gomasio (Japanese sesame salt spice), and short ribs braised in Gabriel Farm's apple pear, hoisin and lime sauce with horseradish mashed potatoes and asparagus.
Yet even if there's Petaluma-brewed Revive Kombucha served alongside North Coast Brewing Scrimshaw or Bear Republic Racer 5 IPA on tap, this isn't a buttoned-up crowd.
"We definitely get our regulars, some with a crazy life now or in their past lives," Piccolo said. "Farmers, growers, former techies, musicians, stagehands — you never know who you might cozy up next to at our bar. Being located in such a desirable area, you honestly never know who's who. And it's always a nice surprise when you find out who they really are."
9890 Bodega Highway, Sebastopol, 707-634-7575, forkcatering.com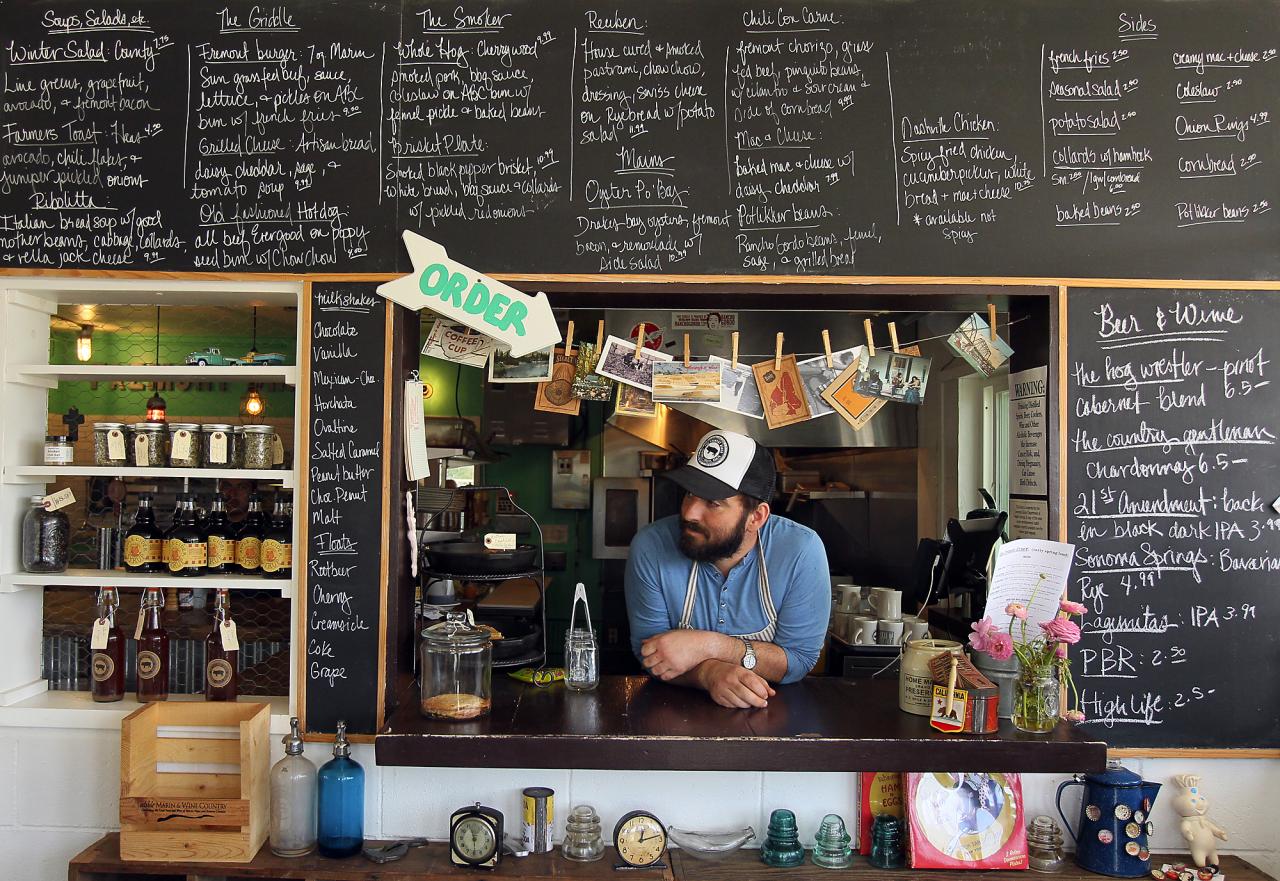 Whether it's a classic lodge or a mobile home, Sonoma roadhouses promise distinct personalities. These tucked-away treasures take a drive to reach, but the journey is a big part of the fun.
STORMY'S RESTAURANT
Established in 1854, this "Spirits & Supper House" is one of the oldest roadhouses in the West, owned by the Cramer family since 1961. It may also be the most remote, as the only remaining commercial business in the now whisper-size town of Bloomfield. It thrived during the Gold Rush, but fluttered to near-death after a planned rail line bypassed it and the 1906 earthquake flattened most of its buildings. Originally known as Big Valley House, the dark wood structure now embraces a loyal clientele of ranchers, artists and anyone who's discovered very good prime rib and fried chicken at rock-bottom prices. Plan on leftovers, too, since each meal comes with homemade clam chowder, salad with creamy Italian dressing, potato, vegetables and French bread. The full bar tempts, the wood-burning fireplace warms, and a new deck is great for stargazing, since there's nary a light in the surrounding, endless acres of farmland.
6650 Bloomfield Road, Bloomfield, 707-795-0127, stormysrestaurant.com
FREMONT DINER
Owner, chef and barbecue pit master Chad Harris can be credited with starting the roadhouse revitalization trend in 2009, when he opened his eatery in a low wooden building surrounded mostly by Carneros vineyards and dairies. The place previously was Babe's Burgers & Franks takeout stand for what seemed like forever; Harris, a former caterer, repainted and fluffed it a bit, then whipped into action when crowds — and more crowds — converged on his updated tiny dining room with counter seating and picnic-table-set patio.
The mood is rustic farm, with vintage pie cabinets, antique soda crates and an old, rusted truck in front.
But the food is sumptuous: a fluffy yeasted waffle made with corn and sorghum; spicy fried chicken served with a choice of white bread, mac and cheese or waffle; a killer burger; and a Pacific Coast oyster sandwich with arugula, remoulade and bacon with a side salad and juniper-pickled red onions. Sip wine or beer, and save room for caramel cake.
2698 Fremont Drive, Sonoma, 707-938-7370, thefremontdiner.com
THE CASINO BAR & GRILL
It's not actually a casino, but a pool hall and tavern opened in 1939 by Nebo Casini, an entrepreneur who figured a twist on his family name would help attract attention for his fledging business. (It did offer a few slot machines until 1949, when Nebo sold the joint to his brother and sister-in-law, Art and Evelyn Casini.) Built as Goodman's General Mercantile in 1874, next to the St. Teresa of Avila Church made famous by Alfred Hitchcock's thriller, "The Birds," the faded white wood building looks scruffy on the outside, dark and dingy on the inside, yet serves terrific locally sourced cuisine. Chefs and daily menus rotate during the week, but if Mark Malicki is in the house, the food is extra-good. Either way, look for superb, eclectic dishes such as a noodle bowl with pork-bone broth, fried egg, silken tofu and seaweed; diver scallops with wild rice, peppery puy lentils and fennel cream; and olive oilorange cake with whipped cream and grapefruit.
17000 Bodega Highway, Bodega, 707-876-3185, facebook.com/thecasinobarandgrill
RIO NIDO ROADHOUSE
Not a true roadhouse, it's actually a refurbished double-wide trailer with a big bar and an outdoor stage for every kind of weekend music, including French funk folk and Rolling Stones covers. Yet owner Brad Metzger keeps things family friendly (there's a big swimming pool on-site), and the small Russian River neighborhood that surrounds it is home to lots of cordial regulars who will cheerfully suggest their favorite local beers from the 15 on tap. The betterthan- trailer-grub includes homemade French onion soup, half-pound burgers, a Reuben, thin-crust pizza and delicious slow-roasted pulled pork with Boont Amber Ale slaw. If the trailer is more modern-day, the surrounding land has plenty of history, dating to 1860 when a redwood mill operated there. It evolved to a community of bungalows and cabins in 1907, and by the 1920s, the river town had turned resort retreat, famous for its open-air dance hall and raucous dance bands. Did someone say dance?
14540 Canyon Two, Rio Nido, 707-869-0821, rionidoroadhouse.com
A version of this article originally ran in Sonoma Magazine in March 2016.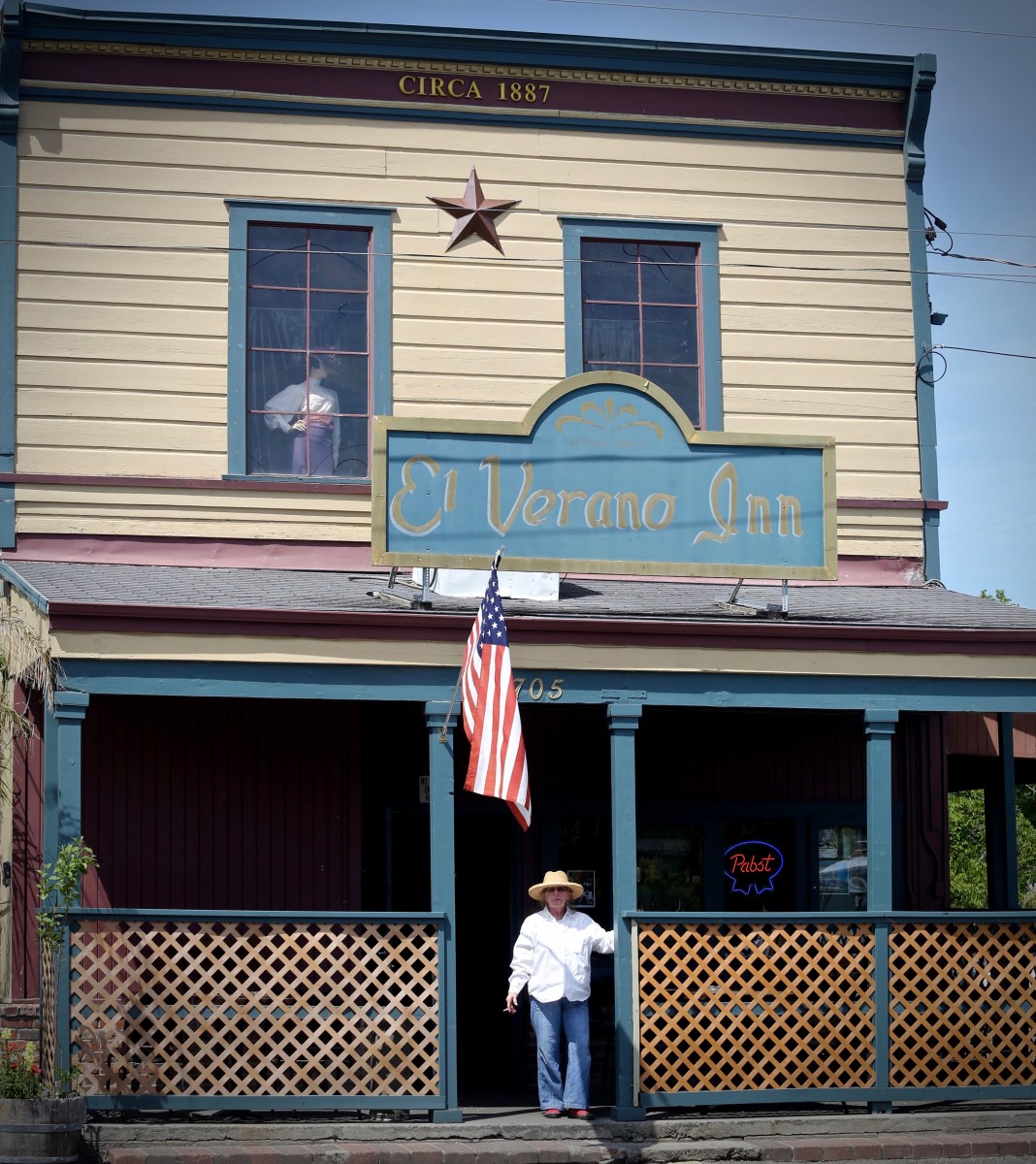 EL VERANO INN (contributed by Dianne Reber Hart)
Even teetotalers get tipsy at the El Verano Inn, where the floor of the historic building has a decidedly downward and outward slant. No one complains. It's part of the charm and character of the 1887 building, a wooden two-story false-front structure that started out as Mullen's General Merchandise Store back when the railroad made several trips through town. The renegade floor speaks to a building constructed on a low water table without a foundation and victim of several questionable remodels throughout its 127-year history.
In addition to serving as a general mercantile, the building housed a post office, bus depot, various taverns and a few apartment rooms; was a meeting place for religious Catechism classes and, according to some but disputed by others, a brothel in its earlier years.
Owners Leslie and Richard Danon purchased the building in 1998 to run a bar, only to face a costly rehabilitation ordered by the county in 2009. When the bar reopened after more than six months of repairs, patrons raised a toast to both the past and the future. It's a place where old-time photos and mementos like square-head nails and layers of lead paint on an original redwood remnant tell its history; where standing-room-only punk-rock nights bring in Millennials just old enough to legally drink.
"Hands-down, it's the friendliest bar in town," Leslie Danon said of the unassuming watering hole. "It's historical by day, hysterical by night."
705 Laurel Ave, El Verano, 95476 Sonoma, (707) 935-0611, elveranoinn.com