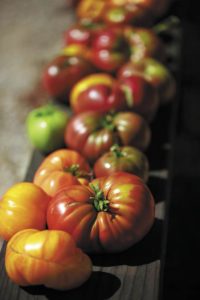 On a visit to the newly expanded gardens at Kendall-Jackson Wine Estate just north of Santa Rosa, you might find culinary gardens director Tucker Taylor juggling some very interesting things this late summer. Tim's Black Ruffles. Grandfather Ashlock. Candy's Old Yellow, Serendipity Striped and neon green, radish-shaped Michael Pollan.
No, it's not a vaudeville show, but a collection of boutique tomato varieties, newly introduced for this year's Kendall-Jackson Heirloom Tomato Festival. As the former master gardener for the French Laundry, Taylor is an expert on the magical — and sometimes bizarre — bounty of Mother Nature.
Appointed with producing more than 8,000 pounds of fruit in some 175 varieties from the winery's Fulton estate and Geyserville gardens, Taylor has a simple suggestion for guests at the 19th annual walk-around food and wine tasting on the winery lawns on Sept. 26.
"It really comes down to one's personal preference on what they like in a tomato," he says. "I suggest trying them all."
It's a delicious assignment. All the luscious fruit is presented under a big tent for tasting your way through and discovering how tomatoes like Brandywine and Blue Berries actually taste like their namesake. For more temptation, there are also more than 50 notable local chefs cooking away, challenged to create recipes like previous years' tomato cotton candy, tomato macaroons, tomato crème brûlée, and sparkling tomato water glittering with cucumber "pearls."
Who will win the coveted People's Choice Award for best dish? Last year, it was Nectar restaurant at the Hilton Sonoma Wine Country hotel, wowing with lobster, smoked mozzarella and tomato arancini. Competition will be fierce, with top restaurants participating, like Applewood Inn, Costeaux French Bakery, Earth's Bounty Kitchen & Wine Bar, Epicurean Connection, Jackson's Bar & Oven, John Ash & Co., and Tony's North Beach/Graton Casino.
As some 2,600 attendees snack and sip, they can cheer on the Chef Challenge competitors in a cook-off pitting K-J executive chef Justin Wangler against two-Michelin-star chef and "Top Chef Master" Season 5 winner Douglas Keane; former "Top Chef" and "Top Chef All-Stars" contestant Casey Thompson; and former "Top Chef Masters" Season 5 contestant Sang Yoon. The talented contenders will whip up masterpieces featuring heirloom tomatoes along with a basket of mystery ingredients.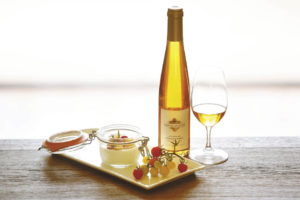 Besides eating, drinking and dancing to live music, guests can feel good knowing the event benefits Ceres Community Project, which provides free or low-cost healthy meals to community residents dealing with serious illness. The meals are prepared by 14- to 19-year-olds who volunteer as the program's gardeners and chefs — aspiring culinary pros who someday may also be juggling Tim's Black Ruffles.
Kendall-Jackson Heirloom Tomato Festival, Sept. 26, 11 a.m. to 4 p.m., 5007 Fulton Road, Fulton, $95, $175 VIP, kj.com
Subscribe to Our Newsletters!