We all know the old adage that it takes a lot of beer to make good wine.
These days, there are about two dozen craft breweries around Sonoma County, including Russian River Brewing Co., home of the world's best brew, according to readers of the trade publication Beer Advocate.
Along with this embarrassment of riches, there are now 10 gastropubs serving elevated pub cuisine worthy of the world-class brews produced on the premises. It's a rare confluence of great food and beer, tapped at the same source.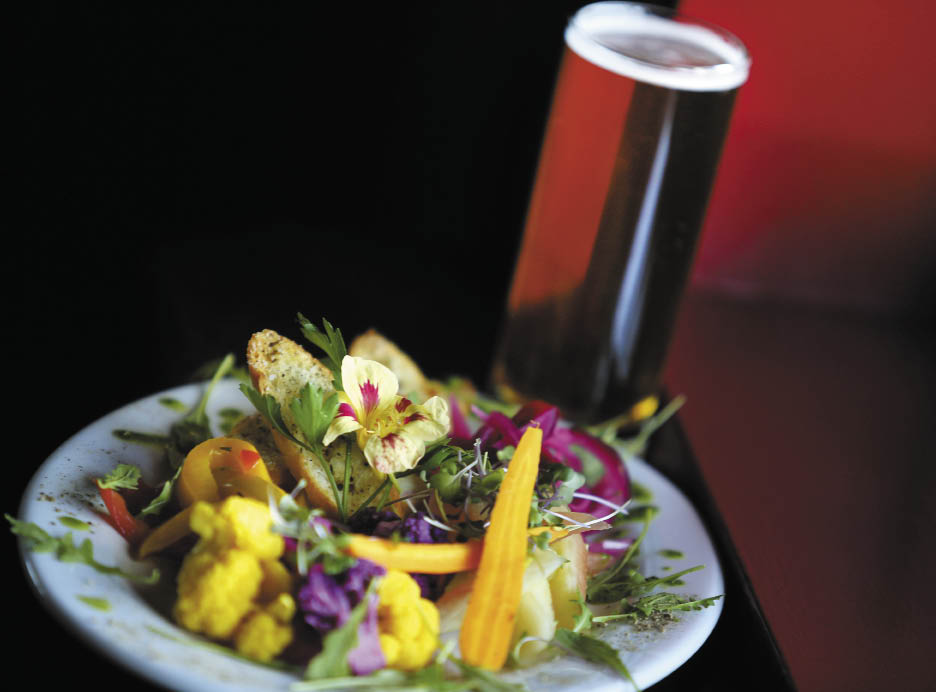 "A place where you can get the whole package is special," said Morgan Marshall, general manager of Fogbelt Brewing Company in Santa Rosa. "Our philosophy is, if you make things in-house, it's better."
Though they come from the wine world, Fogbelt owners Remy Martin and Paul Hawley have been making beer since 2004. They opened Fogbelt in February 2014, and the pub has been packing them in for happy hour ever since, with plans to expand its kitchen and brewing facility this fall.
Reflecting the DIY spirit of its nano-brewery, Fogbelt makes its own bread and butter pickles to serve alongside sandwiches such as the Smoked Tri-Tip Philly with Provolone and Horseradish Cream. The Spicy Turkey Sandwich with Smoky Hobbs Bacon, Pickled Onions and Sriracha Cream Cheese got a nod this year at the annual Battle of the Brews event, which crowned it "Best Cold Sandwich."
Other tempting menu items created by executive chef Shawn Page, formerly of Willi's Seafood & Raw Bar in Healdsburg, include beer-poached sausages from the Sonoma County Meat Co. of Santa Rosa, served with an array of DIY toppings; and a Butcher's Board menu serving artisan products like Hobb's Applewood Smoked Tavern Ham and Humboldt Fog goat cheese.
At Heritage Public House in Santa Rosa, owners Dino and Roman D'Argenzio recently hired chef Josh Silvers of Jackson's Bar & Oven in Santa Rosa to manage the pub and revamp the menu. That has enabled them to focus on Bloodline Brewing Co. beers, including a seasonal brew made on-site. Silvers has elevated the lineup of traditional pub grub by adding beer-friendly salads like Spinach, Bacon & Mushroom and veggie entrees such as Black Barley "Risotto."
"Barley is the heart of beer, so we bring it around," he said.
"Beer evokes the feeling of hanging out in the backyard with friends," Silvers added, and in the hot harvest season, this easy way of eating fits like a glove.
Bear Republic Brewing Co.
345 Healdsburg Ave., Healdsburg,
707-433-2337, bearrepublic.com
Dempsey's Restaurant & Brewery
50 E. Washington St., Petaluma,
707-765-9694, dempseys.com
Fogbelt Brewing Company
1305 Cleveland Ave., Santa Rosa,
707-978-3400, fogbeltbrewing.com
Heritage Public House
1901 Mendocino Ave., Santa Rosa,
707-540-0395, heritagepublichousesr.com
Lagunitas Brewing Co.
1280 N. McDowell Boulevard, Petaluma,
707-778-8776, lagunitas.com
Russian River Brewing Co.
725 Fourth St., Santa Rosa,
707-545-2337, russianriverbrewing.com
Ruth McGowan's Brewpub
(Cloverdale Ale Co.), 131 E. First St., Cloverdale,
707-894-9610, ruthmcgowansbrewpub.com
Stumptown Brewery
15045 River Road, Guerneville,
707-869-0705, stumptown.com
Third Street Aleworks
610 Third St., Santa Rosa,
707-523-3060, thirdstreetaleworks.com
Woodfour Brewing Co.
6780 Depot St., Sebastopol,
707-823-3144, woodfourbrewing.com