New restaurants, new dishes and best bets for this season's dining. Click through the above gallery for best bets.
Valley Swim Club
This new seafood roadhouse, a sister to standout Valley Bar + Bottle, brings together a diverse set of influences, such as New England clam shacks, surf culture, and late 1960s California Naturalism. "It's what we really love," says co-owner and chef Emma Lipp, who heads the culinary program with her partner, chef Stephanie Reagor. Valley co-owners Lauren Feldman and Tanner Walle handle the front of the house and the wine program.
"We live and work in this community, just blocks from here," says Lipp. "We wanted a neighborhood place for ourselves and our community."
Just to be clear, there's no pool at Valley Swim Club—but blocky wood tables and chairs anchor the outdoor space, while cheeky signage ("No Swimming"), white clapboard siding, and a wall painted with abstract blue waves tie together the crab-shack theme. That no reservations, come-as-you-are ethos extends to service: guests order up front, and apron-clad servers bring out the dishes. The cheerful outdoor covered patio is purposefully dogand family-friendly (Walle and Feldman recently had their first child).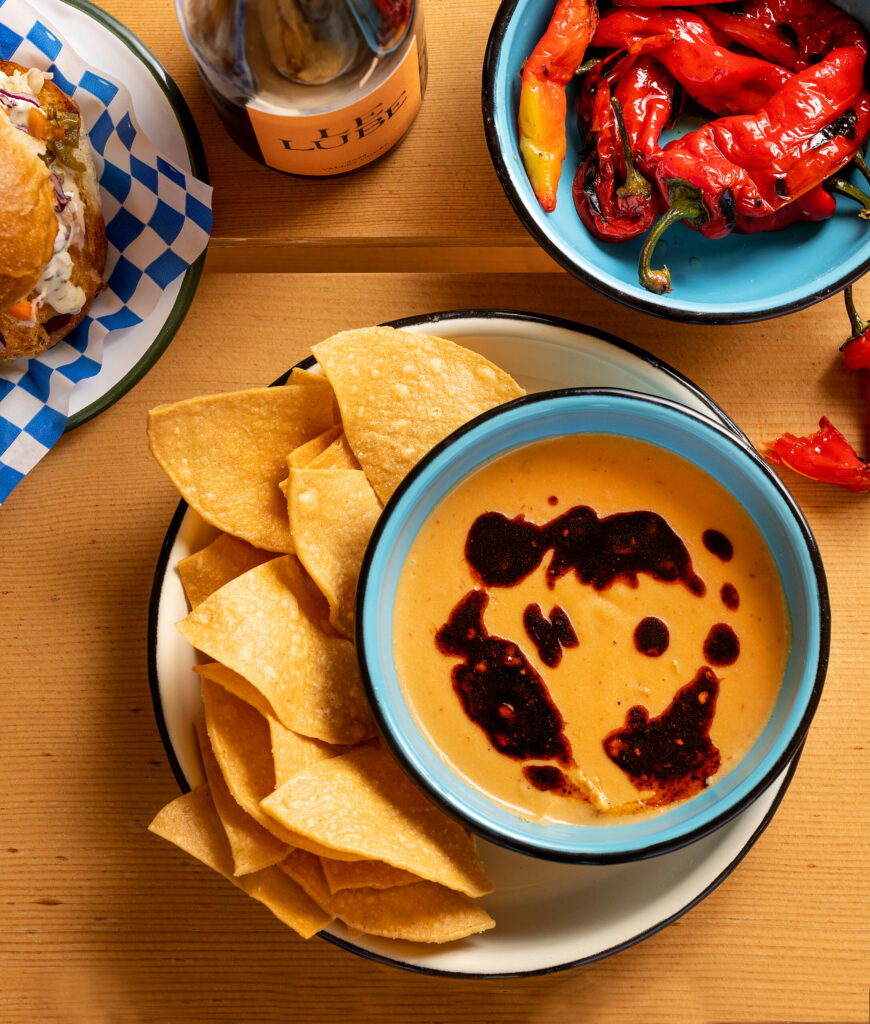 Lipp and Reagor's menu is a deep dive into their fascination with Baja's beachy fish tacos, Hawaiian poke, and New England and California coastal cuisines.
Pescadillas— a cross between a fish taco and a seafood empanada—are perfect handheld snacks, while fried oyster mushrooms offer a vegan twist on fried oysters. A dish to come back to again and again is the vegan cashew-based queso dip drizzled with smoky salsa macha . Bigger entrees include trout à la plancha, a spicy tuna bowl, garlicky steamed clams with ramen noodles, beefy smash burgers, and an Impossible burger.
Natural and low-intervention wines, a specialty of Feldman and Walle, take a starring role on the drinks list. Whether you're a fan or still on the fence, the selections provide plenty of opportunity for interesting pairings.
18709 Arnold Drive, Sonoma. valleyswim.club
Second Story
Whether the words "carrot yeast" fold your gastro-nerd brain into origami or you simply shrug it off isn't the point at Second Story.
The point is to eat dinner. But when you hire a chef like Stu Stalker, who has spent the past few years at Michelin-starred Noma in Copenhagen, some diners will arrive to prostrate themselves at the high altar of molecular dining.
The owners of Little Saint quietly opened the doors of their renovated upstairs dining room this summer, with a $120 prix fixe menu of plant-based foods prepared in a state-of-the-art open kitchen. Stalker, who moved from Copenhagen to Healdsburg to manage the staff of five (including his brother-in-law), didn't flounce around town announcing his presence. The whole affair has been remarkably low-key.
The menu eschews dairy, meat, and eggs in favor of dishes that are a deft mix of culinary alchemy and farm-fresh perfection, with produce from the 8-acre Little Saint Farm. This is not simply vegan dining. It's a blueprint for how we can—and should—eat for the future.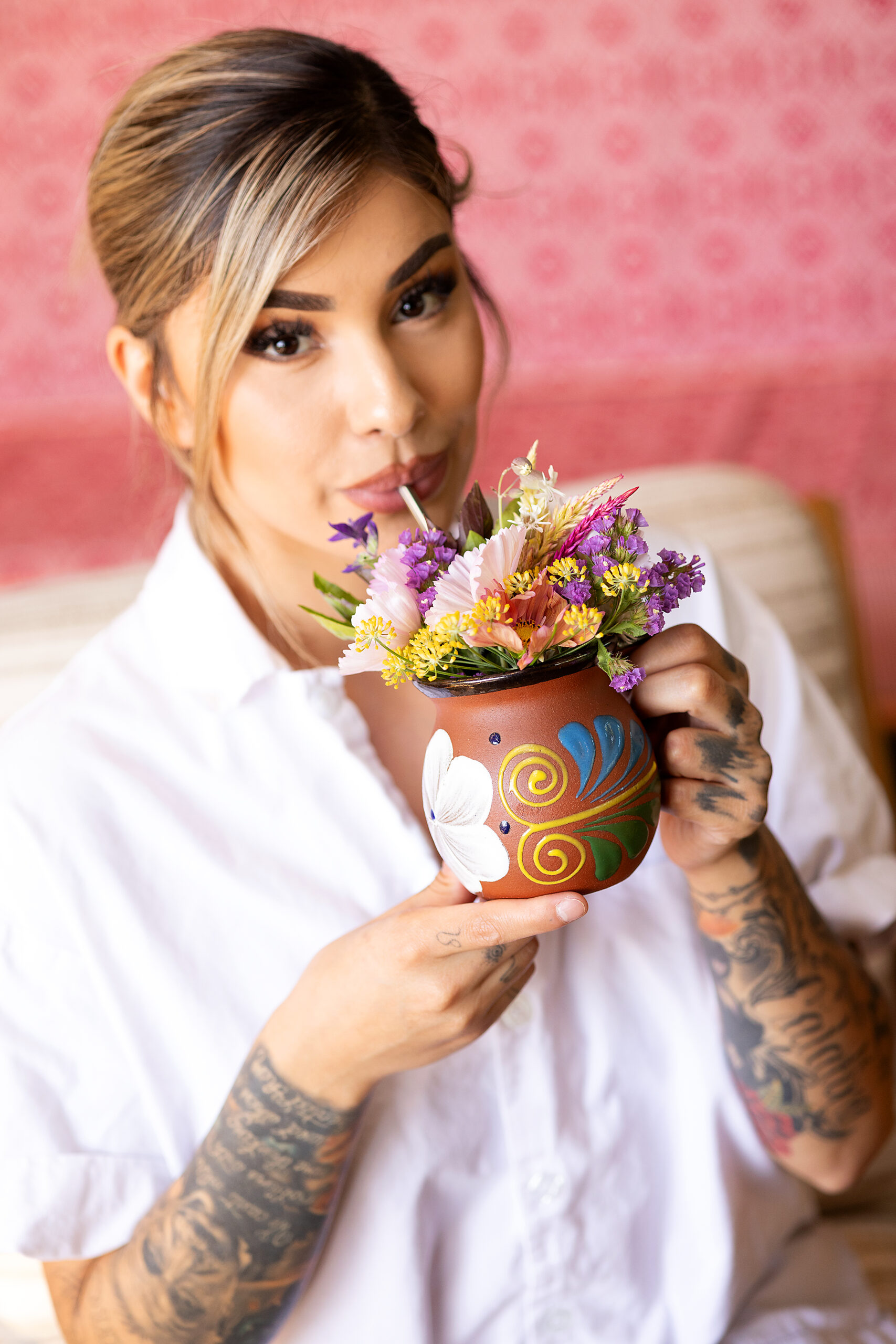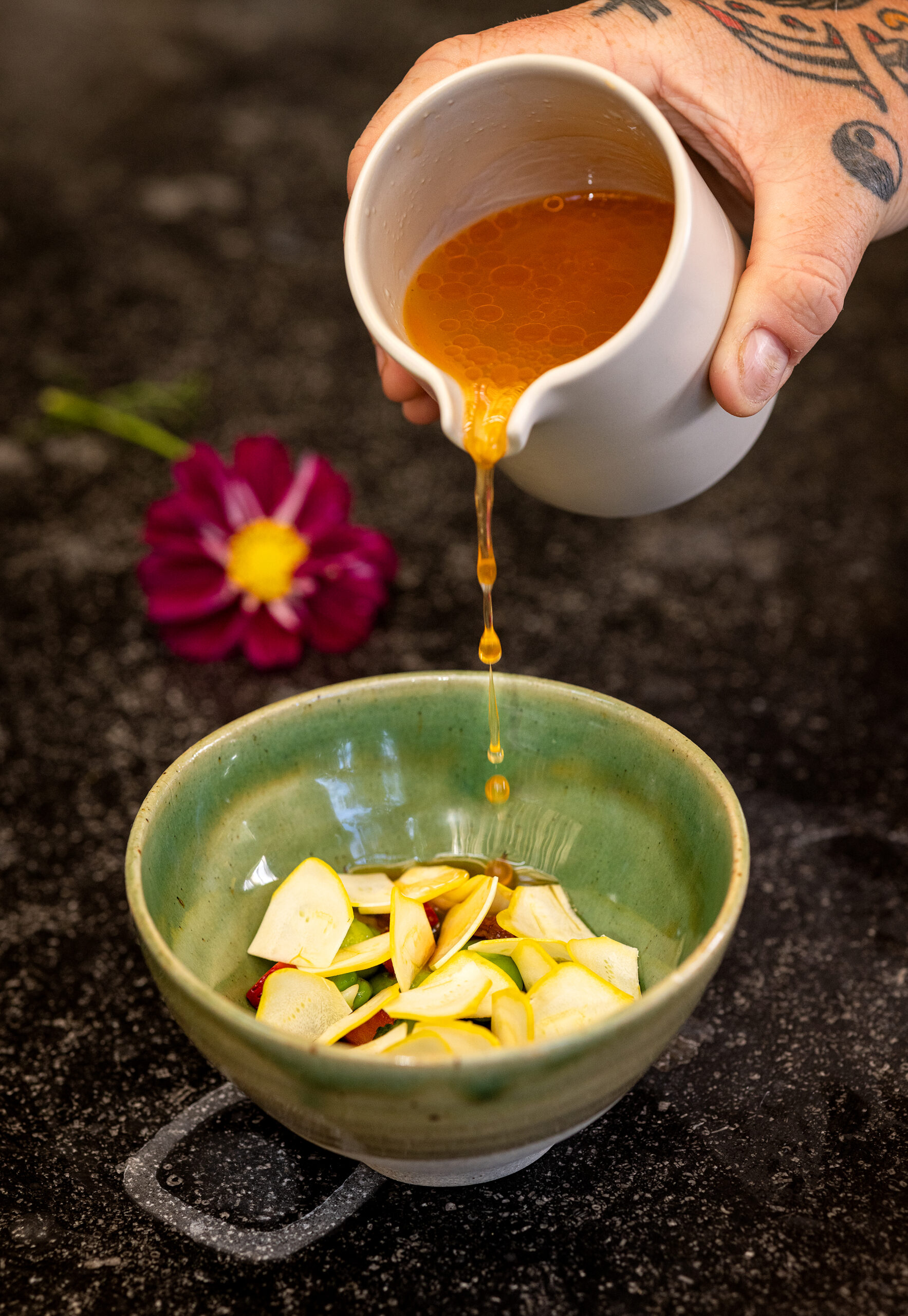 You don't spend years working at Noma without some serious passion for breaking ingredients down into their simplest components. Stalker and his team can spend hours—sometimes days—transforming humble fruits and vegetables into something magical. For example, late-summer greens and herbs from the farm hide three types of dressing, including walnut and chamomile.
And a tomato isn't just a tomato—it's what a tomato dreams of one day becoming, and you dream of one day eating.
The meal begins with the Welcome Bouquet, a drink served in a vase of flowers.
Guests are meant to sip the nectar, like a honeybee, through a straw hidden among the blooms. It's hilarious to watch people navigate their lips into the bouquet, searching for the straw, and it smells lovely. (Later, you'll receive the bouquet as a parting gift.)
The setting, with views of the open kitchen and out over the patio, is intimate without being awkward. A collection of bistro-style banquettes and center tables are moved aside to host weekly live music events and other gatherings. So sure—go all food nerd if you like, but you can also simply enjoy a lovely meal at Stalker's imaginative restaurant. The point is, after all, just to eat.
25 North St., Healdsburg. 707-433-8207, littlesainthealdsburg.com
Marvin's BBQ & Deli
There are two ways you can know you've arrived at Marvin's. The first is you'll smell the fragrance of smoke and meat wafting through the parking lot.
The second is you'll see Marvin himself, slicing a juicy tri-tip behind the counter and sporting hot pink stripes through his beard.
His unmistakable silhouette is on a giant sign outside.
Marvin's is part sandwich deli, part barbecue restaurant, and part bottle shop operating out of a former liquor store that owner Marvin Mckinzy and business partner Vikram "Sunny" Badhan (owner of Wilibees Wines & Spirits in Santa Rosa) remodeled over the past year.
Mckinzy has spent a lifetime loving and learning the art of barbecue, starting with his stepfather's backyard grill in Kentucky.
As a kid, he was encouraged to help with steaks and simple meaty fare, instilling in him a perfectionist passion for barbecue. "I'm from the South. But in California, I've learned a lot of things. I call my style 'blended barbecue,' going back and forth with different things," he says.
Marvin's BBQ & Deli offers Mckinzy's signature tri-tip, pork ribs, pulled pork, and barbecued chicken alongside jalapeño cornbread and pies from a local baker.
His baked beans, inspired by his stepfather's recipe, are sweet, smoky perfection. He uses Short Momma's Barbecue Sauce, made in Santa Rosa.
If you see a police car or fire truck in the parking lot, don't panic. The local first responders are currently competing to see who can eat the most barbecue. So far, the firefighters are winning, but Mckinzy is still holding out hope for the police. "It's a little friendly competition," Mckinzy said. "I like to keep things exciting."
495 S. Main St., Sebastopol. 707-861-9623, marvinsbbqanddeli.com