More than a decade into growing a mysterious, subterranean crop, Fran Angerer is all too familiar with the roller-coaster ride of emotions every newbie truffle farmer endures. "The beginning is truffle fever," says Angerer. "It's like gold, it gets in your blood."
"Then there's truffle hope," he adds. That's when you have the recurring dream of harvesting the prized fungus, which can command more than $1,000 a pound. Even though you've been warned that the earliest you might find your own dirty, pungent lump of joy is five to 10 years after planting inoculated trees, you can still dream. But then come the truffle troubles, or maybe it's the truffle blues. "It wakes you up in the middle of the night," says Angerer. "You're thinking, 'Am I crazy?'"
Fellow truffle grower Karen Passafaro has lived through all the stages. "At some point, you get truffle envy," she says. "You see other farms producing, and you're thinking, 'Why not me?'"
But, when (or if?) you finally hit the motherlode, it's pure truffle ecstasy. "I can't explain it. I've never had a feeling like it before," says Angerer, owner of the Alexander Valley Truffle Company in Geyserville, reliving his first jackpot in 2021. His whole family— sons Seth and Nathan and wife Robin—were hugging crying and jumping up and down in their orchard, celebrating the 5-ounce black truffle unearthed by Seth and his prized dog, Leo.
The high-stakes drama that is truffle harvest kicks off in late November and early December, as eager teams of dogs and handlers set out to hunt the elusive Périgord black truffle once again in orchards all over Sonoma County. Almost every other harvest has come and gone—apples have long since fallen, hops are off the bines, grape juice is in barrels and tanks. But the most enigmatic crop of them all, is fruiting underground—or at least that's the dream.
"You could be standing on top of this amazing treasure, but you have no idea," says Passafaro, her dog Alba tugging at the leash as she walks through the family orchard, what the French call a "truffière," north of Santa Rosa.
Truffles are the fruit of a fungus that grows underground, living symbiotically off nutrients siphoned from the roots of trees, forming a spiderlike web of mycelium deep in the soil. The Greeks believed they magically formed where lightning struck the ground beneath certain trees. The Egyptians considered them a delicacy, especially drenched in goose fat. The fungi are believed to have been first found in the wild in Europe, especially in the Périgord region of France and the Piedmont region of northern Italy, where stealthy woodsmen and scavengers schooled in the art of truffle hunting whispered their secrets. Some used pigs to root out the buried treasure—but the pigs also like to eat them, spawning jokes about nine-fingered truffle hunters.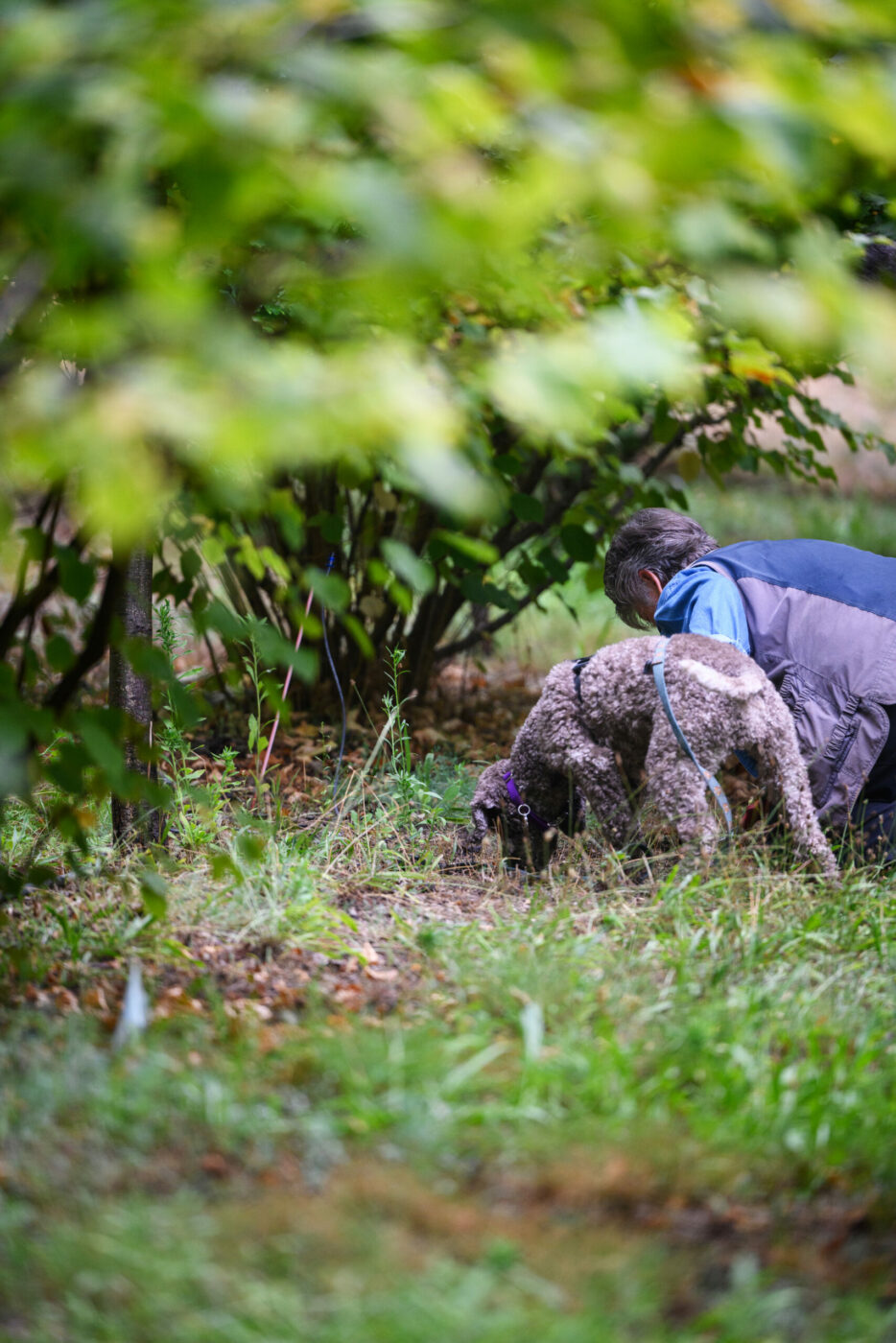 These days, a breed of Italian water dog known as the Lagotto Romagnolo is the world's most revered working truffle hunter. Costing as much as $10,000 each, they're the loyal companions you see alongside their elderly Italian owners in the cult-favorite 2020 documentary "The Truffle Hunters." As pups, they learn to recognize the scent of truffles from birth, trained by handlers who have been known to soak the mother dog's teats in truffle oil.
The umami-rich taste and super-fragrant odor of truffles is often described as "musky" or "earthy" or even "intoxicating." Some give off a hint of garlic or pineapple. Most people only glimpse a truffle at a fancy restaurant, where ceremonial tableside shavings can cost as much as the entrées they top.
Of the various species, the white truffle, Tuber magnatum , is the most prized. Growing wild in the Piedmont region of northern Italy, it can fetch as much as $4,000 a pound. Native to southern Europe, the Périgord black truffle, or Tuber melanosporum, is now widely cultivated around the world by inoculating the roots of oak and hazelnut trees with truffle spores. Farmers in Australia and New Zealand have been very successful at growing what chefs call "black diamonds." In parts of the United States, the soil and climate are touted as promising for truffles—but the field is still very much in the early, pioneering stage, similar to where wine grapes were more than 75 years ago.
On this day, Karen Passafaro, her husband Jim, and their 7-year-old fluffy Lagotto Romagnolo, Alba, are on the hunt for the Burgundy truffle, which appears in early fall. Fran Angerer and his wife Robin have brought their two dogs, Tuber and Bella, along for the chase. The couples met at the Oregon Truffle Festival more than a decade ago. Each was looking for a new challenge—or, as Fran jokes, "It's a race to see who can go broke first."
Passafaro, now president of the North American Truffle Growers Association, had never tasted a truffle until she and Jim attended a truffle festival on a whim. In 2014, the couple, retired after decades in the medical device industry, planted 600 trees—inoculated by Oregon truffle scientist Charles Lefevre—on the same Santa Rosa property where Karen's grandparents once lived.
Fran Angerer, an electrical engineer by training, and his son Nathan got the truffle bug after reading stories about them. "It's basically the world's most expensive food," says Nathan Angerer. "It's just so mysterious when you start looking into it—the lore of it going back a thousand years. It was thought to have mystical powers and it was an aphrodisiac. We thought, 'Why can't we do that?'" His brother Seth Angerer says he barely knew what a truffle was at the time. "I thought it was pretty nuts, to be honest," he recalls.
In 2012, after doing soil tests all over Sonoma County, the Angerers bought a plot in Geyserville near the Russian River for their Alexander Valley Truffle Company, ripping out 10 acres of grapes once crushed for Silver Oak and planting inoculated hazelnut trees. They're also farming Bianchetto truffles or "whitish truffles" (not to be confused with the rare white truffles from Italy) on 1.5 acres outside Healdsburg.
Back at the Passafaro ranch, Karen Passafaro is wearing her special hunting vest, a purple "Got Truffles?" T-shirt, and a pair of tactical pants with pouches for knee pads—her most important piece of gear, she says. Everyone has walked through a bleach bath to prevent the introduction of outside spores and contaminants into the orchard. The eager dogs—Tuber, Bella, and Alba—each wear colorful vests emblazoned with their names. Once the vest goes over their head, says Passafaro, the dogs transition into work mode. Alba's vest is purple, matching Passafaro's shirt.
The gate opens and the dogs dive in, noses to the ground, pulling their owners in a winding maze through the interplanted rows of hazelnut and oak trees, occasionally circling back briefly before heading off in a different direction. There's no wind, which is ideal for catching a whiff of the truffle. But the ground seems too dry and packed firm. The Passafaros recently decided to switch back to drip irrigation, after trying broadcast sprinklers—the theory is that the truffles need more moisture and have a hard time growing in soil that is too compact. Recent soil tests conducted by a Spanish truffle consultant indicate "we're not quite where we want to be," says Jim Passafaro.
But there are some promising signs. The first clue Karen Passafaro points out is the prevalence of brûlé, or burnt rings of dead grass around many of the trees. It's an age-old indication that truffles may be forming underground. She and Alba zigzag pass a hazelnut tree with a small orange flag hanging from a branch, signaling where the Passafaros found their first and only truffle in June 2022— eight long years after they first planted their trees.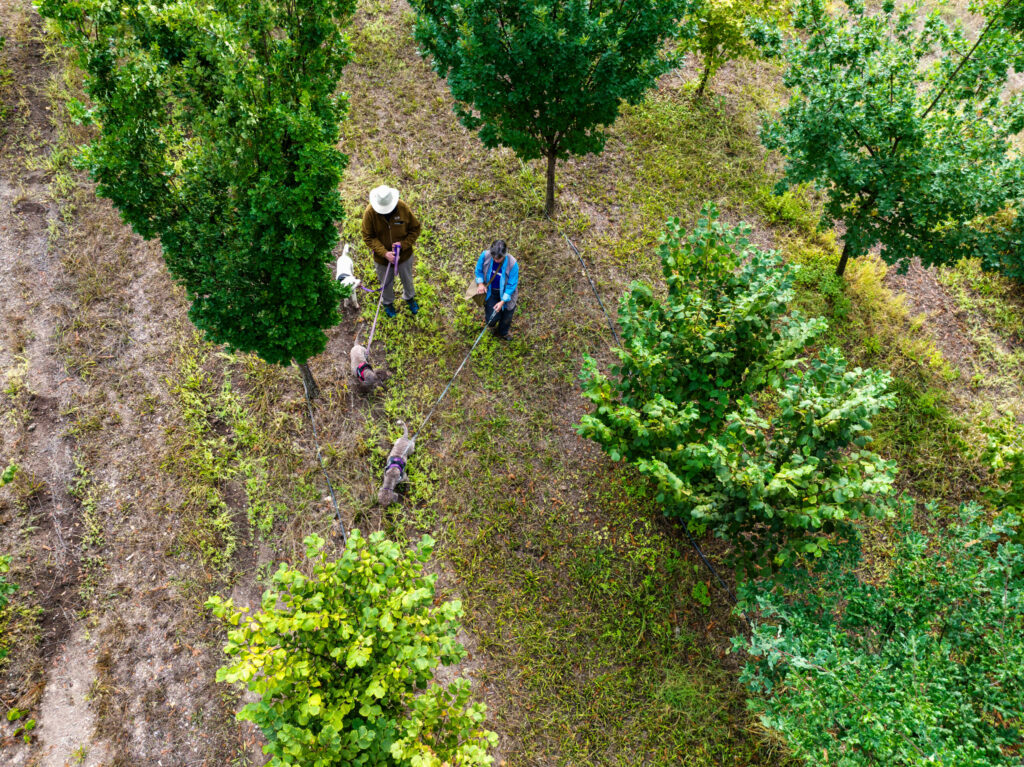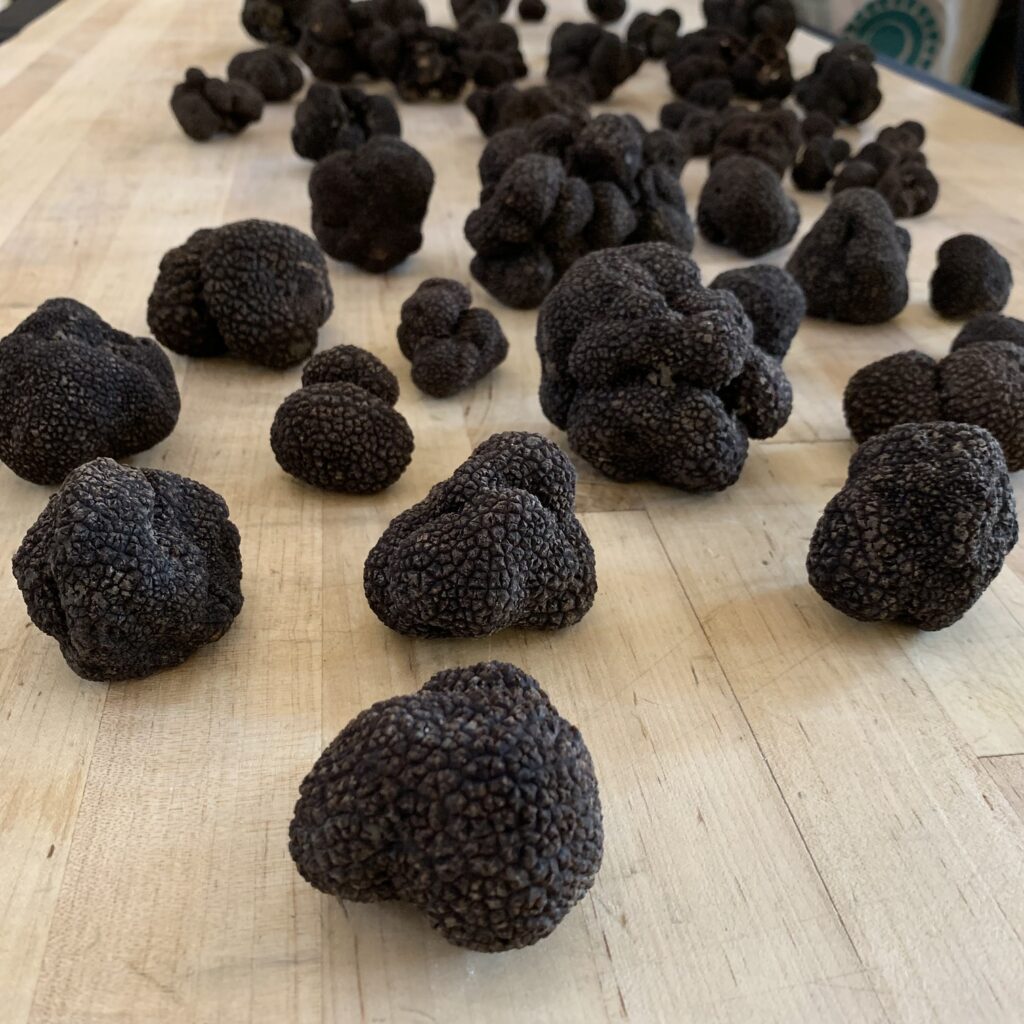 Throughout the orchard, small blue flags indicate where Alba has marked in the past. A few rows over, Tuber marks a spot and Fran asks Karen to bring Alba over to check it out. At the moment, Alba is busy chewing what's "probably rabbit poop," says Jim. When she's done, Karen leads her over, repeating, "Check it, check it!" and Alba immediately keys on the same spot Tuber noticed. Karen gets down on her hands and knees and sticks her nose in the hole, taking several big whiffs.
"It smells like dirt, but I don't know," she says. "I'm not getting a strong truffle scent, but it's something different." They take turns smelling and digging, Karen with a trowel and Alba with her paws. But there's nothing to unearth. Still, Alba gets a treat for trying, scarfing down a piece of homemade baked chicken.
A few minutes later, Passafaro is down on her hands and knees again at a different tree, her nose six inches in the earth, taking long draws before she digs out a dirty nut-shaped clump about the size of a gum ball.
"Is that a native or a hazelnut?" she asks, washing it in a bowl before handing it to her husband. Jim takes out a pocketknife and slices off an edge of the outer shell. "Look at the color of the gleba," he says, holding it up to show the veiny, marbled inner flesh.
He hands it to Fran Angerer, who holds it up to his nose. "Oh yeah, that's a truffle. It might not be the one we're looking for, but it's a truffle."
It turns out it's a native truffle known as Tuber quercicola. It's not a prized European variety like the Périgord or the Burgundy truffle. But if they had enough of them and a local chef was inspired to create a dish around them, they might be able to sell them. Karen puts it in her bag and moves on.
The North Coast region has some prior history with the elusive fungus. More than four decades ago, Santa Rosa financier Henry Trione caught truffle fever while gallivanting around southern France and northern Italy. Upon returning home, Trione and his buddy Ralph Stone mounted an all-out search for truffles beneath local native oaks. They hired a pig hunter to kill nearly a dozen wild hogs and sent their stomachs to an Oregon fungal expert, who identified a truffle among the stomach contents. Eager to strike it rich, they imported two Lagotto Romagnolos and leased truffle hunting rights to thousands of acres of forest, mostly in Mendocino County. The New York Times wrote about their inaugural California Truffle Congress in 1975, and the friends' obsession inspired a few comic strips by cartoonist Charles Schulz. Unfortunately, the efforts never amounted to much in the way of actual truffles.
But the two friends may have piqued the interest of Laytonville farmer Bill Griner, who planted a grove of hazelnut trees in 1982 and discovered his first truffle in 1987—what is widely believed to be the first Périgord truffle cultivated in North America. Griner's company, Mendocino Black Diamonds, was harvesting as many as 50 pounds of truffles a season before Griner died in 2008.
Picking up the mantle, Jess Jackson of Kendall-Jackson planted 3,000 inoculated oak and hazelnut trees in 2011 in a top-secret, 10-acre Sonoma County location, which began producing truffles in 2017. Today, it is by far the region's most successful truffle operation, pulling in as much as 65 pounds in a single harvest. About a third of the booty goes to the Bay Area restaurants on their waiting list (Birdsong, Che Fico, Saison), a third is prepared by the Kendall-Jackson in-house culinary team, and the rest goes back into the soil to inoculate future truffles.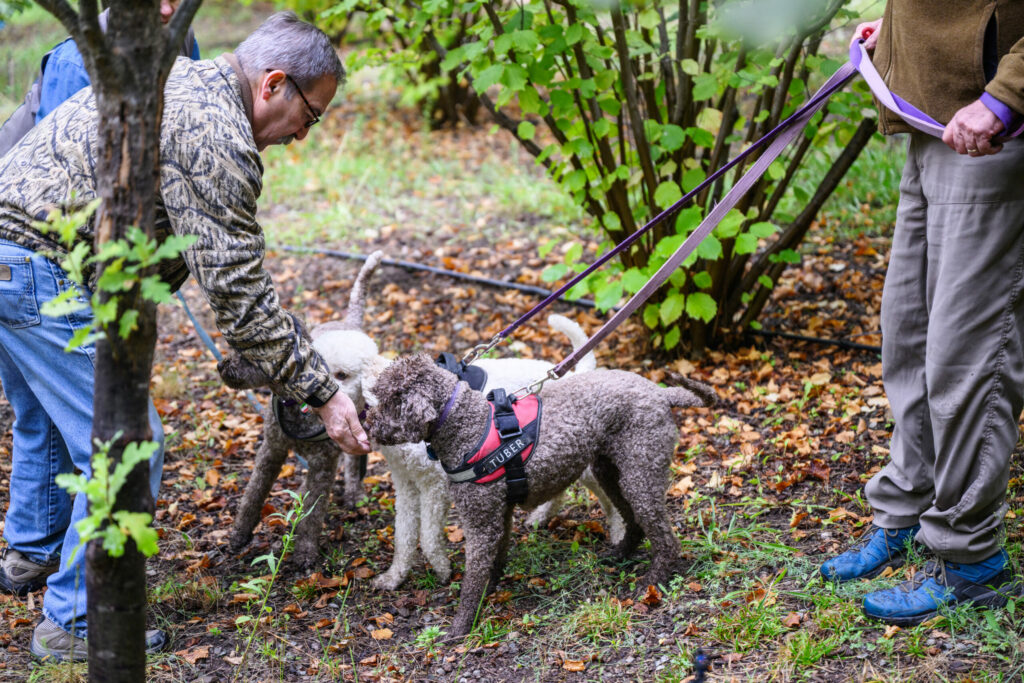 This December, trained dogs will be sniffing their way through more than 15,000 trees in Sonoma, Lake, Mendocino, and Napa counties. The largest orchard in California is near Upper Lake, where Piedmont residents Fabrice Caporal and his wife Claudia Medina-Caporal have invested over $1 million planting 3,600 inoculated trees on 26 acres in 2018 and 2019. Along with their Brittany spaniel, Tartine, the couple is hoping this might be their farm's first productive season.
"If we find a truffle, I know there will be tears," says Medina-Caporal. So far, their biggest challenge might be gophers, which they blame for the loss of 200 trees the first year. They've hired a full-time gopher wrangler, who traps around 1,200 of the ravenous rodents every few months.
At Rossi Ranch in Kenwood, Sandy Otellini, widow of former Intel CEO Paul Otellini, is hoping Jackson, her highly trained 3-year-old Lagotto Romagnolo, will track down his first truffle this year. Since planting in 2011, Otellini has found two truffles—a black Périgord and a Burgundy.
At Healdsburg's Montage resort, it might be too early to harvest truffles beneath the 400 recently planted hazelnut trees, but Lagotto pup Beau is already in training. Alongside guest activities like swimming, archery, and pickleball, "truffle hunting" is listed as "coming soon."
This year, Tucker Taylor, director of culinary gardens at Kendall-Jackson, is eager to see how last winter's heavy rainfall will affect the haul in the orchard.
But he's even more excited to see how his two new Lagottos will take to truffle hunting. In recent years, the Angerers' dogs have found dozens of Kendall-Jackson truffles. This year, Tito, a 2-year-old male, and Tira, a year-old female, will join in the field. "My gut is she's probably going to be the better truffler," says Taylor, showing off Instagram photos of both dogs.
"She's the alpha, not that it matters, but she's just more focused."
Then there are the cautionary tales, the farms hardly gearing up for this winter's harvest. In 2013, San Francisco tech executives Matt Hicks and Harshal Sanghavi bought a ranch in Bennett Valley that had a 10-acre orchard already planted with 1,900 inoculated hazelnut trees. Eager for a new challenge, they set out as novice truffle farmers, comparing notes with others, amending the soil with large amounts of vermiculite imported from out of the area, and carefully numbering each tree to chart results over time. But a decade later, they're no longer cultivating truffles.
Out in the Carneros, Robert Sinskey Vineyards will only run dogs through the orchard "on an occasional basis" this season. After 13 years, it's been a total bust. So far, the only clue owner Rob Sinskey has uncovered is "a hint of truffle aroma next to a gopher hole."
"I got caught up in the fantasy," he admits. In 2010, he signed on with American Truffle Company, which helped him plant 600 trees, inoculated for black and burgundy truffles, on his southeastern Sonoma County property. The ATC business model is like a client partnership: ATC helps to plant inoculated trees and maintain the orchard. In return, if any truffles are found, ATC will act as a broker and keep around 30 percent of the harvest. Otellini also partnered with ATC, as have several wineries in Napa, including Raymond Vineyards, Peju Province Winery, and Hermosa Vineyards, where Todd Traina replaced 2.5 acres of Cabernet Sauvignon with inoculated trees.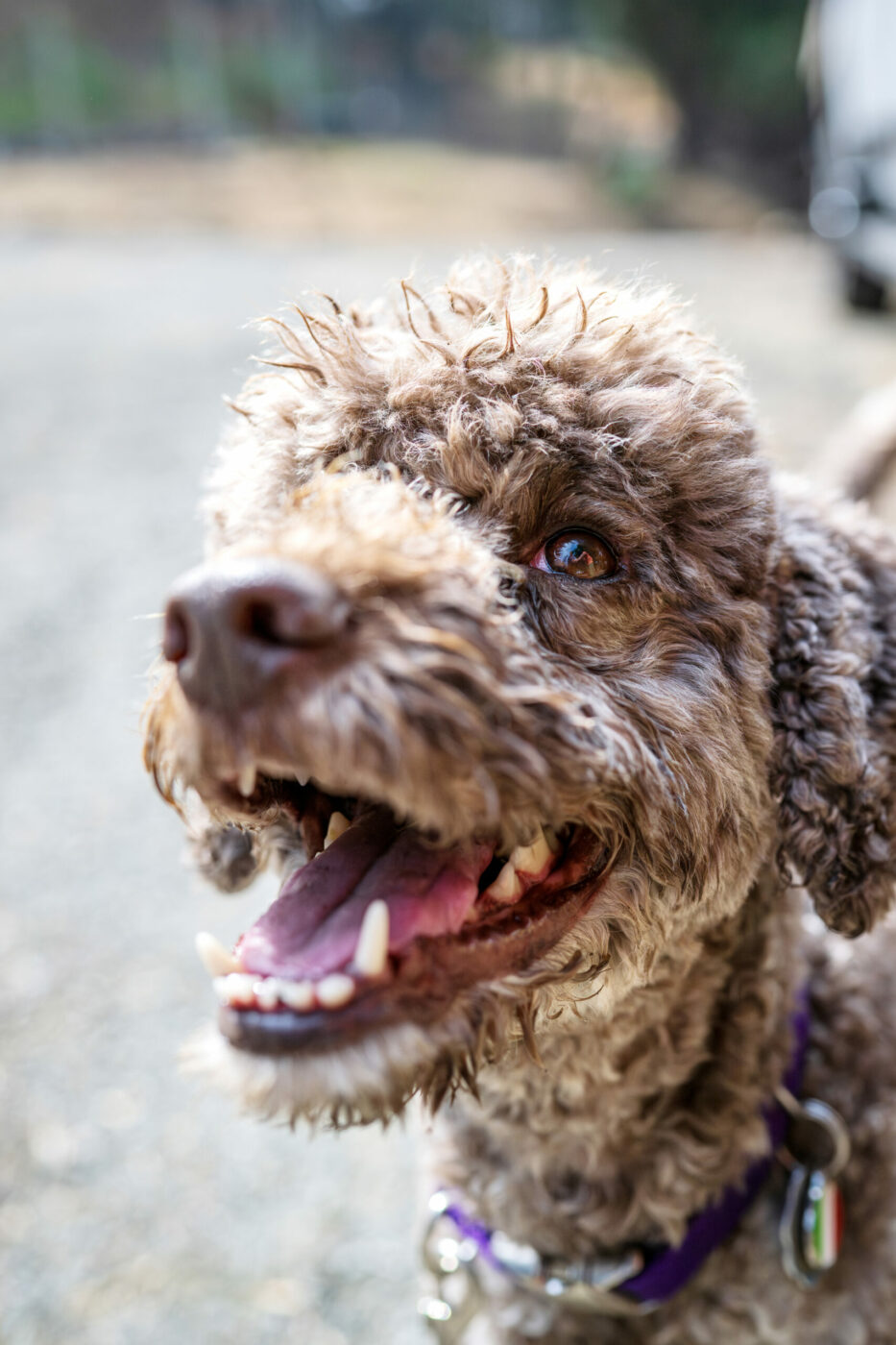 In 2013, Sinskey's orchard was featured at the Napa Truffle Festival, an event created and produced by ATC to raise awareness and celebrate all things related to truffles. Riding the hype, more than a dozen articles were written about Sinskey's truffle venture, with quotes from chefs salivating over the potential for American truffles. But as the years passed, despite cultivating what he thought was "a healthy mycorrhizal population" underground, he began to realize that perhaps his soil didn't have quite the right texture for truffles.
"It was an experiment that just didn't work out," he says. At least he still has a sense of humor about it. "My wife always referred to it as 'Rob's Folly,' and I was always hoping she'd be eating truffled crow, but it just never occurred."
It may be a lesson for those who leap into the truffle business hoping to strike it rich. Fran Angerer estimates he's invested more than $250,000, buying properties in Geyserville and Healdsburg specifically to plant truffle-inoculated trees, hiring foreign consultants, investing in imported Italian tractors, installing new irrigation, and traveling as far as Australia and Europe to glean tips from other farmers. "That's a low estimate," he adds a few days later, still pondering his outlay while out hunting with the Passafaros for Burgundy truffles.
Back at the Geyserville farm, Fran Angerer gives a tour of what he's calling "The Sonoma County Truffle Experience." He's realizing that agritourism might be a good side hustle for the time being, until the orchards become more productive. At least it might help pay property taxes.
His son Nathan told him he shouldn't offer tours until they found truffles on the property. But now, with three truffles under his belt, he's ready to take people behind the scenes. In a repurposed barn, he's assembled displays of everything truffle: photos, cookbooks, a wall of newspaper and magazine clippings, truffle-themed art, "I Dig Truffles" bumper stickers—even a microscope where guests can get a closer look at truffle hyphae, the tentacles that latch onto tree roots.
Part of the tour includes truffle hunting with his dogs as they run through the orchard searching for pre-buried targets doused in truffle oil. Later that afternoon, Tuber will find a truffle-scented wine cork in minutes flat. "Did you see how she did that?"
Angerer says. "She knew it was there. She marked it and then looked up at me—I say she smiles when there's really something there."
Looking forward to the real thing this upcoming harvest, he says, "We're hoping to at least double our production again." Last year, it was two truffles. This year, maybe four?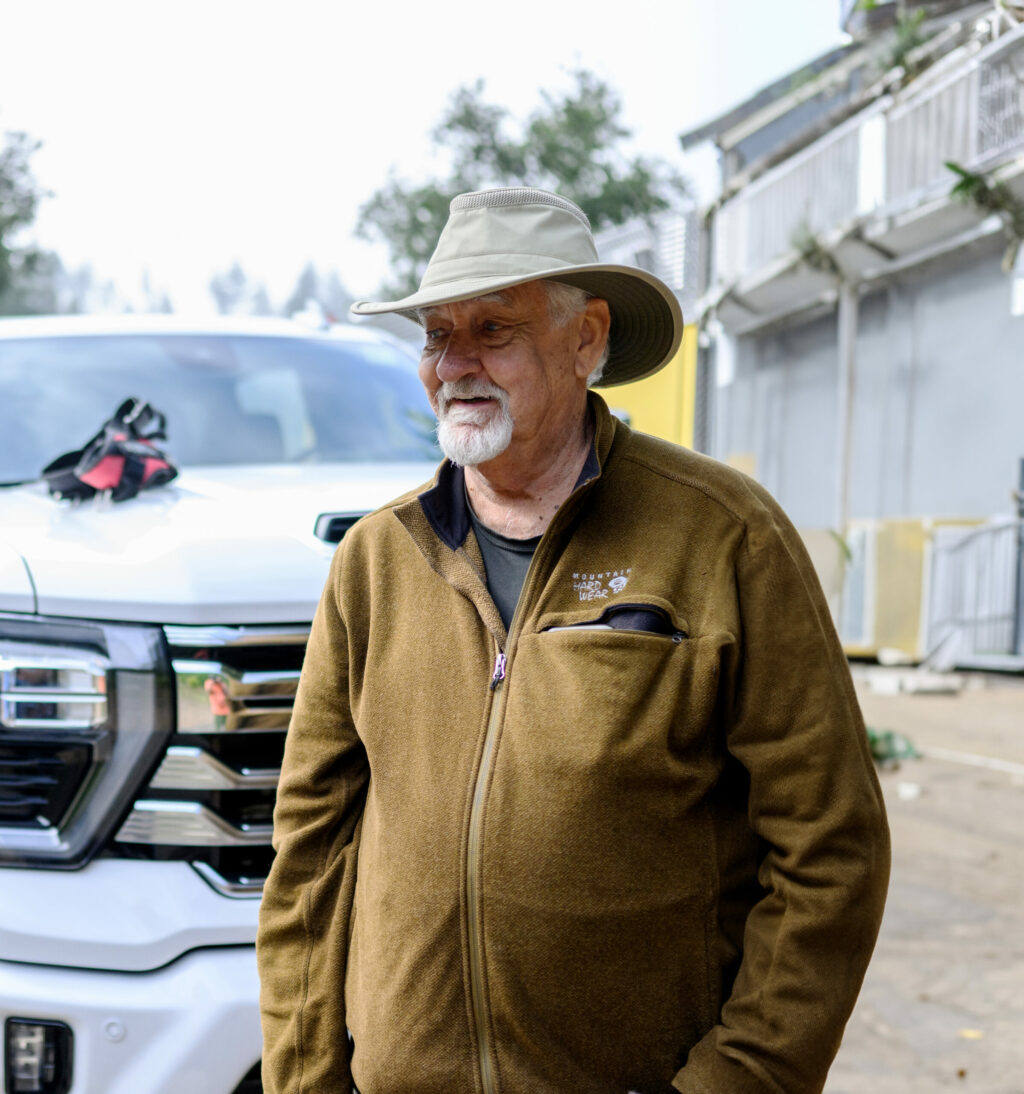 Angerer knows truffle farming remains a bit of a crapshoot, a manic pursuit riddled with fool's gold, hungry gophers, contrasting opinions, and very little scientific data. It remains easy to go from truffle blues to truffle delight at the drop of a hat. Fran's son, Seth, has lived it. Two years ago, he was playing mind games with himself. It had been nearly a decade with no hits. Meanwhile, he and his loyal dog Leo had been digging up dozens of truffles at Kendall-Jackson. If he had truffle envy, he wasn't aware of it. But he was aware of how frustrated he'd become—a severe case of what his father calls "truffle troubles."
"I'd gotten to the point where I told myself, 'I'm just gonna take the dogs for a walk. I'm not going there to find a truffle. I'm not hunting,'" Seth recalls. "Because then it leads to a lot of disappointment and frustration and it's no fun."
On a cool fall day shortly after Thanksgiving, Leo pulled Seth Angerer 13 rows across his family's Geyserville orchard. He was hot on a scent. Not far from the base of a hazelnut tree, he sniffed every inch of the ground and then zeroed in on a muddy patch, stopping for his telltale mark—one paw pat on the ground before sitting and looking up. Seth reached down and felt the truffle immediately, lurking just below the surface.
"It was like getting a shot of adrenaline in the neck," he says. His hands were shaking and his heart was racing. "I was literally screaming—I hope one of the neighbors heard me. Leo thought I was mad at him, because I kept yelling, 'Oh my god! Good dog!
Good dog!'" "I guess you could call that truffle ecstasy," he says. "That's what keeps you going."
The Sonoma County Truffle Experience: When he's not stalking truffles from December to February, Alexander Valley Truffle Company owner Fran Angerer will host tours and stage mock truffle hunts with his dogs at his Geyserville farm. A group of students from the Culinary Institute of America recently dropped by for a visit. 10 a.m. and 2 p.m. Fridays and Saturdays by reservation. $150 per person. 707-291-8576, avtruffles.com
Napa Valley Truffle Festival: This year's celebration of all things truffle features a trufflegrower seminar at Raymond Vineyards' truffle orchard, a truffle lunch and cooking demo at Bouchaine Vineyards, and a truffle dog demo at Donum Estate. January 12-15, 2024. napatrufflefestival.com
The Truffle Dogs of Sonoma County
Just as Labrador retrievers are masters of duck hunting and Australian shepherds love to round up stray sheep, the curly-coated Lagotto Romagnolo from Italy is the ultimate working dog for truffle rustling.
"They can tune their brain to the scent that they want to find, cancel out all the other scents in the air, and just pay attention to that one scent," says Seth Angerer, who trained his dogs to hunt truffles.
Lagottos can usually hunt for a few hours before they lose interest and start digging for gophers and eating hazelnuts. They also make pretty good family companions—as Fran Angerer likes to say, "They steal your heart, and then they steal your bed." Meet a few of the dogs leading the hunt this December.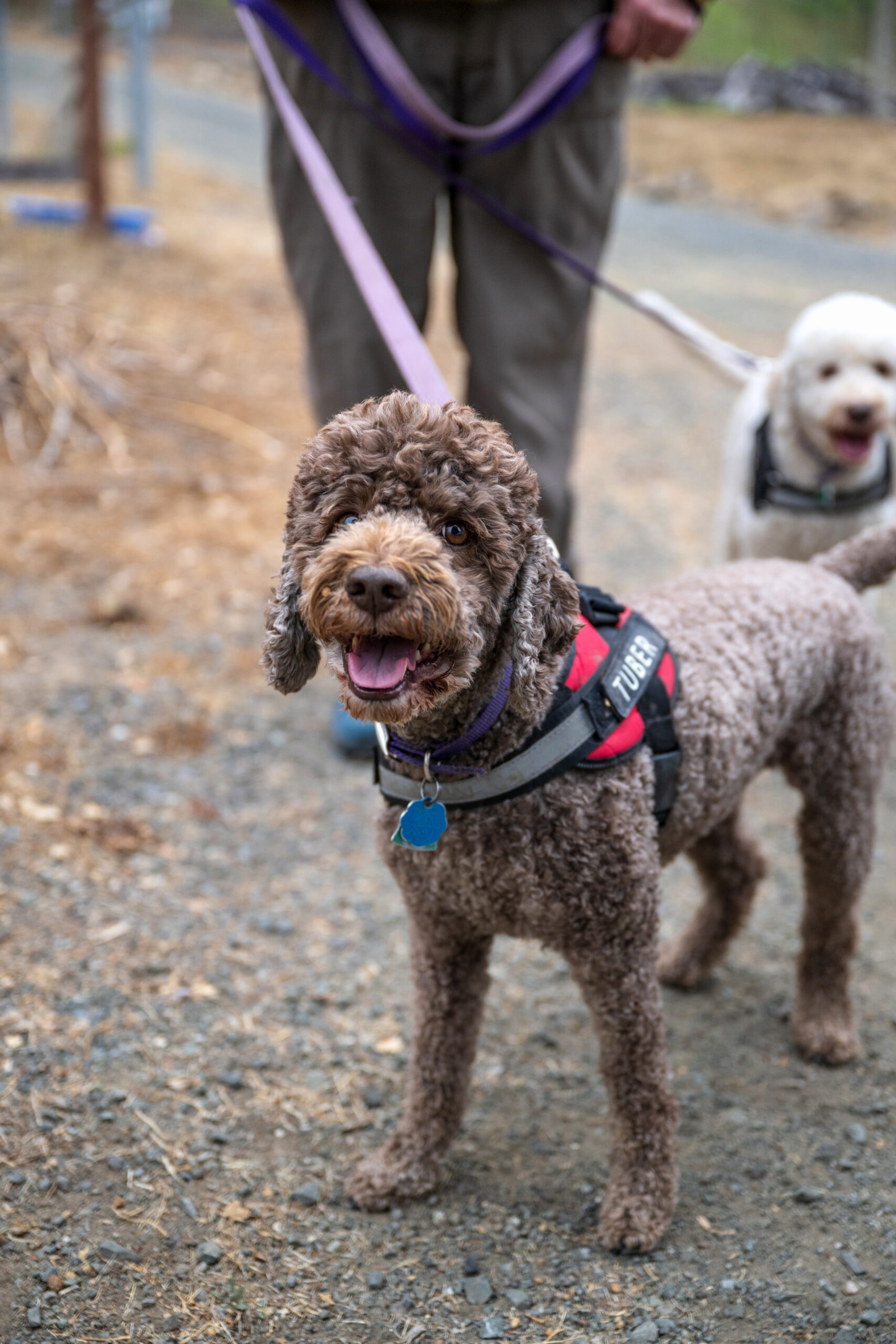 The Mama Bear — Tuber: The 10-year-old mother of Bella and Vito, and a half-sister to Alba, she's been in the hunt from the beginning. "Where's it at? Where's the truffle?" Fran Angerer will ask her, as she roams through the orchard. Tuber embodies a classic Lagotto trait he's noticed: "If they can find a way to work you, they will. They love playing games. That's why they're such good hunters."
The Mama's Girl — Bella: At 5 years old, Bella loves to eat ripe hazelnuts and has become very protective of her mother, Tuber. Bella once found a native truffle while her owners were camping near Fort Bragg. Often, while walking with her mother around Spring Lake, people will mistake the pair for poodles or even doodles.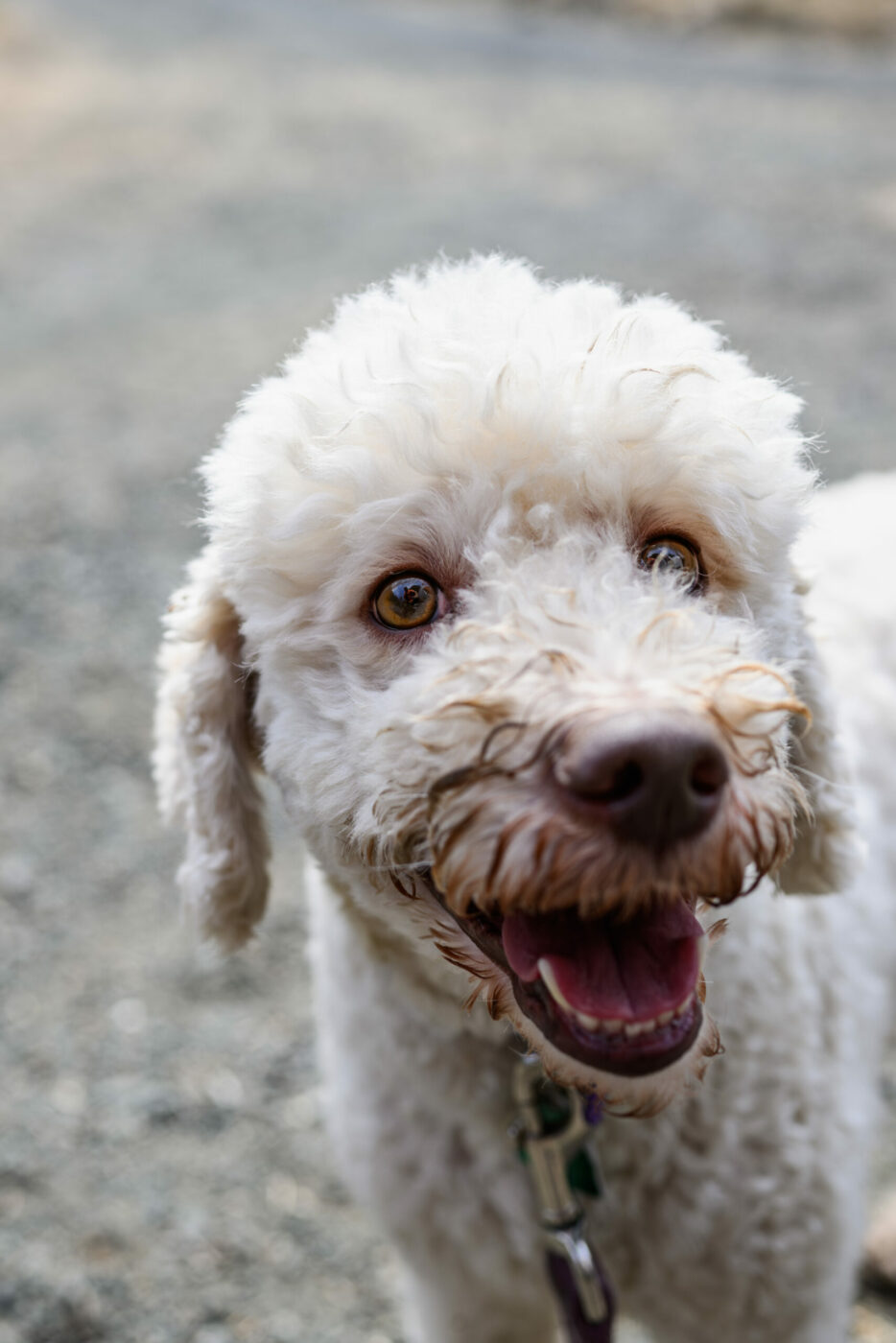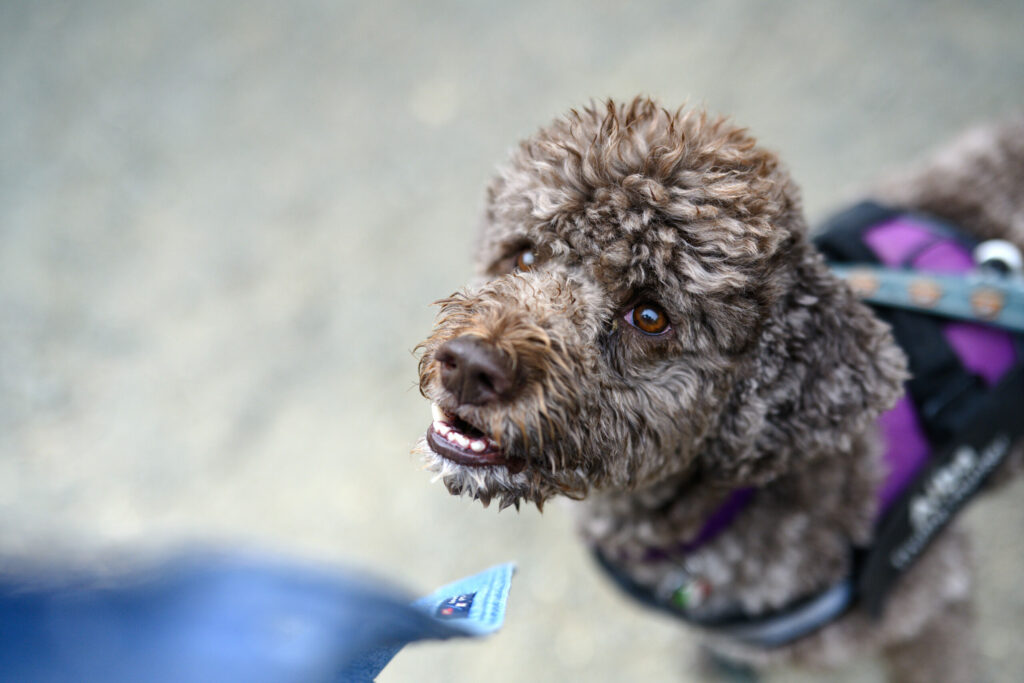 The Social Butterfly — Alba: Named after an Italian town known as the white truffle capital of the world, Alba, 7, unearthed her first truffle last year. A friendly, super-social dog with a happy disposition, 'Alba assumes that every person coming here is coming to see her,' says owner Karen Passafaro. 'That includes all the PG& E employees doing fire prevention work.' Alba spends every Tuesday visiting three different Santa Rosa retirement homes, where she shows off her truffle detective skills for the residents.
The Old-World Master — Leo: Legend has it that his grandfather was a champion truffle dog in Italy. Bred by a Serbian truffle hunter, Leo was gifted as a pup to a Tiburon truffle broker during a visit to Europe. Upon returning to the Bay Area, the broker realized his new puppy was a bit too much to handle. The Angerers rescued him, and Leo quickly became the family's best truffle dog.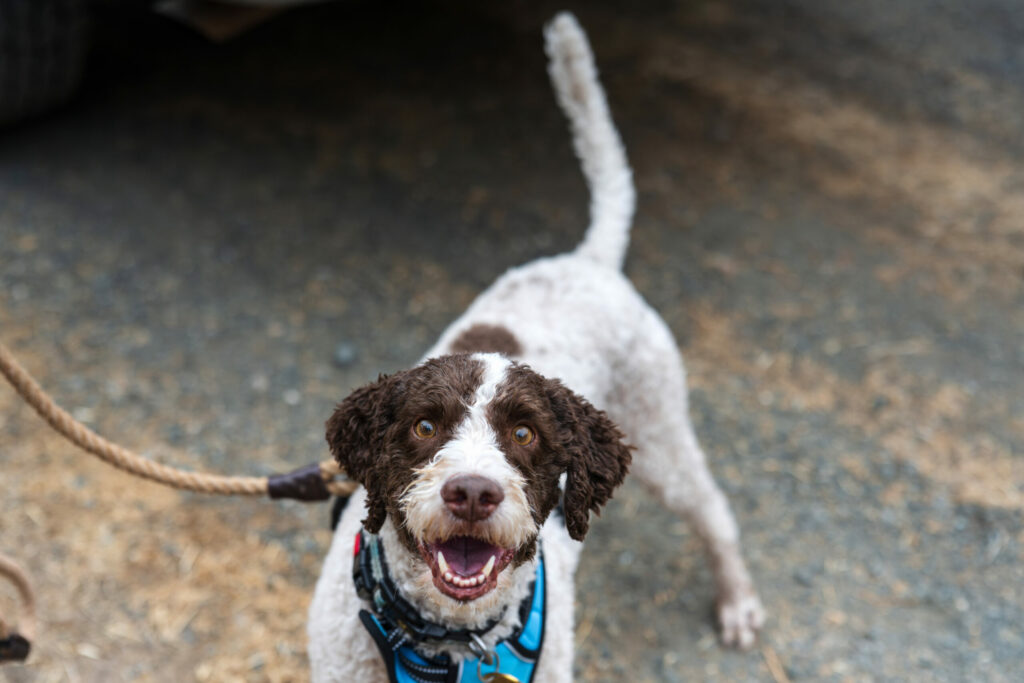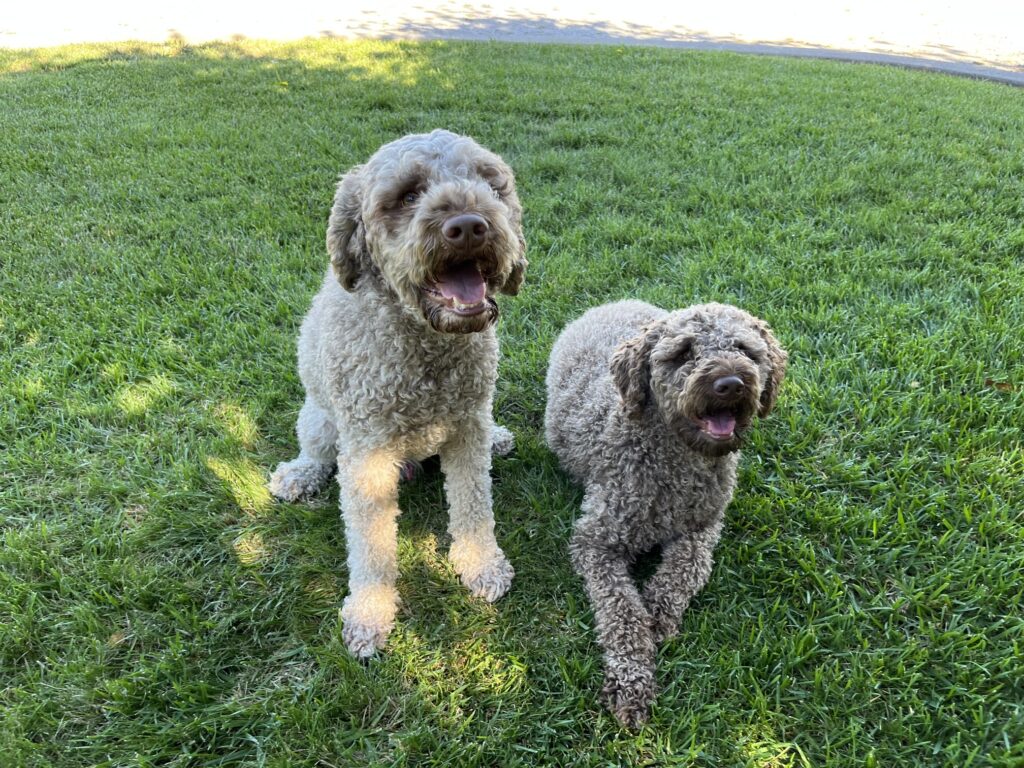 The Rookies — Tito & Tira: Raised by the same breeder, but in different litters, these two win for most likely to go viral. Tito is two years old (with an underbite his owner, Kendall-Jackson's Tucker Taylor, finds "endearing") and Tira (short for "tiramisu") just turned a year old. "My concern with Tito is that he can get distracted –'squirrel!'—and he's gone, whereas Tira is a little bit more focused," says Taylor, who has been training the pair for their big December debut. Follow them on Instagram at #titothetruffledog and #tirathetruffledog.
The Apprentice — Vito: A son of Tuber, this 5-year-old pup has learned the ropes by hunting side-byside with Leo. His training started with backyard objects scented with truffle oil and the target words "Go find it!" and "Where's the truffle?" When he's not hunting truffles, he's busy playing dress-up with Seth Angerer's daughter in the backyard.