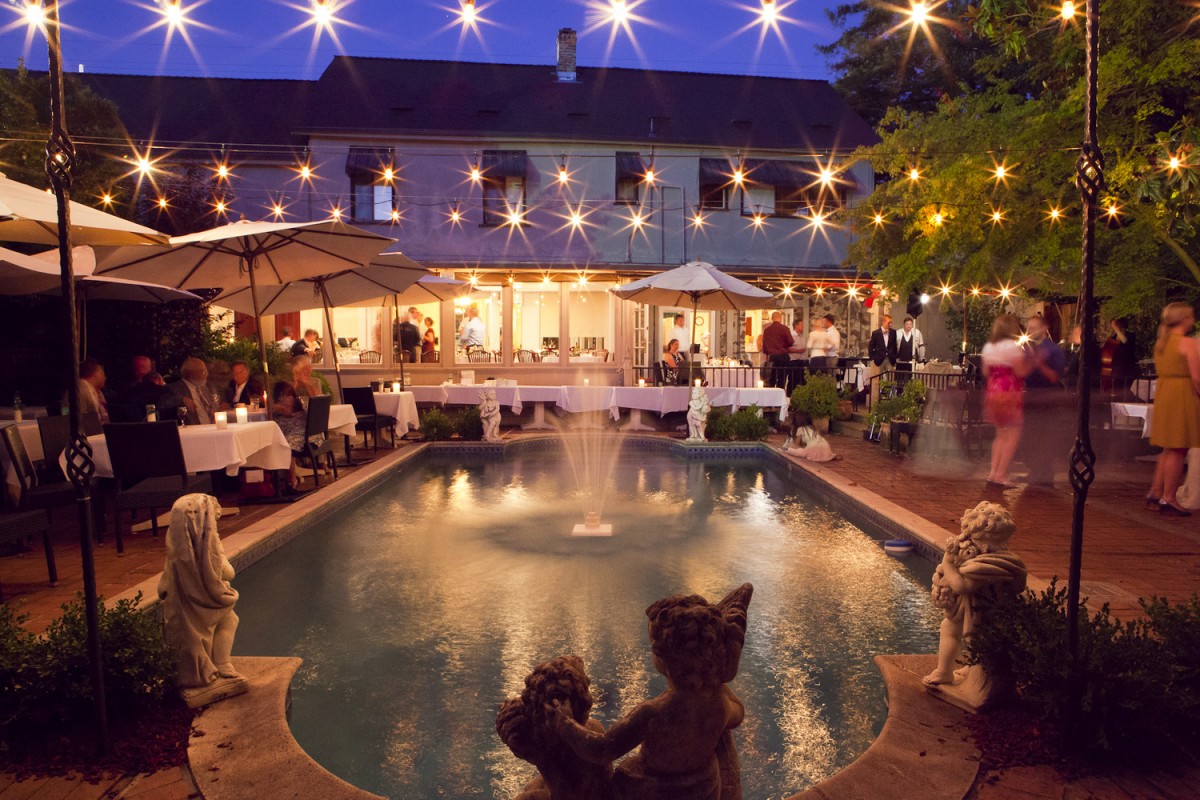 Many people prefer to stay home on New Year's Eve, open a good beverage of choice, cook a fine dinner, and get in bed and watch celebrations elsewhere. And some people set the clock ahead three hours so that when it's 2017 in New York, they can celebrate early instead of waiting until midnight. My late husband Jerry used to call New Year's Eve "amateur night."
Or maybe hang out in a bar of choice that hopefully offers snacks. If you have a favorite place to celebrate, go for it.
Here are some restaurants that have let us know they offer special menus and events, alphabetically.
Breakaway Café will offer its regular menu with a few added specials both New Year's Eve and New Year's Day. No reservations.
Café La Haye will serve a four-course dinner of Dungeness crab bisque, a crispy Portobello mushroom, or beef carpaccio; entrées of braised lamb tagliatelle, grilled Day Boat scallops, or pecorino risotto; followed by sea bass with foie gras, Wolfe Ranch quail, or filet mignon and housemade desserts. Hog Island oysters on the half shell $18 additional. $115. 140 E. Napa St., Sonoma. 935-5994.
Carneros Bistro & Wine Bar offers their regular menu, plus a three-course prix-fixe menu of cauliflower soup or Coke Farms beet salad; a choice of seared jumbo Day Boat scallops with carrot purée and crispy quinoa, filet of beef, or truffled red quinoa with mushrooms, carrots, roast beets and confit shallots. Dessert will be a trio of crèmes brûlée. $65, wine pairings $30 extra. 5:30 to 10 p.m. As well, they will have sparkling wine and oyster and caviar bars in the lobby lounge from 10 p.m. to midnight. 1325 Broadway, Sonoma. 931-2042 or Renaissancehotels.com.
Depot Hotel Restaurant starts off with cauliflower bisque, then choice of butter-poached Gulf prawns, butternut squash "lasagna," or Piedmontese beef carpaccio. Third course brings choice of Dungeness crab cannelloni, halibut, gnocchi with oyster mushrooms, or roast sirloin of beef. Dessert offers their fabulous tiramisu, Manjari chocolate torte, or rum cake with zabaglione. $62. Reserve at 938-2980 Wednesday through Sunday or at opentable.com.
El Dorado Hotel & Kitchen will serve a three-course prix-fixe menu to include Wagyu beef carpaccio with crispy fingerling potatoes, pea shoots, Daikon radish, and truffle aioli, foie gras, salad or cauliflower soup; bacon-wrapped Venison with ginger carrot purée with Walla Walla onions, spinach, sun chokes and cranberry sauce; seafood paella, Steelhead trout, truffle risotto or filet mignon, followed by chocolate crunch tart with almonds and lemon crunch. $75. 405 First St. W., Sonoma. Reserve at 996-3030.
The Fig Café will serve its regular menu plus a three-course tasting menu that includes lobster bisque and veal-wrapped tenderloin of beef ($45). Open New Year's Eve 5 to 9:30 p.m. and from 11 a.m. to 3 p.m. for brunch and regular menu from 3 p.m. on New Year's Day.
Girl & the Fig will be open 8 a.m. to 11 p.m. serving brunch and its regular menu. 110 W. Spain St. 938-3634.
Glen Ellen Star will serve its regular menu and add a whole oven-roasted Dungeness crab and a puttanesca with housemade campanelle.
Ramekins Culinary School offers its NYE Celebration 2017 "in true Hollywood Style. Dress in your glamorous best for an all-inclusive party at Ramekins." Expect beer, wine and champagne, savory bites, a midnight toast, and late night snacks, with music by "The French Connection." $125. 8 p.m. to 1 a.m. 450 W. Spain St. Ramekins.com.
Subscribe to Our Newsletters!