A bowl of hot soup on a chilly day is one of the pleasures of the season. As the aroma of simmering vegetables fills the kitchen, the familiar motions of chopping and stirring feel like moments of grace and self-care. These three recipes are easy to make at home, whether you are cooking for family members or just yourself. Add a blanket, a good book, a glass of red wine or single malt Scotch, and crusty bread for a warm meal to appreciate alongside the sweet sound of welcome winter rains.
Cucina Paradiso's Pasta Fagioli
Chef-owner Dennis Hernandez and his wife Malena serve this classic Italian soup at their delightful Petaluma restaurant, Cucina Paradiso. At the restaurant, they use fresh pasta, cooked separately and added at the last minute. Here we suggest using dried pasta, which also works beautifully.
Makes 4-6 servings.
• 2 tablespoons extra-virgin olive oil
• 1 yellow onion, diced
• 1 carrot, diced
• 1 large celery stalk, diced
• 1 ounce prosciutto, minced
• Kosher salt
• Black pepper in a mill
• Pinch of red pepper flakes
• 8 ounces Borlotti beans, soaked in water overnight and drained
• 1 cup white wine
• 1 bay leaf
• 5 cups chicken stock, plus more as needed
• ⅓ cup extra-virgin olive oil
• 2 garlic cloves, crushed
• 1 sprig rosemary
• 1 sprig sage
• 1 ½ cups (6 ounces) small dry pasta, such as d'italini or tripolini, cooked and drained
• Parmigiano-Reggiano, in one piece
• Small sprigs of rosemary or sage to garnish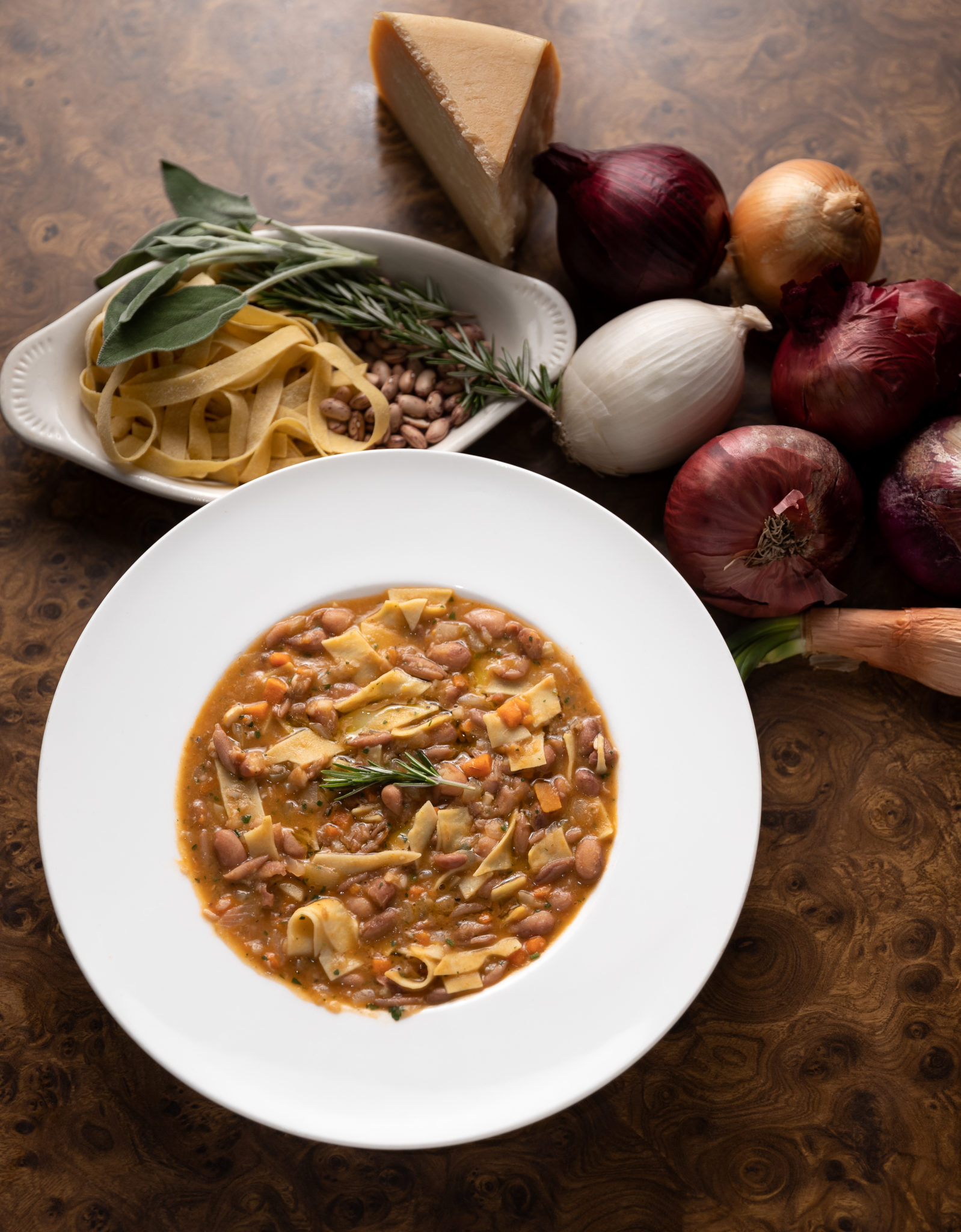 Pour the olive oil into a large saucepan or soup pot set over medium-low heat, add the onion, carrot, celery, and prosciutto, and cook gently until the vegetables soften and release their aromas, about 15 minutes. Stir occasionally and do not let them brown. Season with a few pinches of salt, several turns of black pepper, and a couple of pinches of red pepper flakes. Add the beans and the white wine and continue to cook gently, stirring all the while, for 15 to 20 minutes.
Add the bay leaf and stock and simmer until the beans are tender, about 35 to 45 minutes. Stir occasionally and add more chicken stock, ¼ cup at a time, if the soup gets too thick.
Meanwhile, pour the extra-virgin olive oil into a small pan, add the garlic and herbs, and set over very low heat for several minutes, until the aromas of the garlic and herbs are released. Strain the oil into the soup.
In a separate pot, cook pasta in boiling salted water until it is al dente. Drain thoroughly and return to the cooking pot. Drizzle the cooked pasta with a bit of olive oil, stir, and set aside until ready to combine with the beans.
When the beans are fully tender, remove the pot from the heat, and use an immersion blender to puree about a quarter of the soup.
To serve, stir in the pasta and ladle soup into bowls. Grate Parmigiano-Reggiano cheese over each portion and garnish with fresh herbs.
La Salette's Caldo Verde
Chef Manuel Azevedo has offered a version of Portugal's national soup at his Sonoma restaurant, LaSalette, since 1998. It's also on the menu at his second restaurant, Tasca Tasca, a couple of blocks away just off the downtown Sonoma plaza. With its smoky richness, caldo verde is an ideal winter soup.
Makes 6-8 servings.
• 3 tablespoons extra-virgin olive oil
• 2 carrots, diced
• 1 celery stalk, diced
• 1 onion, diced
• Kosher salt
• 3 pounds smoked beef bones with meat
• 2 garlic cloves, peeled
• ¾ pounds linguiça
• 3 cups thinly sliced collard greens
• 2 to 3 large russet potatoes, peeled, diced, and cooked until tender
• 2 teaspoons freshly ground white pepper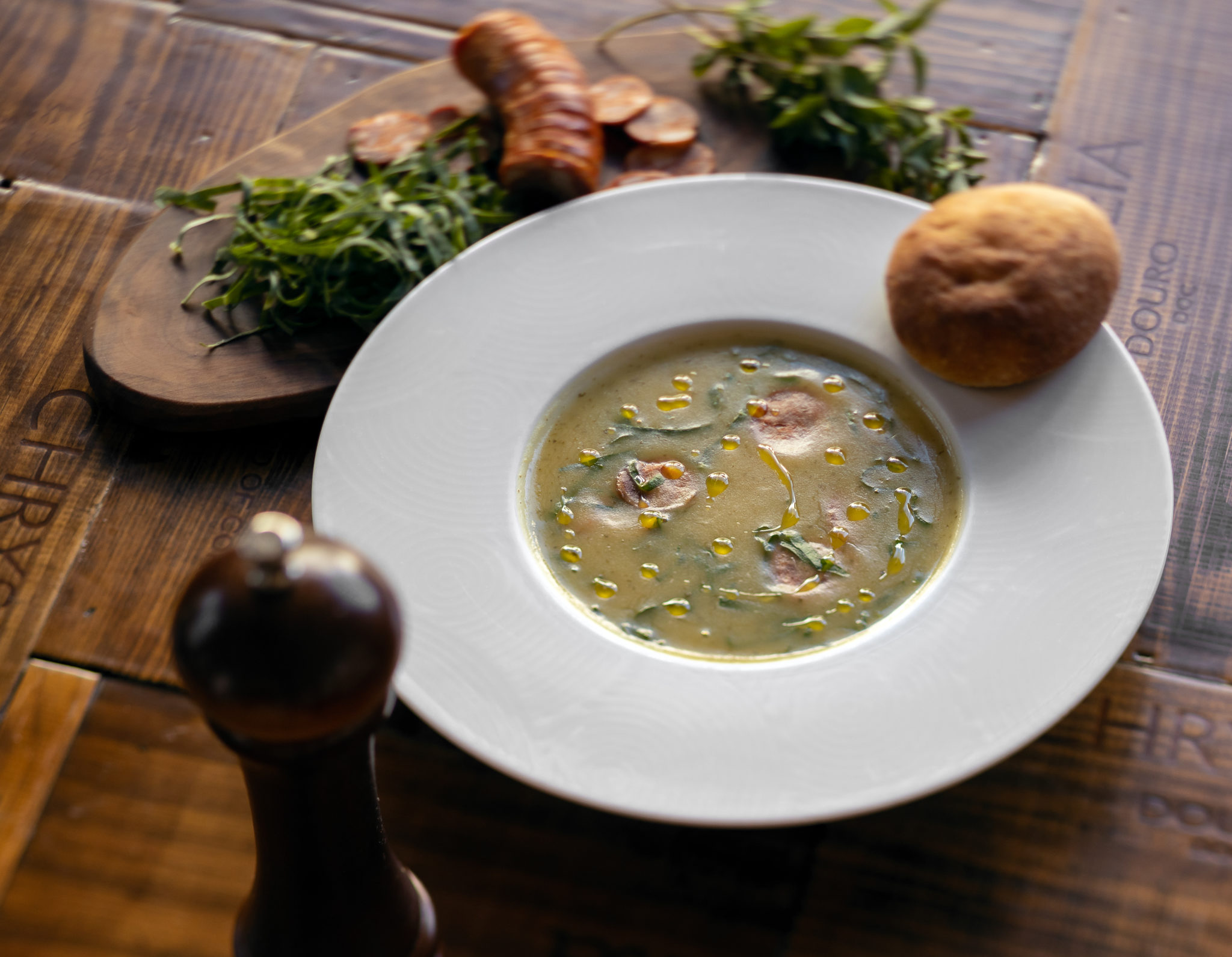 Pour the olive oil into a large soup pot set over medium-low heat, add the carrots, celery, and onions, and sauté for 3 to 4 minutes, stirring all the while, until the vegetables begin to soften a bit; do not let them brown. Season with salt, then add the bones, garlic, linguiça (whole), and 3 quarts (12 cups) of water.
Increase the heat to high and, after the water boils, reduce to the heat to low. Simmer, partially covered, for 2 hours. Skim off any foam and impurities that rise to the surface.
Meanwhile, fill a medium bowl with water and ice. Fill a medium pot half full with water, add 2 tablespoons of salt, set over high heat, and, when the water boils, add the collard greens. Stir for about 2 minutes; use tongs to transfer the collards to the icewater bath. Transfer to a colander and drain thoroughly. Set the collards aside.
Use tongs to transfer the linguiça to a plate; cover to keep warm. Strain the stock into a clean pot, discard the bones and vegetables, and set the stock over high heat.
When the stock boils, stir in the potatoes and about half of the collard greens and simmer for 10 minutes, until the collards are completely tender.
Remove the soup from the heat, let cool for a few minutes, and puree with an immersion blender. Taste, correct for salt, and stir in the white pepper and the remaining collard greens.
Working quickly, cut the linguiça into ¼ inch rounds.
Ladle the soup into warmed soup plates or bowls and top with the sliced linguiça.
Mateo's Delicata Squash Soup with Candied Pepitas and Sour Cream
Mateo Granados has introduced Sonoma County to the delicious cuisine of his birthplace, the Yucatan, at his Healdsburg restaurant, Mateo's Cocina Latina, and at wildly popular pop-up dinners at local farms and wineries. He is an advocate of true sustainable cooking, using all the parts not just of the animals he prepares, but also of fruits and vegetables. This delicious soup incorporates squash skins into a velvety soup spiked with tangy sour cream.
Makes 6 servings.
• 3 medium delicata squash, cut in half lengthwise
• Olive oil
• 2 ounces (¼ cup, ½ stick) butter
• 1 sweet onion, such as Walla Walla, diced
• 5 ounces heavy cream
• Whole nutmeg
• ¾ cup sour cream
• ⅓ cup lightly roasted or candied pepitas (see notes)
• Kosher salt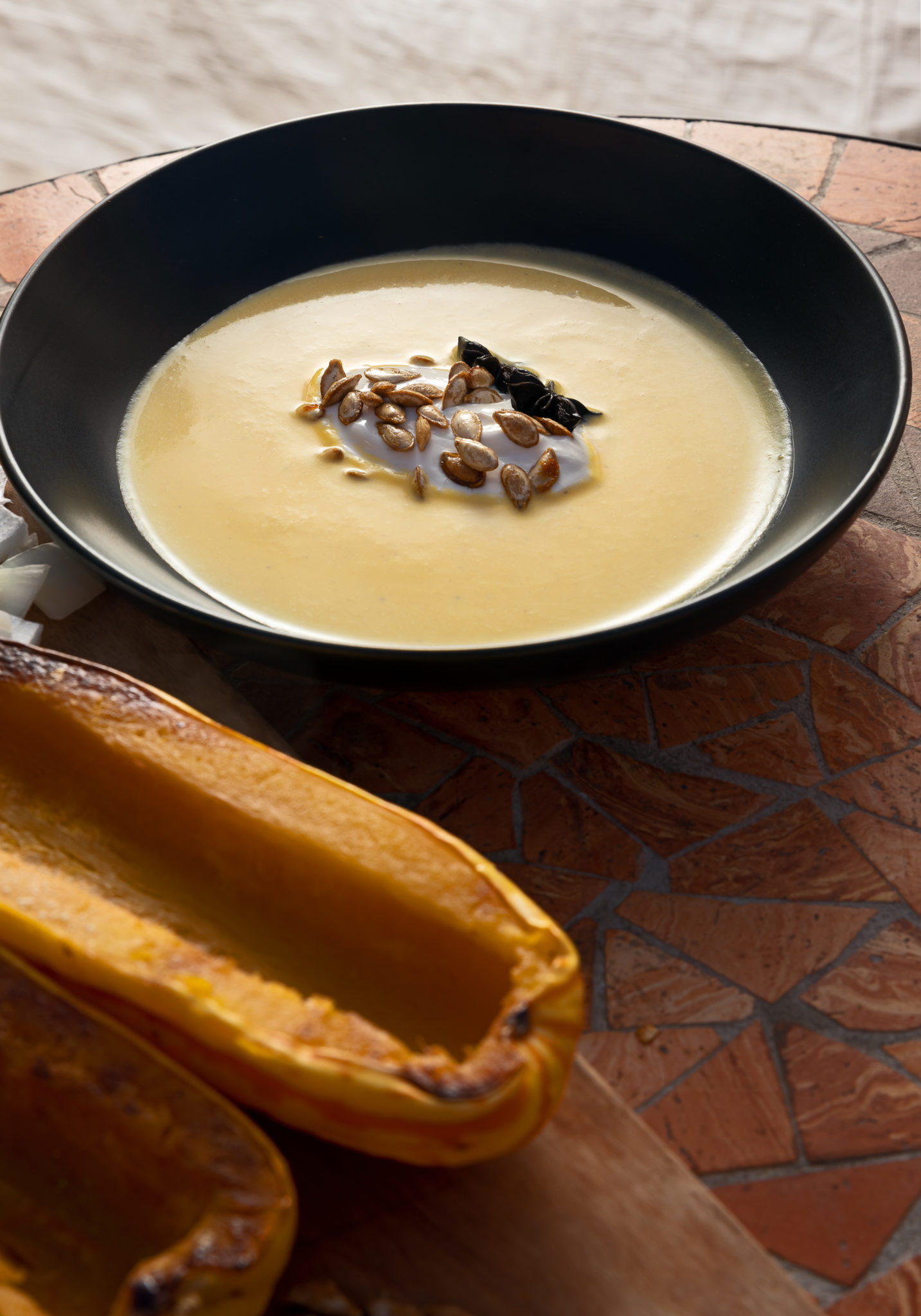 Note: Either candied pepitas or lightly roasted pepitas make a perfect garnish for this soup. To make candied pepitas, you'll need the seeds of 1 or 2 squash. Begin by scraping out the seeds, soaking them in water, and rubbing them between the palms of your hands to remove the fibers. Spread them on a tea towel (not paper towels, as they will stick) and rub them to remove any bits of fiber and flesh. Put them into a small saucepan and add ½ cup water and ½ cup sugar; do not stir. Bring to a boil over high heat, lower the heat to medium, and cook until the sugar is dissolved and the water is clear, about 5 minutes. Use a slotted spoon to transfer the seeds to a baking sheet, spreading them in a single layer.
Set in a 250-degree oven for 1 ½ to 2 hours, until crispy. Remove from the oven and let cool. Candied pepitas can be stored in a sealed container at room temperature for several days.
Preheat the oven to 375 degrees. Set the squash on a clean work surface, use a soup spoon to scrape out the seeds.
Place a piece of parchment paper on a baking sheet. Rub the cut surfaces of the squash all over with olive oil and set them, cut side down, in a single layer on the baking sheet. Cover very lightly with a sheet of aluminum foil. Set on the middle rack of the oven and cook until tender when pierced with a fork, about 30 to 40 minutes.
When the squash is tender, remove it from the oven.
Use a soup spoon to scrape the flesh from three of the six pieces of squash; discard the scraped skins and set all of the squash aside.
Put the butter into a large saucepan or soup pot set over medium heat, and, when it is foamy, add the onion. Reduce the heat to very low and cook until the onion until releases its sugars and begins to caramelize. It will take about 35 to 40 minutes; do not let the onion burn.
Break the three halves of squash still in their skins into chunks and add them to the onions. Stir for a few minutes until the squash, including its skin, begins to relax into the onions. Pour in the heavy cream and add three generous gratings of nutmeg (use a nutmeg grater or microplane grater). Add 3 cups of water and stir vigorously until fairly smooth. Simmer over medium heat for 15 minutes.
While the soup simmers, put the sour cream into a medium bowl and season with a few pinches of salt. Stir well, cover, and refrigerate.
Stir the squash that has been set aside into the soup and simmer 5 minutes more.
Use a regular blender or an immersion blender to puree the soup, making it as smooth as possible. Set a strainer over a clean saucepan and strain the soup, pressing firmly to extract as much as possible; only pieces of skin should remain behind.
Carefully taste the soup and add just enough salt — 2 or 3 pinches — for the flavors to blossom.
To serve, use a soup spoon to form large quenelles (fat ovals) of sour cream and set them in the center of each soup bowl. Dot the quenelles with the pepitas. Reheat the soup as needed, transfer it to a pitcher, and carefully pour it around, not over, the quenelles of sour cream and enjoy.