As Sebastopol heritage turkey farmer Catherine Thode prepares her table for Thanksgiving, there will be one less family member at home. Bubba Bird, a purebred Narragansett turkey, died recently at age 9 — a long, rich life for the breed.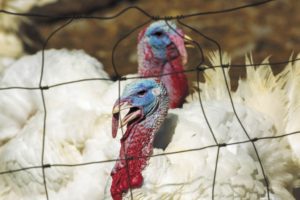 So while the Thode Family Farm clan will feast, as they always do, on one of their own heritage birds with all the trimmings, the members will pause to salute what they all agree was one very special fowl friend.
"We keep about 25 breeder boys year-round," said Thode, who never really meant to become a professional farmer. But during the past decade of raising her sons in Sonoma County 4-H, she found her family's 2.5-acre property increasingly bustling with rare-strain chickens, ducks and turkeys.
Most tom turkeys past breeding age of 3 to 5 find themselves on a platter with parsley, yet "Bubba was such a character, a total showboat," Thode said with a laugh. "He won a reserve championship. So he stayed with us in his retirement and hung out with some of his ladies."
Although few people will go so far as to raise a Thanksgiving entrée in their backyard, more home cooks are embracing boutique birds like Bubba, choosing them over factory-farmed Broad Breasted White turkeys, a domestic breed that is the standard for most holiday tables. Heritage fans seek the depth of flavor and darker meat of birds that are raised in pastures and fed organic feed formulated to specifications of the Livestock Conservancy, an organization that has supported heritage turkey breeds dating to the Pilgrims.
It's efficient and economical to raise poultry industrially, Thode said, "But we've lost flavor along the way. The system nearly wiped out older breeds that were historically celebrated. I always thought turkey was just OK, pretty dry and bland, mostly a vehicle for gravy. But then I tasted heritage, and wow. Heritage is not like beef versus venison; it's not gamy like a wild turkey, it's just more intensely turkey. There's deeper complexity, more moisture."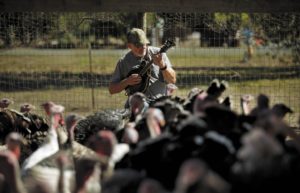 Still, a heritage turkey may not be for everyone, since it has less breast meat than standard turkeys, more thigh, more bone per pound, and firmer texture. Plus, it cooks faster and can dry out if the chef isn't paying attention.
"Most people are interested in real flavor," said Molly Best, owner of Thistle Meats in Petaluma. "But many people may not be ready to go to heritage turkey yet, since it seems so 'farm.'" She calls boutique Broad Breasted a gateway bird, noting that with its majority of white meat, it's basically the same as a grocery bird, but with a much better life and diet. A Butterball Broad Breasted turkey tag discloses the carcass "contains up to 8% of a solution of water, salt, spices and natural flavor" to artificially plump it up.
In Thode Family Farm's first year of commercial poultry sales in 2005, about 30 turkeys went to market, Thode said. This year, she'll sell her maximum capacity of 225 Narragansetts and Standard Bronzes, at $8 a pound and with a lengthy waiting list. For the past decade, she has also headed a fundraising auction in conjunction with her local 4-H and the Russian River Slow Food convivium, scheduled for Nov. 7 at the Flamingo Resort in Santa Rosa. The conference has become increasingly popular, with select birds going for what Thode happily said is "an inflated price."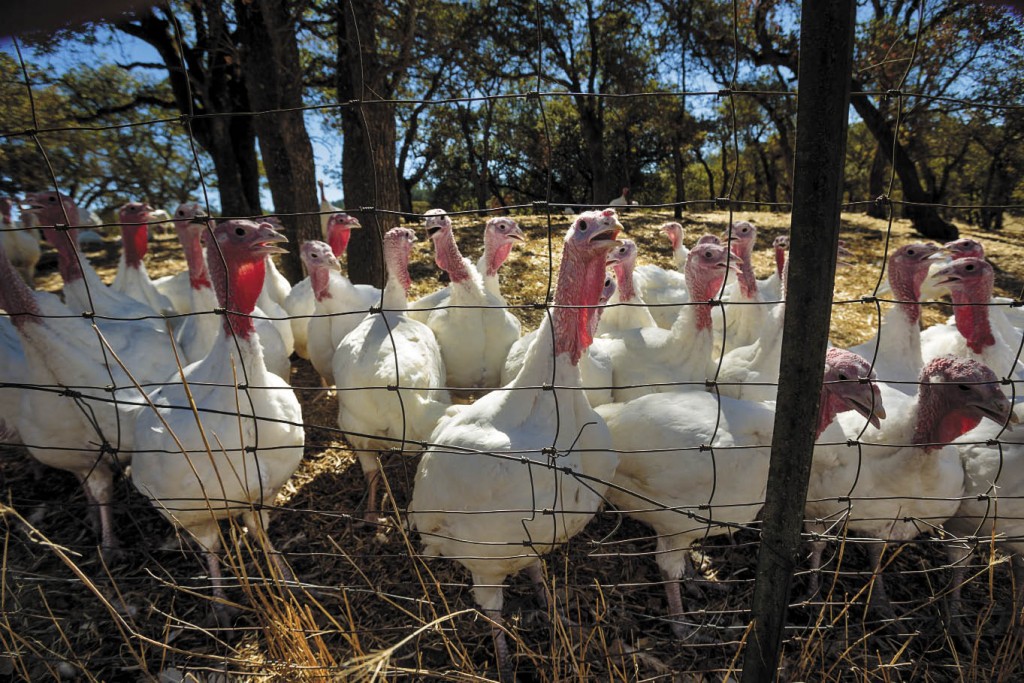 At Thistle Meats, Best is nearly doubling her order of designer turkeys from last year. Opened last spring, her shop specializes in ethically raised meats sourced only from family farms and ranchers she's visited and knows well.
In Sebastopol, Victorian Farmstead Meat Co. owner Adam Parks will also double his inventory of boutique birds — like Best, Narragansetts and Spanish Blacks — up from 300 sold in 2014. Parks and Best get their turkeys from BN Ranch of Bolinas, which raises free-range heritage and Broad Breasted White birds with open shelters and non-GMO vegetarian diets.
"It's a small company, and I feel like (founder Bill Niman) has a personal connection with his animals," Best said.
The popularity of heritage turkeys marks a dramatic change from 2006, when Willie Bird Turkeys, Sonoma's grandpappy of boutique poultry, ended a three-year experiment with heritage turkeys. General Manager Greg "Beagle" Brodsky found his customers balked at the price, then a healthy $7.50 a pound, and perhaps the stronger flavor that can be similar to duck.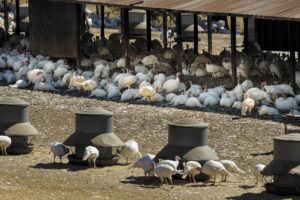 Instead, the company, owned and operated by the Benedetti family since 1948, focuses on its flock of some 50,000 Broad Breasted Whites, raised in upscale style with free-range pasture and an organic-grain diet. They're hardly cheap: This year, a 12- to 14-pound Willie Bird is offered online for $128, which includes shipping.
Whatever the breed, the real flavor difference comes in how the bird lived its life, Brodsky and his fellow farmers agree. Instead of being crowded in warehouses like most factory fowl, a happy outdoor bird is a good bird, with defined muscle texture and leaner, more flavorful meat.
"You can taste the fresh air, sunshine and natural grasses," Parks said. "It may seem a bit tough at first bite, but that's because there's more tooth. It's not mushy and flabby like a commercial bird."
The Livestock Conservancy categorizes heritage turkeys under strict criteria. They must naturally mate (most industrial farms use artificial insemination), have a long, productive outdoor lifespan (not warehouse pens), and have a slow to moderate rate of growth.
Natural growth is critical to a turkey's flavor, Thode explained, with meat that develops character through a bird's longer lifetime. Mass-marketed turkeys have been selected over the decades for how quickly they can go from hatchling to harvest, typically about three months for a grocery-store bird, versus about seven months for a Thode bird. Commercial fowl also have been bred for enormous breasts and more white meat, and are usually harvested many months before sale and then frozen.
Thode harvests the weekend before Thanksgiving, chilling the carcasses but never freezing them.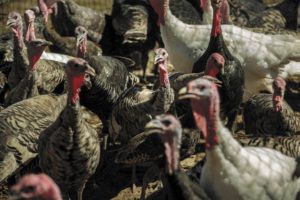 If consumers are curious about why a boutique bird costs $8 a pound and more, opposed to less than a dollar as a chain-store holiday special, Thode pointed to the work it takes to handle free-range animals that can fly and have energy-pumped behavior, as turkeys do. For the Slow Food project, children hand-raise the birds from chicks, among them heirloom and endangered breeds such as Blue Slate, Lavender and Bourbon Red.
And in the end, a boutique turkey tastes like real, old-fashioned turkey.
"If your grandparents say (commercial) turkey doesn't taste like it used to, they're right," Thode said. "Plus, we can feel better knowing that even if we eat our turkeys, they were raised correctly and had a very good life."
Subscribe to Our Newsletters!