The Weinstein family has a stately home on a picturesque property in Sonoma that's not at all about being posh. It's a place with a purpose:
solar-powered, pesticide-free and food-producing, allowing the Weinsteins to donate 2,000 pounds of produce to Valley of the Moon seniors last year.
They keep chickens, tend bees and have 52 fruit trees and 65 raised beds of Biodynamically farmed vegetables, everything from asparagus to zucchini and carrots in three different colors. Everyone who visits leaves with a basket of the land's bounty.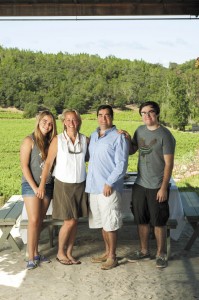 Paul and Kathleen Weinstein built this haven in 2005, not long after learning that their young son, Jack, had a rare eye disease, juvenile retinoschisis, which threatened his vision. Their action plan was to get him cutting-edge medical care and provide him with a nurturing environment and excellent education. High-energy entrepreneurs who once worked on Wall Street, the couple were living in San Francisco and thought home schooling in a country setting might be best for the family. The Weinsteins purchased 5 acres and began building what they then called "Jack's house."
They found Stanford University ophthalmologist Deborah Alcorn, who was able to save 25 percent of Jack's waning vision. She's now his godmother. The family lives primarily in Ross in Marin County, so that Jack, 16, and his sister, Hailey, 13, could attend private schools that made home schooling unnecessary. But the Weinsteins return to their hillside Sonoma house, which they consider their true home, on weekends and for much of the summer.
"We try to spend 50 percent of our time in Sonoma," Kathleen said. "That defines a good year for us."
From the very beginning, they designed their home with an emphasis on having only what they needed, using materials and building methods that were environmentally sound. The U-shaped house is 4,000 square feet and has exterior walls that are 14 inches thick for maximum insulation. There's a huge, high-ceilinged great room that reaches to 23 feet at its peak.
One wing holds the family bedrooms and bathrooms. The baths' floor tiles are from Paris Ceramics, which had a once-in-a-lifetime shipment of stone excavated from the streets of Jerusalem. The stone had been laid around 2,000 years ago and may have been walked on by Jesus.
"To us, it celebrates the children's Christian and Jewish heritage, and the miracles of faith," Kathleen said.
The other wing has a guest suite, an office for Paul (a partner in a venture capital firm) and a TV room with an extra-large screen and comfy seats up close so Jack can see.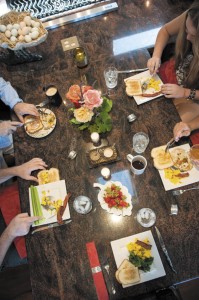 Paul and Kathleen team-cook on a six-burner Wolf cooktop, with a pantry, Sub-Zero refrigerator and sink in easy reach. The family eats together on leather stools pulled up around a stone peninsula, where conversation is paramount. The dark, swirly stone is from Sweden and looks almost like lava. They chose it because on the hill behind their kitchen there is evidence of a long-ago volcano, and the stone symbolizes lava flowing on, through their home. There's also a guest house for visiting East Coast relatives, built over a garage that houses an eco-friendly electric Tesla car.
Outside is where the Weinsteins' true selves are revealed. There's a loggia made of Montana fieldstone with a built-in fireplace where they love to relax. Phantom screens enclose it if they so choose. There is a Sunbrella-fabric-covered arbor that hovers over weatherproof wicker furniture, with trucked-in sand underfoot. The lounge chairs and 54-inch dining table are by Positano. Redwood picnic tables under the arbor can seat up to 20 for large get-togethers. The arbor's 10-foot support columns anchor a retractable sunshade that shields the 20-by-45-foot, solar-heated pool.
"The sun was too strong for Jack and we needed to figure out a way to shade the pool," Kathleen explained. "Arbor Fence (in Sonoma) tackled the project and the owner was so committed to helping get Jack back outside to play. It was a real heartfelt mission. Now we string hammocks between the columns and have sand in our toes. It's where most of our family talking happens."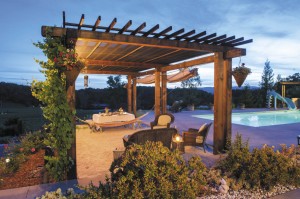 Kathleen, Jack and Hailey each swim 11/2 miles every day in the summer. Jack trained in this pool for the swim he made from Alcatraz to San Francisco in 2013. He raised $44,250 for No Barriers, a nonprofit with the motto, "What's within you is stronger than what's in your way," a concept that Jack personifies. Paul and Hailey were alongside him in a Zodiac inflatable boat when Jack jumped into the 59-degree bay waters. Kathleen, who once completed the swim herself, guided his way in a kayak.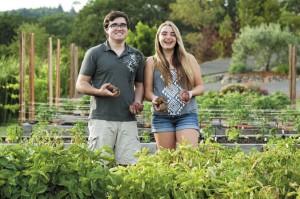 The Weinsteins' orchard and gardens have grown into a philanthropic enterprise. The first thing they planted was tomatoes, "As an homage to my grandfather, who loves tomatoes," Jack said. In 2005, they had 13 beds and 10 fruit trees. When they found themselves faced with 100 pounds of plums, they started thinking about a sharing plan that went beyond friends and neighbors.
The family started delivering produce to Vintage House senior center in Sonoma, both for use at the center and for people to take home. The seniors loved seeing the kids arrive with bushels of kale, garlic, radishes, peaches and pears — healthy and fabulously fresh.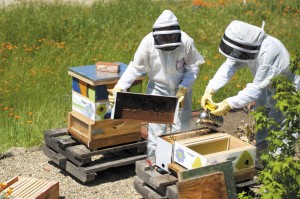 Jack and Hailey have spent many early summer mornings pulling weeds. They respect water, striving to never waste it. With this year's drought, they will not plant the usual flower beds.
"It needs to produce something for us to water it," Hailey said. "Flowers we don't need, and they will stay dormant until next year."
Gardening, she said, has shown her how she can give back to her community. Jack shares his sister's sentiment. "This garden has given me a feeling of connectivity, both to my family and the people we help. When I was younger, I didn't realize the full extent of what we were doing, but it always felt good and right. I understood the importance of being kind."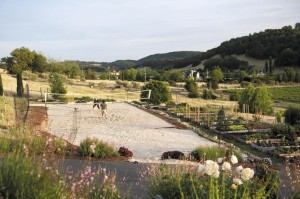 They've added Sonoma Hills Retirement Community to their donation list. On a regular basis, the kids supply enough produce to serve 80 meals there. They studied the property and devised a planting plan, so that fruits and vegetables can be grown on-site.
"I get goose bumps when I think about what those kids did," Sonoma Hills executive director Mark Nilsson said. "They drew up a very professional schematic plan, and then gave me a check for $750, which was a gift from their grandmother, to buy trees." Raised beds for vegetables have also been added.
The Weinsteins don't call it "Jack's house" anymore, because it is such a part of each of them. It's where Jack and Hailey learned perhaps their greatest life lessons thus far: Love the land. Provide for your elders. Pursue your passions.
Subscribe to Our Newsletters!