Go fly a kite. And that's meant in the nicest way possible.
"There is something fascinating about watching them float in the sky," said Lynette Gosch, co-owner of Second Wind, one of, yes, two kites shops in the tiny town of Bodega Bay. "People like to look at them; they're attracted to them. They give people a sense of being free."
Fliers can experience the same feeling, a meditative calm that comes from gazing at open skies, hearing the flapping of the soaring sails, and experiencing the tension and quivers of the kite's strings or controls in their hands.
The windy Sonoma Coast has emerged as one of the nation's best-known spots for kite flying, welcoming both the casual, lazy-days-of-childhood fliers and the highly competitive sporting types, who seek an adrenaline rush instead of a calming peace. "We didn't get the name 'Blow-dega Bay' for nothing," Gosch said. "You frequently have good winds and we have some good, accessible beaches."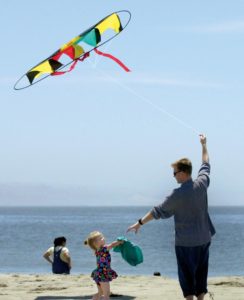 A favorite spot is Doran Regional Park, which features a wide beach facing the relatively calm bay, with no power lines or trees to disrupt flight.
"It's a great way to spend a day out in nature. … It's just a great escape," said David Love, co-owner of Candy & Kites, the other kite store in town.
Flying kites is one of those pastimes that can appeal to people of all levels of skill. It requires a modest initial investment and getting started is not difficult, though competitive kite flying, using huge two- and four-line stunt kites, can be strenuous. "We call it a workout in a bag," Gosch said.
So popular is the kite sport on the coast that Doran Regional Park has hosted the Castle and Kites festival for nine years, an exhibition of both kite flying and sandcastle making. Scheduled for May 3 at the park, the event is free, but parking is limited and subject to a $7 day-use charge.
Both kite shops will have displays, and Second Wind plans to have a sales booth and will have its competitive kite-flying team on hand to offer lessons to fliers of all skill levels and degrees of seriousness. Kite legend Dodd Gross, a champion flier and kite designer, will be at the festival, giving tips and meeting fans.
For more information on the sport of kite flying, check out the American Kitefliers Association at kite.org.
Subscribe to Our Newsletters!