Winemaker Bob Cabral pulls his SUV up to the electronic gate at Calegari Vineyard on Eastside Road in Healdsburg. As he punches in the password for entry, around the bend comes owner Don Calegari himself in his 1956, orange and white Chevy Bel Air. Calegari gets out of the car to say hello, and Cabral says to his passenger, "I thought some of the growers were going to cry when I told them I was leaving. Don keeps asking me if I've changed my mind."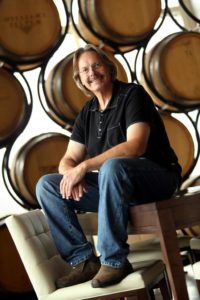 No such luck. Cabral, winemaker at Williams Selyem Winery, will quit his post at the end of the 2014 harvest, his 17th with the winery and 34th in all. Calegari and the dozens of other farmers who sell their Pinot Noir grapes to the Healdsburg winery will feel the loss. Like families who, when their pediatrician retires, worry about who will take care of their babies, they're concerned about what will happen when the new guy, Jeff Mangahas, takes over.
There is much at stake for wine drinkers, too. Since day one, Williams Selyem wines have been highly sought-after and acclaimed by critics. Their fans are legion and loyal. The Pinot Noirs are polished and precise, with floral aromas, vibrant berry and cherry flavors and silky textures. They're so balanced that they stay strong in the cellar for up to 20 years; many top-notch U.S. restaurants have those older bottles on their wine lists. And the Pinots represent the distinctive personalities — the terroirs — of some of Sonoma's and Mendocino's finest vineyards, many of which became instantly famous when Williams Selyem put their names on its labels. Mangahas has a tough act to follow.
Yet Cabral, 53, survived similar scrutiny in 1998 when he replaced winery co-founder Burt Williams as winemaker. At the time, Williams and Ed Selyem were the rock stars of California Pinot Noir, their Russian River Valley wines so much in demand that only mailing-list members and select restaurateurs could buy them. Cabral, who was so enamored of Williams Selyem wines that he used part of his student loan to start buying them in the mid-1980s (he's customer No. 576 on the 15,000-member list), not only had to fill Williams' shoes but do so for a new owner, New Yorker John Dyson. With all that change, growers and consumers fretted over the future of their beloved Williams Selyem.
But Cabral — whose primary reasons for departing Williams Selyem are to shorten his 80-hour work weeks, spend more time with his family, and basically "change things up" — is certain the winery will be in capable hands with Mangahas. The two have worked side by side for three years, preparing for the day when the keys to the cellar would be relinquished.
"Will the wines change? God, I hope so," Cabral said. "That's what makes winemaking interesting. Jeff will make great wines, and he'll be able to put his own spin on them, just as I did when I took over for Burt."
"Spin" is an understatement.
Selyem and Williams began making wine in a Forestville garage in 1979 and went commercial in 1981. Working in a small winery on Westside Road southwest of Healdsburg, and without any vineyards of their own, they made wines that achieved "cult" status with critics, and thus consumers, and retired by selling to Dyson in 1998. Cabral inherited the rudimentary, way-too-small winery and over time developed a grand plan and a strategy for seeing it through. He leaves Williams Selyem a contented man.
The brand's first owned vineyard, Drake Estate in Guerneville, was begun in 1998 when Cabral convinced Dyson to purchase an orchard whose apples had been used in Gerber baby food and plant it to grapes. In 2001, they acquired a sheep ranch farther south on Westside Road from the winery and planted it to Pinot Noir. A sleek, solar-powered winery followed in 2010, at what is now called Williams Selyem Estate.
Cabral made most of the viticulture and winery-design decisions, including keeping the original winery for crushing and pressing, which would keep the Burt-and-Ed tradition alive. He added more touches, such as planting 40 heritage fruit trees on the estate, for employees to harvest and enjoy.
"John (Dyson) wanted figs, but I wanted the fresh fruit I grew up eating in the San Joaquin Valley," he said: peaches and nectarines, plums and pluots.
He brought in goats to chomp away at the poison oak that grows on the perimeter of the vineyard and planted a dizzying array of grapevine rootstocks and clones in an experimental block, which often yields distinctive, if very small-quantity, wines.
"Now it's a ranch that has a winery on it," Cabral said, "and not just a winery."
Williams Selyem is best known for its 20 or so single-vineyard wines (including small-scale bottlings of Chardonnay and Zinfandel) from such prestigious vineyards as Bacigalupi, Coastlands, Hirsch, Olivet Lane, Precious Mountain, Rochioli and Burt Williams' Morning Dew in Mendocino's Anderson Valley. These growers have long lines of winemakers ready to buy their grapes, so Mangahas, like Cabral, will earn much of his salary by nurturing cordial relationships with farmers.
"It's like a marriage. As you get more comfortable, the more time you spend with the vineyards and growers," Cabral said. "That's why I worked 80 hours a week. Luckily, I have a family that's OK with that."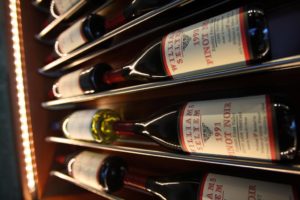 His celebrity has taken him around the world to promote Williams Selyem and the Russian River Valley Winegrowers association. He's hung out with rockers Sammy Hagar, Jonathan Cain of Journey and guitar god Jeff Beck, who had a rider in his contract that mandated that three bottles of Williams Selyem Pinot Noir be in his dressing room at all concerts.
Mangahas, 43, is positioned for similar stature. In addition to working with Cabral for three years, his experience includes winemaking stints at Russian River Valley Pinot Noir powerhouses Hartford Family Winery and Dutton-Goldfield.
"Bob took the principal elements of Burt's winemaking and ran with them," he said. "There were slight differences in decision-making from Burt to Bob, and there might be with me, but the style will be preserved. The spirit and soul of Williams Selyem will continue."
Respecting the job he holds before he leaves it, Cabral is coy about what he will do after the 2014 harvest. He said he will someday create a wine brand with his wife, Heather, and daughter, Paige, 12, and perhaps consult for other wineries. He looks forward to having more time with Paige as she raises 4-H Club pigs, once his heavy travel schedule with Williams Selyem is over.
"I have other creative ideas on winemaking and grape growing that I'll be better able to explore," he said. "It's time for a change. Time to seek new adventures."
Subscribe to Our Newsletters!