In the early 1980s, as bass fishermen were screaming across lakes all over America in sleek, expensive boats, a band of Luddites in Santa Rosa donned flippers and inflated inner tubes to fish Northern California lakes at a much slower pace, without the aid of motors or gasoline.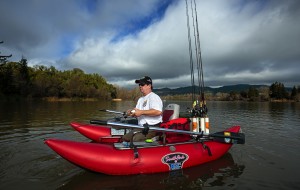 They called their group the Sonoma County Belly Boat Bass Club. The year was 1983 and after lugging their float tubes (aka "belly boats") on their heads or strapped to their backs along the steep hike to Lake Ilsanjo in Annadel State Park, nine fishermen pitched in $1 apiece, and a decent lure, for the first official tournament.
"Whoever caught the first fish yelled, 'Fish on!' and got the first dollar out of the pot," said founder Rich Caro, 51, of Santa Rosa, who now sells his own line of CatchEmCaro Bait Co. lures.
First-, second- and third-place finishers (based on the weight of their catches) split up the rest of the pot, and Nos. 4 and 5 split up the lures.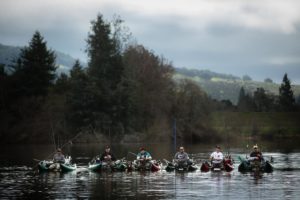 More than 30 years later, the club now has several dozen members, some as young as 16 and others in their 50s. It's a recognized B.A.S.S. Nation Club with tournament pots of around $500. Most members now fish with kick boats instead of belly boats, preferring larger, double-pontoon contraptions powered by oars, which allow fishermen to sit up out of the water. Yet the spirit of the belly boat remains: No motors and no gas.
Past members have gone on to win much larger Bassmaster purses, becoming heavily sponsored pro bass fishermen. Former Belly Boat president Jimmy Reese, 40, of Ukiah, recently passed the $1 million mark in career earnings. His brother, Skeet, 45, of Auburn, who was not an official club member but started out fishing float tubes, has 64 top-10 finishes on the Bassmaster tour with more than $2.8 million in earnings.
"Back then, all you had was 2 horsepower — your kick fins," Jimmy Reese said. "Honestly, it slowed you down. Fishing in a boat, you can go through a lot of water and pass a lot of fish because you can. It's easy to start that motor and run 5 miles, 10 miles. In a float tube, you're fishing that quarter-mile section and you better learn to be versatile. It's gonna teach you to adapt to the conditions and make you a more versatile fisherman."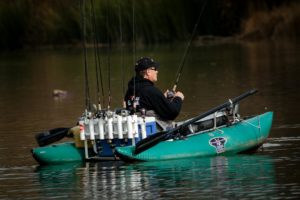 Most club members start with belly boats because they're a lot cheaper than shelling out $60,000 for a new, motorized Ranger bass boat. Then they begin to realize it's also great exercise. (GPS fish finders have logged more than 3 miles on a tournament day for a fisherman.) But most keep coming back for love of the stealth factor, the thrill of sneaking up on hungry largemouth bass as silently as possible.
"Out on Clear Lake, I've been catching fish after fish and a boat will come roaring up right next to me and they stop biting," said Jon Graves, 33, of Lake County, last year's points leader and Angler of the Year winner. He joined the club in 2006, investing about $800 in his initial rig. When he's not fishing, he drives a UPS truck in Lakeport.
This time of year, as the new season gets underway, Graves said he hopes to defend his title through seven tournaments leading up to the Tournament of Champions on Clear Lake in October.
"You can't win it in the first month of the year, but you can put yourself in a big hole," he said. "In February and March, I'm just looking to catch my limit and set myself up for a good run."
All but th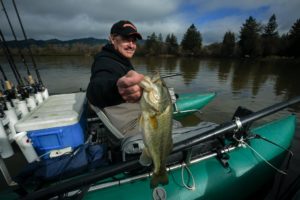 e largest "trophy" fish are released back into the water, to swim another day. The fishing got so competitive one year that a club member was busted for catching fish in a nearby lake and transporting them to the tournament lake.
"We never heard from him again," Caro said.
But beyond the competition and the glory, the Belly Boat Bass Club is really a place to share information about what's working out on the water and what's not. At monthly meetings, held at the Round Table Pizza on Marlow Road in Santa Rosa, recent tournament winners share the secrets to their success. On the SCBBBC online forum, members with names such as "Bass_Stalker," "fishon" and "BucketMouth" share tips on new regulations, gear, 49ers vs. Raiders and the latest hot spot.
"What has kept this club going all these years is the camaraderie," Caro said.
He keeps his original 1970s belly boat in the garage, the one that caused a "massive argument" between his parents as his 13th birthday approached. Caro's mother wanted to buy him a belly-boat setup at Lyle's Tackle. Back then it was around $70 for float tube, $40 for waders and $20 for flippers.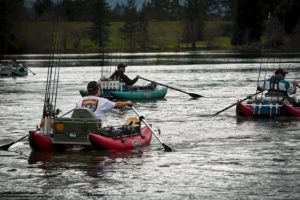 "But my dad thought it was way too expensive," Caro recalled. His mother won out and "Since that day, I've turned on hundreds and hundreds of people to float tubing."
For years, Caro would take a photo as each new member embarked on his or her maiden voyage, teetering into the water, holding the tube around the waist with waders and scuba fins.
Along the way, he also caught a few thousand bass, including a record 11.82-pounder at Highland Springs Reservoir in Lake County.
"The guys in the big bass boats used to look at us kind of funny," he said. "But I think we've earned their respect by now."
Membership is open to Northern California residents ages 16 and up, and dues are $60 a year. Visit scbbbc.com for more information.