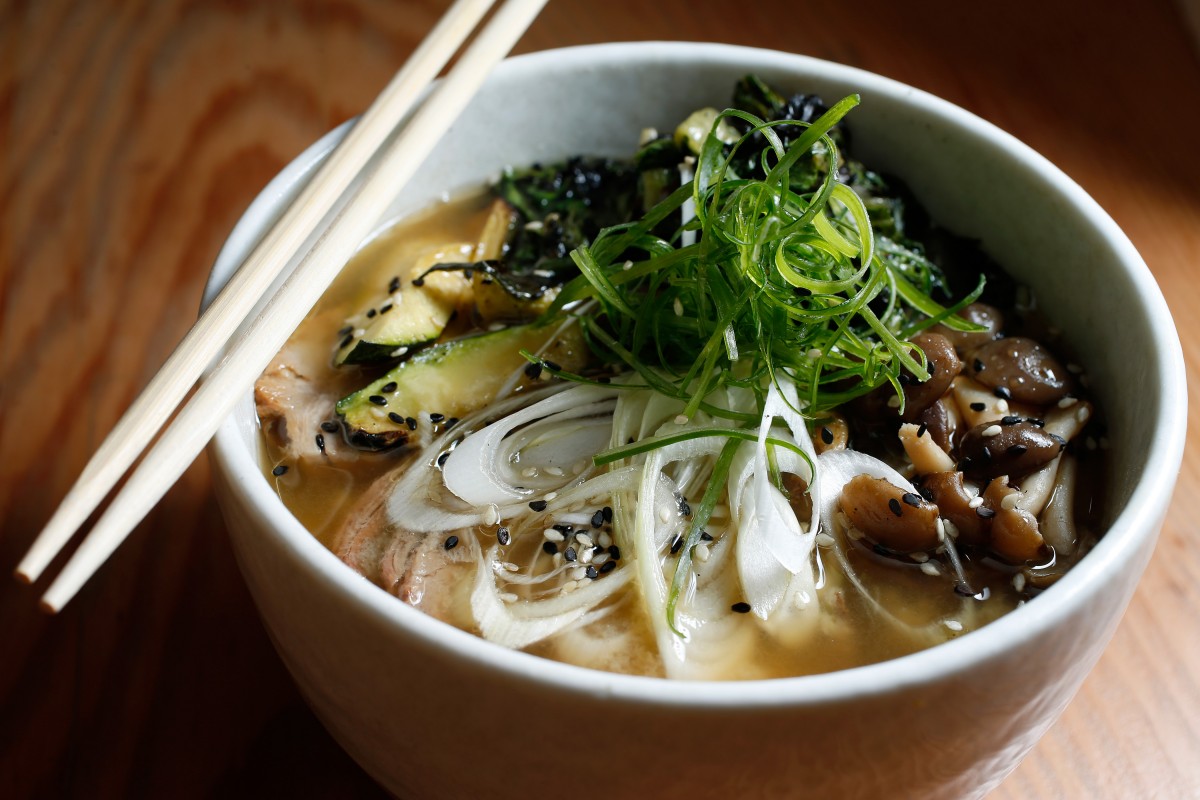 From the very front door, we can tell that Miminashi is something special. Designer Michael McDermott dreamed up a stunning hand-carved creation, inspired by Mt. Fuji, for a three-sided foyer lined in hundreds of small peaks that rise from the naturally multi-colored wood, each mountaintop capped with a tiny volcanic indention.
To me, the pattern looks more like female anatomy, in an art form of epizeuxis. But either way, it's gorgeous and sets the stage for what is now downtown Napa's most exciting restaurant. The Japanese décor is sophisticated, the Japanese cuisine is authentic and the experience pushes the envelope for anything we've ever had in this area.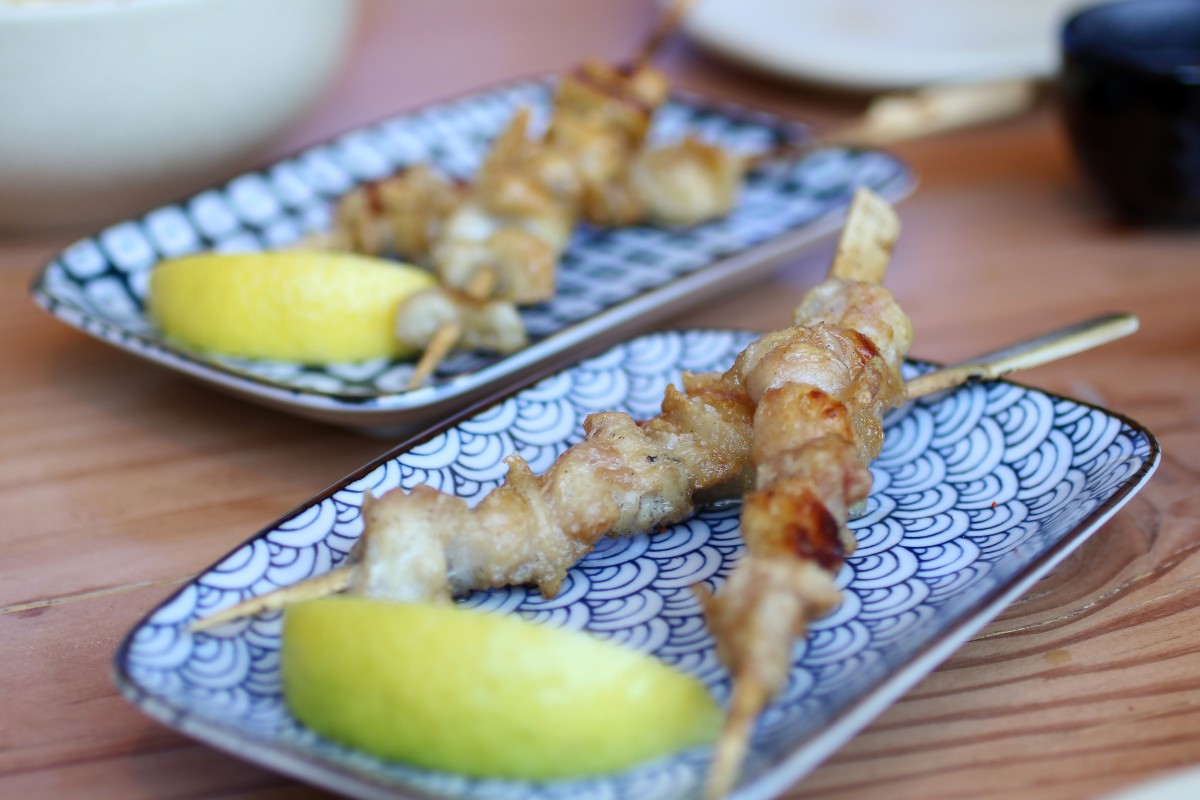 Yakitori? Yes. You can see the skewers being fired on the expo robata grill. But here it comes in the many unusual cuts the Japanese culture appreciates, with grilled chicken breast ($9) and thigh ($7.50), but also chicken belly ($7), knee cartilage ($9), heart ($8.50), fatty-luscious fried skin ($8) and tail (ok, butt), which is a delicacy, even if it's too fatty and squid textured for my taste ($6).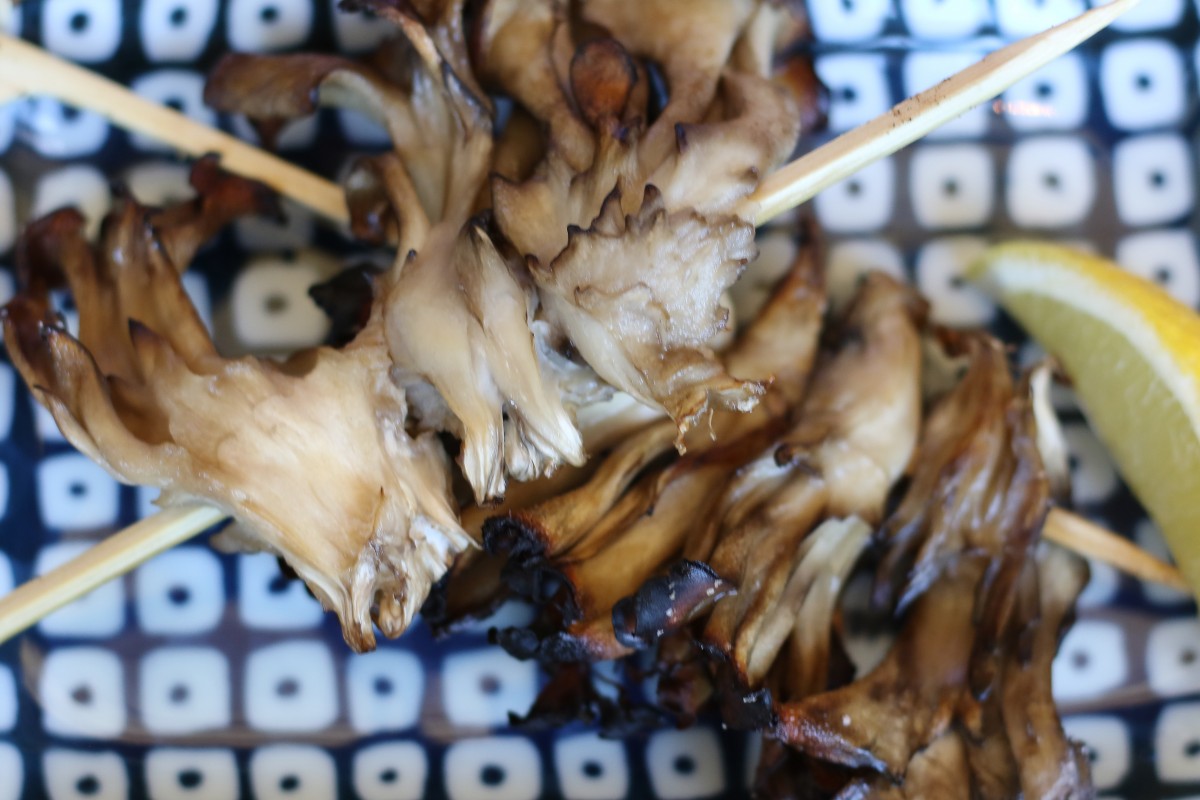 The concept is a radical switch for chef-owner Curtis Di Fede, who leapt into the spotlight in 2010 with his Oenotri southern Italian restaurant in Napa. Then, two years ago, he and co-owner Tyler Rodde ended their partnership, with Rodde keeping Oenotri.
Soon after, Di Fede took an Asian vacation and decided Napa needed an izakaya, in an upscale, Cal-inspired version of the boisterous pub style so beloved in Japan. After lots of red tape, he opened Miminashi earlier this year in the historic Young Building on Coombs and Second streets, just around the corner from Oenotri.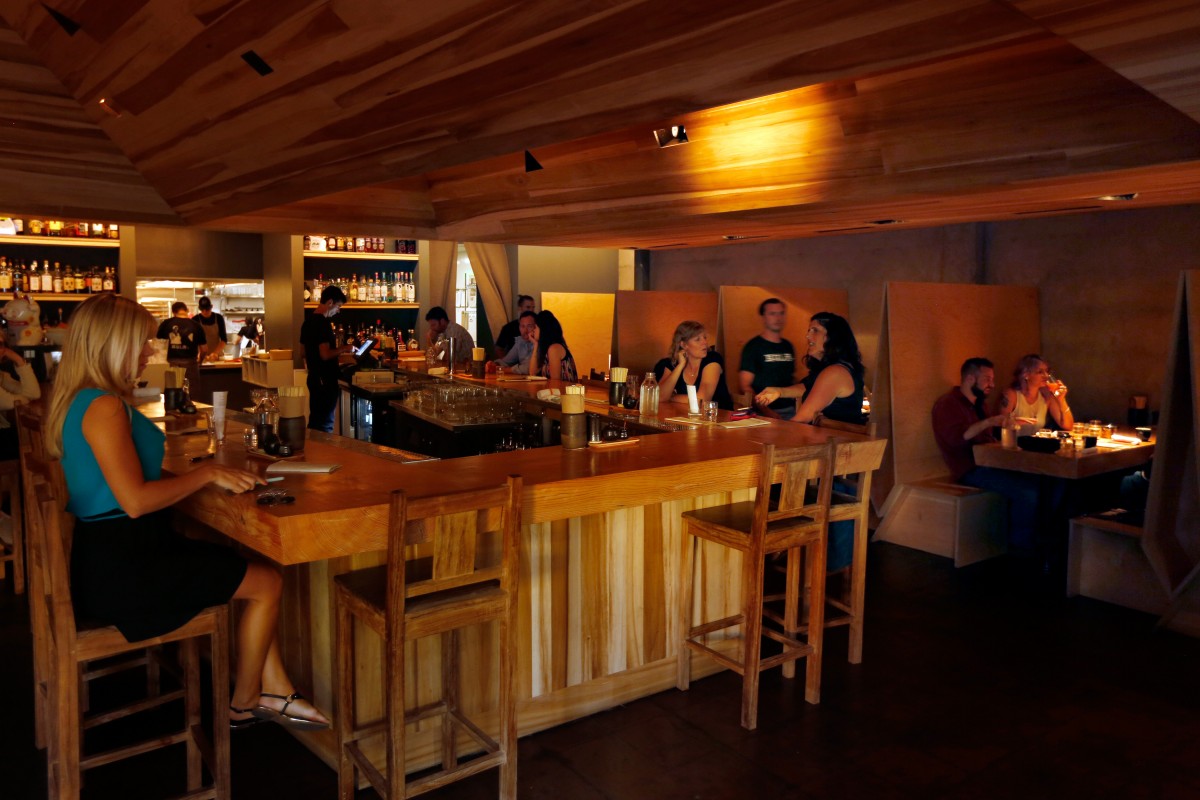 Now, instead of Oenotri-style braised pigeon pasta, Di Fede gives us pigeon miso ramen ($17), the savory bird broth stocked with slippery noodles, pork chashu, shimeji mushroom, grilled Little Gems, leeks, black garlic and sesame.
And he sends out Paine Farms squab ($30), presented in a dramatic fashion with the feet still attached to the skin-on plump legs, splayed atop Brentwood corn, sweet Jimmy Nardello peppers and red spring onions. (Tip: don't eat the feet.)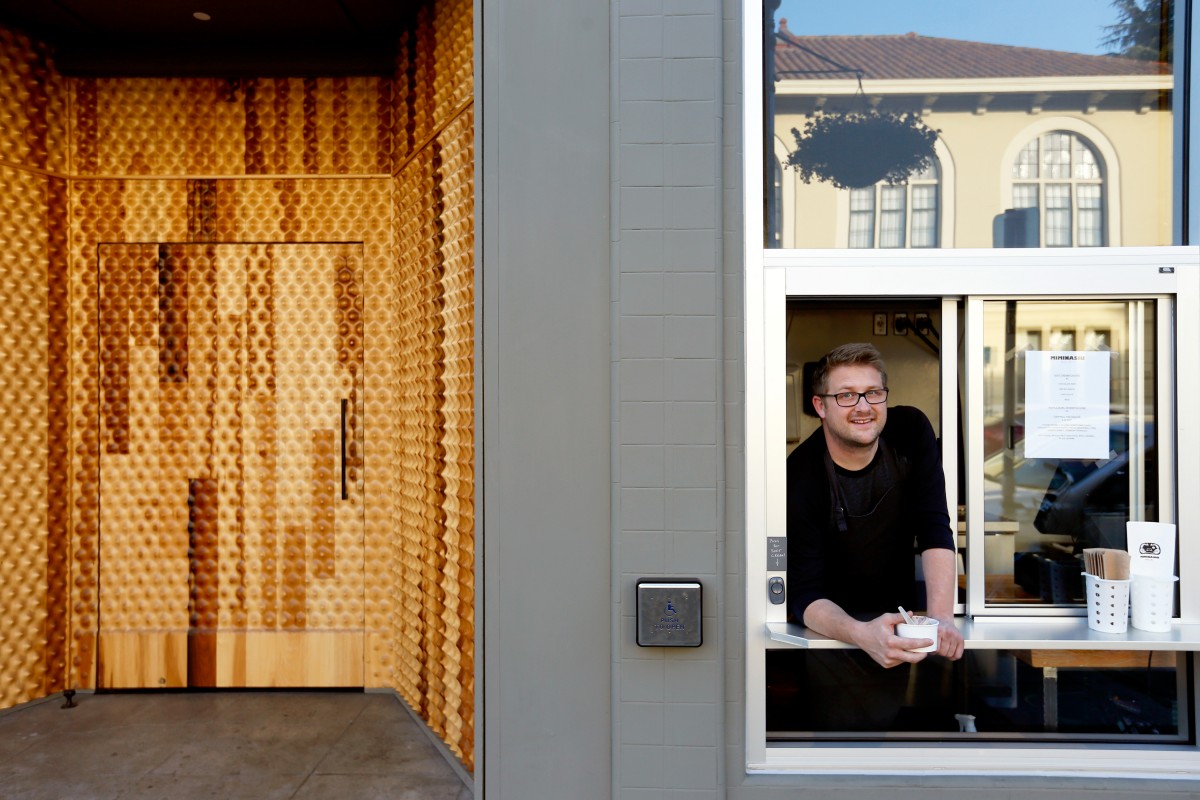 Most everything tastes as impressive as it looks, from hamachi sashimi decorated with avocado slabs and diced chives ($8), to a magurodon bowl layered with ruby red ahi, fiery daikon kimchee, radish, pickled kombu, shiitake tsukemono (pickle), Tokyo negi (onion), rice, sesame and furikake seaweed-fish seasoning ($18).
Throughout, the chef balances fat and lots of vegetables to soak up what is often a lot of salt, plus often serious jolts of heat, such as the gypsy peppers that zip up sweet fluke sashimi draped in shiso ($11).
I don't need freshly grated wasabi ($4.50) for any of my dishes, since there's enough spice already in the recipes.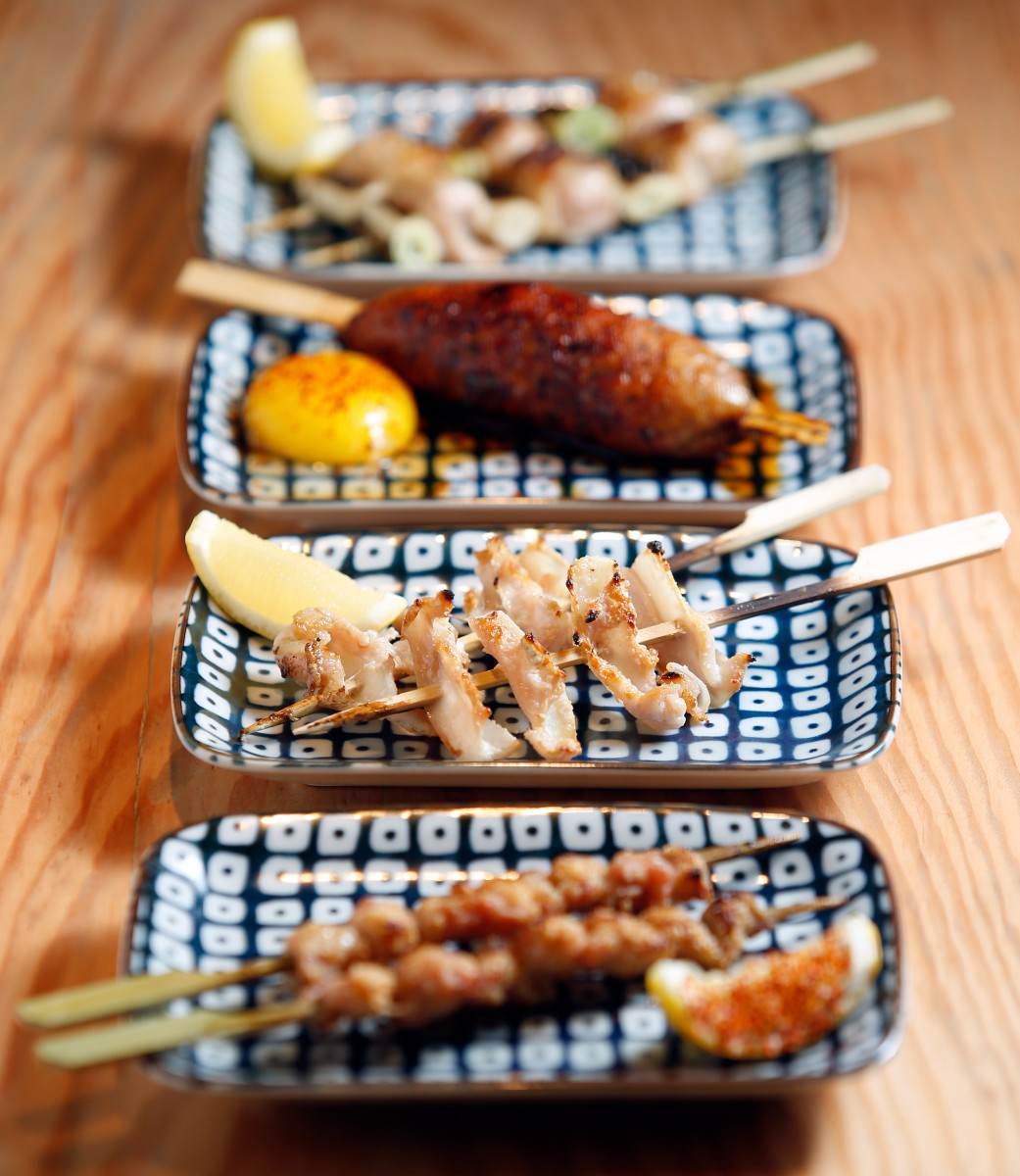 From bacon-cabbage okonomiyaki (savory pancakes, $15) to Georgia white shrimp gyoza in vinegar-sharp shiso ginger broth ($13), selections change nearly daily. It's like Christmas each time I open the folded paper menu.
On one visit, the ramen is tonkatsu style, creamy and meaty. It is topped in crispy pork belly, shiitakes, yuzukosho (chile-yuzu peel paste), toasted nori and a crown of onsen egg, poached inside its shell so the white is silky with a custard yolk ($17).
It's my favorite for its umami and succulence. On another visit, the ramen is chicken paitan style, the velvety broth stocked with roasted kohlrabi, grilled Little Gems and black garlic shoyu butter ($16). It's my favorite for its rich earthiness.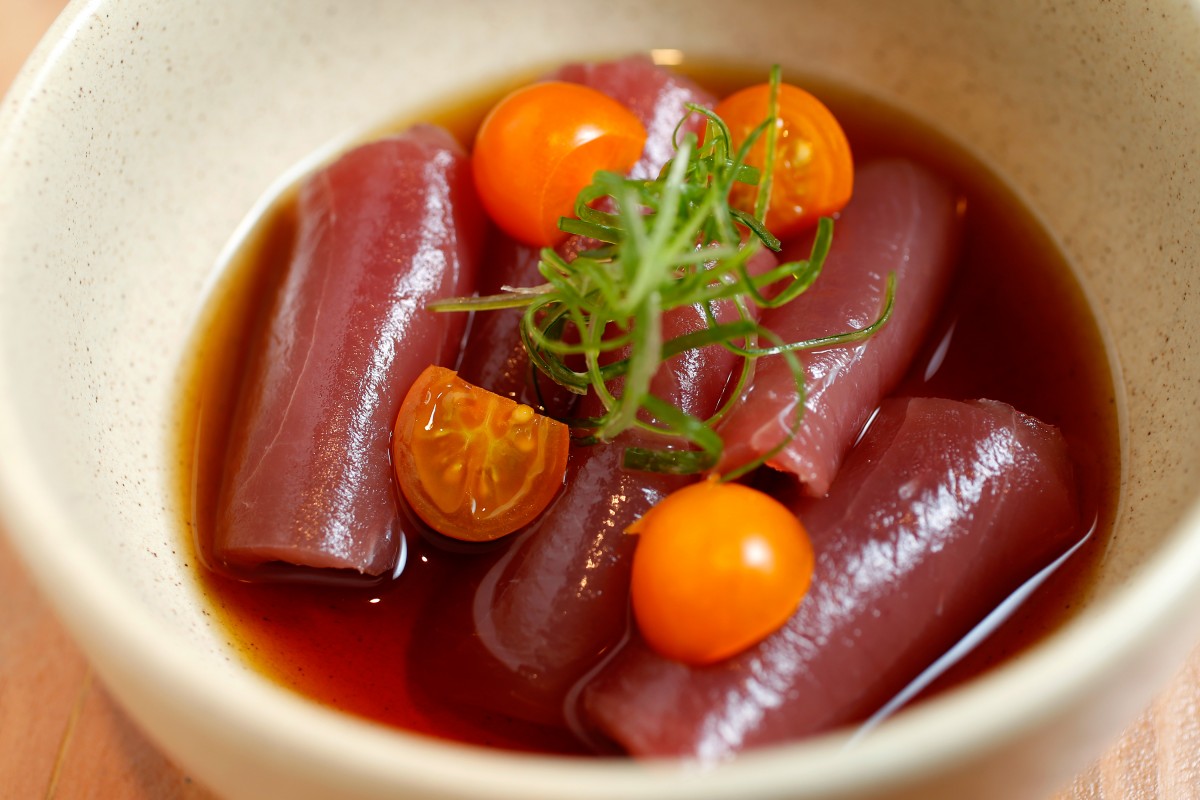 Too many favorites
There are worse problems to have than too many favorites at a restaurant; ordering gets tough since it's all good. Still, I've zeroed in on recent standouts like wok-fried shimeji mushrooms tossed with crisp gypsy peppers and sugar snap peas in a bright sesame cream vinaigrette ($13), and kama yakitori, a meaty slab of salmon collar ($20) that goes marvelously with a crisp, shaved cabbage salad dressed in shiso, puffed rice curls, black sesame seeds and sharp, charred ginger vinaigrette ($10).
But I also love the asparagus, roasted over Japanese Binchotan charcoal that imbues char without smokiness. The tender spears arrive laced in negi, black garlic, a fried egg and whispery thin bonita flakes ($13), all set — like all the food — on pretty, imported pottery.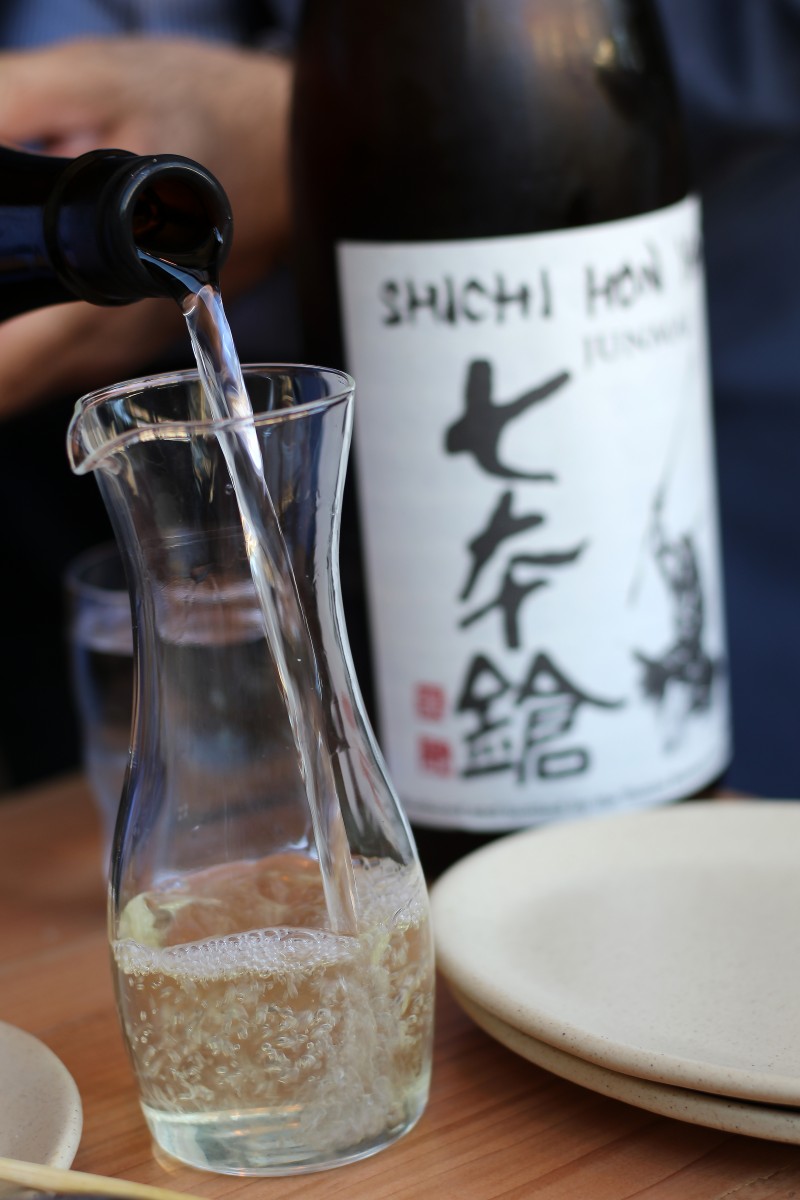 Like a true izakaya, drinking is a major component here, as is noise. Loud voices bounce across the 85 seats and communal wood bar, up into the dramatic wood-lined, 20-foot-tall modern pagoda ceiling and down into tall wood booths that look like triangular origami.
Servers deliver plates in quick succession, but once I learned to ask for slower pacing, I wasn't racing through my ramen to get to the crisp croquette ($5) stuffed with creamy mashed potato, chicken and negi, for dunking in sweet, rice-vinegar mayonnaise.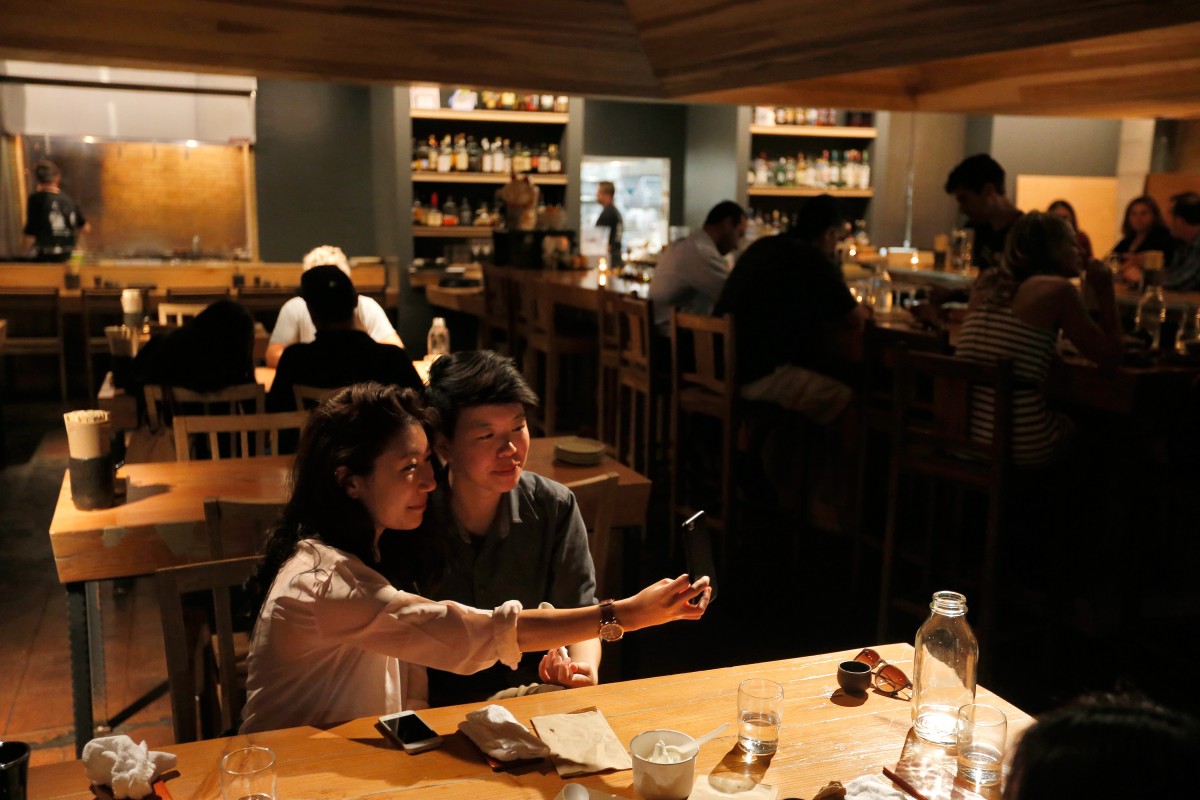 Yet here, there's a sommelier on staff to help navigate the 100 international wine choices, and nearly two dozen sake choices that include chilled Gunma Izumi sake ($15, Asian carafe), and a prized Junmai Daiginjo from the Niigata prefecture of western Japan ($100).
There's Asahi Super Dry draft ($6), but also a mixologist fashioning a floral Axolotl of Olmeca Altos blanco tequila, St. Germain elderflower, makrut lime cordial, celery juice and bitters ($11).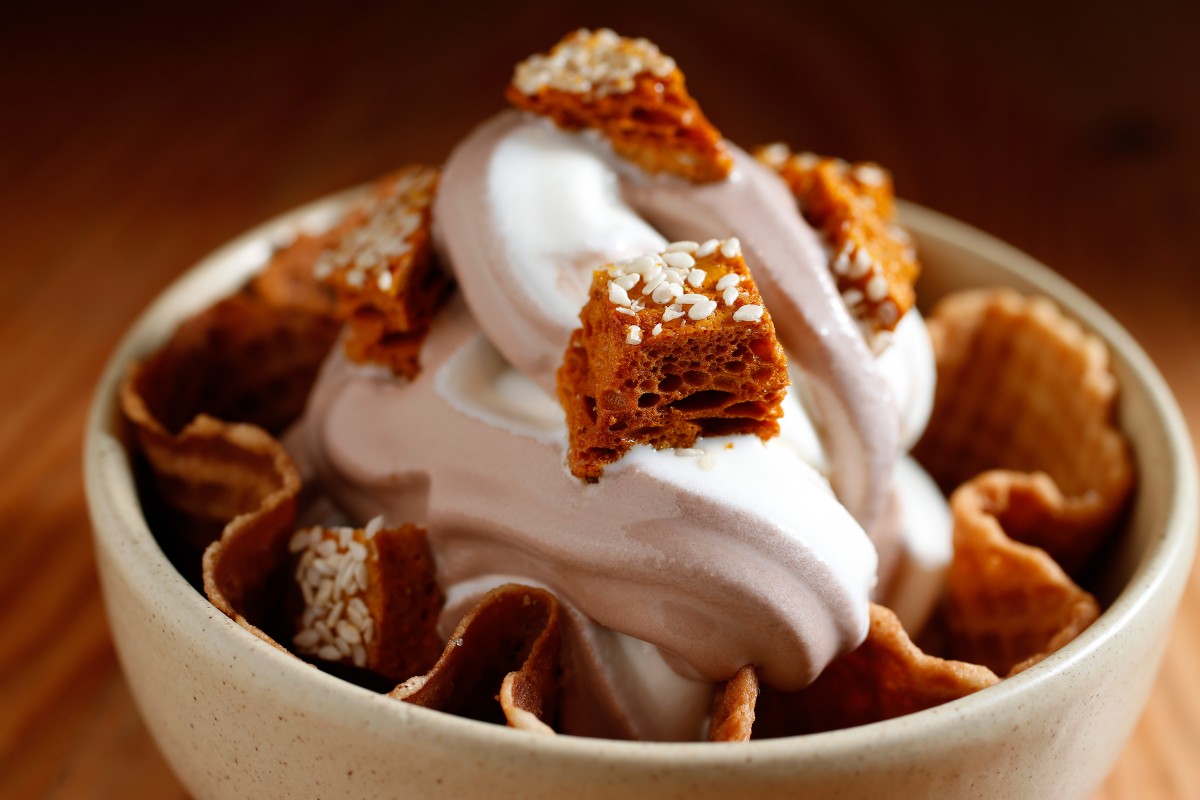 Is there a word for a soft-serve mixologist? There should be, since Miminashi has one who crafts the ice cream ($7) in a variety of nightly changing flavors, like bold matcha green tea, lemon verbena, sweet corn, malted chocolate and black sesame that boasts a peanut butter-like flavor.
It's even better served in a super-crispy waffle bowl ($1), and sprinkled with add-ons like candied ginger, sesame honeycomb candy and whiskey butterscotch sauce (50 cents each). Hint: You can now snag the soft serve at a walk-up window next to the front door.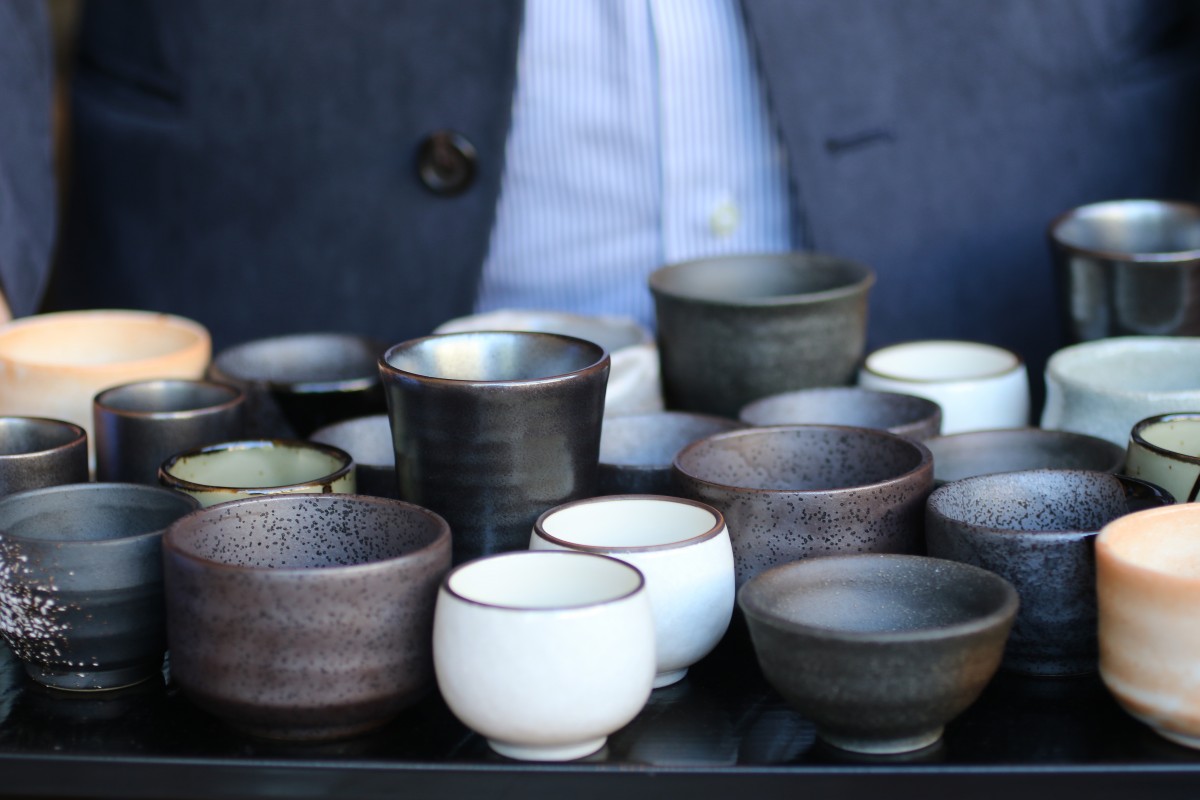 About that name, by the way. It's a salute to Mimi-nashi Hoichi, a mythological character who, in a long, complicated story, ends up with his ears ripped off by a samurai. According to Di Fede, mimi-nashi also honors a Japanese tradition of a chef covering his ears with a towel when making ramen.
Over several visits, I have yet to see Di Fede sporting a turban, but he has certainly taken all the other meticulous steps in this magnificent creation.