Editor's Note: Bruce Gordon, a master maker of hand-built bicycle frames and designer of tires credited for inspiring new trends for recreational cycling worldwide, died in Petaluma June 7, 2019. He was 71. Read about Gordon, and fellow local bike builders, in this article published by Sonoma Magazine in 2018. 
---
Hundreds of miles of uncrowded roads and trails traversing windblown coastal blues, undulating pastures and vineyards, and steep mountains shrouded in redwoods have long drawn cyclists to Sonoma County.
Over the years, these athletes have forged one of the most visible groups in local outdoor recreation, supporting numerous clubs and teams, shops stretching from Cloverdale to Petaluma, and a list of events that packs the county's calendar from February to November.
But bikes aren't just ridden in Sonoma; they're also made here.
The county harbors some of the nation's preeminent independent bicycle-frame builders. From backyard workshops and hidden warehouses, these craftsmen transform steel, aluminum, or titanium tubes into high-performance machines and works of art for clients down the street or halfway around the world. Still other local businesses design and build some of the parts that make them move.
Together, Sonoma's frame builders and component manufacturers add to a legacy of bicycle innovation that reaches back decades and crosses county lines into Napa, San Francisco, and Alameda — and especially Marin.
There, as the story goes, mountain biking was born on the flanks of Mount Tamalpais in the mid' s when a few renegade types outfitted their heavy old cruisers with bigger tires and better brakes to bomb down its rocky slopes.
In the ensuing years, many big names in bike frames developed nearby: Salsa, Otis Guy, Ibis, Breezer, Gary Fisher. But more recently, the balance of power has shifted north, with Sonoma now home to renowned builders Soulcraft, SyCip Designs, and Bruce Gordon Cycles (recently retired), as well as the popular outfitter Yuba Bikes. Just this year, Marin Mountain Bikes relocated from Novato to Petaluma.
Like many subcultures, frame-building is a tight-knit world where most people know each other. In some cases they have even learned from one another or worked side by side. Each strives to make bikes and frames as distinctive as they are durable, often custom-crafted for a particular individual.
That's the beauty of bikes built from the ground up: fit and machined and welded over many hours; backed by years of training, testing, and retooling; designed for speed, strength, and safety; and bearing the mark of their maker.
While custom cycles cost a lot to produce (reflected by price tags in the thousands), the artisans who make them – often with a dog at their feet or a beer within reach — are both a throwback to a simpler time and a quintessential part of modern Sonoma County.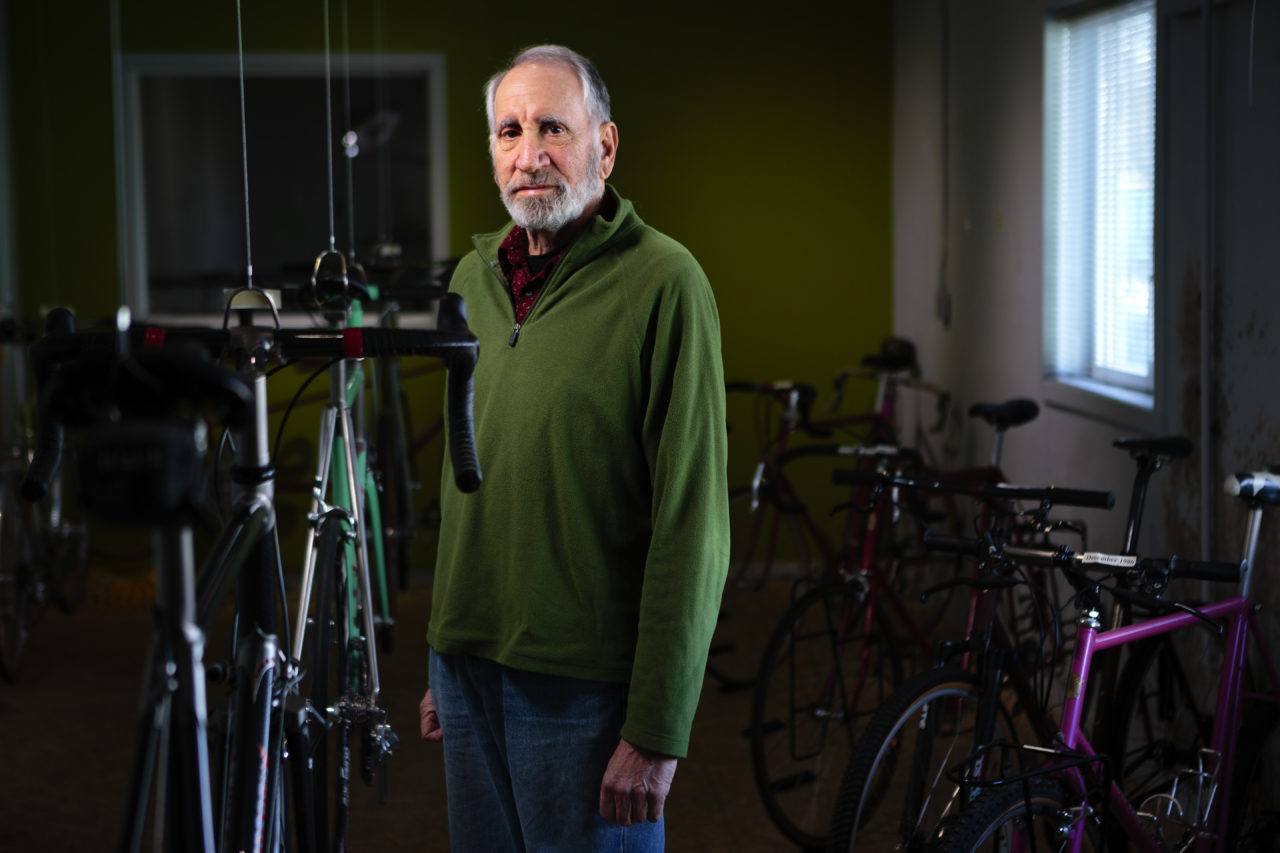 BRUCE GORDON, Bruce Gordon Cycles, Petaluma
For a long time, anyone curious about Sonoma County frame-building found their way to Bruce Gordon and his workshop-showroom in downtown Petaluma. Over a storied 47-year career, the internationally known craftsman mentored or supported many others, including Petaluma's Sean Walling, built some of the best frames the industry has to offer, and designed a full range of high-end bicycle-touring components and accessories that went on to live a life of their own.
But by last year he felt ready to retire, and offered up for sale his immense collection of tools, parts – and lightly used bikes dating to the early 1970s. While Gordon, 70, says he'll continue selling his famous Rock 'n' Road tires from his home, more importantly he hopes to find a buyer for the Bruce Gordon Cycles name. "My intellectual property is all for sale," he says. "The bikes, the racks, the toe clips, the brakes, everything that I made is for sale." Whatever happens, he hopes custom frame-building will live on for decades more, as an antidote to mass production for those who seek it.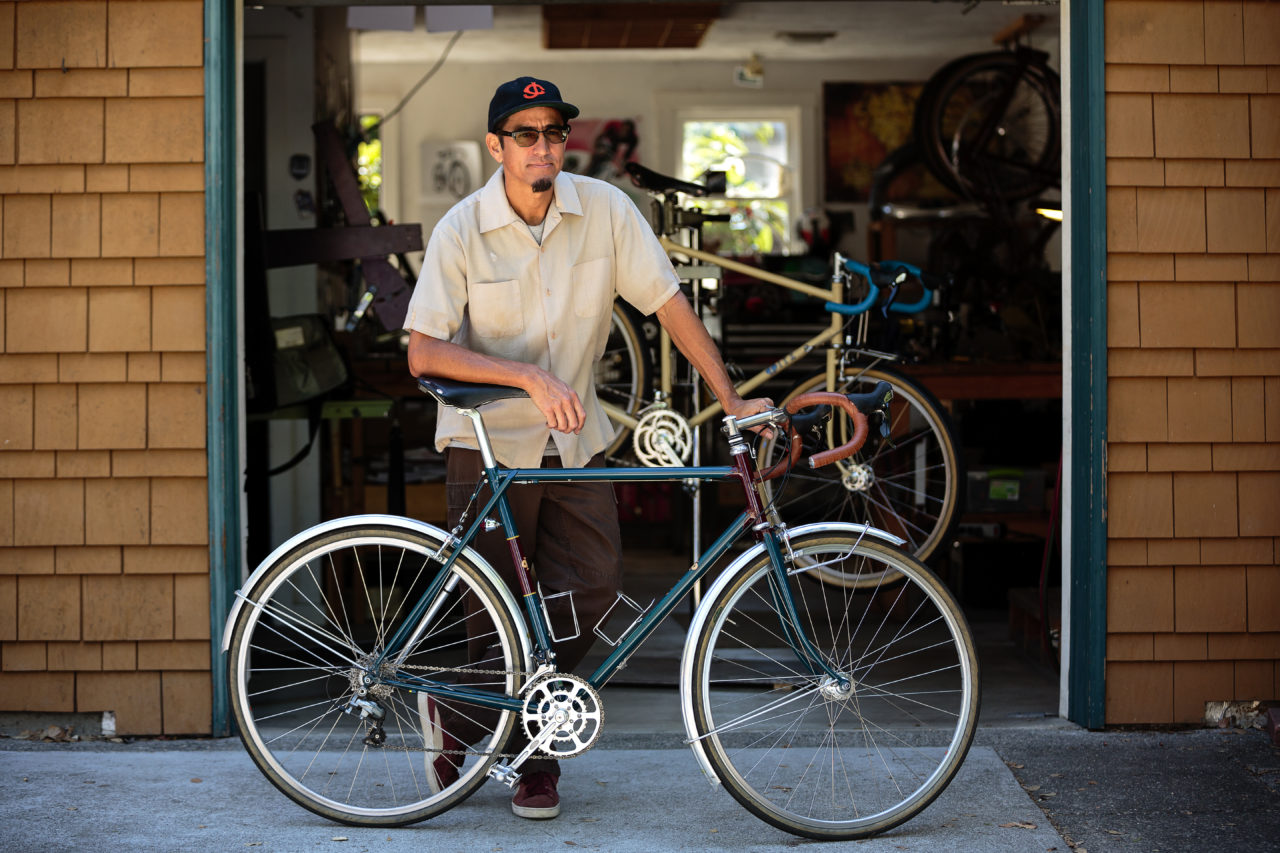 JOHN FITZGERALD, Fitz Cyclez, Santa Rosa
From his garage workshop in Santa Rosa's historic St. Rose neighborhood, John Fitzgerald builds frames that embody the handmade ethic.
They're retro, distinctive, custom-fit, and generally unlike anything you'd find in a standard bike shop. He works only in lugged steel, a labor-intensive frame type that involves mating steel tubes via socket-like sleeves, called lugs.
This type of frame was prized for its performance and strength throughout the cycling boom of the 1960s and '70s, but was eventually supplanted by cheaper welded-steel and aluminum and lighter titanium and carbon fiber.
Fitzgerald's creations honor a century-old French sport called randonneuring, which involves long-distance, self-supported rides. He includes provisions for fenders, multiple racks (which he also builds), lights, and "dynamo" electricity-generating hubs so customers can outfit their rides for days on the road.
"The old-school flavor appeals to me," says Fitzgerald, 46, a stay-at-home dad who has been building frames for 15 years and completes about 10 a year. "They're extremely functional, beautiful, and useful bikes that you can really do anything with."
Favorite local rides: Willow Creek, Old Cazadero, and Hood Mountain.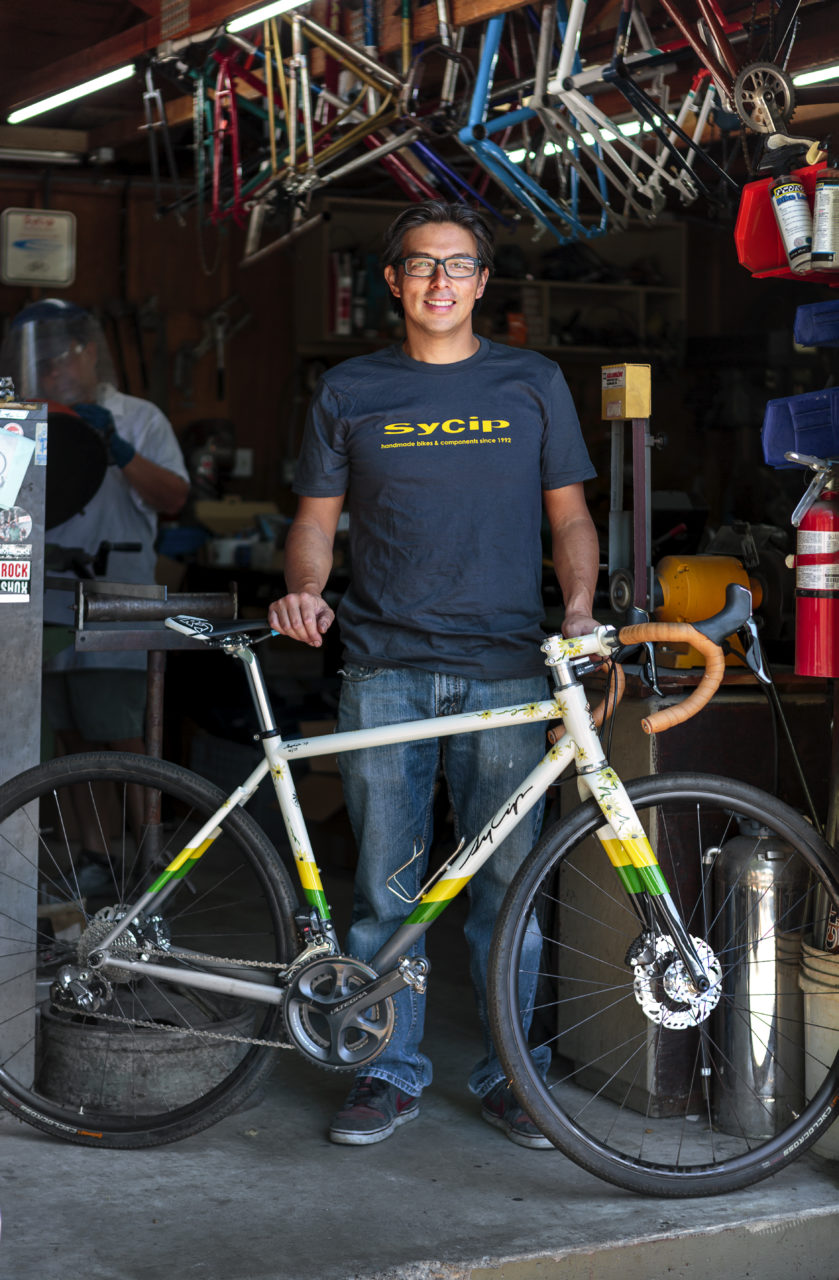 JEREMY SYCIP, Sycip Designs, Santa Rosa
When he started in San Francisco with his artist brother Jay, Jeremy Sycip was the new kid on the Bay Area bike-building scene. "We were both into bike riding, and I worked at a bike shop part time," says Sycip, who had himself just finished his first year of art school. "I wanted to work with my hands. I wanted to produce something that's functional, not just design something on paper." Today, more than 25 years later, Sycip, 47, is one of the scene's most widely known names.
In 2016, he moved his operation from a 2,500-square-foot shop in Santa Rosa's Railroad Square, where he operated for 12 years with six employees, to a smaller, solo operation in a backyard workshop. There, Sycip turns out custom mountain, road, cross, cargo, and commuter bikes in steel, aluminum, and titanium.
"When I meet people, I basically size them up and build them what they want," says Sycip, who celebrated his silver anniversary last year with a limited run of frames hand-painted by his brother — just like in the early days. "Everything is built one at a time. It's not like a production shop at all."
Favorite local rides from his home in East Santa Rosa: Trione-Annadel State Park (especially both Burma trails and Lawndale Trail to Schultz Trail loop, all on a mountain bike); Hood Mountain to Pythian Road and back home (gravel/cyclocross bike); North Sonoma Mountain Regional Park to Jack London State Historic Park and back home (gravel/cyclocross bike); and Cavedale Road to Trinity Road and back home (road bike).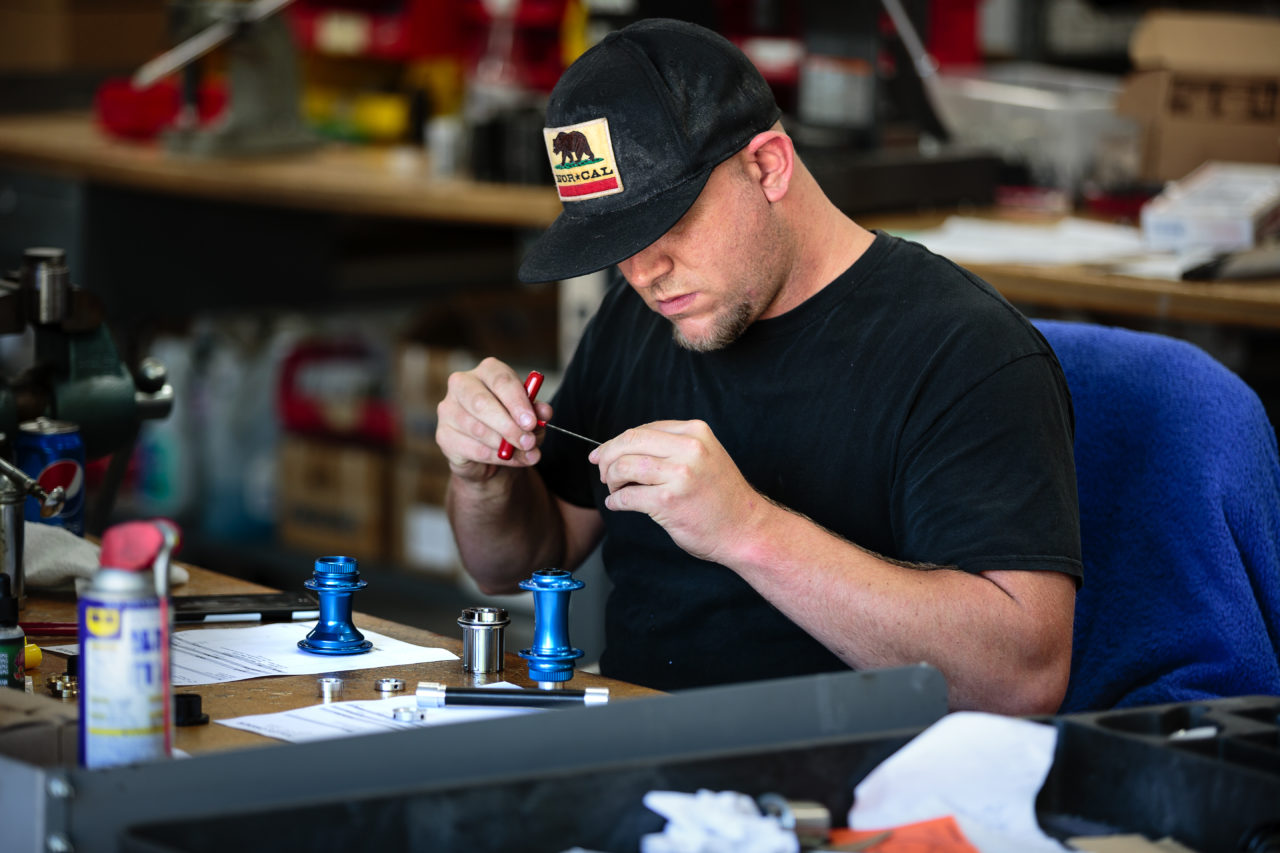 WHITE INDUSTRIES, Petaluma
White Industries manufactures many of the parts and components that turn bare frames into functioning bikes. That includes hubs, at the center of the wheel, with ball bearings rotating around a center axle, and freewheels that allow the gears on the rear wheel to engage in one direction and spin in the other — two parts for which the ever-evolving company is best known. Doug White, 72, a machinist by trade, founded the company in a West Marin garage in 1978.
Today it's one of the nation's only domestic manufacturers of bicycle components, and its 17 employees — including Doug's son Alec, the chief product officer — work from a 15,000-square-foot warehouse fittingly located a block from the heart of Petaluma's burgeoning "Maker Alley." Says Alec, "Our reputation sells a lot of our products for us. As long as we are building to that level of quality, people will tend to trust what we do and buy our products over others."
Favorite local rides: Helen Putnam Regional Park, Trione-Annadel State Park (especially both Burma trails, Rough-Go Trail, and Spring Creek Trail), and Sebastopol to Annadel via the Joe Rodota Trail. On Trione-Annadel: "Really, I just like it all there."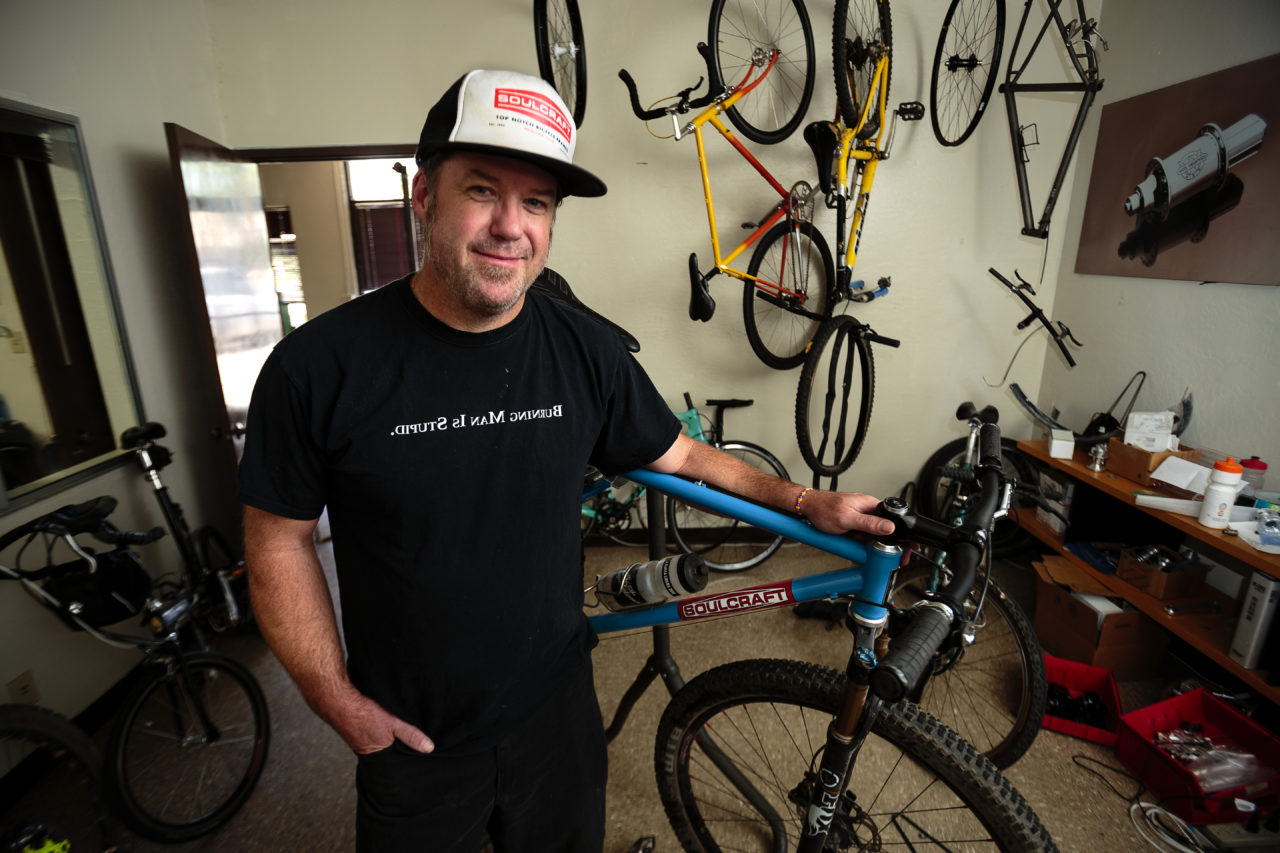 SEAN WALLING, Soulcraft, Petaluma
Petaluma's Sean Walling takes a singular approach to bicycle design with his well regarded Soulcraft brand. He used to offer custom bikes, but this year will transition to handcrafting "stock" frames with set sizes and consistent geometries, built out with standard component sets and limited options. It's a natural fit, as the self-described purist has long offered preset, customizable models like the popular "Dirtbomb," a road/dirt hybrid ready to ride from home to the trails of Trione-Annadel State Park.
Over the course of 30 years and more than 1,000 frames, Walling, 48, has learned that "when you start talking 'custom' to some people, there can be a little anxiety over all the choices." From his large backyard workshop he hopes to streamline the process by building stock high-performance bikes, complete from top to bottom. "I've become known as the guy who makes nice bikes, of good quality and not flashy," he says. "You're coming to me because I know how to build frames."
Favorite local rides: Petaluma's Chileno Valley loop, or the shorter alternate Chileno/Wilson Hill/Hicks Valley/D Street/San Antonio/I Street.
SMART ride: "Over the summer we did a ride from town to Olema, up Bolinas Ridge on the dirt to the top of Mount Tamalpais, down the dirt on Railroad Grade to Mill Valley, then on the bike path back to San Rafael for burritos before we hopped on the train to come home. And there's beer on the train!"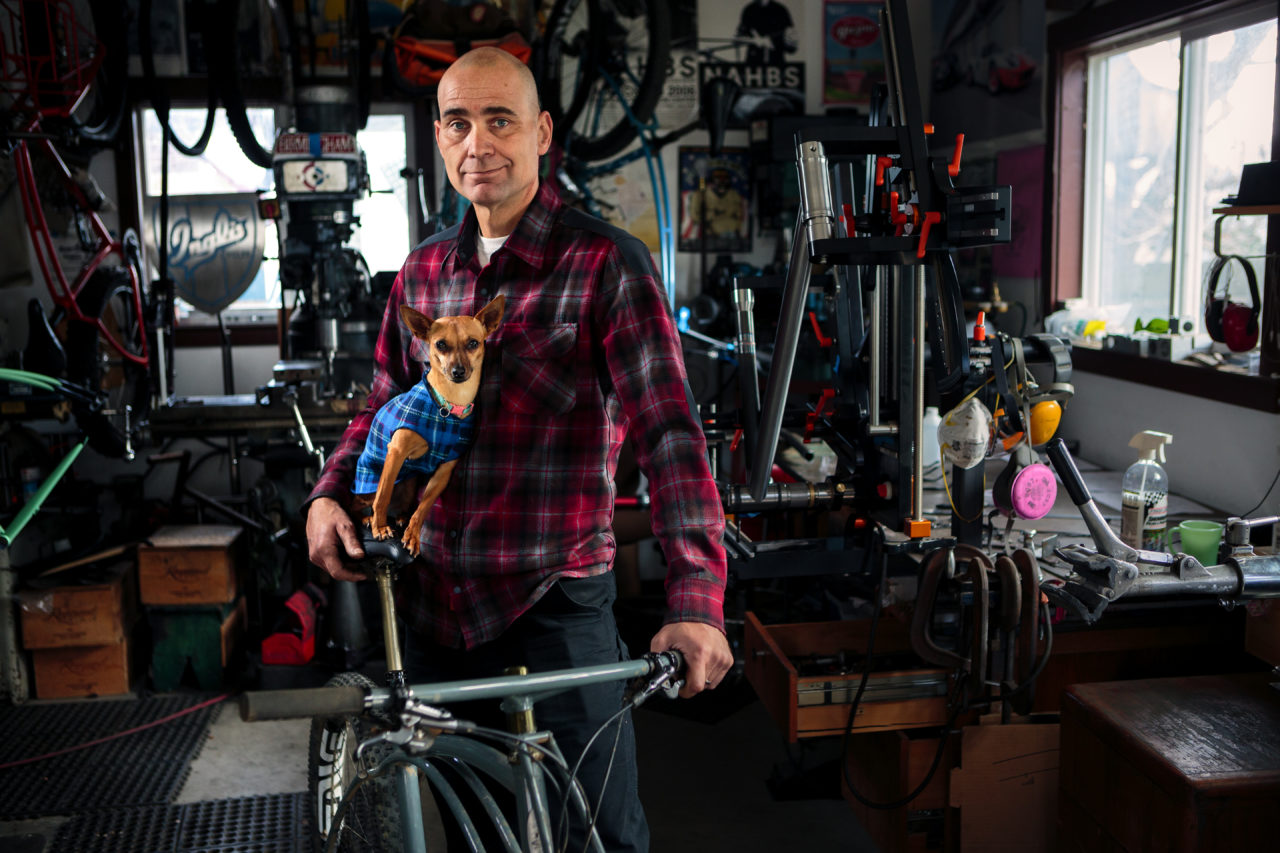 CURT INGLIS, Retrotec, Napa
Through his Retrotec line of mountain, road, and hybrid "cyclocross" and "gravel" bikes, Napa-based Curt Inglis blends the sweeping lines of classic beach cruisers with modern geometries and high-performance parts.
Retrotec's frame models — which can be equipped for track, trail, or anywhere in between — include the fanciful "Classic," resembling a 50-year-old Schwinn, and the slightly more conservative yet no less curvaceous "Twin," Inglis' best-seller. They're some of the most eye-catching and inspired bikes you'll see anywhere.
For traditionalists, Inglis, 49, also builds standard, straight-tubed bikes under the Inglis Cycles name. He produces a combined 35 to 40 frames a year for buyers as far away as Japan and Switzerland.
"As a custom builder, I just need to know what the customer wants," he says.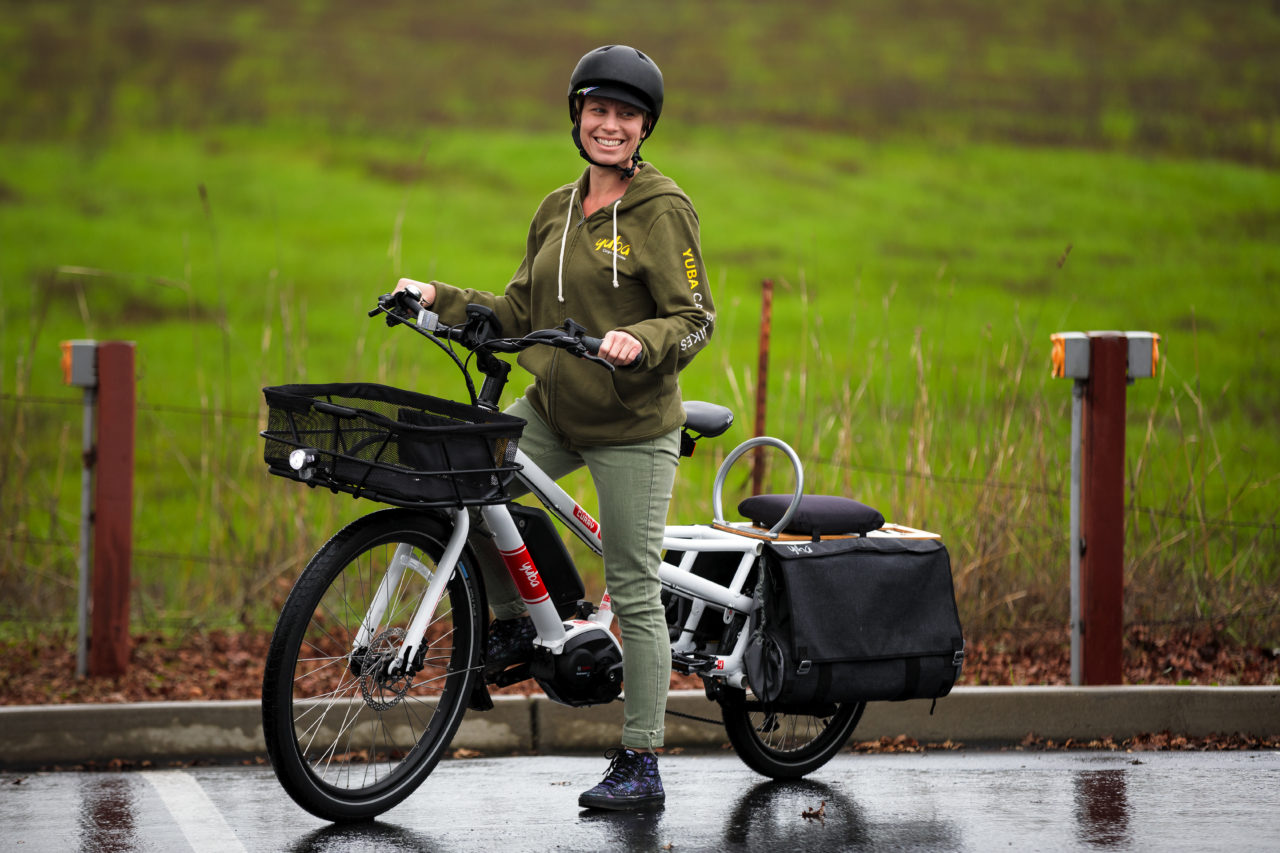 YUBA BIKES, Cotati
If you're looking to haul groceries, toddlers, or a cooler full of craft beer across town, Yuba wants to help. The Cotati-based company has emerged as a leading maker of cargo bikes, beefy rides built for comfort and utility, not speed. Yuba has been migrating north since its 2007 founding in Sausalito and moved its headquarters and seven Sonoma County employees up from Petaluma about a year ago. (Manufacturing takes place in China and Taiwan.)
The company continues to grow rapidly, with plans to launch two additional electric-powered bikes later this year. They'll join Yuba's flagship model, the $4,500 Spicy Curry Bosch, with a motor built for steep hills and long-distance rides. "Young families are wanting to start to move around a little bit differently," says operations manager Marc Azevedo. "We're providing a solution for folks who want to get out of the car." Local dealers include the Trek store in Santa Rosa and Mike's Bikes in Petaluma.
Favorite local rides with kids: Doyle Park (Santa Rosa) to Trione-Annadel State Park (Spring Creek Trail to Canyon Trail); Doyle Park to Children's Museum of Sonoma County via Prince Memorial Greenway and SMART Trail.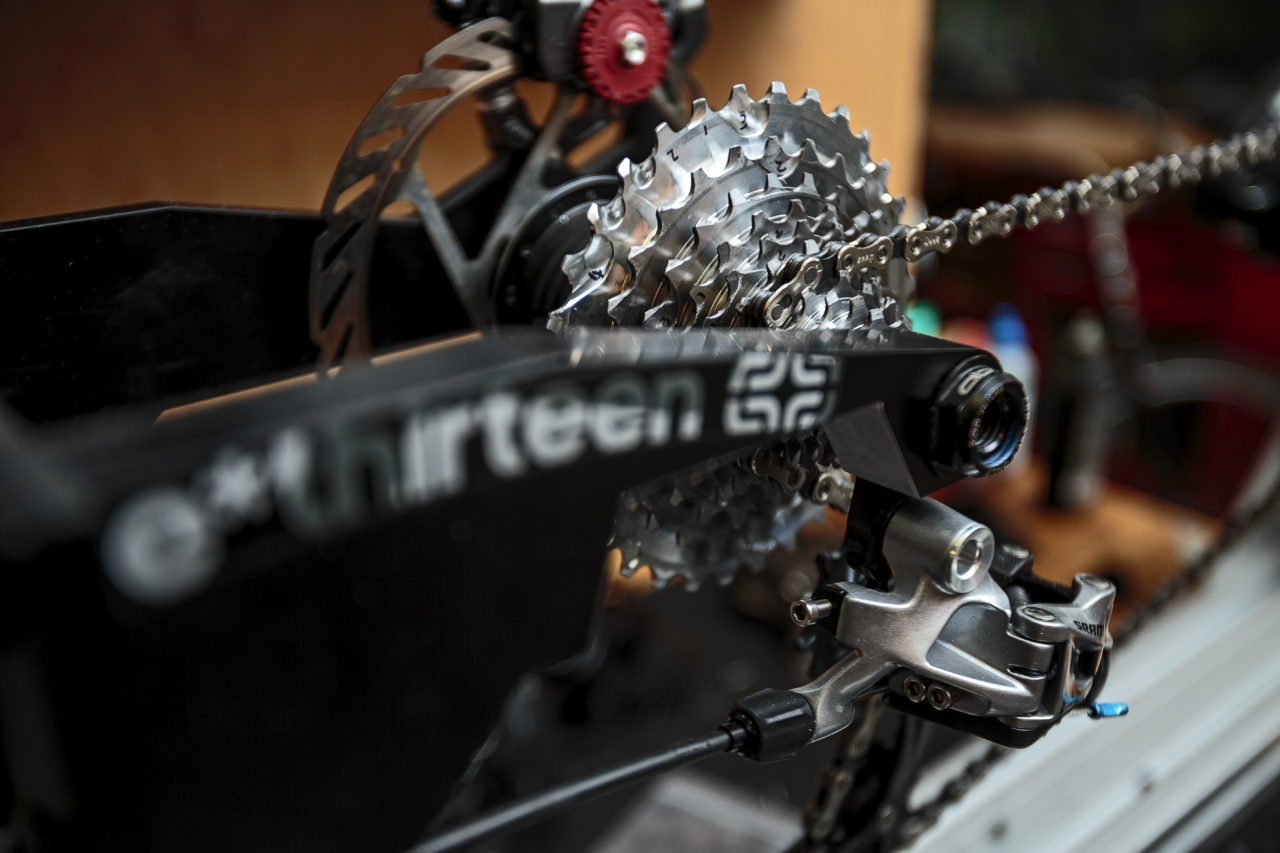 e*thirteen, Petaluma
It has offices in Germany and San Luis Obispo and its manufacturing takes place in Taiwan, but bicycle component producer e*thirteen considers the North Bay home, says marketing and design guru Connor Bondlow. The $15 million company, now entering its 17th year and still growing, is headquartered in a nondescript east Petaluma business park.
"It's good to have a presence in the Bay Area," says Bondlow. "It's such a hub for the cycling world."
Over the years the company has offered a range of high-end aluminum and carbon-fiber components for downhill-oriented mountain-bike riding, including hubs, wheels, cassettes, chain guides, and suspension systems. Its latest hot seller is a burly, ultra-durable, maximum-traction tire for "enduro" downhill racing. "Demand is just insatiable," Bondlow says.
Favorite local rides: Anywhere in Trione-Annadel State Park.