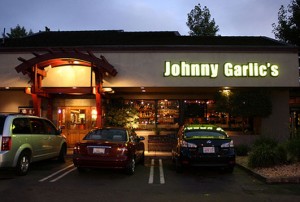 Amen to Guy Fieri. He's a guy you just can't help but love. The Food Network superstar is full of soul, vitality and enthusiasm. I'm not totally sure I can say the same thing for Johnny Garlic's in Santa Rosa.
Here's the backstory: After shuttering Russell Ramsay's Chop House, which failed to have the draw of nightspot Tex Wasabi's, the space was briefly closed. In January, a flurry of television ads featuring Fieri and his mom hailed the return of Johnny Garlic's to its original spot on Farmer's Lane as a 'You asked for it, you got it' kind of thing.
A nice spin, if nothing else.
On Feb. 1 2007 , the doors reopened with many of Garlic's tried-and-true favorites–Caesar salad, Cajun Chicken Fettuccine Alfredo and garlic fries. Added into the mix, a few Chop House favorites–big steaks, French onion soup and the sweet beet salad.
But Fieri's trademark energy seems lacking in the retro-fitted space.
It's the little things—clumpy pasta, crumpled paper table coverings, a sort of empty feeling all around. The salad was wilted, and had exactly two croutons on top. The soup of the day, clam chowder, felt hopelessly boring. Not even the toothy smiles and speedy service could cut through the gloom. On subsequent visits, the food was exactly the same — sounding great on paper but ending up flat, flabby and lifeless.

Hard to imagine a firebrand like Guy tolerating such mediocrity with his name attached to it. None of us are expecting Cyrus, but we'd like it to be better than, say, Applebees. But insiders say the current momentum is more about franchising the restaurant (now in Windsor, Dublin and Roseville) as Fieri brand at this point. A former manager tells BiteClub that the local chef actually does spend time in the restaurants, but when he leaves, things tend to go back to, well, mediocrity.

If you go: Best bets are the Cajun chicken Fettuccine Alfredo, an all-time Johnny Garlic's top-seller. Garlic chips with garlic sour cream are a fun appetizer (if you're not planning on doing a lot of kissing later) and the complementary focaccia-style bread is nice (just please, bring the balsamic without us having to plead for it.) Lunch specials include one of several specialty entrees (like the Cajun chicken) with their signature Caesar for under $10.
Johnny Garlic's, 1460 Farmers Lane, Santa Rosa, 707.571.1800. Open daily for lunch and dinner.