Brown lawns, quick showers and dirty vehicles are among the more benign results of California's drought and the mandatory water restrictions that have come with it. The withering of parched crops in the Central Valley has made national news, but what about the grapes that are now being harvested and contribute mightily to Sonoma's $13 billion annual wine industry?
"As far as wine quality this year, I see little correlation, so far, to the drought," said Chris Bowland of Bowland Vineyard Management in Santa Rosa. "Most of our quality and quantity concerns have to do with weather at bloom. That is a bigger story than drought."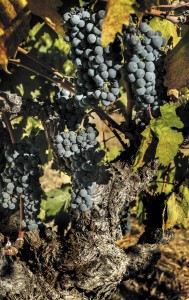 "The winter of 2014-2015 was not as dry as last season," added Mike Crumley, vice president of vineyards for Gloria Ferrer Caves & Vineyards in Sonoma. "One of the great things about this growing season is that we did not have to irrigate between bud break and bloom. The vines grew their canopies to full size."
Bud break occurs when tender buds form on the vines in early spring. Bloom, also called flowering, happens about a month later, as tiny flower clusters emerge from the buds. Once pollinated, they form grapes. With enough moisture in the ground from bud break through bloom, the vines remained healthy. However, said Bowland, "Almost all varieties are down in yield from normal and, depending on variety and location, way down from the last several years."
That's because cool May temperatures delayed bloom and not all the flowers set fruit (called shatter). "I have some Pinot Noir at 50 percent of last year's yields and some at 75 percent," Bowland said. "Chardonnay was less affected, and if I dare, I predict a very good-quality Chardonnay vintage. But I have a buddy with a large block of Sauvignon Blanc that will not be harvested because of shatter. The results are all over the board."
Although local growers have not been ordered to restrict irrigation, Bowland said most are conserving water in as many ways possible.
"We closely monitor vine status to make sure we are not wasting irrigation water," he explained. "We want to be sure that we ride that fine line between watering too little, which makes vines and grapes suffer, and watering too much, wasting the resource."
Other strategies have been used to reduce water use in vineyards, including dry-farming, nighttime irrigation to minimize evaporation, recycling winery water for use in vineyards, weather station monitoring to predict when rain will arrive, and won't.
If a promised El Niño occurs in 2015-16, growers will get more rain than they need, with possibilities of flooding and mudslides. That's a bridge they'll cross when they come to it.