Access to the stunningly beautiful Bohemia Ecological Preserve normally is limited to guided hikes led by the nonprofit LandPaths environmental conservation group.
Yet now and then, a curious interloper might see a strange sight on the 1,000-acre property near Occidental: tents. Lots of tents, crafted of high-end canvas, glittering with twinkle lights and managed by butlers who scurry to serve their well-heeled patrons who relax on Adirondack chairs.
More wine? Yes, please. Another s'more from the freshly stoked fire pit? Don't mind if I do. And when it's time to retire for the evening, the tattooed, hipster personal attendant will turn down the full bed with its plush mattress, 400-thread-count linens, wool Pendleton blankets, and down comforters and pillows.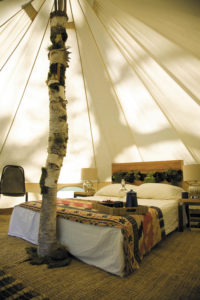 The scene, surreal as it is, comes courtesy of Shelter Co., a San Francisco design firm that has transported upscale events to the Sonoma wilderness and, in the process, created an increasingly popular concept of luxury experiences under the stars.
The private events have the extra draw that participants can number up to 230, making it a popular option for weddings, corporate retreats and large-scale family reunions. Part of the thrill is the exclusivity of the landscape, as Shelter Co. sets up its tiny towns essentially anywhere that can accommodate a tent, such as remote stretches of the Doran Regional Park beach campground in Bodega Bay, the Salt Point State Park coastal campground in Jenner, Barndiva Farm in Anderson Valley, Stewarts Point on the Sonoma Coast, and boutique Scribe Winery in Sonoma.
It's about more than just supplying pretty tents. Company founder Kelsey Sheofsky handles every detail, including catering, communal tents for Scrabble games, lounge tents with full bars, children's tents, activities such as croquet and outdoor movies, and a well-stocked library tent for immersion in classic literature or a juicy read of Rolling Stone magazine. Weddings can include hair, makeup and mani-pedi stations.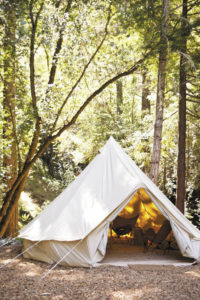 "I was a destination wedding planner for six years before launching Shelter Co.," Sheofsky said. "I saw a need for lodging options outside of regular hotels when clients wanted to have their events at more far-flung locations. It turns out that this is something a lot of people need, for everything from work retreats to social events and music festivals."
Perhaps "need" is a stretch, but who's to deny the blissful joy of indulging in a fantasy abode, where peeling back the flap on a European-design Meriwether tent reveals an alfresco pied-à-terre decorated in cowhide or sea grass rugs, leather wing lounge chairs, throw pillows placed just so, and sleek bedside tables topped with chic battery lanterns? There may be artisanal chocolate mints on the pillow, a welcome bottle of Sonoma wine waiting, and a fashion-statement headlamp begging for a nighttime stroll. With tents spanning 16-by-16-by-9 feet, there's plenty of room to stretch out, and since the furniture is selected by Sheofsky's husband, Mike, a specialty build-out and custom furniture designer, virtually any look can be achieved.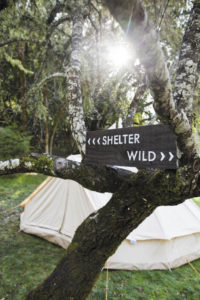 The idea has proved so popular that Shelter Co. recently expanded to Austin, Texas, and New York, and has set up tent parties in places such as a Malibu cliff overlooking the Pacific Ocean, at a private estate on a San Juan Island in Washington state, along the banks of the Colorado River in Moab, Utah, and a private mansion near Joshua Tree National Park.
"We're about to do our biggest wedding thus far, with 120 guests staying in our tents at a private estate on the beach in Santa Barbara," Kelsey Sheofsky said. "It's three days of great activities, amazing food and wine, the works."
With a $2,000 rental minimum, a Shelter Co. party isn't for everyone. The profile, she notes, is people in the 30- to 45-year-old range, well off, outdoor lovers and looking for something different to experience with their friends and family.
"Most of my clients are pretty private," Sheofsky added, explaining that she has found they prefer not to be showcased in testimonials or media, but would rather maintain the mystique of their unique hideaway events.
Still, there's the Oakland couple who staged their wedding in a Wine Country redwood forest, inviting their guests to make their own pizzas with a pop-up oven, vogue in a photo booth, and play dress-up in Burning Man-style costumes. Other interesting requests have included yoga classes, masseuses, boat rentals, horseback riding, child care and tents reserved for dogs.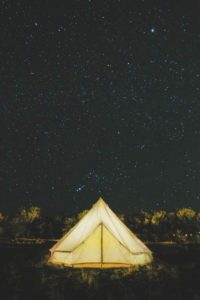 At the Bohemia oasis, the land seduces with coastal prairie meadows flanked by old-growth fir forests, hardwood riparian stands, chaparral groves and oak woodlands. The Duvoul Creek waterfall spills down to Dutch Bill Creek, one of the most valuable coho salmon habitats in the Russian River system.
Late one evening, the bamboo dinner plates have been cleared from the white-draped tables set in the grass, the wine glasses topped off, and guests have freshened up with the portable commodes, sinks and solar showers.
A butler glides among the revelers now cuddled around the campfire, offering flasks filled with farm-to-glass cocktails, mugs of hot cocoa, baskets of organic popcorn and perhaps homemade biscuits for the canine guests.
In the morning, the butler will cook breakfast, anything from hearty bacon and eggs with bloody marys to tofu scrambles with green juices. To date, no one has pushed the butlers too far, even in the most luxurious arrangements.
"Requests are nothing too crazy," Sheofsky said. "It's all about the setting. Our clients are pretty down to earth."
Subscribe to Our Newsletters!