Everyone who watches Fashion Week lusts to have the audacity to pull off the outfits strutted on the runway.  The reality is we can all afford to pack our closets full of top designers, and the designs we see can be downright impractical. Here's a couple of runway inspirations turned into obtainable, trendy fall fashion.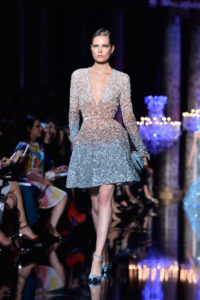 Inspiration: Ombre and sparkling in every direction? Who could want more? Unfortunately, your average fashionista can't pull off looking blinged to the max. Also light blue screams spring, not the darkening colors of autumn.
Here's how we would recreate this look for this fall: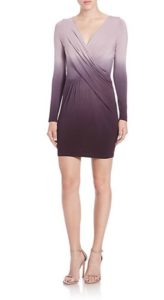 Saks Fifth Avenue: Young Fabulous & Broke Maya Ombre Dress.
This dress has the same beautiful ombre effect, but in a much more elegant way. This perfect plum purple is gorgeous for the fall season.  Forget about the uncomfortable rhinestones, this soft fabric keeps you looking fresh, comfy, and elegant. Plus it is a wrap style, and stretch fabric, which means that it can be worn by all different body types. Who knew all those could go in one dress?
Get it at saksfifthavenue.com for $158.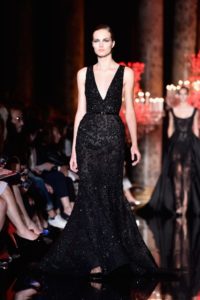 Inspiration: The plunging neckline on a well-fitted black gown is absolutely stunning. Black is a year-round color, but with the cooler weather and darkening skies, black is a great fall/winter color. But again with the gems!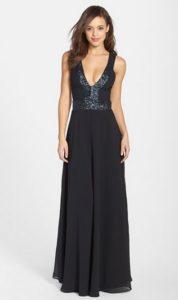 While the sequin-esque look of this gown creates all the "oooh"s and "aaahh"s, it is a little too much sparkle for an evening gown.
How we would recreate this look:
Nordstrom's: Dress the Population 'Delani' Sequin Crepe Gown
This dress has the same gorgeous neckline and fitted features, sans the excess of sparkle. the 'Delani" gown has just the right amount of sequins to accent the dress instead of taking it overboard.
Get it for $248 at nordstrom.com.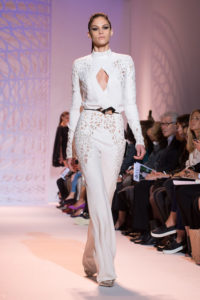 Inspiration: With the boom in rompers during the summer, we were bound to see jumpsuits in the fall line-up. This jumpsuit has gorgeous diamond-like cutouts all over; but that's the problem.

Any of us fashionistas who aren't a size 0, and maybe have a little fluff,  would look a bit like oozing play-doh in this pantsuit.
How to recreate this look:
Nordstrom's: MISSGUIDED High Neck Crop Jumpsuit
Here we have a cutout in the form of a plunging neckline, which is a bit more fluff friendly (we all have a little, and it is perfectly fine). Also, this jumpsuit is far more pairing friendly: this would look cute with a sweater or a kimono wrap.
Get it at nordstrom.com for $78.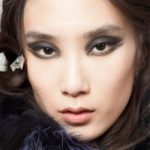 Inspiration: The dark, smoky eye look pairs perfectly with the darker fall colors. The intensity makes us look badass and ready to take on the world. But for those without their own personal makeup artist, we need a palate that covers all our fall bases.
How to create this look:
Urban Decay: Naked Smoky Palette.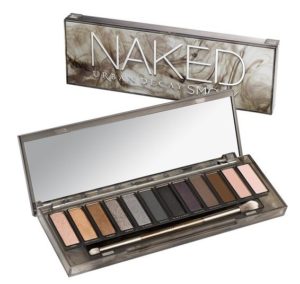 The Urban Decay Naked line is known for it's beauty and variety of combinations, but this new palette knocks it out of the park. How many different gorgeous smoky eye looks can you create with this palette? The world may never know. That purple ombre dress with a gray-purple smoky eye? Yes please.
Get one at urbandecay.com for $54.
Subscribe to Our Newsletters!