Written by Heather Irwin for BiteClubEats.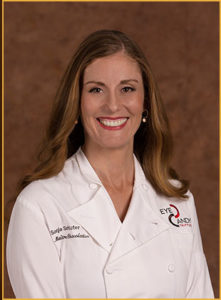 Eye Candy Chocolatiers: Chocolate is Dr. Sonja Schluter's happy place.  The Sonoma ophthalmologist spends her days working with patients facing serious vision problems, primarily glaucoma. So her off-time passion for making beautiful chocolate truffles has become an outlet of beauty, precision and, of course, deliciousness.
But after 20 years practice (and giving most of her chocolate creations to friends), she's finally opened a tiny retail shop at Sebastopol's Gravenstein Station called Eye Candy.
Jewel-like truffles of every size and shape line the case, with flavors like passionfruit, guava, Earl Grey tea, chai coconut and cinnamon cardamom, making decisions difficult. What we love is the bitterness balancing act. Schulter uses a chocolate that's between 54-64 percent cacao (milk chocolate has as little as 10% and extra-dark is around 80%), easing up on some of the intense bitterness of other dark chocolates.
Each of the truffles is made in the shop, with a mix of precision and creativity. "It fits my personality," said Schluter, who has culinary training from the Ecole Chocolat in Vancouver and Callebaut Academy in Chicago. Crediting her mom, Tamara Suslov, M.D. (who founded the Eye Center in Sebastopol) for her tenacity and inspiration, Sonja brings her two worlds of chocolate and ophthamology together by donating a portion of her candy proceeds to the Glaucoma Research Foundation.
"Its a beautiful balancing act," she said.
6761 Sebastopol Ave, Sebastopol. Open Monday through Saturday from 11a.m. to 4p.m.
Editor's Note: Travel, dining and wine tasting can be complicated right now. Use our inspirational ideas to plan ahead for your next outing, be it this week or next year. If you visit restaurants, wineries, and other businesses during the pandemic, remember to call ahead, make reservations, wear a mask and social distance.