Pricey Champagne is traditional, while buoyantly effervescent Prosecco is all the rage and far less inexpensive. Cava from Spain, cremant from Burgundy and Alsace, and New World bubblies from Oregon, New York, Australia, and New Zealand all add dimension to the sparkling wine scene.
Yet a wedding in Sonoma calls for Sonoma sparkling wines, the best of which deliver

Champagne-like quality and depth at a fraction of the price. Vibrantly fruity, expressive, and impressive, local bubblies are so good that those getting hitched in Sonoma should consider nothing else. Marry Sonoma, drink Sonoma.
A great place to start is Gloria Ferrer Caves & Vineyards. Its Carneros Cuvée ($70) and Royal Cuvée ($37) are glorious, yet possibly cost-prohibitive for serving to a crowd. As alternatives, consider the winery's rich Sonoma Brut and subtly pink, delicate Blanc de Noirs (each $22), both great values for their v

erve, generosity of flavor, and refinement.
Iron Horse Vineyards' Green Valley of Russian River Valley Wedding Cuvée ($42) could not be more appropriately named for matrimonial celebration. A blend of Pinot Noir and Chardonnay, the wine

offers peach, raspberry, and blood orange flavors that ride a wave of bracing acidity. Sumptuous and seductive.
On a budget? Don't forget about Korbel, the Guerneville winery whose sparklers are ubiquitous (approximately 1.4 million produced annually) and often found at $10-ish prices at big-box stores and grocery chains. Two Korbel wines are exceptional for their price: California Brut Rosé ($12 at the winery), lean, racy, and with bright cherry, berry, and citrus flavors, and California Brut Made with Organically Grown Grapes ($15), which has yeasty depth and complexity.
Demi-sec sparklers are best for wedding cake and other after-ceremony desserts, with their subtle sweetness and vibrant acidity both complementing and contrasting the confections. In this case, neighboring Napa Valley producer Schramsberg Vineyards' 2011 Cremant Demi-Sec ($40) satisfies like no other.
From the reception to the first toast and through the cutting of the cake, sparkling wine is a vital component of any wedding. For Sonoma ceremonies, there is no need to look elsewhere for fizz to fuel this most festive of occasions.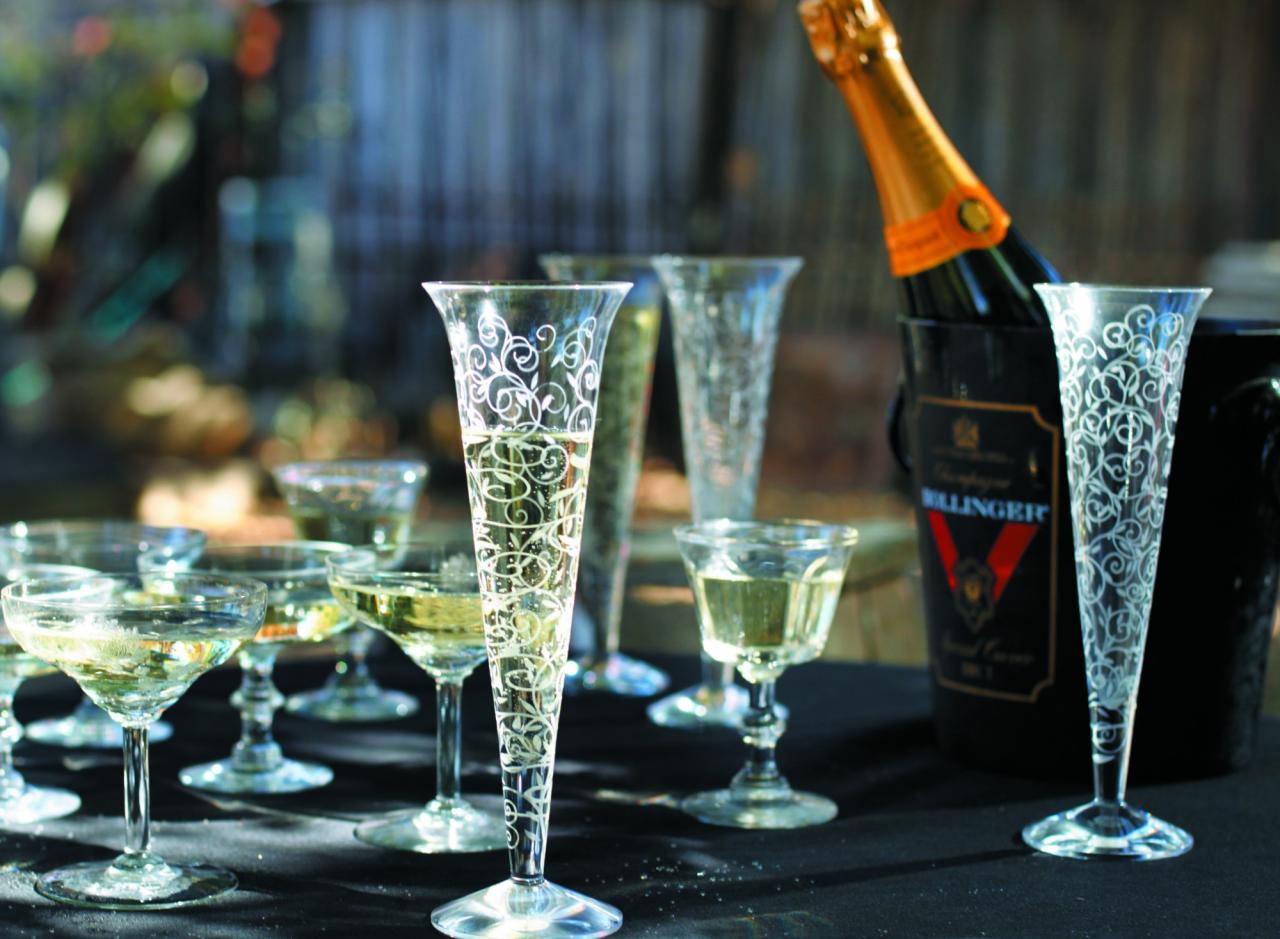 Serving Your Sparklers with Style
While we still love mason jars as much as anyone, many Sonoma couples are choosing a more refined way to serve wedding sparklers: vintage glassware.
Brides can unearth delicate cut-glass beauties and old-fashioned champagne coupes at thrift stores and flea markets, bringing color and personality to their tables. "I love the look for parties and weddings. Mismatched coupes are really fun, and they're exciting to collect," says Jayme Powers, proprietor of SIGH., a champagne and sparkling wine bar in Sonoma. Companies such as Williams-Sonoma and BHLDN are even reissuing vintage glassware designs in modern palettes (williams-sonoma.com; bhldn.com). And if you're not into the hunt, you can source these styles from vintage rental companies.
Another throwback trend a 1920s-era bride might recognize: champagne towers. Not those ever-running fountains (all that churning ruins the bubbles, and the taste) but an elegant stack of vintage-style coupes filled in a cascade from the top. Ask your caterer or look up directions online to re-create the look. It's sure to get your reception guests on their feet, especially when paired with a magnum of local sparkling wine.
—Abigail Peterson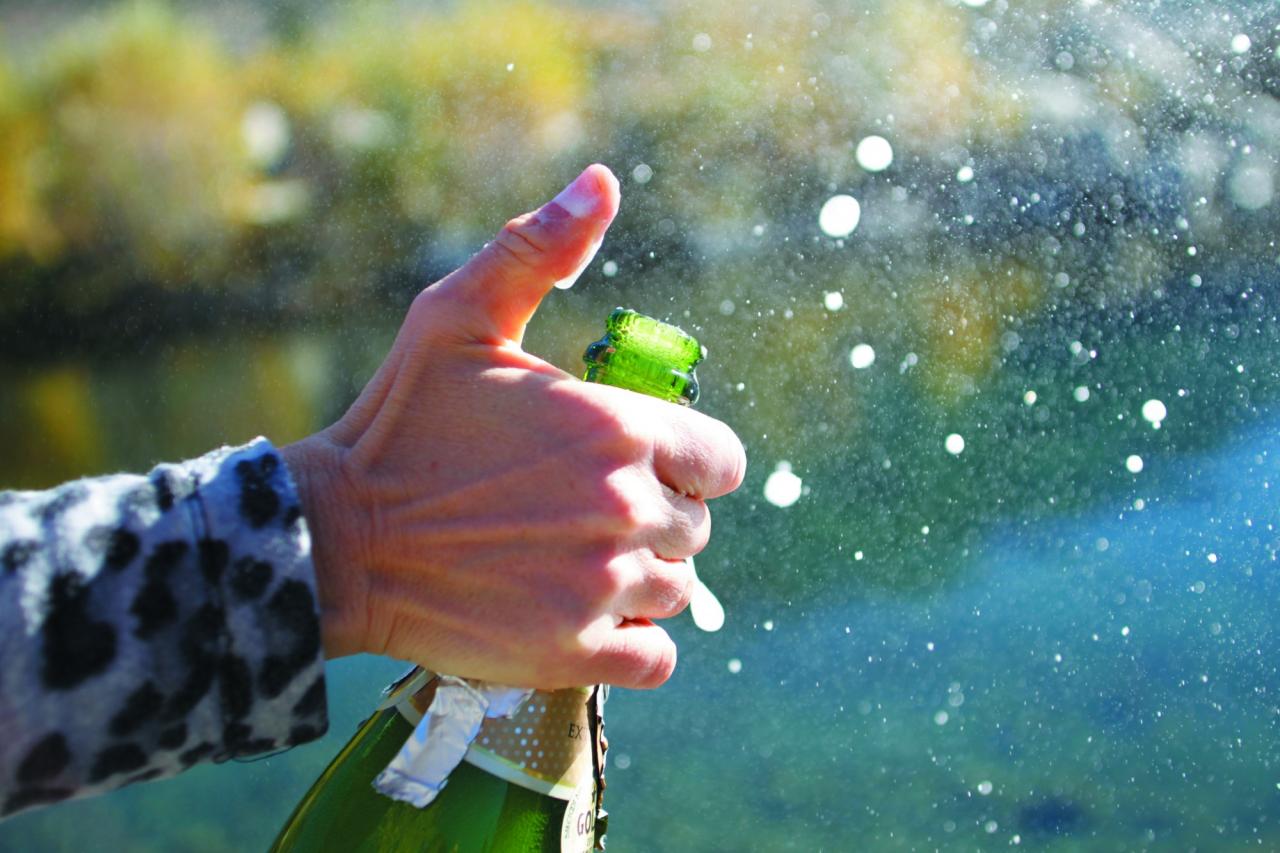 Buena Vista Winery's Bubble Lounge
If bubbles are your thing and you just can't wait till the wedding, consider a pre-wedding celebration at Buena Vista Winery's Bubble Lounge, housed in the winery's Champagne cellar. The lounge's sumptuous décor, complete with tufted couches and crystal chandeliers, evokes a Roaring Twenties mood that will easily match the high spirits of an engagement soiree or girls' night out. Reservations required; call 800-926-1266.
Buena Vista Winery, 18000 Old Winery Road, Sonoma, buenavistawinery.com