Rudolfo Vazquez, of San Francisco, launches his ball on the bocce court at Campo Fina restaurant in Healdsburg as his friends wait their turns.
There's a historic eatery on Manhattan's Upper East Side that bills itself as the best Italian restaurant in the city with an indoor bocce ball court. It's also the only one, and you don't go there for the food.
In Sonoma, diners don't have to choose between food and fun. There are several renowned restaurants that also serve up a side of la dolce vita in the form of a friendly game of bocce.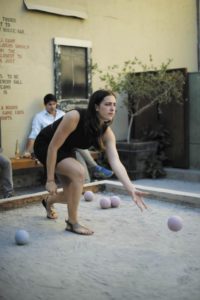 "It's a reminder that the Italians do a better job of relaxing than we do," said William Foss, owner of The Kenwood Restaurant. "Here's a sport where you can hold a glass of wine."
When he reopened the landmark Sonoma Valley restaurant in 2013, Foss added a regulation 90-foot bocce court next to the pond as a way to invite his guests to linger and drink in the view.
"Most restaurants deal with sit down, order, pay and leave," said Foss, who started playing bocce 20 years ago in his hometown of Los Gatos. "This was, 'Go to the bar, watch a game, go sit by the pond and play some bocce.'"
In Healdsburg, Ari Rosen named his first restaurant, Scopa, after an Italian card game. When he was ready to open a second, the chef wanted another game, so he naturally gravitated to the Italian game he used to play with his grandfather during summers in upstate New York.
Rosen painted a bocce player above the bar, built a bocce court at the back of the patio, and dubbed the restaurant Campo Fina. (campo in Italian means field, as in bocce playing field).
"For me, it's about injecting the restaurant with life," Rosen said. "Before the opening, I was already shopping for vintage bocce balls."
Every summer, Campo Fina hosts league games on Thursday nights, with Rosen serving as referee. During the playoffs, the restaurant closes and Rosen installs bleachers for the fans. The winning team gets $1,000 plus their name painted on "The Wall of Champions."
"The playoffs are very intense," Rosen said. "Teams secretly send drinks to the next team to try to knock them out."
At Underwood Bar & Bistro in Graton, owner Matthew Greenbaum built a bocce court on the back patio to provide a place for folks to enjoy drinks before dinner or sit down to a casual meal.
"I like it when uninitiated couples come in, and they're a little nervous, but a half-hour later, they're drinking and shouting," he said. "It tickles my heart."
Editor's Note: Travel, dining and wine tasting can be complicated right now. Use our inspirational ideas to plan ahead for your next outing, be it this week or next year. If you visit restaurants, wineries, and other businesses during the pandemic, remember to call ahead, make reservations, wear a mask and social distance.