Baci Cafe & Wine Bar, 336 Healdsburg Ave., Healdsburg, 707-433-8111, bacicafeandwinebar.com. Classic Italian dishes, many of them from the northern part of Italy, are expertly prepared by Shari Sarabi, who is originally from Iran but cooks as though he's from Milan. A large wood-fired oven turns out some of the best pizza in Sonoma County. The sauce Bolognese is the real thing, and there's tiramisu and panna cotta for dessert. The wine list features wines from Italy and from around Healdsburg. Reviewed 12/1/13. $$$
Backyard, 6566 Front St., Forestville, 707-820-8445, backyardforestville.com. The farmers, ranchers and/or fisherfolk who produce just about every ingredient in every item on the menu are listed by name, and they're almost all from Sonoma County, and right around Forestville. This is great in-season, locally produced food, ably handled in the kitchen. The wines are local, too. When the place fills up, it gets loud, and the service can be spotty, but the good locavore cooking helps smooth the rough spots. Reviewed 12/9/12. $$-$$$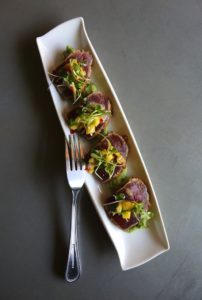 Belly: Left Coast Kitchen & Taproom, 523 Fourth St., Santa Rosa, 707-526-5787, belly707.com. Belly raises the bar for gastropubs in the North Bay, with wonderfully flavorful renditions of staples such as pizza, burgers, steak, barbecued pulled pork, crab cakes, salads and more. Chef Gray Rollin has been tour chef for many popular music acts, and you can imagine band members appreciating his way with comfort food. Two dozen beers on tap and 26 more by the bottle present extensive choices for ways to wet and whet your whistle. Reviewed 4/28/13. $-$$
Bravas Bar de Tapas, 420 Center St., Healdsburg, 707-433-7700, starkrestaurants.com. Owners Mark and Terri Stark traveled to Spain and fell in love with the wine-loving, snack-munching, pal-schmoozing culture of the tapas bar scene there. So they brought it back home to join their four other Sonoma County restaurants. The backyard of the pre-war house that's home to Bravas is transformed into an alfresco venue for tapas-style conviviality. The snacks are extraordinarily diverse and delicious. Scads of Spanish and local wines and sangrias await. Reviewed 12/16/12. $$-$$$$
Café Citti, 9049 Sonoma Highway, Kenwood, 707-833-2690, cafecitti.com. Luca and Linda Citti found the key to success when they started their trattoria in Kenwood a couple decades ago: forget fancy trappings and serve really good Italian food at reasonable prices. It worked and Café Citti has been thrilling taste buds ever since. The basics — lasagna, tortellini or ravioli in brodo, rotisserie chicken, cannoli, tiramisu — are all here and done beautifully. It's the kind of hole in the wall that visitors to Italy write home about. Reviewed 10/28/12. $$.
Canneti Roadhouse, 6675 Front St., Forestville, 707-887-2232, cannetirestaurant.com. Canneti Roadhouse primarily serves Tuscan food that chef and owner Francesco Torre learned to love as a child in Italy. That means a local version of the Mediterranean diet, with lots of fresh vegetables, olive oil, bread and meat (especially game). A four-course seasonal tasting menu is a good bet, and each course can be paired with wine. During clement weather, there's alfresco dining out back. Reviewed 5/26/13. $$$-$$$$
Chef Patrick's, 16337 Main St., Guerneville, 707-869-9161, chefpatricks.com. Although the food is billed as California-French, it also includes lots of Italian dishes. And since Chef Patrick is Vietnamese, there's a Southeast Asian accent to some of his cooking. His many influences do not result in chaos, but rather in a refined cuisine that includes fish, fowl and beefy favorites. He likes to amp up the flavor profile of popular dishes like beef ragu, which is all to the good. Reviewed 2/10/13. $$-$$$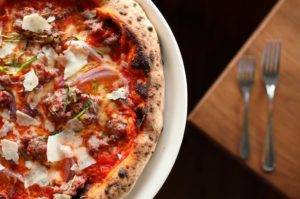 Diavola Pizzeria and Salumeria, 21021 Geyserville Ave., Geyserville, 707-814-0111, diavolapizzeria.com. Chef and owner Dino Bugica spent years learning about real Italian food from his real Italian family and by living and working in Italy. It shows in his house-made salamis, authentic pizzas, pasta dishes, entrees and desserts. The salami and cheese appetizer is not to be missed. Diavola is a magnet for food lovers to sleepy, out-of-the-way Geyserville, and deservedly so. Reviewed 5/11/14. $$-$$$$
Dry Creek Kitchen, 317 Healdsburg Ave., Healdsburg, 707-431-0330, charliepalmer.com. This is Healdsburg's classiest restaurant and one of its best. The cooking is international-Californian, meaning lots of fresh local ingredients handled with sophistication, such as scallops en croute with a black truffle sauce, and house-smoked Liberty duck breast with a confit of duck leg meat and pork belly joining it on the plate. The pastry chef does excellent work with intricate delicacies. There's a wine list of more than 500 wines, all of them from Sonoma County, and there is no corkage fee if you bring a Sonoma County wine of your own. All this glamour is not inexpensive, so be prepared.
Reviewed 6/1/14. $$$$
Flavor Bistro, 96 Old Courthouse Square, Santa Rosa, 707-573-9600, flavorbistro.com. In its friendly, unpretentious way, Flavor Bistro is a shining example of Sonoma County's enviable food scene. There is a great wine list, house-made pastas and pizzas, meats and vegetables from local organic farms, breakfast most days and lunch and dinner every day, and best of all, modest prices on most dishes. All this makes Flavor the go-to place for locals (and wise visitors). Reviewed 12/8/13. $-$$$$
Forchetta/Bastoni, 6948 Sebastopol Ave., Sebastopol, 707-829-9500, forchettabastoni.com. This review focuses on Bastoni, which serves Southeast Asian street food, with lots of noodles, chicken and rice with spicy hot sauce, salads, curries, and of course, a very good banh mi sandwich. Prices are moderate and there's lots from which to choose. The full bar is one of Sebastopol's top spots for get-togethers and friendly fun.
Reviewed 9/22/13. $$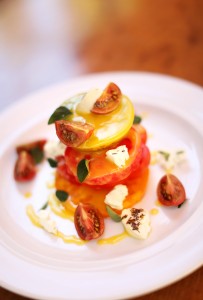 the girl & the fig, 110 West Spain St., Sonoma, 707-933-3000, thegirlandthefig.com. The food has never been better at this successful restaurant since proprietor Sondra Bernstein and executive chef John Toulze expanded their repertoire during world travels. The wines are all from Rhone grape varieties from the U.S., France and Spain. The full-flavored menu goes perfectly with the French country theme. Duck confit, steak frites, wild flounder meuniere, pastis-scented mussels — there's so much to like. Reviewed 2/17/13. $$-$$$
Il Posto, 4211 Solano Ave., Napa, 707-251-8600, ilpostonapa.com. An excellent neighborhood restaurant that has the best characteristics of all good Italian places: The pastas are made from scratch, care is taken to respect the ingredients, and the food appeals to folks of all ages. There's pizza, of course, and it's good, especially with the house-made sausage on top. A big wine list enhances classic chicken and veal dishes, cioppino and great desserts. Reviewed 5/4/14. $$-$$$
Jack and Tony's Restaurant and Whisky Bar, 115 Fourth St., Santa Rosa, 707-526-4347, jackandtonys.com. Jack and Tony's has the best whisky bar in the North Bay, with more than 300 selections from around the world, from rough to smooth, cheap to very expensive, and with nuances to satisfy any palate. The restaurant serves crowd-pleasing dishes such as steaks, grilled ahi tuna, sage-stuffed roasted chicken and braised lamb shank. Do not miss the butterscotch pudding, which is made with real Scotch and butter. Reviewed 1/13/13. $$$-$$$$
John Ash & Co., 4330 Barnes Road, Santa Rosa, 707-527-7687, vintnersinn.com. John Ash & Co. remains the most soigné restaurant in Sonoma County, and the Pat Kuleto-designed "Front Room" is the comfiest watering hole imaginable. Chef Thomas Schmidt keeps the restaurant's reputation for fine food burnished bright, using fresh, local and seasonal ingredients whenever possible. After all, it was this place that invented Wine Country cuisine. It's perfect for celebrations of any kind. Reviewed 2/3/13. $$$-$$$$
Monti's Rotisserie & Bar, 714 Village Court, Montgomery Village, Santa Rosa, 707-568-4404, starkrestaurants.com. A centrally located site in Montgomery Village makes Monti's a fine choice for lunches, after-work get-togethers and dinners, when the wood-fired rotisserie is lit and turns out specials of the day, including roast leg of lamb, baby back ribs, prime rib, Liberty duck and veal roast. The restaurant includes an oyster and seafood bar, pizzas, salads, pastas and a long list of specialty drinks mixed by the gregarious bar staff. Reviewed 2/12/12. $$$-$$$$.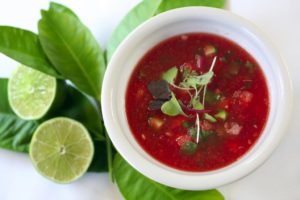 Olive & Vine, 14301 Arnold Drive, Glen Ellen, 707-996-9152, oliveandvinerestaurant.com. Glen Ellen's reputation as a stop for fine restaurants got a huge boost when Catherine Venturini and John Burdick opened Olive & Vine in Jack London Village. She and her chef de cuisine, Julie Warner, do an exceptional job exalting local and organic ingredients in their versions of Sonoma cuisine. The menu changes seasonally, but just about everything is worth a return visit. Reviewed 5/20/12. $$$-$$$$.
Pamposh Restaurant, 52 Mission Circle, Suite 110, Santa Rosa; 707-538-3367, pamposhrestaurant.com. This small but mighty Indian restaurant occupies a nondescript corner of the Mission Circle Shopping Center, but the food is anything but nondescript. It's full-on Indian and Kashmiri cooking, with lamb, chicken, and vegetable curries; a signature dish of lamb in an apricot and coconut sauce; marinated and flash-cooked tandoori chicken; house-made yogurt drinks; perfect creamed spinach and soft cheese; and much more. Highly recommended. Reviewed 7/21/13. $$
630 Park Steakhouse at the Graton Resort and Casino, 630 Park Court, Rohnert Park; 707-588-7115, gratonresortcasino.com. Here's your big-time casino-style steakhouse. Your 42-ounce prime T-bone for two is $120, your own 20-ounce rib-eye is $54, and filet mignons start at $43 for the "petite." The meat is as terrific as the prices, and the kitchen also serves up chicken and seafood, like the 28-ounce Northern Australian lobster tail for $149. Side dishes of vegetables, potatoes, and comfort foods like mac and cheese run around $10 extra, each. Ah, g'wan. You only live once. Reviewed 12/29/13. $$$$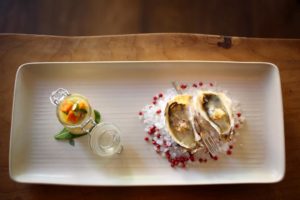 Partake by K-J, 241 Healdsburg Ave., Healdsburg; 707-433-6000, partakebykj.com. Here's something different. Sixteen of Kendall-Jackson wines are paired with small plates designed for the food to show off the wine and the wine to show off the food. There are also three "tastings" that include a cheese and wine pairing for $25, a five-course vegetarian food and wine tasting for $35, and a five-course chef's tasting that culminates with K-J's Trace Ridge Cabernet Sauvignon paired with seasonal meats such as lamb loin. Reviewed 10/13/13.
Riccardo's Restaurant and Bar, 2700 Yulupa Ave., Suite 7, Santa Rosa, 707-545-7696, ricardossantarosa.com. The main feature of Riccardo's is the long bar where Bennett Valley-ites like to meet and chat. The food is good American grub, better than the fare at the previous incarnation at this spot, John Barleycorn's. Big sandwiches include a Reuben, top-notch garden burger and grilled cheese. Entrees include a tender rib-eye steak, brick chicken and salmon. Reviewed 5/18/14. $$-$$$
Rustic: Francis's Favorites, 300 Via Archimedes, Geyserville, 707-857-1485, franciscoppolawinery.com. Francis Ford Coppola needs no introduction, but at his restaurant-winery-resort-watering hole in Geyserville, you'll get one anyway. The restaurant, called "Rustic, Francis's Favorites," features the Italian foods of his childhood, plus adult loves such as an Argentine grill serving big portions of beef with chimichurri sauce. The wine list is mostly from Coppola's winery, and that's OK. A wood-burning oven makes wonderful pizzas.
Reviewed 11/10/13. $-$$$$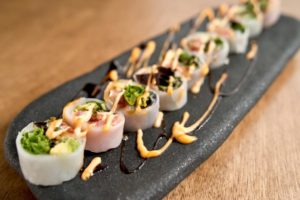 Shige Sushi Japanese Kitchen, 8235 Old Redwood Highway, Cotati, 707-795-9753, shige-sushi.com. A small but cozy room in the heart of Cotati has a big surprise for lovers of Japanese food. The appetizers alone are worth the trip — albacore with thin rounds of jalapeño peppers, poke salad, fried chicken karaage — and much more, all well-prepared by chef Shigekazu Mori. Reviewed 3/10/13. $$
Terrapin Creek, 1580 Eastshore Road, Bodega Bay, 707-875-2700, terrapincreekcafe.com. Owners Andrew Truong and Liya Lin have fashioned one of the most charming restaurants in Wine Country, and the cooking is a shining example of locally sourced ingredients used in refined and thoughtful dishes that never fail to please. Simple soups and salads come to life. Entrees are rich and bold, such as lamb sugo over pappardelle and glazed baby back ribs. The cooking is pure Californian with a hint of French and Asian. Highly recommended. Reviewed 3/24/13. $$$$
Wild Goat Bistro, 6 Petaluma Blvd. N., Petaluma, 707-658-1156, wildgoatbistro.com. This small bistro tucked in the back of the Great Petaluma Mill specializes in Neapolitan-style pizza, and that means perfectly made and with crackling thin crusts. But there's lots more to like, mostly dishes with an Italian flair, including local lamb ragu over pappardelle. The salads are organic, the foods made locally by artisans, and the meats are nitrate-free. A good wine list helps out. Reviewed 3/3/13. $$-$$$
Woodfour Brewing Company, 6780 Depot Street, Sebastopol, 707-823-3144, woodfourbrewing.com. Just what you want in a restaurant: something new and different. The brewery in The Barlow center makes a range of unique beers and ales, and has a cupboard full of bottled beers from all over the world. The food is as ingenious as the beers and beautifully displayed on the plates. It shows great creativity on the part of the chefs as they turn unlikely ingredients into exceptionally delicious dishes. Reviewed 9/8/13. $$
Subscribe to Our Newsletters!