Move over, nachos and chicken wings. Local gastropubs are redefining what it means to belly up to the bar and grab a bite.
Taking their cues from award-winning craft brews made on-site or close by, local chefs are elevating beer and food pairings to a new level with carefully curated menus that highlight both the brews and the food.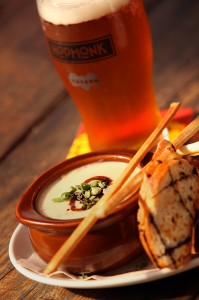 Jamil Peden of Woodfour Brewing Co. in Sebastopol's Barlow center is one of a new breed of Michelin-star-worthy chefs whose dishes are a mix of haute and hearty, backed by beer. Bar snacks include green-garlic potato chips, pickled sardines with beet tartare, homemade pickles, and deviled eggs with horseradish and paprika, which work beautifully with the sour farmhouse and stout ales produced at Woodfour.
Typical pub fare like fish and chips gets a makeover with lager-battering, parsnips, crab and fennel; there is pork schnitzel with spaetzle, and a dreamy cassoulet with heirloom beans and truffles, paired with Woodfour's Imperial Black Ale or lighter Berliner Weisse.
Common in Europe, gastropubs typically serve high-quality food alongside high-quality beer. Some local establishments, including Woodfour and stalwart Dempsey's in Petaluma, brew their own beers. Barley and Hops Tavern in Occidental offers an eclectic menu of draft and bottled beers from top producers to complement its California halibut with fingerling potatoes, and Niman Ranch beef burger with mango salsa and brie.
Gastropubs likely won't satisfy those seeking the simplicity of a pitcher of Bud Light and a bucket of Buffalo wings, but, thankfully, they're here for the rest of us.
GASTROPUB HEAVEN
Barley and Hops Tavern
3688 Bohemian Highway, Occidental
707-874-9037, barleyandhops.happytables.com
Bear Republic Brewing Co.
345 Healdsburg Ave., Healdsburg
707-433-2337, bearrepublic.com
Belly: Left Coast Kitchen & Taproom
523 Fourth St., Santa Rosa
707-526-5787, belly707.com
Dempsey's Restaurant & Brewery
50 E. Washington St., Petaluma
707-765-9694, dempseys.com
Heritage Public House
901 Mendocino Ave., Santa Rosa
707-540-0395, heritagepublichousesr.com
Hopmonk Tavern
230 Petaluma Ave., Sebastopol
707-829-7300;
691 Broadway, Sonoma
707-935-9100, hopmonk.com
Pub Republic
3120 Lakeville Highway, Petaluma
707-782-9090, pubrepublicusa.com
Russian River Brewing Co.
725 Fourth St., Santa Rosa
707-545-2337, russianriverbrewing.com
Third Street Aleworks
610 Third St., Santa Rosa
707-523-3060, thirdstreetaleworks.com
Woodfour Brewing Co.
6780 Depot St., Sebastopol
707-823-3144, woodfourbrewing.com