Debbie Nitasaka says it hit her with a thundering blast early one summer morning three years ago: Life as she knew it in her small, Wine Country village was about to change.
She was awakened at 1:30 a.m. by the sounds from a neighboring home where a huge party was going on. Horns blasting. People yelling. Cars coming and going.
It wasn't the Glen Ellen Firefighters Dance & BBQ, where a rumpus is raised once a year for a good cause and half the town attends.
It was, instead, the invasion of the vacation renters.
"I finally fell asleep at 4:30," she recalled.
And that was just the beginning.
"All summer, every summer, into the fall and sometimes in February. Sometimes in April. We never know when they'll come," Nitasaka said. A community activist who years ago founded a program to help Sonoma Valley's migrant laborers, she lives on a dead-end road in a middle-class neighborhood of working people and retirees. Her husband is a retired physician. But when the revelry began, he was still working and on call. Complaints to the county, to the property owner, to the sheriff, she said, rarely provide relief.
The party house, once owned by a respected town elder, is now, she said, "like a roadhouse."
"I hear screaming and yelling. I hear bottles breaking. I hear loud music," Nitasaka said. "It's either dark and creepy or loud and intrusive and horrible."
It is an experience increasingly common, to one degree or another, across Sonoma County as residents confront the rapid spread of vacation rentals and their flow of paying customers — strangers on the block, sometimes noisy and bothersome — into everyday neighborhoods.
Vacation getaways have long been fixtures in the county's top tourist stops, drawing visitors from across the country and around the world to cozy coastal retreats in Bodega Bay and The Sea Ranch, redwood-shaded cabins along the Russian River and shelter amid the vineyards both expansive and intimate.
What's changed is the number of homes, from humble bungalows to opulent estates, being transformed into short-term rental lodging. Before, they were anomalies. It is happening not just in destinations like Kenwood and Geyserville, but in cities like Petaluma and Santa Rosa. And not just in places with acreage but on streets with small lots where neighbors share fences.
The shift is being fueled by the exploding popularity of home-booking websites like Airbnb, Flipkey and Vacation Rentals by Owner (VRBO), which enable almost anyone with even a spare bedroom to become an instant innkeeper.
The county says there are 775 legally permitted rentals in the unincorporated area alone, more than half of which were approved after the county passed an ordinance. The largest batch is along the Russian River, followed by Sonoma Valley and rural Healdsburg.
But the problem lies more often with the large number of properties without permits showing up in online listings, often with owners who don't know or don't follow rules such as noise curfews imposed on vacation rentals by some local governments.
The resulting complaints have poured in from residents countywide, outstripping the ability of officials to respond. Many detail daily nuisances and breaches of privacy.
Linda Duff, a teacher who lives a few blocks from Nitasaka up a mountain road, bought her Glen Ellen home for $265,000 in the 1980s, back when 10 acres with a view could be had by a couple of modest means. She said the first sign of the change was the bewildering appearance of limousines, struggling to turn around on her steep road.
"There's no accountability. They're not thoughtful," she said. "They don't care who lives up the street, who might have a baby or who might be elderly. Houses are sold but nobody moves in. You don't know who is here."
It's the latest dust-up in the ongoing clash of interests between residents who seek out quiet in the countryside, small towns and city side streets of the North Coast and the wine and tourist industries that drive the local economy and draw some 7.5 million visitors a year.
"This is part of a larger issue, the whole issue of rural character and tourism and where our county is going," said James Gore, a county supervisor who represents the heavily impacted areas outside of Healdsburg and Geyserville, where there also are simmering conflicts over the development of wineries and an explosion of public events that draw traffic and noise.
A related and perhaps equally pressing issue for local governments is the loss of a significant amount of tax revenue from rentals that fly under the radar. An audit by the Sonoma County Auditor-Controller's Office estimated that the county was losing $500,000 to $1.3 million a year from short-term vacation rentals in the unincorporated areas that don't pay the required bed taxes. Cities have also expressed concern over similar lost revenue.
The auditor also found that more than half of the local listings on Airbnb, the San Francisco-based rental-booking giant, don't have valid permits to operate.
Proposed state legislation would give local governments more leverage to close that loophole, but it faces an uphill climb, with tourism and tech forces already lining up in opposition. So far, only a few big cities, among them San Francisco, have managed to secure deals with Airbnb that assure the company collects and remits hotel taxes.
"We've been working with cities across the country and around the world to help our community pay hotel and tourist taxes," said Airbnb public affairs representative Christopher Nulty. "Recently, we started collecting and remitting these taxes on behalf of our hosts and guests in Portland, San Francisco, San Jose, Chicago, Washington, D.C. and Amsterdam. Airbnb is focused on making neighborhoods better places to live and visit, and part of that includes working with lawmakers to do the right thing on this issue.
"We ask all of our hosts to follow their local laws and regulations."
The dilemma is magnified in Sonoma County by the region's rising popularity as a tourist destination — the influential travel website TripAdvisor last year ranked it as one of the most desirable Wine Country destinations in the world, second only to Tuscany — making it a prime target for vacation rental conversions. At the same time, the economic downturn starting in 2008 left property owners on all levels of the income scale scrambling for ways to stay afloat while those with extra cash were scooping up foreclosures at bargain prices.
David Kerr, president of the North Bay Realtors Association and a senior sales partner of Terra Firma Global Partners in Sonoma, said he hasn't seen a big problem with houses being pulled off the long-term rental market. But he said in the last three years he's seen a big shift among buyers, from people looking to either buy a second home or a vacation rental investment, to a surge in people wanting to do both — buy a second home and offset the costs by marketing it as a vacation rental when they're not using it.
"I have about a half dozen right now that are looking to do that," Kerr said. And with tight restrictions in cities like Healdsburg and Sonoma, the demand is heightened in outlying areas like The Springs just north of Sonoma, Glen Ellen, Kenwood and in Geyserville.
"The people buying the smaller houses very often have a little extra disposable income," he said. "We're not talking the vice president of Google. We're talking people usually earning $100,000 to $200,000 a year."
Among them are high-tech workers and other professionals priced out of the astronomical San Francisco market, who instead opt to rent there while building equity through a second home in Sonoma County.
Chris Nocetti and his husband, Tom Floyd, live in San Francisco and have rented vacation homes in the Healdsburg area for the last six years. They're members of 10 wine clubs and love to come with groups of friends for a weekend.
"We've found hotel prices in Healdsburg have crept up over the years. Trying to book a hotel for a group of six equates to $1,600 a night. We've found it more appealing to rent homes that are within five to 10 minutes from the plaza. They frequently have pools and a view," said Nocetti, 36, who manages a banking firm in San Francisco; Floyd works for Facebook.
"We've rented so many times and we've spent so much money on hotels we're actually looking to purchase a second (home) up there," Nocetti said. "We plan on using it twice per month and renting it out the rest of the time. It's going to be the place where we spend our Thanksgivings and our Christmases."
Still, at $800,000 to buy even a fairly moderate home in many sought-after places, investment in a vacation rental is out of reach for many and often a money-making mirage for those who do jump in, said Marc Matson of Healdsburg Vacation Homes, a conventional property management company. Cost for upkeep can be high. Beyond the mortgage, property taxes and insurance, there are expenses associated with landscaping, maintenance, pool care and cleaning.
"It's not necessarily going to make a big profit but it can generate $30,000, $40,000, $50,000 a year and that goes a ways toward paying for expenses," he said.
The county was spurred to regulate vacation rentals after a huge dance party at a rental house on the Russian River in 2010 caused a deck to collapse, injuring some of the young revelers.
But continued complaints about lax enforcement and the proliferating number of vacation rentals, particularly those operating without permits, have brought the issue under increased scrutiny.
City and county officials throughout Wine Country have been struggling to manage the juggernaut, fine-tuning existing rules and drafting new laws where they didn't exist, while balancing the demands of the market against the rights of property owners on both sides of the debate.
North Coast Sen. Mike McGuire introduced a bill this spring aimed at getting online vacation rental companies to disclose the extent of their businesses so that they can be taxed. It would also help local governments better track vacation rentals and enforce the laws regulating them.
At the same time, Sonoma County planning officials are looking at how they can retool their November 2010 ordinance, passed after the deck collapse, to bring more property owners into compliance and better address neighbors' concerns.
Beyond the government's interest in recouping lost tax revenue and keeping the peace, however, are what some see as larger social impacts. Many people fear the vacation rental boom is cutting into an already squeezed housing market, diminishing the stock of moderate and affordable housing at a time when property values and rents are rising and the rental vacancy rate is under 1.5 percent.
While places like Guerneville and The Sea Ranch have traditionally been chock-full with vacation rentals, the outbreak in areas like Healdsburg and Sonoma Valley is worrisome, said David Grabill, a Santa Rosa attorney for the Sonoma County Housing Advocacy Group.
"Those areas already are characterized by extremely high housing costs and lots of people who work there don't have the option economically to live there. That puts more traffic on the highways and it's bad for local businesses and it's bad for a community to have a significant percentage of its units fill with an essentially transient population."
County Supervisor Susan Gorin, whose district encompasses Sonoma Valley, with the second-highest concentration of rentals after the Russian River area, said the potential conversion of affordable housing into vacation rentals is particularly troubling.
"Employers have come to me saying they're having difficulty recruiting and hiring employees. They can't afford to live, or even find a place to live, in the community where they work."
"Unfortunately," she added, "technology has preceded the government's ability to really look at this methodically and make sense from a policy direction to get a handle on it."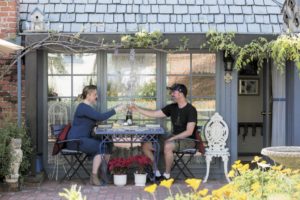 On the upside, the vacation-rental-by-owner phenomenon offers a chance for people to tap into their homes for a little extra cash without borrowing against them. It helps the struggle to meet mortgages, finance home improvements, put kids through school or make ends meet. And renting out a spare room or second unit can bring in as much or more income per month than simply renting it out full time, without the conflicts that arise with roommates.
At 66, Maria Lobanovsky said she has a hard time keeping up with the cost of living on a fixed retirement income. So two years ago she "gingerly stepped into" the Airbnb business, renting out the master bedroom suite in her 1968 ranch house on Sonoma's east side to visitors. Outfitted with French antiques, Japanese tansus and luxury linens, her garden suite garnered $207 a night in the high season.
"A new roof is $20,000, a fence is $3,000. I call it the magic thousand. No matter what you have to touch it's at least $1,000," she said with a grim laugh. "So I looked around the house and decided that instead of me working for the house I can get the house to work for me."
She enjoyed fussing over visitors with a kind of hospitality that earned her a top SuperHostess designation with Airbnb, even forging friendships with some of her visitors, like the couple from Norway who, when they heard her dog was gravely ill, offered to raise money on social media to pay her veterinary bills.
But complaints from a few neighbors who didn't like the idea of a short-term rental on their residential street forced her to shut down while the city reviewed its policies, which allow rentals of less than 30 days in residential zones only if the home is deemed historic. The issue proved, as it has in many communities, highly contentious.
Those tight rules in cities like Sonoma and Healdsburg, some complain, are pushing the demand into unincorporated areas where the county's rules are more permissive.
For travelers who like the comforts of home over hotel, vacation rentals offer what amounts to a growing variety of alternatives. Particularly when couples, families or friends are pooling resources, it can cost less to rent a whole house than multiple rooms in an inn.
"We like the extra room, like maybe having a kitchen and a sitting area. When we go to a hotel or a motel it's pretty much just a bed. Here, we also get a more personal recommendation about where to eat and where to go," said Karen Romanelli. The 53-year-old retired church administrator and her husband were on their way earlier this year from Vancouver, Wash., to Carpenteria, stopping at Airbnb lodging along the way.
On a sunny Friday afternoon, the couple relaxed on the patio beside a cottage that Sandy and Bud Metzger, both retired professionals, turned into vacation rental they list on Airbnb. The cottage is behind their vintage French storybook home in a historic neighborhood in Santa Rosa.
"Here we are, drinking wine and looking out at a beautiful garden," said Romanelli with an air of someone who knows when she's scored a good deal at $135 a night. She claims to have never had a bad experience after booking multiple rentals on Airbnb, in places as disparate as Kentucky and Newport, R.I.
Sandy Metzger said most of her guests are educated 25- to 35-year-olds in town for an event, such as Levi's GranFondo bike ride in October and the Russian River Brewing Co.'s highly anticipated annual release of its Pliny the Younger triple India Pale Ale each February. They once hosted a woman who needed a quiet place to finish a proposal she was writing for a nonprofit organization.
"Our guests are so quiet," Metzger said, "our neighbors don't know when they come and go."
The growth of an online market for vacation rentals has turned what was once likely an agent-assisted search or word-of-mouth recommendation into a shopper's bazaar offering seemingly everything under the sun. In the case of the populist Airbnb site, the choices go from $50 single bedrooms in private homes to backyard glamping trailers to luxury hilltop oases overlooking vineyards, with fountains, indoor spa tubs and gourmet kitchens that fetch more than $1,500 a night.
The transaction is often two-way, with property owners and renters presenting their online profiles a la Facebook so each can screen the other.
Prospective guests have to send what amounts to a pitch letter through Airbnb to Judi Cohen, who with her physician husband, Carl Speizer, turned a second cottage on their property on a hidden lane outside Sonoma into a vacation rental, based on their own positive travel experiences with private homestays and exchanges.
She pores over online profiles before saying yes to anyone. The couple maintain that their guests are quiet, respectful and not that frequent, maybe 15 nights in the summer and half that the rest of the year.
While the remote hilltop villas serve the pampered upper end, it's the more modest rentals popping up in long established neighborhoods that are causing the greatest consternation, and have led county officials to rethink their 2010 ordinance setting rules for rentals. They are asking hard questions, such as how to take action on non-permitted rentals, how to make sure owners respond quickly to complaints and whether there should be limits on the number of vacation rentals in certain neighborhoods where longtime residents resent sharing their streets and roads with an endless churn of strangers unaware of pets, children, blind curves and culverts.
"Someone drove into our driveway at 3 a.m. looking for a rental house out in the country," said Phil LaParne, who since 1989 has lived on a private road off Chalk Hill Road outside Healdsburg. "Up here there are no streetlights and no cell reception. When you're out in the country, the sheriff is not going to show up for 45 minutes or maybe an hour." Of the seven homes on his road, four are vacation rentals.
Healdsburg has responded by moving enforcement of its vacation rental rules, which prohibit stays of less than 30 days in most parts of the city, from the planning department to the police department. It brought in Kevin Young, a retired police lieutenant, to serve as an interim code enforcement officer and to crack down on rentals without a permit.
The move seems to have helped. Trolling the Internet, he identified some 28 scofflaws that, as he put it, "did not have the necessary licensing or they were advertising for more than 30 days, which is legal, but accepting reservations for under 30 days, which is not." He issued warning letters that resulted in 15 citations. Fines start at $750 per day of violation.
"The positive is that most of the homes were meticulously maintained. In fact, that was a giveaway," he said, noting that vacation rentals are often easy to spot, with a groomed, not-lived-in look. And that's part of the problem, he said.
"In Healdsburg we have such a limited supply of houses as it is. You're taking 30, 40, 50 houses off the rental market for families and having them tied up with vacation homes."
Kathryn Henderson said of the 16 houses on her block on Fitch Mountain east of Healdsburg, the last five sold have been for vacation rentals. "When my husband told me another house up the street sold for a vacation rental, I cried," she said.
It's not that the rental owners are bad people, she added with a sigh. She grieves the loss of real neighbors she knows and with whom she can talk.
"I don't have a neighborhood anymore. They're all gone," Henderson said "I don't have people to interact with anymore."
Many people who have dived into the new world of innkeeping on their own properties maintain that the experience is enriching, allowing them to meet people from around the globe.
"It's an amazing way to travel. You can travel all over the world on Airbnb and it's an interesting way to meet people," said Cohen, an attorney who trains lawyers in the stress-reducing practice of mindfulness.
But for all the positive intercultural exchanges it fosters, the proliferation of vacation rentals has, in some cases, pitted neighbor against neighbor.
Cohen and Speizer used to be friends with their neighbors up the hill, Joan and Peter Geary. But when the Gearys learned about their vacation rental, things got frosty.
Joan Geary, who also opposes other vacation rentals in her neighborhood, said their single-lane, dead-end road is too narrow and has no turn-arounds. Strangers have run up to her property. She was terrified one night when a taxi pulled up to her private drive at 11:30 p.m., shining its headlights into her kitchen window and idling for at least five minutes. Geary reacted by installing a gate.
"We were very close friends," she lamented. "Now we won't talk to them."
Speizer said he believes the traffic argument is a red herring, and that a full-time renter in their cottage would produce more car trips than the occasional weekender.
"This is very much part of the sharing economy," Cohen reflected. "For a community like Sonoma where you have a couple of super fancy hotels and a bunch that are not anything to write home about, this is a way for people to enjoy our beautiful place here and really feel at home. We feel lucky to be able to share it."