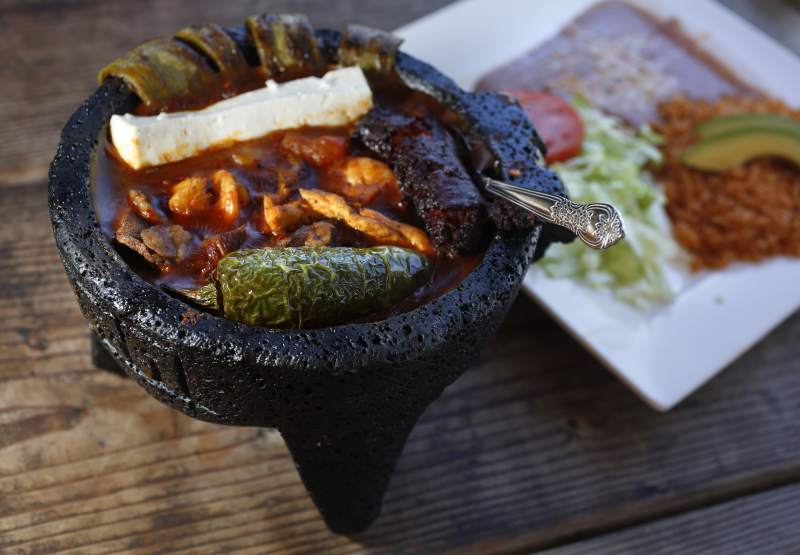 I'll always remember the first time I tasted molcajete, served at an authentic Mexican restaurant in Scottsdale many years ago. It was a marvel to me, because it referred not to the ancient, stone mortar and pestle used to grind things like Latin American chiles and spices, but to a savory stew.
This molcajete, made of meats, seafood, chiles, cactus and vegetables in a mouthwatering red broth, was served in a molcajete, the basalt tureen that is prized because it retains its volcanic heat for the long time it takes to finish such a hearty dish.
I enjoyed another memorable molcajete a few years later, this time in a fancy beachfront restaurant in Cabo. It was even better, brimming with strips of arrachera steak and chicken, chunks of fried panela cheese, tiny whole charred onions still on the stem like holiday ornaments, charred whole mild peppers and slender rafts of grilled zucchini stuffed with chorizo. The goodies were bathed in a simmering salsa borracha (drunken sauce) of chiles and beer, waiting to be bundled up in lacy thin corn tortillas.
The Sea of Cortez surf thudded on the sand, and a whale lazed its way past, impossibly close to shore. I felt I had found one of the world's perfect foods.
Are such memories part of the reason the molcajete at Mi Tierra in Santa Rosa makes me so happy? It's excellent, though rather than crashing waves, I am serenaded by traffic rumbling past the endlessly under-construction intersection of Sebastopol and Stony Point roads.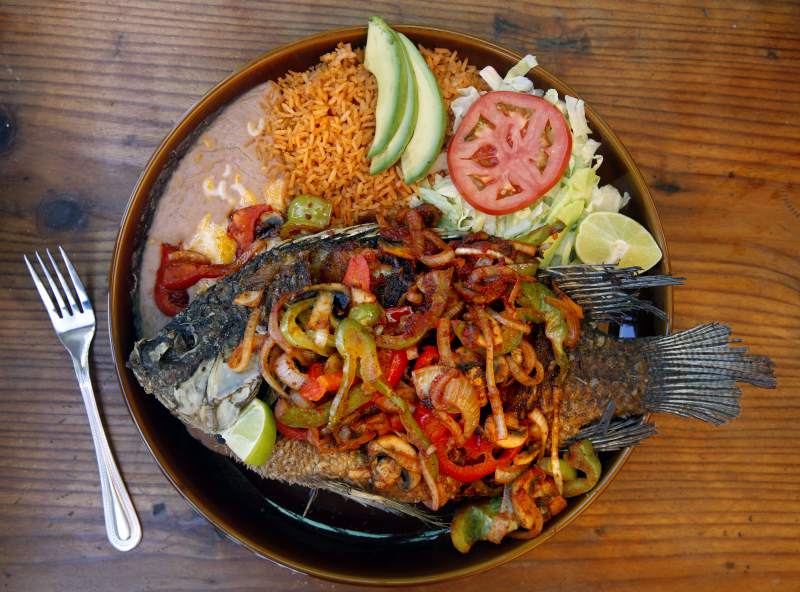 We sit in a tiny, narrow shoe box just a sidewalk away from the street — perhaps 30 seats inside and 50 on the tile patio, framed by a white picket fence and hung with Modelo beer flags. The prettiest parts are the landscape murals on the walls and the colorfully painted wood Plaza Tequila chairs outside.
And frankly, there are many good Mexican restaurants in the immediate area. Homemade chips and salsas here are fine, and they're free. Burritos, street tacos, enchiladas and tamales are good, if not remarkable, and service is friendly enough, though often rushed.
Yet this taqueria shines with more complicated dishes like that marvelous molcajete ($20.95).
The meats are generous and flavorful, with firm, cilantro-imbued shrimp; tender strips of steak and chicken; and two thick links of moist chorizo in an appealing charred black crust that soaks up the deep red, spicy broth.
There are braised sweet onion petals, sliced mushrooms, juicy tomato chunks and a fan of slippery grilled sour-crisp nopales that drapes over the side of the rock bowl like a wilted flower. At the center is a big slab of creamy panela cheese, and on the side are rice and beans and flour tortillas handmade by a lady working a hot grill on the patio. The dish is a delight, and easily feeds two.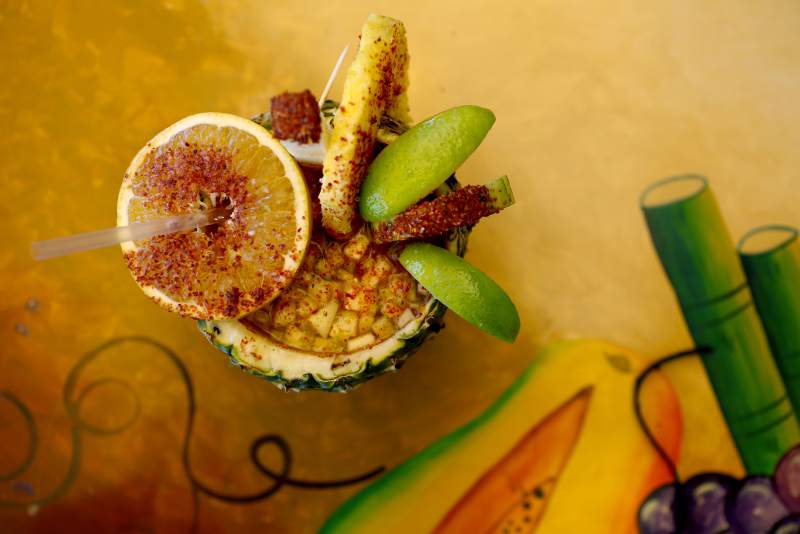 Locals likely know the Mi Tierra property, even if they don't know the name. Originally, the spot was called Pepe's, a burrito landmark since 1986 that moved seven years ago to much larger digs a few blocks east. Then, for about a year, the place languished as the sad little Don Pedro's Mexican restaurant before the Magana family took over and spruced things up.
Somehow, the closet-size kitchen now masters a menu of more than 60 entrées, ranging from juicy steak alambre topped with chorizo, crisp bacon, vegetables and molten jack cheese ($17.95), to an enormous plate of succulent pollo con crema ($17.95), the chicken strips coated in a creamy brown sauce sporting heat that sneaks up on me after a few bites.
Rather than wasting time with an everyday shredded beef taco ($2.95), I pick the flesh off the fine bones for mojarra a la diabla, a whole, crispy fried tilapia smothered in onions, bell peppers, tomato, mushrooms and a fiery chile sauce ($17.95).
I wash it down with a michelada of beer, lime juice, spices and peppers garnished with chile-salt dusted lime, orange, jicama and cucumber, served in a real, carved out pineapple ($10.95).
A plato Cancun arrives with lots of shrimp tossed with mushrooms, green onion and tomatoes and melted queso over rice ($18.95), while camarones jarochos are more than I could ever finish in one sitting.
The sautéed shrimp, octopus, scallops, white fish, calamari and crab leg are bathed in red sauce jazzed with chile de arbol, set on a bed of rice and finished with a mantle of jack cheese that I scoop up with tortilla chips ($18.95).
Pastor-style fans will be happy here, too, as the tortilla lady also runs a rotisserie in the evenings, slicing the pineapple-chile marinated pork to order.
Like most of the specialties, it's much better than the often-dry carnitas, or bland chicken burritos that you can get stuffed with French fries "California style" ($9.95).
Me? I'll have more molcajete, please.
---
Mi Terra, 2000 Sebastopol Road, Santa Rosa,  (707) 546-1777, mitierramex.com
9 a.m. to 9 p.m. daily
---
Photography by Beth Schlanker. 
Subscribe to Our Newsletters!