Petaluma is a long way from Mexico, but the city has embraced El Día de los Muertos (the Day of the Dead) in a big way. Observed on Nov. 1, the traditional Latin American holiday honors departed ancestors with food, drink and other earthly delights.
This year will mark the 15th anniversary of Petaluma's festival, which has grown from a weeklong affair into a monthlong extravaganza featuring community altars, music, dance performances, food and traditional crafts. Although the theme is death, the mood is celebratory, with families and friends paying joyful tribute to those who have died. The holiday is so important to Latinos and others that several local communities celebrate in some way.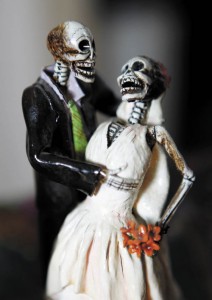 Petaluma
Petaluma's El Día de los Muertos party is the biggest. Highlights include a mole tasting and competition on Oct. 10, a bilingual poetry event on Oct. 16 and a folk dance performance on Oct. 24. More than 1,500 people are expected to turn out for a traditional procession on Nov. 1, led by a cast of giant puppets and revelers wearing colorfully painted skull masks, or calacas. Events will take place at multiple downtown locations. Visit El Día de los Muertos Petaluma on Facebook.
Santa Rosa
Santa Rosa's annual festivities will take place Nov. 1-2 in Old Courthouse Square (santarosadiadelosmuertos.org).
Windsor
Windsor will host events throughout October, with the main festival of food, music, face-painting and costumed dancers on Nov. 1 at the Windsor Town Green (windsor-bloco.org/#!muertos/c8wd).
bs_1018_DayofDead4.jpg
Sonoma
Sonoma celebrates at the Maloney Memorial Waterwise Garden on Nov. 1 (276 E. Napa St., sonomacommunitycenter.org). The the La Luz Center (17560 Greger St., 707-938-5131, laluzcenter.org) also has an annual event; check the website for date and details.

Sebastopol

Sebastopol Regional Library's Día de los Muertos is Oct. 31 (7140 Bodega Ave., 707-823-7691, sonomalibrary.org).