More than 50 years after Williams-Sonoma left Sonoma, the hallowed, high-end cookware store will return to its original space at 599 Broadway, just in time to celebrate founder Chuck Williams' 99th birthday on Oct. 2.
Recognized throughout the country and much of the world, Williams-Sonoma is synonymous with fine cooking and the tricked-out kitchens that inspire it. After decades of expansion to more than 250 outlets, the multibillion-dollar corporation is returning to its roots with a revamped store, cooking school and café in the original location south of the Sonoma plaza.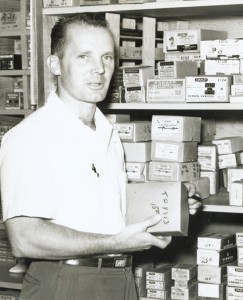 It all started there in 1947, when Williams, then in his early 30s, moved to Sonoma, built a house and worked as a contractor. In the evenings, he often cooked with friends who shared a passion for French cuisine. In 1953, Williams traveled to Europe and was dazzled by Parisian cookware stores, where professional tools — heavy copper pots, specialty knives, whisks, omelet pans — were beautifully displayed and available to everyone, not just chefs.
He returned to Sonoma inspired. In 1954, Williams bought a hardware store at 599 Broadway. In 1956, he transformed it into a cookware shop, the likes of which no one had seen in the U.S. Friends urged him to move to San Francisco to seek a larger market and he did, to Union Square, in 1958. Soon, the flagship store counted Julia Child, James Beard and other culinary figures among its customers.
"Chuck put the name 'Sonoma' on the upscale world map long before others discovered our secret pleasures," said culinary entrepreneur and author Clark Wolf.
The new shop will be more intimate (just 628 square feet) than other Williams-Sonoma stores and carrying a select inventory of items. The cafe will seat 32 and the cooking school will accommodate up to 14 students at a time.
Welcome home, Williams-Sonoma.